Fifty-four players remain at Augusta National. But all eyes are on one man.
(Scroll down for the latest updates; opening photo: J.D. Cuban)
That would be Hideki Matsuyama, who rode a weather turn at the Masters to his advantage. Notoriously firm and fast all week, Augusta National's greens became vulnerable following a downpour mid-afternoon Saturday, allowing Matsuyama to strike a blitzkrieg of the back nine with four birdies and an eagle. With Justin Rose struggling for the second straight day and a number of other contenders failing to make a move on Moving Day, Matsuyama now stands with a four-shot lead heading into Sunday. If that sounds big, it is: DataGolf, a live predictive site, gives Matsuyama a whopping 62 percent chance at winning the green jacket.
A Matsuyama victory would be the rare win that transcends self, as his home nation of Japan desperately craves its first male major championship winner. However, this rodeo is far from over. Of the 15 times a player has held a lead of four shots or more heading into Sunday at the Masters, that player failed to win on four occasions. And Matsuyama has a mixed track record when in this position on the PGA Tour.
Moreover, a number of formidable opponents are behind. Despite hanging on for dear life the past two days, Rose remains in a tie for second. Xander Schauffele, who's been a major top-10 machine the past four years, is destined for a breakthrough. Marc Leishman's enjoyed past Masters success, and Sunday could prove to be a coming out party for Will Zalatoris. There's also a guy named Jordan Spieth, who Wikipedia informs us has won this tournament before.
Golf Digest will be keeping you up-to-date on all the final round happenings on Sunday at Augusta National with our Masters Live Blog. Scroll below to follow along.
7:30 p.m.: Sitting between his interpreter, Bob Turner, and Dustin Johnson in Butler Cabin, Hideki Matsuyama fielded questions from Augusta National Chairman Fred Ridley and CBS's Jim Nantz.
"My nerves didn't really start on the second nine," Matsuyama said, through his interpreter. "It was right from the start today. And right to the very last putt."
As you know by now, this is a pretty big deal in Japan. That was not lost on Matsuyama.
"Hopefully I'll be a pioneer in this and many other Japanese will follow," he said. "I'm glad to be able to open the floodgates, hopefully, and many more will follow me."
Though he had a sizeable lead for most of the afternoon, Matsuyama didn't allow himself to feel comfortable. Even after he survived that ugly stretch on Nos. 15 and 16, he knew there was still work to do.
"Hitting the fairway with my tee shot at 18," Matsuyama said, was finally the moment he knew he could relax. Once his ball was safely in the fairway, a six was all but out of the equation.
7:17 p.m.: "I was feeling good. Hideki surprisingly went for the green on 15 ... got a little hyper-aggressive there on 16," Schauffele told Amanda Balionis in Butler Cabin. He hit the shot he wanted, he said, but miscalculated the wind.
"I hit a good shot. I can live with it," Schauffele said. "I'll be able to sleep tonight. I might be tossing and turning, but I'll be alright."
7:04 p.m.: "Hideki Matsuyama is Japan's first Masters Champion," Jim Nantz says as Matsuyama taps in for his bogey to win by one. It wasn't always pretty, but a one-over 73 was enough to seal the deal. He'll head to Butler Cabin to make it official, and then ... well, what happens next depends on who you ask.
7:03 p.m.: Xander Schauffele finishes up with a par. He clawed his way back into the tournament after No. 15, but his blowup on No. 16 did him in. He'll share third place with Jordan Spieth.
7:02 p.m.: A warm round of applause from the smaller-than-usual-but-still-bigger-than-we've-been-used-to-seeing gallery welcomes Matsuyama and Schauffele to the final green. Matsuyama deposited his approach into the right greenside bunker, but he's a professional. He blasts it out to six feet and will have two putts from there to become Japan's first men's major champion.
6:58 p.m.: Hideki Matsuyama can enjoy a nice walk down and up the hill on No. 18 in the setting sun. A crushed drive right down the middle of the fairway all but eliminates the catastrophic big number. He can make bogey and still win. Schauffele, who is literally still on the course, but maybe not mentally completely there, is also in the fairway.
6:51 p.m.: As all of Japan sits down for breakfast—who are we kidding, they've been up watching this for hours—Hideki Matsuyama has one arm in the Green Jacket. A stress-free par at No. 17 means he'll take a two-shot lead to the 18th tee.
6:46 p.m.: While we have a moment, lets fit in a top 12 and ties update. Seventeen players will fit that bill this year, including Jordan Spieth and Patrick Reed, who, as past champions, already have that invitation. Hideki Matsuyama, Will Zalatoris, Xander Schauffele, Jon Rahm, Marc Leishman, Corey Conners, Justin Rose, Cameron Smith, Tony Finau, Webb Simpson, Stewart Cink, Kevin Na, Si Woo Kim, Robert MacIntyre and Brian Harman will be your top 12 and ties for the 2021 Masters.
6:38 p.m.: That was ... something. Matsuyama bogeys No. 16, but Schauffele makes triple to fall four shots behind after making four straight birdies to pull within two.
Let's reset for a moment, shall we? Will Zalatoris (remember him?) just made a sweet par putt on No. 18 to get in the clubhouse at nine-under. That's two clear of Spieth (who's in at seven under) and Schauffele, who found the second cut just left of the 17th fairway. Matsuyama, sitting pretty in the middle of the fairway on No. 17, still has a two-stroke lead, but now it's on Zalatoris. Got all that? Good.
6:32 p.m.: Schauffele's third, from the drop zone, airmails the green, effectively ending his run at Matsuyama's lead. On No. 18, Jordan Spieth misses a par putt and taps in for a two-under 70 and what looks like a solo-fourth finish.
6:26 p.m.: The Golf Gods giveth, and the Golf Gods taketh away. Immediately after pulling within two, and with all the momentum, Xander Schauffele finds the water short of the green at No. 16. Hideki Matsuyama finds the top right shelf, playing the cautious shot. And who could blame him?
6:23 p.m.: OK. Two putts from just off the green for Matsuyama and he limits the damage to just a bogey. He drops to 12-under as we head to sixteen. He had a four-stroke lead with four to play. Now a two-stroke lead with three to play. The oh-so-friendly Sunday pin at the bottom of the ridge on No. 16 awaits.
6:20 p.m.: Matsuyama's fourth from behind the 15th comes up just short of the putting surface. He's not done just yet. Schauffele almost holes his bunker shot for eagle. He'll tap in for his birdie to get to 10-under.
6:14 p.m.: Matsuyama has ... almost inexplicably, flown his ball over the green and into the water on No. 16. He'll be hitting his fourth shot either from the drop zone in front of the pond on 15 or behind the green, effectively on No. 16. Schauffele, meanwhile, finds the right greenside bunker. Folks, we have a golf tournament.
6:10 p.m.: The water at No. 16 shouldn't be in play for these guys today, so there's really just one hazard between Matsuyama and the clubhouse: the pond in front of the 15th green. He's perfectly placed his drive in the middle of the fairway, and can safely lay up, if he wants.
Schauffele, on the other hand, has to force the issue. Four strokes back with four holes to play, it's now or never. Justin Rose and Marc Leishman, neither of whom has built any real momentum today, are cleaning up on the green as the final group waits atop the hill.
6:05 p.m.: A little bit of side action, if you'll allow it. The top 12 and ties will be invited back to Augusta National for the 2022 Masters. At this moment, that includes 17 people, all the way down to the group at two-under. Webb Simpson, Stewart Cink, and Kevin Na are in the clubhouse. Si Woo Kim, Brian Harman and Robert MacIntyre are still on the course.
6:00 p.m.: If the gap between them wasn't so large, this would be pretty awesome. Matsuyama hits his approach to inside 15 feet, with a birdie look straight up the hill. Schauffele answers emphatically, leaving just a kick-in for his birdie. We'll give that to him. He's not letting Matsuyama relax.
5:55 p.m.: At No. 15, Jordan Spieth is forced to lay up and then is unable to convert for birdie from about 10 feet. He's one back of second place with three holes to play.
The final group has reached No. 14, the only hole on the course with no bunkers. Both Matsuyama and Schauffele have found the fairway and will have wedges into the green.
5:49 p.m.: Well. You can absolutely forget about that one. Matsuyama hits a beautiful pitch to just a couple of feet left for his birdie. Xander Schauffele's eagle putt never has a chance. He taps in for birdie to move to solo second. Matsuyama answers with a birdie of his own. The lead is still five, now with five to play.
5:45 p.m.: Potential situation (almost) brewing. Matsuyama goes for the short par-5 13th in two and pull hooks one between the bunkers left of the green. It trundles down to the edge of the second cut, but just as easily could have bounced up into the Azaleas. He'll face a downhill pitch off a downhill lie with Rae's Creek behind the hole. His playing partner, Xander Schauffele, sticks a mid-iron and will have a great look at eagle.
5:36 p.m.: Patrick Reed, as he tends to do around here, has entered the mix. Four consecutive birdies from Nos. 13-16 get him to five-under for the tournament. Now, if somebody behind him not named Matsuyama can do something similar ... don't change the channel just yet.
5:33 p.m.: It's a three-putt par for Zalatoris at No. 13. He needed some circles on the scorecard coming in to put a scare into Matsuyama. Instead, Schauffele pours one in from just off the back of No. 12 green to get to seven-under. Ahead, Jordan Spieth has birdied Nos. 13 and 14 to join him as he heads to the par-5 15th. Matsuyama cleans up for bogey at No. 12 and his lead is back to five.
5:30 p.m.: Matsuyama has found the center bunker behind the green at No. 12. Perhaps a bit of adrenaline there. Still, better long than short and in the water. He does, after all, have a six-shot lead with seven holes to go, so a bogey won't hurt all that much if he has to take one.
5:23 p.m.: At No. 13, Jordan Spieth continues his mini mid-round push with a two-putt birdie to get to six-under. With a Matsuyama par at No. 11 to maintain his lead, the competition for second place is heating up. Jon Rahm is in the clubhouse at six-under, Will Zalatoris is on No. 13 at seven and Spieth and Xander Schauffele are also at six-under.
5:10 p.m.: All the lead groups have reached Amen Corner now. Will Zalatoris nips a deft pitch to a few feet, but fails to convert his par at No. 12, falling six back of Hideki Matsuyama. Behind him, Matsuyama has safely found land at No. 11.
5:00 p.m.: Will Zalatoris doesn't put enough on a long chance for birdie on No. 11. Still an impressive showing, but that five stroke lead for Hideki is looking more and more intimidating as the day progresses. At the same time, Matsuyama nearly birdies but ends up with a par on No. 10. Still 13-under.
4:57 p.m.: "If Hideki wins, I bet he lights the Olympic flame."
4:49 p.m.: Another birdie for Hideki Matsuyama, this one on No. 9, increases his lead to five shots. It was a slow start for Matsuyama today, but he's been great as of late doing everything he needs to do to slowly start to put this away.
4:45 p.m.: He doesn't get that birdie finish he wanted, but what a day for Jon Rahm who finishes Sunday with quite a run. The new father finished his final round with a 6-under 66 and moves all the way up to T-3. He started the day at T-21.
Zalatoris, meanwhile, bogeys No. 10 and his deficit to Matsuyama will increase to four shots. He'll need some real magic now on this back nice.
4:38 p.m.: More Masters history for Jordan Spieth. This is pretty, pretty good.
4:35 p.m.: The lead is closing in a bit, but that hasn't seemed to faze Matsuyama who hits a perfect chip to within three-feet on No. 8 and follows that up with a birdie putt to get to 1-under. That's a three-shot lead now over Zalatoris.
4:28 p.m.: Zalatoris overshoots a chance for birdie at No. 9, missing a chance to get one shot back. Around the same time, Spieth hits a brilliant shot on his first hole of the back nine within five feet.
It's not the birdie he was hoping for, but Zalatoris sinks the par putt to keep the pressure on Hideki.
4:17 p.m.: Wow ... Hideki just missed a four-footer for birdie at the seventh hole after hitting a fantastic approach. That's unexpected, and after Zalatoris' birdie make at No. 8, that seems like a big opportunity missed for Hideki to maintain his strangle hold on the tournament. Willy Z isn't going away...
Xander makes his birdie at No. 7, getting back to 5-under and six back of Hideki. Xander is 2-over on his round ... but not completely out of it (maybe?).
4:14 p.m.: A CRUCIAL make by Will Zalatoris at the par-5 eighth to get back within two of Hideki Matsuyama. That's an unconventional birdie being right of the green, but with the back left hole location, Willy Z did have room to navigate. And by golly, the 24-year-old with no status on the PGA Tour will head to the back nine at Augusta National with a fantastic chance of winning a green jacket.
4:12 p.m.: Jon Rahm's quest to post a number is alive with a birdie at the par-5 15th hole ... Rahm has the best round of the day by far right now, 6-under for the day and the tournament. The new father is T-3!
4:05 p.m.: Xander and Hideki both par the sixth hole after having decent looks at birdie. That was more of a necessary make for Xander, who's seven back of Hideki.
Zalatoris lost his second shot at the eighth hole up the right side ... but he recovers nicely with a strong pitch to about 9 feet as he looks to pick one up at the par-5 eighth hole.
3:58 p.m.: Will Zalatoris' birdie try at the seventh hole was low the whole way, which is a crucial miss at this point. Willy Z could've trimmed Hideki's lead to two, but it remains three ... and Hideki just hit a great tee shot at the par-3 sixth hole. His lead looks very safe at the moment.
3:55 p.m.: Xander Schauffele's fourth shot ended up in the back part of the back bunker at 5 ... and he failed to get it out of the bunker. So now he'll play his fifth shot out, and he needs this for a double bogey.
Xander makes it but that's a really brutal 4-over in the last three hole stretch. Xander is now 7 back of Hideki ... who just holed a fantastic 17-footer for an incredible par save. That's the kind of putt that will win you golf tournaments, and qutie frankly, those are not the putts we're accustomed to seeing Hideki make. But this is a way more confident Hideki these past two days at Augusta National. And what a huge stretch that was for him.
3:50 p.m.: Hideki and Xander are in some trouble at the difficult fifth hole. Hideki found the fairway bunkers up the left side ... and he chose to just have a gap wedge to try to scramble for his par. Xander, meanwhile, nearly lost his tee shot up the right side, and had barely any backswing up against the hedges. He didn't advance his ball very far, still in the rough up the right side, so he's going to be lucky to make a 5.
Hideki better be careful, as Will Zalatoris is continuing to apply the pressure. Willy Z, after a perfect drive at 7, put his approach to about 6 feet above the hole. That'll be a slick one but a chance nonetheless to trim Hideki's lead to two, and Hideki has a 20-footer for par ... so this could be back to a one-shot lead.
3:41 p.m.: Hideki Matsuyama expertly navigates from the back of the green for a par, holing a 3-footer to stay in the lead by three shots.
Xander Schauffele was not that lucky ... he was in the front greenside bunker and could not make his 6-footer for par. Xander is now 1-for-4 on sand saves for the week. Xander is now five back of Hideki.
Hideki's biggest challenger at the moment is Will Zalatoris. Willy Z had a tremendous two-putt at the par-3 sixth hole after failing to get his tee shot on the proper level to this difficult upper-right pin position. Willy Z holed a nice, bending 6-footer to stay at 8-under, one-under for his round.
3:35 p.m.: Jon Rahm's hopes for throwing up a super low round have been subdued somewhat by a disappointing par at the par-5 13th hole. The Spaniard is still 5-under, so he still has a chance to post an 8-under in the clubhouse ... but the odds are not in his favor.
3:29 p.m.: That's a rough bogey for Xander Schauffele at the short par-3 third hole after hitting such a good tee shot. Hideki hit a fantastic chip from behind the green, cozying it to tap-in range. Hideki remains even par and his lead is still three, with Will Zalatoris now in solo second after Xander's blemish.
3:26 p.m.: Oh boy, the leaders are in a spot of bother at the third hole. First, Hideki Matsuyama sailed the green with his second shot ... then Xander Schauffele got way too cute and rolled his second shot into the green and didn't make it onto the green. Xander will have his work cut out to save par.
3:23 p.m.: Rahm makes the birdie ... moving him to 5-under for the day and the tournament. That's one shot better than Jordan Spieth, who just bogeyed the difficult fifth hole.
3:18 p.m.: A hilarious reaction from Jon Rahm after sticking his tee shot at the 12th hole close ... he does a little sign of the cross as he walked off the tee—knowing how the wind could've really affected that shot, sending the ball into Rae's Creek.
But that's gonna be a look for a birdie to get to 5-under ... and he still has the two par 5s to play. It'd be quite the miracle, but if Rahm can get to -9 in the clubhouse ... maybe, just maybe that'll be enough?!?
3:11 p.m.: Hideki rights the ship with a birdie at the second hole, making up for that bogey at No. 1. Xander keeps pace with a birdie of his own (they were both in the front right bunker). So Hideki's lead is three shots over Xander and Zalatoris (who bogeyed the third hole after being a little too aggressive with his birdie try).
Hideki's lead was one for some time after Zalatoris' birdie-birdie start, but the Japanese star has it back to a three-stroke margin.
3:04 p.m.: Oh man, that's two straight holes where Jordan Spieth has burned the edge. Spieth cannot believe his birdie bid at the par-3 fourth hole missed the hole. And that's after hitting a pretty good putt for a bird at the third hole. He remains even-par on his round after the bogey-birdie start. That's five back of Hideki.
Spieth's face after the miss on No. 4 says it all: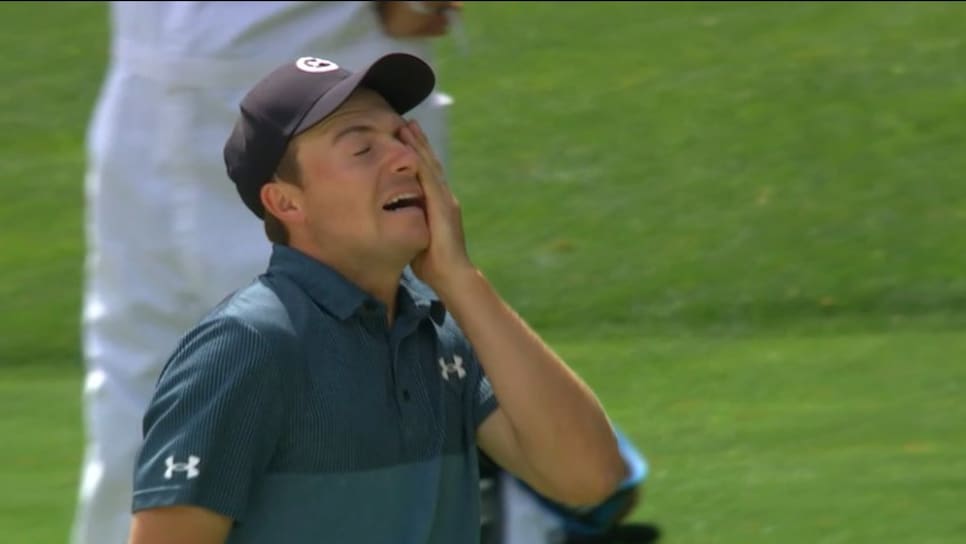 3:02 p.m.: Justin Rose and Marc Leishman in the penultimate group both make birdies at the par-5 second hole even after laying up with their second shots. Each hit proper wedge shots to take the slope and roll close to the hole. Leishman and Rose both move to 7-under, which is now just three back of Hideki Matsuyama's lead.
2:57 p.m.: Zalatoris probably hit his drive too far, leaving a difficult pitch. It can't hold the green, but it's just off and will give him a chance to putt it. Xander curves his drive way down the way at the second, with Hideki hitting a perfect drive. Real good chance for Hideki to move back to 11 under. Ahead, Rose has a chance to make up his bogey at the first by wedging his third to tap-in range.
2:54 p.m.: Xander with a nice chip for a tap-in at the first. Zalatoris BOMBS his drive at the third, leaving 50 yards or so with his approach. Back at the first green, Hideki's putt JUST misses for par. Great putt, but it is a bogey. Took all of (checks watch) one hole for a four-shot lead to turn into one.
2:50 p.m.: Zalatoris, again! Makes the birdie to go to nine under, Matsuyama's pitch is as poor as it can be, leaving 30 feet for par. Things are moving quickly.
2:47 p.m.: Zalatoris makes a nifty bunker shot, will still have a tough six-seven feet going downhill. At the first, Hideki punches out, leaving a precarious 40-50 yards for his pitch. The X-Man puts his approach at the first a bit right of the green, but not a bad place to be.
2:45 p.m.: Bit of an unforced error by Zalatoris, putting his approach in the front bunker at the second. Birdie can be had from there, but it's far from easy. Back at No. 1 green, Rose misses his par attempt to fall to six. Not to be dramatic, but they do not have that latitude.
2:42 p.m.: Matsuyama blows his first drive way right. He could play a punch, but, as they say, less than ideal start. Xander's drive finds the fairway...up ahead, Leishman makes bogey after failing to get up-n-down.
2:36 p.m.: From the third fairway, Spieth puts his approach to seven feet. He converts it for birdie. Strap in folks.
2:32 p.m.: Zalatoris! The 24-year-old rolls in a birdie at the first to get to eight under. That is gettng it done. At the second, Spieth's ball magically stays clean, but he proceeds to put his second shot way the heck right. So right it might be good!
2:25 p.m.: Spieth bogeys the first. Needing, NEEDING, something, he puts his drive at the 2nd in the woods, perhaps in the creek. That could do it for Spieth.
2:19 p.m.: Spieth's approach goes long and his putt off the green isn't much better, leaving an uncomfortable 10-footer for par. Will Zalatoris, now driving, pushes his tee shot left similiar to Spieth's, with Corey Conners finding the fairway with a sweet little swing.
2:13 p.m.: Rahm gets up and down to save par at the seventh. An eagle could go far on the eighth...across the way Jose Maria Olazabal finishes off his stirring weekend by dropping a bomb on the 18th. At 55, very cool to see.
2:11 p.m.: Oh boy. Michael Greller has shaved his beard. That feels like something. It has to be something. Jordan Spieth pushes his drive left at the first. Maybe it isn't something.
2:07 p.m.: We would have given you an update but it's been seven minutes of TV montages. We do believe, however, a golf tournament is still being played.
2:00 p.m.: Well, it's not a total loss for Bryson. He'll be leaving with crystal after an eagle at the par-5 13th. All about perspective.
1:53 p.m.: Rahm continues his par stretch, taking 3 at the sixth. Nothing wrong with that. Shane Lowry also making a move with three birdies through his first seven. The red numbers are out there, as long as you navigate the first. Which, admittedly, is very easy to say sitting on my couch.
1:47 p.m.: Because there's a small break in the action, it's a true disappointment we didn't see Bryson housing pimento and egg salad sandwiches between shots this week. Really had a chance to connect with the people and let it slide.
1:40 p.m.: Morikawa bogeys the ninth. Makes the turn in 35 but 10 shots back. Rahm's birdie putt doesn't break enough, but the Spaniard is still in good position through five.
1:34 p.m.: Bryson's birdie putt missed at the 11th. So did his par putt. Now outside the top 40 in the tournament.
1:27 p.m.: Morikawa pars the eighth to stay at three under for his round, while Rahm also stays at three under after a par at the difficult fourth. Horschel's mess at the 13th—which required hitting again from Rae's Creek—leads to a triple-bogey 8.
1:22 p.m.: Was really hoping Horschel would play the rest of his round barefoot. Although guessing that would not improve Florida-Georgia relations.
1:18 p.m.: Billy Horschel is barefoot again. That is all.
1:12 p.m.: Rahm pars the third. The 58 dream remains alive, but is on life support ... Phil Mickelson gets his day started with a par. Mickelson hasn't had a top-20 finish on tour since August, but has an outside chance to crack the top 10 with a solid round today.
1:05 p.m.: Just realized the amount of awful Zalatoris-Owen Wilson jokes coming are way this afternoon. Legit bummed out.
1:00 p.m.: Also making a run is Collin Morikawa, who's made four birdies in seven holes (plus a bogey). But he and Rahm have not moved inside the top 10.
12:55 p.m.: Jon Rahm has entered the chat. Starting the day at even, Rahm goes birdie-eagle to move to three under. And if he can keep that birdie-eagle cadence, maybe throw a little 28 at the field, tell you what, he'll be right in it.
12:48 p.m.: Bryson makes a bogey at the par-5 eighth after hitting his drive into bushes. And that's the beauty of watching Bryson and Phil and Spieth. For all we know about Augusta National at least once a round this trio shows us a part of the course we did not know existed.
12:43 p.m.: One player making moves is Ian Poulter. The Englishman has made four birdies and a bogey through eight holes, droping 20-something spots in the early wave. The only player better than one under is Matt Wallace, who eagled the second.
12:33 p.m.: Here's Bryson's week: 340-yard bomb at the par-4 seventh, leaving a flip wedge...and he spins it off the green. A nice chip gives him a chance to make par, but you cannot throw away opportunities at Augusta National.
12:28 p.m.: Just a short Colt Knost appreciation message. Guy has been really good in the Featured Groups streaming this week. Will be fun to see how his broadcasting future plays out.
12:24 p.m.: Not to repeat ourselves ... but no one is going low through the front nine. You can read that as it's going to remain a traffic lock behind Hideki, or that there's potential for blow-ups.
12:14 p.m.: How much would you give for an "Every Shot of Billy Horschel" app? $50 per month? $100? Blank check. Hits a perfect lay-up at the eighth and is still mumbling to himself. What a delight.
12:08 p.m.: Paul Casey is not considered one of the longer guys on tour. Paul Casey just cleared a bunker 310 yards, uphill, on the par-5 8th. Announcer Colt Knost says Paul Casy was hitting 340 bombs last week. These guys are beasts, is what we are getting at.
11:58 a.m.: Billy Horschel just lost his mind on a pitch at the seventh, slamming his wedge three straight times into the bag. And it was a good chip! Probably steaming from his approach rolling down the off the front. Give the man this: He's never not entertaining.
11:50 a.m.: Only 20 guys are on the course, but so far nothing magical just yet, as Ian Poulter is the low man at two under. Don't want to put too might weight into what we're seeing, but also doesn't seem like Augusta National is feeling particularly generous, either. Advantage, Hideki.
11:43 a.m.: Speaking of Bryson, he hits a 320-yard drive at the par-4 third, leaving himself 15 feet or so for birdie...but it's a birdie he cannot convert. We don't necessarily buy-in to the belief that the no greens-books are Bryson's Achilles' heel...but there is mounting evidence.
11:33 a.m.: The leaders don't tee off until 2:40 p.m., but there's some fun early action Sunday. Headlined by Bryson DeChambeau. Augusta was spared the Bryson Reckoning for the second straight year, as DeChambeau has gone 76-67-75. He's 13 back of Hideki, but getting another sub-70 round will be huge for his Masters experience going forward.
7:48 p.m.: Rose, who hit the ball like absolute garbage the entire back nine, saves another ridiculous par at 18 to shoot a 72 and stay at seven under, four off the lead. Memorable grinding, for sure. We'll see if he can turn it into something special tomorrow, but if he can't figure out his swing he's going to be in trouble. His partner, Zalatoris, pars 18 for one-under 71, which, given the circumstances, is a damn good round for the Masters rookie. He's got a legit shot to win, which is all he could have asked for on the first tee six hours ago.
That means Xander Schauffele will be in the final pairing alongside Matsuyama. Pretty crazy considering neither guy was coming in with particularly great form. But Augusta National can often bring out the best from world-class players like Xander and Hideki. Should be a fun final round on Sunday.
7:37 p.m.: Leishman just misses birdie at 18, so he won't be in the final pairing. His par gives him a solid two-under 70, which will have him four back when he pegs it on Sunday. Leish has a knack for coming from behind to win. Just saying.
7:31 p.m.: Another par for Zalatoris at 17, and more short-game magic for Rose to save par, too. As of now, it'd be Xander Schauffele in the final group with Hideki Matsuyama, unless Rose, Zalatoris, or Leishman make birdie on 18.
7:18 p.m.: Rose finally gets bitten at 16, where another wayward iron shot off the tee leads to a bogey. Zalatoris makes par and now they are both at seven under, four back, as is Marc Leishman, who just hit one close at 17 and has a chance to reach eight under. It's a battle to get into the final pairing with Hideki now.
7:09 p.m.: Two-putt birdie from Willy Z at 15, which gets him back to seven under, four back. Rose, once again, makes a ridiculously good up-and-down par save to stay at eight under. These are like those saves in hockey that goalies make when their team is down 2-0 and the play-by-play guy says "remember that one, could end up being important," and then the team comes back and wins 3-2. If Rose can somehow come back and win this thing by a shot or two on Sunday, the par saves on 11, 14 and 15 on Saturday should be remembered forever.
7:06 p.m.: Interesting turn of events at 15, where Zalatoris just hit an approach usually reserved for guys who have played 15 Masters in their careers, setting up a solid look at eagle. As for Rose, the guy who has played 15 Masters in his career, he laid up, then sailed his third so far over the green it almost hit the guys walking to 16 green. He's made some huge par saves, but this one would be otherworldly.
6:58 p.m.: Matsuyama finally hit a poor shot at the 18th tee, his drive finding one of the massive fairway bunkers. His second was absolutely juiced over the green, but he hit a remarkable chip to a few feet to save par and one of the great bogey-free rounds in recent memory at Augusta. Seven-under 65, which puts him at 11 under, and could make him the first Japanese-born player to ever hold a lead or co-lead after any round of the Masters. Feels like will probably hold up.
We haven't had a Spieth update in awhile, probably because he hasn't done anything of note. He did birdie 15, but immediately gave it back with a three-putt bogey at the 16th. He's six back of Hideki. Back at 14, Rose makes another huge up-and-down par save to stay at eight under.
6:42 p.m: Remember Conners and Hideki's three-putts on 13? Zalatoris joins the club, though it was a birdie putt and not an eagle putt that he left short. His par putt missed the right edge and he made his third bogey of the day to drop back to even on the day, six under on the tournament. Still some impressive fight from the Masters rookie today, but he's now four back ... check that, five back. Matsuyama just made another birdie at 17. He's on FIRE.
6:30 p.m.: There it is, 10 under for Matsuyama. What a freaking round. Bogey-free, six under through 16.
6:26 p.m.: Welp, folks, Hideki's irons are absolutely cooking right now, which usually spells doom for the rest of the field. He just hit another one stiff at the 16th, setting up a six footer for birdie. If that drops, he'll get to 10 under.
6:20 p.m.: This is some incredibly gutsy stuff from Zalatoris right now. He flew the green at 12, but putted it through the thick grass to tap-in range to save his par and stay in the lead. Well, that was until Rose poured in a birdie on top of him to grab the solo lead at eight under. Moments later, Matsuyama rolled in his eagle putt to grab the solo lead at nine under. Hard to keep up right now. By the way, right before Matsuyama holed his eagle putt, Schauffele buried a BOMB from 61 feet for eagle to reach seven under. Goodness gracious!

6:14 p.m.: Justin Thomas may have just shot himself out of the tournament at the 13th. He ended up walking off with a triple bogey 8, which dropped him all the way to one under. That could be eight back momentarily, as Hideki Matsuyama just STUFFED his second shot on 15. Is it finally Deki's time? Lot of golf left, but this is a magical round right now.
6:03 p.m.: The action is fast and furious right now, which you love to see. Quick recap: Zalatoris birdies 10 to tie Matsuyama and Rose for the lead (Matsuyama saves par at 14). Conners birdies 15 to get back to five under, two back. Spieth makes a huge up-and-down par save at 12 after missing the green left. JT's drive at 13 doesn't hook and he gets stuck in the trees, but he plays a beautiful snipe hook out and sets up a 81-yard wedge shot, which he left short of the green and in Rae's Creek. Absolute chaos.
5:50 p.m.: At No. 13, Matsuyama faced an almost identical eagle putt to Corey Conners' look earlier. With the greens being as slow as they've been all week after the rain, it's obviously tough to adjust. Like Conners, Matsuyama also left his short and then missed the birdie putt too, settling for par. Back at 12, Thomas rolls in a much needed birdie to stop the bleeding. He's back at four under, three off the lead.
The quietest round of the day belongs to Xander Schauffele, who just got to two under on the round with a birdie at 13. He's at five under, two back of Matsuyama, who he is playing alongside. Say what you want about Xander's closing abilities, but he's literally always in the mix at the majors. In 14 career major starts, he's top-10'ed in half of them.
5:45 p.m.: Disastrous stretch of holes for JT, who just made another bogey on No. 11. Back to three under, four back.
5:39 p.m.: More Spieth magic at No. 10. He chips in for birdie to get back to five under, two off the lead. Up ahead at 14th, Corey Conners' green jacket dreams are going up in flames. At 13 he had a good look at eagle and three-putted for par. Then, at 14, he hit his drive behind a tree and was forced to punch out lefty, which, let's just say, did not go well. He wound up making a pretty solid bogey 5, which drops him back to four under for the week. Not dead yet, but his special round just hit a huge road block.
5:34 p.m.: The CBS broadcast still hasn't shown it, but apparently Justin Thomas missed his kick-in birdie putt at the par-4 10th. Big-time dagger, especially coming off the three-putt at 10. He's still just three back at four under.
5:30 p.m.: Spieth had a good look at birdie to get back to even par for the day, but it just slides by at the ninth. He turns in one-over 37, and sits three off the lead of Rose AND Matsuyama, who just drained another birdie putt at the 12th. Things have escalated quickly.
5:27 p.m.: Hideki is making moves. With the wind down at the 12th, Matsuyama places his approach to seven feet, a look to move him to seven. Back at the 10th, Thomas darn near jars his approach.
5:24 p.m.: Hideki birdies the difficult 11th to move to one back of Rose. Also moving one back is Leishman, who birdies the par-5 eighth to erase his error at the seventh. Spieth, from the fairway, finds the back tier of the ninth, giving himself a chance at birdie.
5:17 p.m.: Thomas comes out and misses a par putt at the ninth, dropping to even on the day and four under for the tournament. At the seventh, Zalatoris' bunker shot cannot get up the crown, rolling 30 feet down the hill leading to a bogey.
5:15 p.m.: And we're back! Reminder: Rose is at 7 under, with nine players within three strokes of the Englishman. Sunset is 7:55 p.m., so we should still get this rodeo in.
4:01 p.m.: Sirens sound. Storms have hit. We are now in delay at Augusta National.
4:00 p.m.: Spieth hooks his approach so bad at the eighth it's damn near on the seventh. He proceeds to put his approach from the wilderness to three feet and makes the birdie. Lip-reading, appears Greller says, "I'm getting too old for this." (Kidding.)
3:54 p.m.: Leishman is another victim of the seventh, which is playing as the hardest hole today, a bogey dropping him to five under. Hideki drops a long putt on the 10th to stay at five under.
3:49 p.m.: Warning signs are out. Looks like a thunderstorm is hitting in a short bit.
3:44 p.m.: Xander makes the turn in 35, four under for the tournament. Given the struggles of those behind him, could be time for the X-Man to make his move.
3:37 p.m.: Oh-uh. Spieth's FOURTH is from the back-of-the-green bunker, rolling 12 feet or so past the pin. Needs that bogey putt in the worst of ways...and doesn't get it. He falls t three under, four back in a tie for 10th.
3:34 p.m.: Rose takes his second bogey in a row to go back to even on the day. Zalatoris makes a nifty two-putt to now get to one behind Rose. At the seventh, Spieth airmails the green, with the cameras unable to locate his ball.
3:29 p.m.: Conners takes a bogey at the 10th, and Rose is in trouble at the fifth, his approach (a fairway wood!) going long into the bunker. That's a delicate shot coming up.
3:24 p.m.: Leishman's drive was so bad at the fifth that he had 250 in. His approach sailed right, looking like a big number was peeping...only for the Aussie to make a delicate pitch to six feet to which he converted to stay at six under. That one could loom large, folks.
3:20 p.m.: Rose takes bogey at the fourth to give one back to the field. But so does Zalatoris, both men in the final group making 4 at the fourth. Conners, at the 10th, comes up short, his approach rolling 30 yards back off the green.
3:15 p.m.: Rose finds the bunker with his tee shot on the fourth, and his bunker shot is nowhere close to the pin. Gonna be a difficult par chance ahead. At the sixth, Spieth, coming off par, hits a wonderful tee shot at the par 3, giving himself 15 feet for birdie.
3:10 p.m.: Rose misses the birdie but gets a tap-in for par. Spieth, from the fairway at the fifth, finds the green but is well short of the pin. Thomas takes bogey at the fifth to drop to five under, and Zalatoris birdies the third to move to seven under. Whew.
3:07 p.m.: Justin Rose plays a nice, if somewhat conservative, shot at the third, leaving a sidewinding 25-footer. Conners gives himself a chance at birdie at the eighth with a beautiful approach.
3:01 p.m.: A bad drive forces Conners to take par at the gettable eight, but remains at six under. At the other end of the course, Patrick Reed makes three straight birdies to get into red numbers and is knocking just outside the top-10 door.
2:54 p.m.: Odd day so far for Cam Champ, with two birdies and three bogys. Speaking of bogeys, Spieth makes one at the fourth to drop to even par on the day, and suddenly is four back of Rose.
2:48 p.m.: Trouble for Spieth at the fourth, his tee shot finding the greenside bunker. Behind, Justin Rose begins birdie-birdie. He's doing his best to take the drama out of this.
2:45 p.m.: Spieth's birdie putt at the third lips out. Given how the field is playing the third, that's going to hurt.
2:43 p.m.: Honestly, the only player out of the final groups not firing is Si Woo Kim, who is two over through four holes. And yes, he has a putter. At least we think.
2:40 p.m.: Justin Thomas birdies the third to move to six under. Honestly, TOO much is happening.
2:38 p.m.: Conners. Is. ALIVE. He makes another birdie, this time at the seventh, to get to six under, just two back.
2:33 p.m.: Rose drops a birdie at the first. And Zalatoris, after putting his third to 10 feet, coverts what's left for par. Those are some bad, bad men.
2:31 p.m.: Both Spieth and Wiesberger making their birdie putts, proving why they're there and we are here. Also making moves is Xander, who is now to five under. Things are happening, people.
2:27 p.m.: Justin Rose ain't messing around, putting his approach to 15 feet at the first. Zalatoris, playing from the right fairway bunker, hits the lip of the bunker, his ball going only 20 yards or so.
2:25 p.m.: Final group is off, with Zalatoris finding the bunker and Rose splitting the fairway. Ahead, Justin Thomas makes a birdie at the second to move to five under. Both Spieth and Wiesberger have less-than-stellar thirds into the second, with difficult birdie putts upcoming.
2:15 p.m.: Following a no-nonsense two-putt at the first, Spieth finds the fairway at the second. And if the leaderboard is right, Corey Conners just made an ace at the sixth to move to five under for the tournament!
2:07 p.m.: Spieth plays it conservative on the first, a smart play given the hole's back pin location. Gives himself a chance at birdie, but takes bogey out of play. Ahead Xander birdies the fourth to move to four under, while DeChambeau doubles the fourth and bogeys the fifth to exit the proceedings.
2:00 p.m.: Jordan Spieth opens his round by finding the fairway at the first. His playing partner, Bernd Wiesberger, follows suit. Meanwhile, the forecast is calling for thunderstorms around 5:00 p.m.; we might be looking at an early Sunday, boys and girls.
1:45 p.m.: Corey Conners off to a nice start, racking up red numbers on the second and third, moving to four under. Despite the wind, don't think this can be a today where par is going to get it done for Justin Rose. Simply too many good players chasing him down.
1:40 p.m.: Jose Maria Olazabal, 55, makes the turn in 35, then proceeds to make par on 11 despite being 250 out. What a story developing.
1:37 p.m.: Matt Jones doing what he needs to do, birdieing the second and third to get to three under. With the wind making its presence known, something at four or five under could be very slick by sundown.
1:34 p.m.: "And the wind is starting to blow here at Augusta National..." Excuse me as I wipe these tears of joy.
1:30 p.m.: Also on the course: Young guns Collin Morikawa and Viktor Hovland. Morikawa bogeys the first, Hovland goes bogey-birdie-par, keeping up the cadence of his super-weird week.
1:20 p.m.: Bryson DeChambeau is on the course. Six back, Bryson is among the group needing a hot start. He's not getting it so far, making 5 at the par-5 second thanks to an errant drive.
1:15 p.m.: Things have not improved for Scott. His birdie putt at the par-3 16th rolls back to his feet. Get this man a beer ready when he walks off the 18th.
1:10 p.m.: Adam Scott is having himself a hole on the 15th. He called a penalty on himself for his ball moving at address, then proceeds to dunk the next into the pond. His next shot also runs dangerously close to falling into the water, but stays up. Unfortunately, he walks away with a triple-bogey 8.
1:03 p.m.: Tommy Fleetwood, starting the day at even, has birdied the second and third to get his round going in the right direction. Someone from the even-two under crowd will break free, and a hot start will be the catalyst.
12:54 p.m.: A non-zero chance Phil spends the rest of the round telling Horschel about an instant stain remover start-up he's invested in.
12:50 p.m.: Oh boy. Billy Horschel, without shoes on, slipped down the bank of the 13th green. In white pants. But still managed to hit an okay shot from the creek! Early Masters coverage delivering the content we all desire.
12:42 p.m.: Jon Rahm is four holes into his third round. Starting the day at even, he likely needs something in the 66-67 range to put himself into Sunday's conversation. So far, that push has not come, a birdie on the third erased by a bogey at the fourth. Likely needs to get to 34 at the turn to make some magic happen.
12:34 p.m.: It's hard to beat the Masters' streaming service. Any view you want, they have. Save for one: NEED a gift-shop camera, if only to see all the overwhelmed dads deciding if they are passing on this month's mortgage or their kids' tuition to buy five more polos.
12:25 p.m.: He doesn't go off for two hours, but let's raise the question: It would be so, so sweet if Will Zalatoris won the Masters...and still decided to play in the Korn Ferry Tour Finals.
12:17 p.m.: Not having a good day: Adam Scott. The 2013 Masters winner is three over through 10 and went so far right on the 11th he's actually okay. Still, not what he wanted this week...also struggling is Harris English, who's five over through six holes.
12:13 p.m.: Webb Simpson is making a move. Starting the day at two over, the former U.S. Open champ has made three birdies through eight holes to get to red figures for the week. We don't tend to think of Simpson as one who has a lot of success at Augusta National, but Webber finished T-10 in November's Masters and T-5 in 2019.
12:01 p.m.: Phil Mickelson, one of the first groups out on Saturday morning, has a birdie putt just miss on the low side at the par-4 ninth. However, Mickelson makes the turn in 34 with three birds and a bogey. Crazy as it sounds, he's not THAT far away from getting into the mix. And if this sounds like a stretch because we may or may not have a bet on a Mickelson top-20 finish, well, you're not wrong.
7:00 p.m.: That does it for today's blog. Thanks for reading and check back tomorrow!
6:55 p.m.: Big par putt from Xander coming up. Three under is in shouting distance. Two under is not only five back, but brings in a heck of a lot of guys ahead of him...and Xander sinks it. The 2019 runner-up is looking good heading into Saturday.
6:38 p.m.: DJ's tee shot finds the bunker on 18, and his approach is well, well short. The hole-out attempt is not to be...the defending champ will not be playing this weekend.
6:30 p.m.: A three-putt bogey at the 17th for Dustin Johnson. Needs a birdie at the last or else it will be a long weekend waiting around to award the green jacket on Sunday.
6:23 p.m.: This Xander round could have been something special. Instead he's kind of just puttering along ... until he drains a ridiculously-tough 25 footer at the 16th to move to three under! That's why we're writing and he's playing.
6:15 p.m.: DJ takes double at the 15th but pars the 16th. Will need to do the same on 17 and 18 to make the cut.
5:56 p.m.: Matsuyama finishes with a par on 18. That's good enough for a one-under 71 and a four-under total for the tournament. Looking for his major breakthrough, he enters Saturday three shots back of Rose.
5:50 p.m.: Oh-uh. DJ's rises his approach at the 15th. At two over, he's going to need to hustle to make the weekend.
5:46 p.m.: Xander misses a good chance for birdie, his eight feet at the 14th not to be. But the X-Man continues to stay in the mix at two under, and can chip away with the par-5 15th coming up.
5:42 p.m.: Jason Day may become the player he once was. It won't be this week. Day will not be around for Saturday, finishing at nine over for the tournament.
5:34 p.m.: If Hideki keeps putting his approach shots to within 15 feet, I tell you what, the man has a chance. Matsuyama puts his second in that range at the 17th, with a chance to move to five under for the tournament.
5:22 p.m.: Si Woo might have to consider using the fairway wood to putt on the weekend ... the guy casually two-putted at 15, 16, 17 and 18 with his fairway wood. That's one of the most outrageous things we've seen in recent memory ... and for someone who tends to struggle with the putter, hey, maybe this is the move!
Si Woo is in with a 69—he's two back heading into the weekend.
5:09 p.m.: Brian Harman might've just had the quietest 69-69 start in the history of the Masters. It seems like it at least ... the Georgia Bulldog just went birdie-birdie to end his round to get in at 6-under, tying Will Zalatoris, one back of Justin Rose's lead.
Harman came into this week in red-hot form, off a T-3 at The Players and a run to the Elite Eight at the WGC-Match Play. And he's backing that up with consistent play firmly in contention at Augusta.
4:51 p.m.: Will Zalatoris just finished his second round birdie-birdie-birdie—coming home in 31 to post a 68, which is good for one back of Justin Rose. It looks like the Masters debutant will likely play in the final group with Rose tomorrow. He's been one of the best players on the PGA Tour, particularly with his irons, this season—and that has served him incredibly well thus far.
Even more remarkable? None of those five birdies on the back nine were on Augusta's reachable par 5s ... he made 5s at 13 and 15. Willy Z is on the path to stardom ...
4:39 p.m.: Will Zalatoris has just gone birdie-birdie at 16 and 17—walking in both putts, mind you—to get within two shots of Justin Rose's lead. Willy Z looks like he's going to be in one of the final groups in his first-ever Masters ... just unbelievable stuff from the 24-year-old.
4:36 p.m.: Oh my ... apparently Si Woo Kim snapped his putter after that bogey at the 14th hole ... so we just saw him using a metalwood of some sort from the green at 15 ... and I guess we'll get to see that over his final three holes, too. The guy's just three back ... and he's snapping his putter at the Masters. My god, you are a glorious man, Si Woo.
4:34 p.m.: HIDEKI MATSUYAMA's 4-UNDER! YOU BETTER CALL YOUR MAMA. (Sorry, we have Chris Vernon's latest update in our head. Here's the video if you're not familiar. Enjoy... but Hideki did just chip in from behind the 13th green to get back to 4-under ... fabulous by the Japanese star.
4:17 p.m.: Will Zalatoris is walking in putts at Augusta National, folks. You think this rookie is scared of the spotlight? After hitting a fantastic tee shot at the par-3 16th hole, the 24-year-old rolls in the birdie to move to 4-under (-2 on his day) to get within three of Justin Rose's lead. Zalatoris finished sixth at the U.S. Open at Winged Foot in September ... and it appears he'll be around on the weekend at his first Masters.
4:10 p.m.: Si Woo Kim has had one of the best rounds of the day—but he just dropped his first shot of the day at the 14th hole after sailing the green with his second. He's still just three back of the lead after that dropped shot.
3:55 p.m.: Jordan Spieth hit a Georgia peach of a fairway bunker shot at 18, leaving himself with about 25 feet for a closing birdie at 18, but his attempt comes up shy. Still, it's a second-round 68 that puts him two back of Justin Rose heading into the weekend. That's in a tie for second with Marc Leishman (who's in with a 67) and Si Woo Kim (who's through the 13th hole thus far).
We can't help but think back to 2015 when Jordan Spieth and Justin Rose played in the final group ... maybe we'll have a bit of a rematch of that group down the stretch six years later.
3:49 p.m.: Oh goodness ... the vibes were so good in the Justin Thomas/Tony Finau group; until the 18th hole. Finau missed a short four-footer for par after trying to scramble from the fairway bunker. Then Thomas just three-putted ... that will make lunch taste mighty sour for both players.
Finau still shoots a 66 to move to 4-under for the tournament. And JT is with him at 4-under after carding a 67. Finau started the day nine back of Justin Rose ... now he's just three back and firmly in the mix, looking for his first major title.
3:39 p.m.: WOW ... Jordan Spieth ladies and gentlemen ... what an absolutely fantastic putt from 30 feet at the 17th hole. Nobody makes that putt. But Spieth knows Augusta National better than anybody. That moves the 2015 Masters champion into a tie for second at 5-under par, two back of Justin Rose's lead, with one hole to go.
3:35 p.m.: Bryson DeChambeau just birdied 17 and 18 to finish at 1-under for the tournament after 36 holes. There were many who were absolutely writing him off—we're thinking of you, Twitter world and your GIFs about Bryson calling Augusta a par 67. Well, guess what Bryson shot today ... yep, a 5-under 67 to get six back of Justin Rose's lead. He'll have an outside chance on the weekend, but a chance nonetheless.
Bryson was so right at the 18th hole that he was basically on No. 10 ... and then hit it to the proper level at 18 ... looks like the big guy figured out his approaches after Thursday.
3:29 p.m.: Woahhhh boy ... Justin Thomas nearly putts off the 17th green, putting from the left side of the green to this right hole location. JT's a bit lucky that stayed on the green, and he'll still need to navigate about 14 feet to remain at 5-under and two back. And he DOES. With a fist-pump! Wow, Friday fist-pumps for par just hit different. But that was undoubtedly huge for JT ...
3:24 p.m.: Jordan Spieth doesn't hit a good tee shot at the 16th hole, but he navigates the necessary two-putt from the bottom left tier to this back-right hole location. Spieth has two more holes to play for the day and is -4, three back of Justin Rose.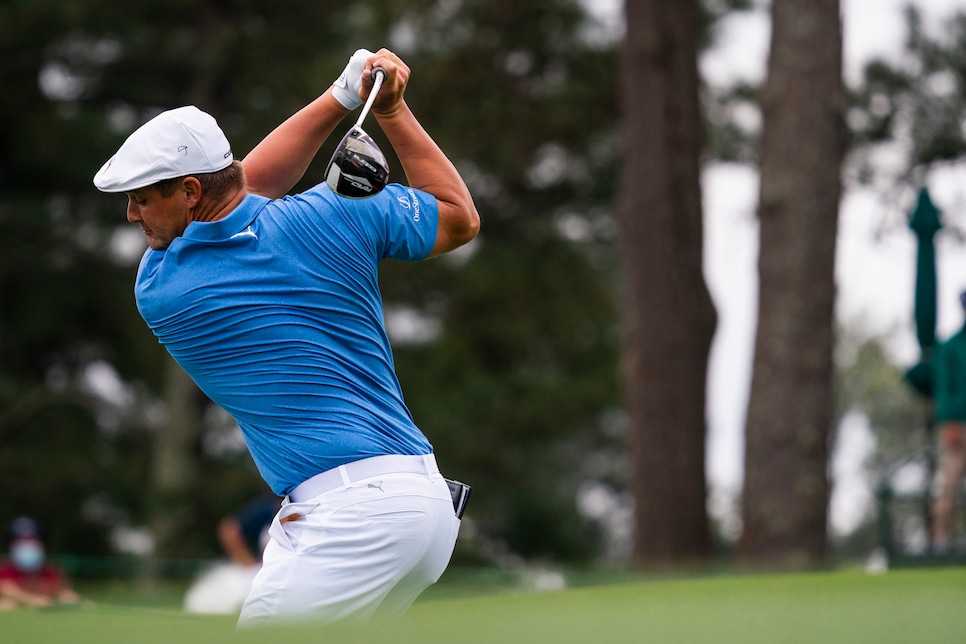 3:18 p.m.: Bryson is not out of this golf tournament, folks. The Incredible Bulk of Golf just rolled in a birdie at the 17th hole—his sixth birdie of the day (to go with two bogeys)—to get back to even par for the Masters. Yes, that's seven back of Justin Rose ... but anything can happenover 36 holes. Within seven is near-impossible, but not dead.
3:11 p.m.: In the same group as Cam Smith, Jordan Spieth remains a huge factor in this Masters. Just off the back of the green at 15, the 2015 Masters champion dribbles his putter from off the green perfectly, and his ball has ended up just a foot from the hole for a birdie.
That'll get Spieth to 4-under as the par-5 15th has treated him well this week—after his chip-in yesterday ... he's 3-under on the 15th alone (as you need to be to play well at Augusta).
3:05 p.m.: Oh boy, Cam Smith had a chance to do something really, really special walking off the 13th hole after his eagle, getting to 7-under for his round. If he played the incoming holes 2-under, he had a chance to match the lowest round at the Masters (63). Maybe the Aussie did the math in his head before playing 14 and 15. He's now bogeyed 14 and hit his third shot into the water at 15. Disaster after he had gotten within two of Justin Rose's lead ... now he's ruining some of the great work he's done
2:50 p.m.: As steady as can be, Will Zalatoris continues a strong first Masters, even for the day with a bogey and birdie. He's at 2-under so far for the week. Looking good to play the weekend and right in the mix.
2:40 p.m.: One shot behind Cam Smith, Tony Finau continues a run of his own birdieing the 14th to get back to 4-under. He then follows that up with a solid tee shot on 15. Impressive showing.
2:25 p.m.: Now 5-under (and 7-under for the day), Cameron Smith is having himself quite a Friday. A tap-in eagle on the 13th jumps him up into the T-2 spot. To make it even a little better, the Masters broadcast call him The Hair Apparent, which is phenomenal stuff.
2:14 p.m.: On the par-5 13, JT gets his fifth birdie of the day after nearly getting eagle. Thomas is now at 4-under and continues his stellar Friday with birdies on every hole of Amen Corner.
2:08 p.m.: With his first bogey of the day, Jordan Spieth will drop to 2-under. A great bunker shot got him in position to escape 12 with a par, but he can't sink it.
2:00 p.m.: Well, that's unfortunate. Adam Scott hits the flag stick from quite some distance. Instead of a comfortable birdie, he'll be putting from 20-plus feet away. Along with his near hole-in-one on 12, it's been a tumultuous day for the golfer dressed for a UPS delivery.
1:52 p.m.: And there's the first bogey of the day for Tony Finau. He's still only three back of Justin Rose. Just a few moments later, JT gets yet another birdie and jumps into the 3-under group.
1:43 p.m.: "Oh my god." Bryson definitely isn't happy after another putt doesn't drop.
1:40 p.m.: Justin Rose is fighting back after a mediocre start to Friday after a blistering Thursday. He moves back into the solo lead with back-to-back birdies to get to 6-under thru 14. Finau, meanwhile, continues his run. He's two shots back of the lead after four birdies over five holes.
1:31 p.m.: With the cutline potentially at 3-over, plenty of big names are going to need to make some magic happen to finish out the day. At exactly 3-over, Bryson misses a chance for a birdie as the ball inches towards the cup but doesn't have enough to drop. Homa and Mickelson are both at 5-over thru 11 and 10 holes respectively.
1:23 p.m.: With a club twirl as a flourish, Matthew Fitzpatrick puts it right near the flag on the par-3 12, "one of the best we've seen" on the hole. Fitz is at 2-under for the day and now even for the week with a good chance for a birdie coming soon.
1:18 p.m.: Lot can happen, but at the moment the projected cut is +3.
1:13 p.m.: Leishman breaks the logjam with a birdie at the 15th, getting him to five under. but he might not be alone for long, as Rose reaches the 13th in two.
1:04 p.m: Wiesberger is in the house with a 66, four under for the event. Finau has birdied the ninth to shoot 31 on the front and move to three under, Spieth pars the eighth but remains at two under.
12:56 p.m.: Tony Finau, you have our attention. After a 74 on Thursday, Finau is on fire Friday morning with an eagle and the second and birdies at the sixth and eighth to get to two under. Finau didn't exactly come into Augusta on a heater, so good to see Big Tone feeling himself.
12:50 p.m.: Now have four players tied at four under, with Leish making a 4 at the par-5 13th and Brian Harman beginning his round with a birdie at the par-5 second. For his part, Rose has steadied himself with pars at the 10th and the 11th.
12:40 p.m.: So much for cooling off. Wiesberger birdies the 15th to move into a share of the lead with Rose.
12:30 p.m.: Spieth's 25-footer for birdie comes up just short at the sixth, but three pars through Holes 4-6 is something most players will sign up for this week.
12:21 p.m.: Spieth's birdie at the fifth comes up just short. Still, no shame in 4 at the fifth...Ahead, Tommy Fleetwood birdies the eighth to move to three under on the day and one under for the event.
12:16 p.m.: Wiesberger doesn't take advantage of the par-5 13th after making bogey at Golden Bell, walking away with a 5. He does par the difficult par-4 14th, but appears to be slightly cooling off.
12:10 p.m.: Holes 4-6, already the gauntlet of the course, are playing especially tough today. So Spieth making three at the fourth with a look for birdie at the fifth is keeping the train on the tracks.
12:03 p.m.: Despite a beautiful drive, Rose's approach at the ninth goes long and will have a brutal putt awaiting. This continues to go sideways.
11:50 a.m..: It is beautiful that a player who is frustratingly meticulous and has pushed the game's boundaries of what we know can be done remains hopelessly vexed by Augusta (Bryson, +5), while another player—who is more concerned with craft brew and lawn care—is a shot out of the lead (Leishman).
11:45 a.m.: Leish makes the turn in 33. Matt Wallace is also getting into the mix by making bird at the 10th to move to three under. Rose needs to stop the bleeding, and in a hurry.
11:40 a.m.: Just hear us out. Dustin Johnson's bananas drive at the '17 Northern Trust playoff sent Jordan Spieth into the wilderness. So it's only fitting a theoretical Spieth win this week ends with DJ handing over the green jacket.
11:35 a.m.: Rose makes his fourth bogey of the day at the seventh. Wiesberger bogeys the 12th. Spieth makes birdie at the second, and is now just two back of the lead.
11:30 a.m.: Tommy Fleetwood makes his second birdie of the day, this one coming at the brutal par-4 fifth, to get to even for the tournament...Jordan Spieth began his day with a no-nonsense par at the first, and put a beautiful touch on a delicate bunker shot at the par-5 2nd to five feet for birdie. The course is angry, my friends, but birdies can be had.
11:25 a.m.: There is so much carnage. What a delight.
11:13 a.m.: For the second time in three holes, Rose horribly misjudges a birdie putt on a par 3, this time his ball rolling nearly all the way back to its original spot at the sixth. Once again, his par effort left him with a tester for bogey, and once again he made a clutch five footer. He's narrowly avoided two disastrous doubles, so give him credit. Still, though, his lead is now only one stroke over Wiesberger.
11:05 a.m.: Oh my ... Bernd Wiesberger can't stop, won't stop making birdies. He just rolled in a 28-footer at No. 10 to reach six under on the day, four under for the tournament. He's the only player so far today to birdie the fifth hole, and the only player to birdie the 10th. That's picking up serious ground. Imagine he doesn't putt that ball in the water on Thursday? He'd be tied for the lead. Bernd baby Bernd.
11 a.m.: Par-birdie-birdie start for Scottie Scheffler, which gets him to one under for the championship. Ideal way to kick Friday off for Scheff, who tied for 19th in his first Masters start in November.
10:52 a.m.: Things have escalated very quickly for Jason Kokrak, who had gotten it to two under with a birdie at the second and has dropped four shots since. A double-double will do that to ya, and we're not talking about In 'N Out Burger, folks. Kokrak made consecutive double bogeys at the fifth and sixth holes and is now eight back.
10:48 a.m.: Despite having a ton of success around the world over the last year-plus, Tyrrell Hatton's recent major performances had left a lot to be desired. That narrative might be dying this week, with Hatton currently in a tie for sixth following a birdie at the third hole. He's two under for the tournament, firmly in the mix. Up ahead at the fifth, his fellow countryman Rose has an extremely long look at birdie, one he'd be thrilled to get down in two.
10:39 a.m.: Rose sails the green at the par-3 fourth, setting him up with a long putt that had to travel through some short grass before reaching the green. He wound up leaving it short of the green, leaving him with an equally tricky par putt from off the putting surface. After trickling it down to around five feet, he juuuuust creeps in his bogey putt in the side door. Phew. That could have been really disastrous, his lead nearly shrinking to two. Instead, he is still comfortably up by three over Wiesberger and Leishman ... for now.
10:33 a.m.: Bernd Wiesberger's scorching hot second round continues at the par-5 eighth, where he makes birdie to reach five under on his round, three under for the tournament. He's now just four off the lead, this a day after he putted a ball into the water on the 15th hole. Talk about perserverance. Lesser men would have called it quits after that.
10:27 a.m.: Solid par for Rose at the short par-4 third. He'll take 15 more of those today, because that will probably keep him in the lead.
10:12 a.m.: Strong bounce back at the par-5 second for Rose, who gets up and down for his birdie to get back to seven under. Can't say the same for one of his playing partners, Shane Lowry, who opened with a double at No. 1 and then three-putted for bogey at No. 2. The Irishman has quickly fallen to two over for the tournament.
A nice, yet quiet little start from Francesco Molinari, who had the lead on Sunday here a few years ago. He's two under through four, which has him at even par for the tournament.
9:52 a.m.: Justin Rose manages to lose just one shot after the errant tee shot at the first hole—pitching out then navigating the 52 feet for bogey. Rose's lead is now three.
One of those players now just three back is Marc Leishman, who we saw in the lead for some time on Thursday. The Aussie is off to a red-hot start and birdies on his first three holes! That'll do!
But incredibly, Leishman's start isn't the lowest on the course right now! Bernd Wiesberger is 4-under through his first six holes to move to 2-under overall ... the Austrian also birdied the first three holes of the day, plus one at the ultra-difficult par-4 fifth hole—to climb up the leader board.
9:44 a.m.: Justin Rose didn't lose his turn after his second shot ... as he chose to punch out sideways from way right at No. 1. His third shot goes deep onto the first green, so he'll have his work cut out to two-putt for bogey here.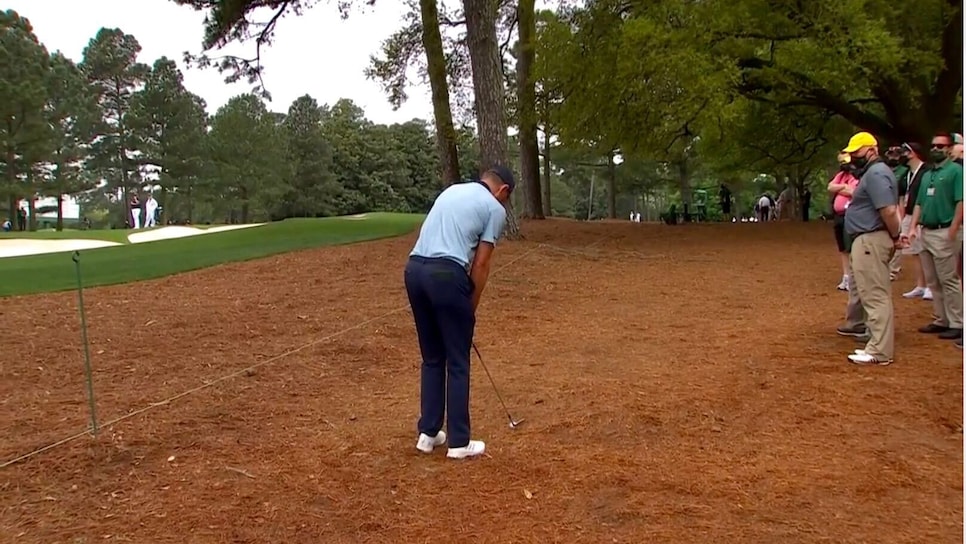 9:36 a.m.: The leader is off ... and he's OFF the fairway by a wide margin. J-Rose just missed the fairway way right off the first tee. We saw similar ball flights on the range as noted below. We'll see if our leader can scramble to avoid his lead decreasing after one hole early on.
9:27 a.m.: Justin Rose has exited the tournament practice area as he gets ready for his 9:36 a.m. tee time with Shane Lowry and Gary Woodland. It sure looked like Rose and his teacher, Sean Foley, were engaged in a serious swing discussion ahead of Rose's second round. That's apparently similar to their discussions on the range in the lead-up to the Masters, as Brian Crowell discussed in the Masters.com coverage. But Rose got into a zone that we're not familiar with at Augusta National—with that 9-under stretch over his final 11 holes to end Thursday in magical fashion.
It didn't look like the most confidence-instilling range session ahead of his Friday round, but we'll see how Rose plays with this big lead on Friday.
Mackenzie Hughes, who we told you below was 2-under through his first three holes to get to 2-under, bogeyed the par-3 fourth hole after an errant tee shot way right of the green. The Canadian falls back to T-8 and 1-under, a mark just reached by Bernd Wiesberger of Austria, who is 3-under through his first four holes at Augusta.
9:22 a.m.: Oh man ... something to look out for later ... we love this pin position at the par-3 sixth hole as well. Don't ask Vijay Singh about it ... he might have a different opinion after this adventure early on Friday.
9:14 a.m.: Canadian Mackenzie Hughes is off to a fast start Friday morning at Augusta National, birdieing holes 2 and 3 to get to 2-under, which is T-4 at the moment.
This is Hughes' second Masters apperance after missing the cut in 2017 (with a low round of 79). The Canadian has been playing really good golf over the past year, making the Tour Championship in 2020 for the first time in his career, which secured him an invitation to his second Masters.
8:55 a.m.: It's a quiet morning thus far at Augusta National as we wait for Justin Rose to tee off at 9:36 a.m. Seems like the anticipated weather is now just 20 percent at 4 p.m., though the wind might be 10-15 miles per hour ... so it will be a test at the end of the day as players fight to make the cut. Remember that the Masters did away with the 10-shot rule, so only the top 50 players and ties will make the weekend at Augusta.
The most notable (very) early score belongs to Bernd Wiesberger, who has birdied his opening two holes to move to even-par for the tournament. And Mackenzie Hughes birdied the par-5 second hole to move to 1-under for the tournament, which is T-8 right now.
Here are the pin positions for the second round: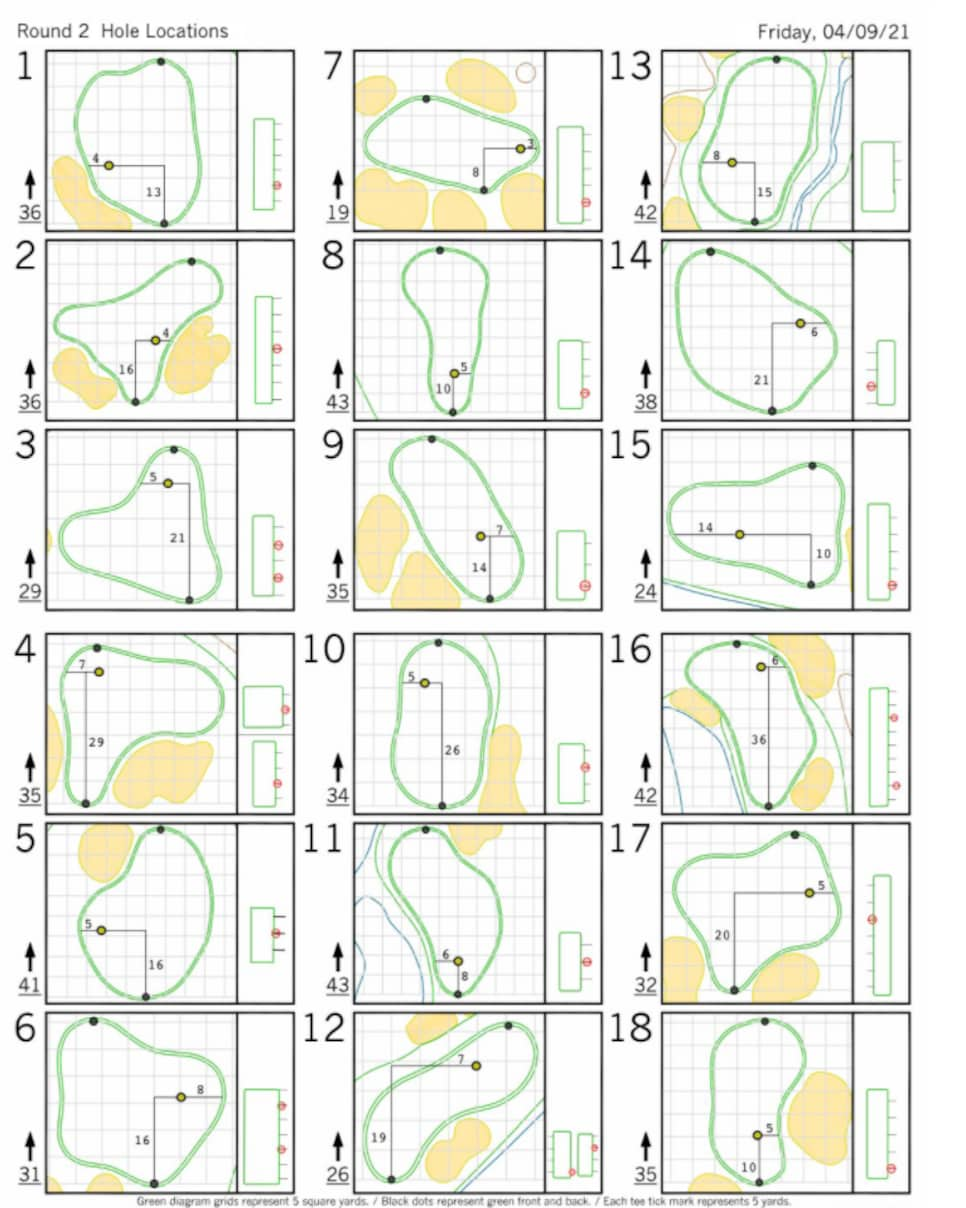 Thursday's updates (in reverse chronological order):
7:30 p.m.: Jordan Spieth misses a great opportunity for a finishing birdie at the 18th hole but will settle for a 1-under 71 on Day 1. He finds himself six back of the unbelievable round by Justin Rose. Spieth's one of just 12 players to go under par on this really difficult day at Augusta National.
6:45 p.m.: We'll tell you all about Justin Rose's round (below), but there is more golf happening late in the day at Augusta National, though no one will touch Rose's lead. Spieth has had an eventful day on Thursday ... of course most notably his triple-bogey 7 at No. 9. Then he did this with his chip from behind the green at 15 ...
There's no doubt that ball would've been in the water if it didn't hit the flag squarely. Shane Lowry was in a similar spot earlier in the afternoon and rinsed his chip shot. That's huge for Spieth to get back to 1-under ...
6:33 p.m.: Justin Rose is talking with ESPN's Scott Van Pelt and it's fascinating how loose the Englishman is right now. And why not, after shooting a 7-under 65 on a day when the scoring average was above 74. Rose's comments were interesting: He admitted not knowing where his game was at all entering the week. "My coach [Sean Foley] told me before the week, 'I don't know if you're close, I just know it's better.' "
It turns out "better" was world-class on Thursday. After starting off 2-over through seven holes, an eagle on 8 catapulted him to special things ... playing the final 11 holes 9-under par to take a four-shot lead into Friday.
This is now the sixth time Rose has led or owned a share of the lead at Augusta National—which per the PGA Tour is the most of any player at the Masters to have not won. In his interview with SVP, J-Rose talked about all the "heartache" he's experienced at Augusta, including the playoff loss to Sergio Garcia in 2017. He's setting himself for another chance at redemption in a major spot.
6:13 p.m.: How good has Justin Rose been this afternoon? He just had a chance to match Craig Wood's largest opening-round lead from 1941 if he holed another birdie at the 18th hole. That would've been a lot to ask. The Englishman is still 9-under over his final 11 holes and will lead by four shots after today's play. Only 10 players are 1-under or better right now ... and J-Rose just put up a 65 on them. Truly unreal.
6:00 p.m.: Ace alert!!! Tommy Fleetwood just made a hole-in-one at the iconic 16th hole ... the 32nd ace in the history of Augusta National.
The crazy part? Fleetwood just made a hole-in-one in his last tournament! Here's the ace he made at Austin Country Club at the WGC-Match Play ... how unprobable is it to make aces in back-to-back tournaments—WOW.
It's nice to have some roars back at Augusta.
5:57 p.m.: Sheeshaloo ... Justin Rose is not done yet. This is one of the most special rounds in recent memory ... he's now 9-under in his past 10 holes ... at Augusta National while it's playing as tough as it has in years. Just amazing, truly amazing stuff.
5:48 p.m.: We finally have one other player under par ... Tyrrell Hatton has three straight birdies (13 through 15) to get to 1-under. It's a fabulous afternoon for this couple of Englishmen at Augusta National.
5:38 p.m.: There's no stopping Justin Rose, you can only hope to contain him. This is truly a special exhibition given how difficult scoring is ... still, he's the only one under par from the afternoon wave. Rose just bagged another birdie at the par-3 16th—that's 8-under through his last nine holes. Are you kidding? Special, special stuff as the Englishman looks to grab his fourth opening-round lead (or co-lead) at Augusta.
5:28 p.m.: Justin Rose extends his lead with an all-world bunker shot from the right greenside bunker at the par-5 15th hole, then holing the 12-footer for another birdie. What a stretch for the Englishman—he's now 7-under through his last eight holes! J-Rose is 5-under and in the lead by two ... and he's the only player under par in the afternoon wave. Remarkable ...
5:20 p.m.: Bryson DeChambeau's adventures around Augusta National have now extended to the iconic par-3 12th hole. His tee shot flew about 15 feet past the green (as he pointed out audibly while glaring at his caddie Tim Tucker), but he got a really fortunate break as his ball fell down like a Plinko chip out of the bushes and pine straw behind the green and into the first cut.
With putter in hand for his second, he barely got onto the green ... the grain just ate it right up. The players are obviously scared of how fast these greens are rolling. Then a missed putt and another bogey for Bryson. He's now 5-over and in need of a birdie barrage (he's still looking for one) to salvage this round.
5:07 p.m.: One of the best qualities of Jordan Spieth at his peak was his ability to bounce back from the untimely bogey. The three-time major champion seemed to always follow up a bad score with a birdie to get back on track.
That's what we just saw at No. 10 from Spieth—after the brutal triple-bogey 7 (see below) at the ninth hole—the 2015 Masters champion just birdied the difficult 10th to get back to 1-over par.
5:04 p.m.: Justin Rose saves this incredible momentum with a crucial 12-footer for par at the par-4 14th hole after he missed the green long. Rose stays 4-under through his first 14 holes—and he's now 6-under through his last 7 holes.
Amazing given how difficult Augusta National is playing right now ... the first-round scoring average right now is 74.80, which is more than three shots higher than what it was in November.
4:52 p.m.: That shot on 9 (watch the video below) ends up costing Jordan Spieth big time, as the Texan's bogey attempt ran past ... too far, and then he misses the comebacker. That's a triple bogey 7, knocking Spieth back to 2-over through his first nine holes. That's brutal for him after the long birdie make at No. 8.
Justin Rose, meanwhile, is now outright leader, getting to 4-under after a birdie at the par-5 13th hole. The Englishman is now 6-under through his last six holes ... just an amazing run after making an eagle at the par-5 eighth—he's caught fire from there. Rose has such great history at Augusta National, and it's glad to see his back issues seem to be behind him.
4:40 p.m.: The Jordan Spieth experience is upon us, folks. His tee shot at the ninth hole went so far right, he wasn't even sure he'd find it. So he hit a provisional ... but Spieth did end up finding the first tee shot. Then the adventure really ramped up.
This is about as loud of a tree CLANK as you'll hear ...
Now he'll be lucky to make a 5 just to make the turn in even ...
4:28 p.m.: Oh man, Jordan Spieth just made a BOMB at the par-5 eighth hole, even after finding the fairway bunker with his tee shot. Spieth gets back to red numbers, now giving us five players in red numbers at the moment.
And now Justin Rose is a co-leader, birdieing the par-5 13th hole to tie Hideki Matsuyama and Brian Harman atop the leader board. The Englishman is playing in his first tournament after WDing from Bay Hill and missing the Players ... but he looks healthy thus far.
4:20 p.m.: The carnage continues on this afternoon—with only four players on the course being under-par right now. Bryson DeChambeau has had a number of adventures thus far leading to a front-nine 4-over 40 ... with missed putts, missed greens (2 of 9 GIR) and missed fairways (2 of 7). We'll see if he can right the ship coming home.
The red numbers right now: Justin Rose (-2 through 12); Marc Leishman (-1 through 13); Sungjae Im (1-under through 9; Matt Fitzpatrick (1-under through 9).
3:58 p.m.: From 2-over to 2-under, Justin Rose makes a little run here with an eagle and two birdies over three holes to get into the thick of things. Here's the eagle, if you want to see the center of a venn diagram between luck and skill.
3:54 p.m.: Patrick Reed nails a 31-foot birdie putt on 17 to take a share of the lead at 3-under. Reed will join Harman and Matsuyama atop the leader board. On the other side of things, Rory will finish the day at 4-over, which includes one parent hit by an errant shot. Nowhere to go but up for McIlroy. Hopefully.
3:42 p.m.: Well...that round didn't end the way DJ wanted it to. Johnson will finish the 18th with a double-bogey and drop to 2-over. His bogey putt did everything but drop and now the defending champ will have a lot of work to do tomorrow to get back into the swing of things.
3:34 p.m.: Random updates: Patrick Reed will jump to T-3 after a steady birdie putt on 16 to get to 2-under. Jon Rahm will miss a similar chance to get to 2-under after a close birdie putt. After trouble off the tee, Leishman is trying to avoid his third straight bogey. DJ doesn't put enough on a very long par putt and will be at least 1-over heading into Friday.
3:24 p.m.: Justin Thomas nearly gets a hole-in-one on the par-3 6. It looks like JT thought the ball was finding the bottom of the cup on instant replay with quite the emotional reaction. Moments later, on the 18th hole, DJ finds himself in "big trouble" with his drive slowing down right under a bush. Will be interesting to see how he plays this one. The defending champ is still even for the day.
3:10 p.m.: To finish their Thursdays, Koepka and Hovland will both just miss birdies and finish with pars. After roller-coaster days, the two pros will be relatively happy with where they ended up. Hovland will escape at 1-over and Brooks will finish 2-over. The third in their pairing, Bubba Watson, will also finish the day at 2-over.
3:05 p.m.: Now that we're past the arbitrary 3 p.m. mark, let's see where we stand at Augusta. Leishman leads the field at 4-under thru 8 and Brian Harman and Hideki Matsuyama sit at 3-under right behind the Australian. The big names are spread out across the leader board with DJ, Spieth and Mickelson at 1-under, Koepka and Bryson and 2-over and Rory at 4-over.
3:00 p.m.: It's been a day to forget for Rory McIlroy, 5-over through 14, but at least he has a wild story from this Thursday at Augusta. The four-time major winner somehow hit his father with an errant approach shot. Luckily, his dad is just fine, but an apology couldn't hurt.
2:51 p.m.: Viktor Hovland's up-and-down-and-up-and-down day continues with a third shot for birdie from just off the green on 17 that flies past the hole. Koepka uses this read to his advantage and keep a similar shot light. Hovland then miraculously follows that shot up with a long chip-in for par. He may not be having the best day, but Hovland is certainly having the most entertaining day.
2:40 p.m.: Just when you thought Brooks Koepka had already played himself out of the weekend, the pro's pro birdies two in a row and bounces back. He's now only two-over through 16. Could be much, much worse.
2:34 p.m.: Viktor Hovland chunked his eagle chip at the par-5 15th then proceeded to roll in a 30-footer for birdie that would have went in the water had it not run into the stick. Golf!
2:18 p.m.: Justin Thomas is in trouble at the second. Dumped his drive into the creek on the left, and with his fourth going long and right of the green. Going to be a testy up-and-down for bogey for the Players champ.
2:12 p.m.: We're not getting the angry Augusta National that we hoped for. Seventeen guys are currently in red, and the afternoon, so far, has not brought the wind in the original forecast.
2:05 p.m.: Another bogey for Koepka, his fourth in five holes...Jordan Spieth begins his day by finding the fairway at the first and the safe part of the green with his approach...Webb Simpson joins Hideki at four under with birdies at the 12th and 13th.
1:56 p.m.: Does not appear this will be Rory's week. McIlroy makes the turn in 40 and puts his approach in the pond on the 11th. Now five over, McIlroy has some work to do to stop the bleeding.
1:48 p.m.: Getting late early for Brooks. Two over heading into the 13th, Koepka rinses one into Rae's Creek, with his fourth scoots 20 feet past. And it's 20 feet he can't convert. Bogeys the easiest hole on the course, now three over Brooks has to keep it together over the next five to prevent a quick out.
1:46 p.m.: The course is showing its bite, but no one told Hideki Matsuyama. Hideki birdies the 13th to move to four under to take a one-shot lead. It's very early, but if Matsuyama can stay at minus four that's going to be a tough number to match.
1:36 p.m.: Lee Westwood is off to a brutal start, five over through 10, with a 15-footer at the 11th coming up to save par. Dustin Johnson, playing with Westwood, sees his fortunes change, dropping a pitch from 30 yards out for birdie to move to even on his day.
1:15 p.m.: Don't look now, but Marc Leishman is treating Augusta National like his lawn at home, which is to say he is lighting the place on fire. The Big Aussie is three under through four, which has given him a share of the lead. Also at three under? Paul Casey, who eagled No. 8 and is bogey-free, a rarity today.
1:03 p.m.: Zalatoris makes the mistake of going long and right on 16 with a front left pin. Three putts later and he's back at two under, one off the lead. He'd sign for par-par right now. Quick shoutout to his playing partner, Bernhard Langer, who is even through 16, and should be one under. The two-time Masters champ stuffed one to four feet on 16 but lipped out for birdie. Still, he's grinding his way around as always, hitting hybrid into every par 4, getting up and down from everywhere. The man is a machine.
12:53 p.m.: Will Zalatoris, who was ranked outside the top 500 of the OWGR this time last year (true story), is tied for the lead at the Masters. The Wake Forest product rolled in an eagle putt at the par-5 15th to reach three under. It's Willy Z, Matsuyama, Bezuidenhout and Si Woo Kim tied at the top.
12:40 p.m.: We told you to start practicing your pronunciation of Bezuidenhout, and we were right to. he's now three under following a birdie at No. 8, tied for the lead with Hideki Matsuyama. Buh-zay-din-hote. Keep practicing!
12:30 p.m.: Folks, it's getting ugly out there. After a solid start, Rory McIlroy goes bogey-bogey at the fifth and sixth to fall to two over. Up ahead at the 11th, Kevin Kisner, who had just reached two under, makes a triple-bogey 7 at the difficult par-4 11th. Sergioa Garcia, who was just off the left side of the green in two at the par-5 eighth, three-putts for par (two-putts if you want to get technical) to remain at three over. Lee Westwood has fallen to four over through seven holes. Yeesh.
12:04 p.m.: Just as we finished typing that no one had reached three under yet, Hideki Matsuyama drops an eagle at the par-5 eighth to get to three under, which gives him the solo lead.
12 p.m.: If you're into carnage, you're loving what you're seeing from Augusta National so far. No, it's not quite U.S. Open like, but no player has reached three under yet and the bogeys are plentiful. Brutal starts for some of the betting favorites, including Dustin Johnson, who is one over through five. Lee Westwood, who seemed primed to contend as he often does at the Masters, is three over through five, which puts him in a tie for 50th with 2017 Masters winner Sergio Garcia, who is also struggling early. Jason Day, Brooks Koepka and Bubba Watson are also one over par.
11:38 a.m.: One of the most popular picks of the week in the betting community was Corey Conners, which usually spells doom. That does not appear to be the case with the Canadian so far. He just grabbed a share of the lead at two under with a birdie on the ninth hole. It's Conners, Bezuidenhout and Kim tied at the top, with Ancer falling back to one under. Also at one under: Jon Rahm, Patrick Reed, Xander Schauffele and Hideki Matsuyama, among others. Not a bad little Day 1 leader board so far.
11:32 a.m.: Huge tip of the cap to Viktor Hovland, who has gone from three over through one hole to even par through six. Serious grit and grind from the Norwegian, which is very on brand. This is already feeling like his week at Concession, where he made a few big numbers and a ton of birdies and eventually finished runner-up.
11:12 a.m.: Make that a three-way tie at the top with Kim, Ancer and ... Christiaan Bezuidenhout? That's right, the South African went birdie-birdie at the second and third to start off his second Masters appearance in style. If you're wondering how to pronounce his name, it's Buh-Zay-Din-Hote. Start practicing it, because this dude can flat out chip and putt, which could keep him in it for the whole week this week with the lightning-fast greens.
11:02 a.m.: Once again we are tied at the top, this time the lead at two under. Former Players champ Si Woo Kim joins Abraham Ancer at minus two with a birdie at the par-4 seventh hole. Heckuva start for Kim, who rebounded from back-to-back missed cuts with a ninth-place finish at the players and a top-25 finish at Valero. The 25-year-old is still in search of his first top 10 in a major in his career.
10:41 a.m.: We have a new solo leader - Abraham Ancer, who was in contention through 54 holes in November but faded on Sunday and tied for 13th. Looks like he wants right back in on the action, with birdies at No.'s 2 and 3 to get to two under.
10:28 a.m.: All the talk of difficult conditions has proven to be true so far. A Hudson Swafford bogey at the par-4 10th just dropped him to one under, which puts him in an eight-way tie for the lead early on Thursday morning. Nobody going low yet.
10:22 a.m.: Lot of folks were high on Viktor Hovland this week, but they are going to be feeling very low after his start. Triple-bogey 7 for Hov at the par-4 first. Not an ideal start, some would say. On the bright side, there's nowhere to go but up.
10:17 a.m.: The par-5 second is a birdie hole, so it might seem silly to update you any time someone makes a birdie on it. But when it's Jason Day doing the birdie-ing, it's worth a mention. Definitely a guy to keep an eye on this week given his history at Augusta National. Feels like a decade ago when he was on top of the golf world.
10:05 a.m.: Swafford holds strong, making the turn at two under. Si Woo Kim has started with birdies on the second and third to also grab an early share of the lead.
9:50 a.m.: Dylan Frittelli finished T-5 at last November's Masters, making a total of three bogeys on the week. Through six holes today, he has made four.
9:35 a.m.: Just two players in red at the moment: Hudson Swafford (-2 thru 7) and Matt Jones (-1 thru 6). Let's hope the course shows its teeth today.
9:26 a.m.: Poor Lyle is starting to have himself a morning. Following his seven at the par-3 fourth he bogeys the fifth and proceeds to toss and kick his club after a bad tee shot at the par-3 sixth. Well, "poor Lyle" as much as one can feel bad about a fellow golfer playing the Masters.
9:22 a.m.: Brooks Koepka is a man comfortable in his own skin. That, or he lost a bet:
9:08 a.m.: Oh goodness, Sandy Lyle. If you're a family member of the 1988 Masters champion, scroll down for all the kind things we said about him!
Now, we must present the shot tracker from Lyle's adventure at the par-3 fourth hole. Hossle rockets out of the bunker ... pitch shots that hit a camera (?) in the trees ... we'll urge you to go watch the shot-by-shot coverage available in the Masters app if you don't struggle with the short-game yips. Otherwise, YIKES.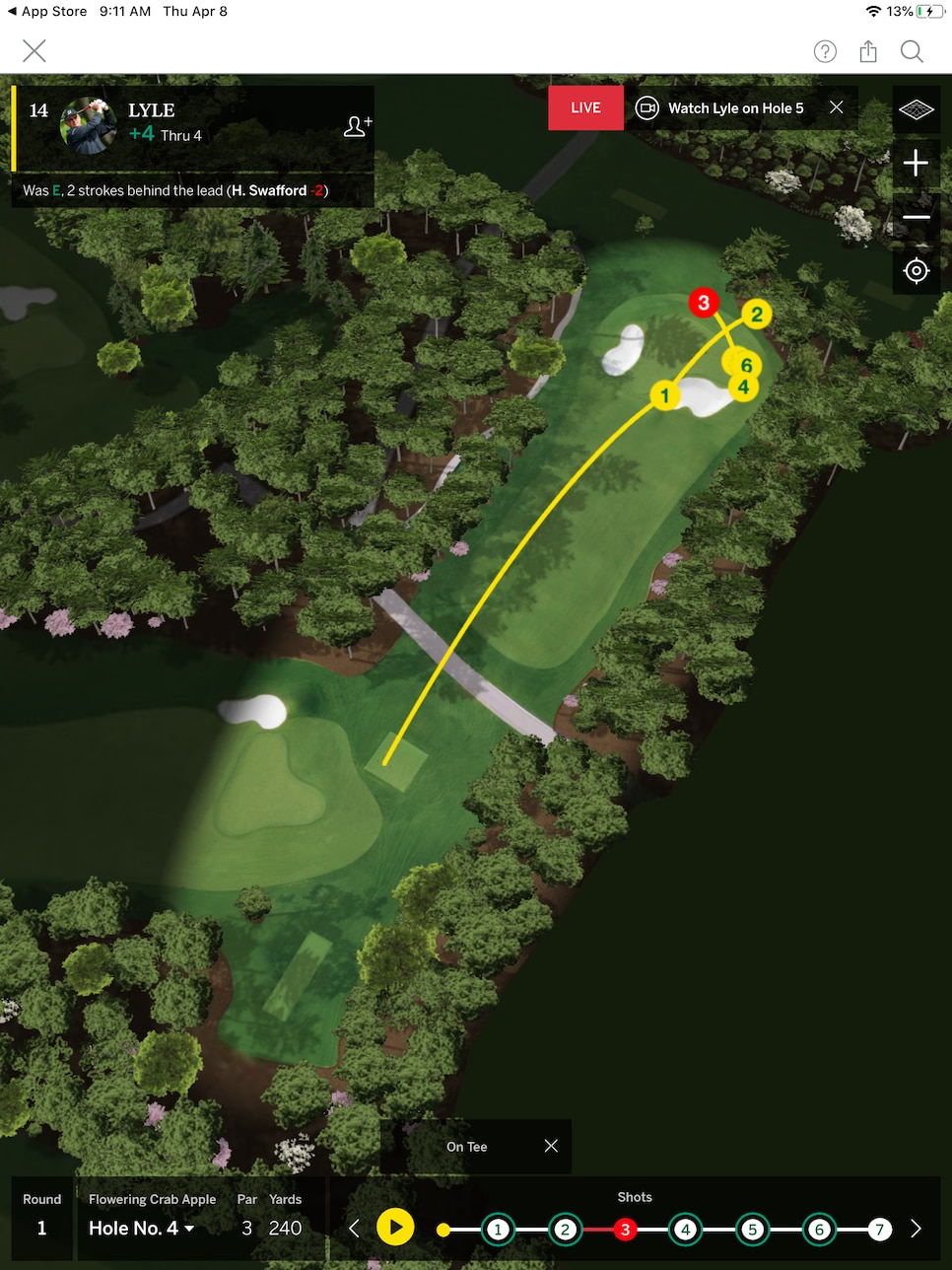 9:01 a.m.: Stewart Cink has a ton of experience at Augusta National—and the former Georgia Tech golfer joins the players to have made birdie on the par-5 second hole and gets to 1-under.
The Duluth, Ga., native is making his 19th appearance at Augusta after winning the Safeway Open to begin this season. He owns two top-10 finishes here, including his T-3 in 2008. A nice start for him thus far.
The 24-year-old sensation Will Zalatoris is also on the course—and his first-ever approach shot at the Masters struck perfectly to about 10 feet. Unfortunately Zalatoris' first-ever birdie putt comes up shy despite the perfect opportunity. People will be watching Willy Z and his fantastic approach play very closely this week, though we know it's tough for a debutant to challenge for a victory.
8:50 a.m.: There are a handful of former Georgia Bulldog golfers teeing it up at this iconic Georgia venue. Hudson Swafford—in the first pairing of the morning with Michael Thompson—is setting the early pace, adding his second birdie of the day (now with birdies at Nos. 2 and 4) to grab the outright lead again.
Swafford made a pending 7-footer for birdie at the difficult par-3 fourth hole for a fantastic start thus far on Thursday.
Sandy Lyle just made bogey at the third hole to negate his birdie at No. 2, so he falls back to even par early in his round.
8:41 a.m.: Hudson Swafford has company at the top of the leader board! Sandy Lyle and Matt Jones both birdied the gettable par-5 second hole to move to 1-under early on. The 63-year-old Lyle played a fantastic third shot from 115 yards to 4 feet, checking right near the hole. The Scotsman curled in the birdie putt to take a share of the lead in his 40th Masters. This special week has gotten more special already for the 1988 champion.
8:30 a.m.: We have our first red number of the week: Hudson Swafford holed an eight-footer for birdie at the par-5 second hole to take the outright lead. The 2020 Corales Puntacana champion has made only one other appearance at the Masters, and his low round is a 76 here at Augusta National.
8:26 a.m.: Sandy Lyle's making his 40th appearance at the Masters this week and has started off his tournament with a par. That was actually a very nice score after hitting it just 263 off the tee up the right side. The Scotsman knows this place—and what a special week this must be for the 1988 Masters champion.
In the same group, Matt Jones—who won the Honda Classic a few weeks ago—made a routine par, and Dylan Frittelli, fresh off his T-5 last year at Augusta National, starts off with a bogey after hitting his tee shot into a similar position as Lyle.
8:14 a.m.: The first pairing, Michael Thompson and Hudson Swafford, are out on the course—Thompson making an opening bogey after missing the green long, and Swafford two-putting for par (but making a nice four-footer after his first putt from 22 feet came up way short).
The greens look like they have some fire to them—Swafford's approach hit on the front of the green and ran nearly hole high back. This should be fun!
7:44 a.m.: One of golf's best traditions—the ceremonial first tee shots at Augusta—has commenced, and what an incredible moment it is. Kudos to Augusta National for streaming the ceremony through Periscope, so everyone at home could watch.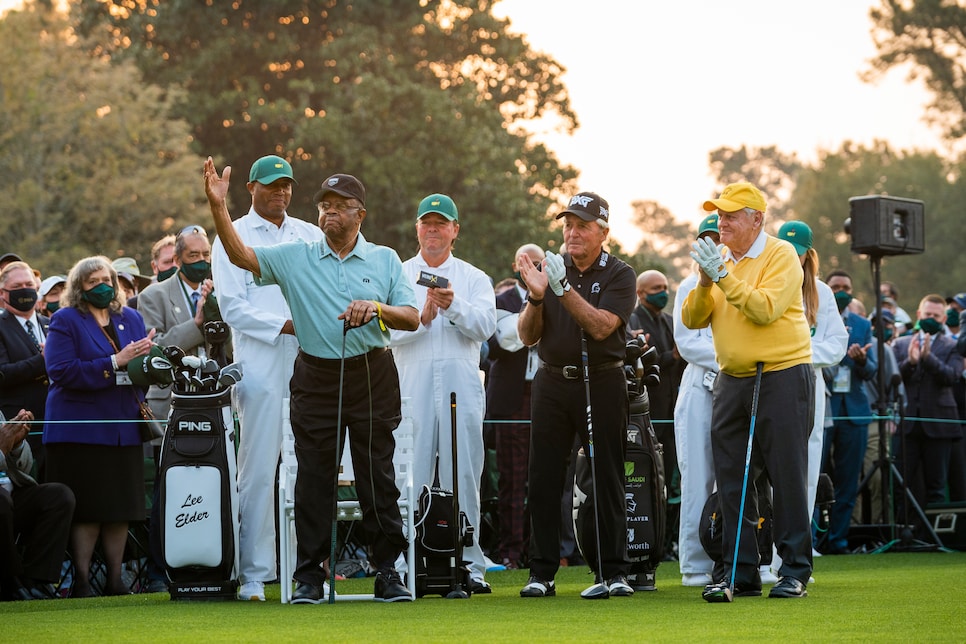 Augusta National chairman Fred Ridley had some moving words about having Lee Elder on the tee.
"Today, Mr. Elder will once again inspire us ... with his presence, strength and character."
Phil Mickelson and Bubba Watson were among the Masters competitors to make it to the first tee to soak in this moment. Bubba was clearly emotional as Elder received a resounding applause from the patrons.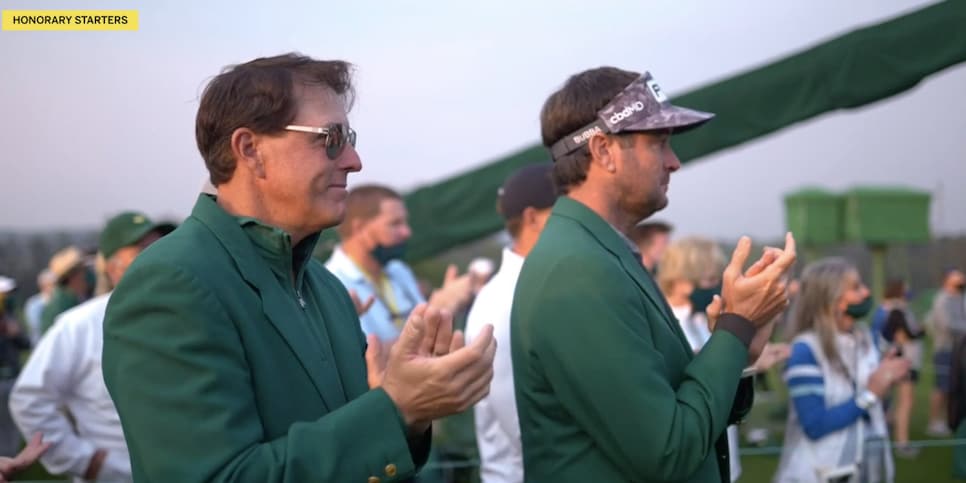 And it appeared Jack and Gary striped their opening tee shots down the first fairway to complete a perfect first-tee celebration.
Here are the pin positions for Day 1 at Augusta National: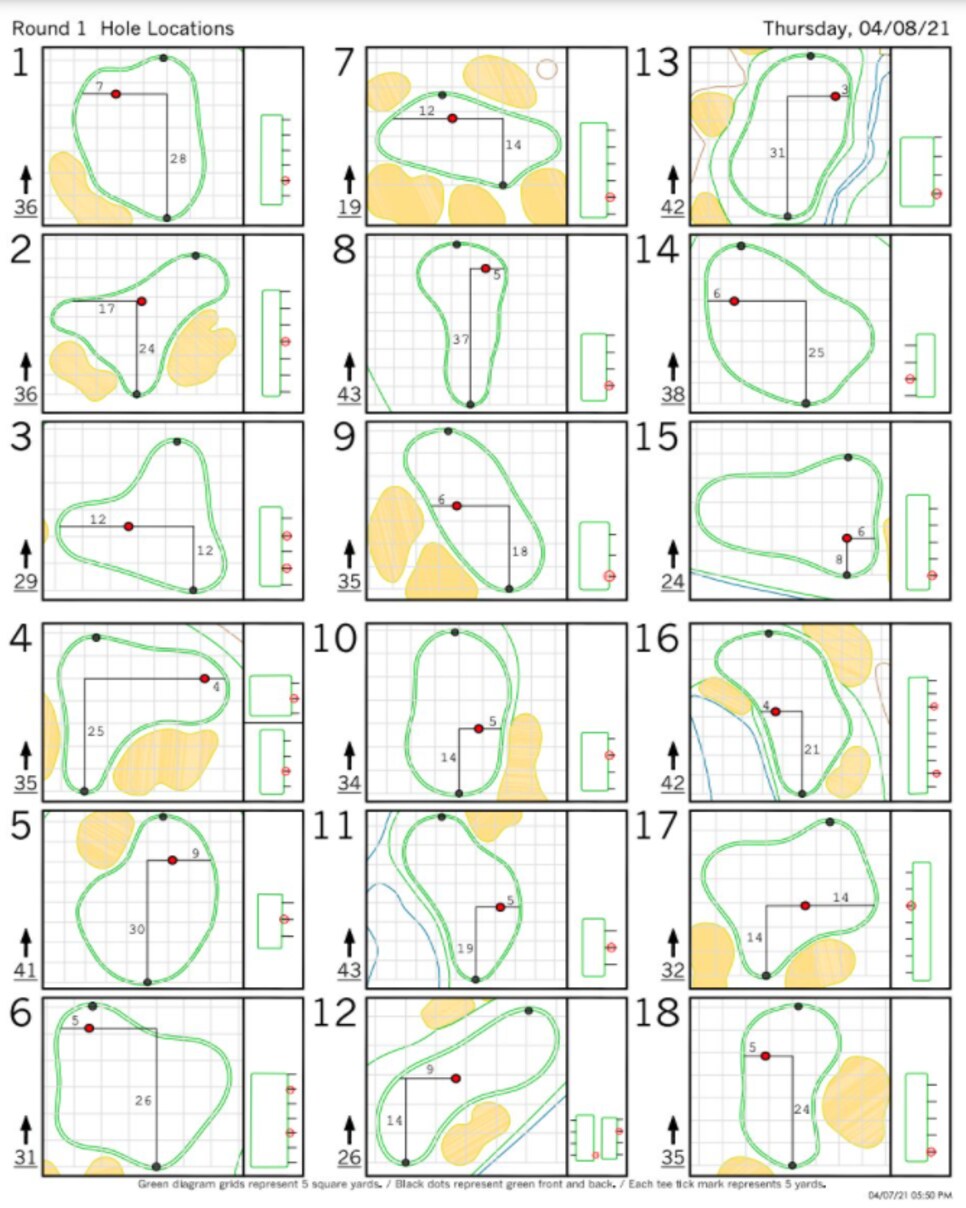 Stay with us and refresh this page as we chronicle the entire opening round of the Masters!