Playing Hurt
Masters 2021: A limping Brooks Koepka brought grit and not much else to Augusta National Thursday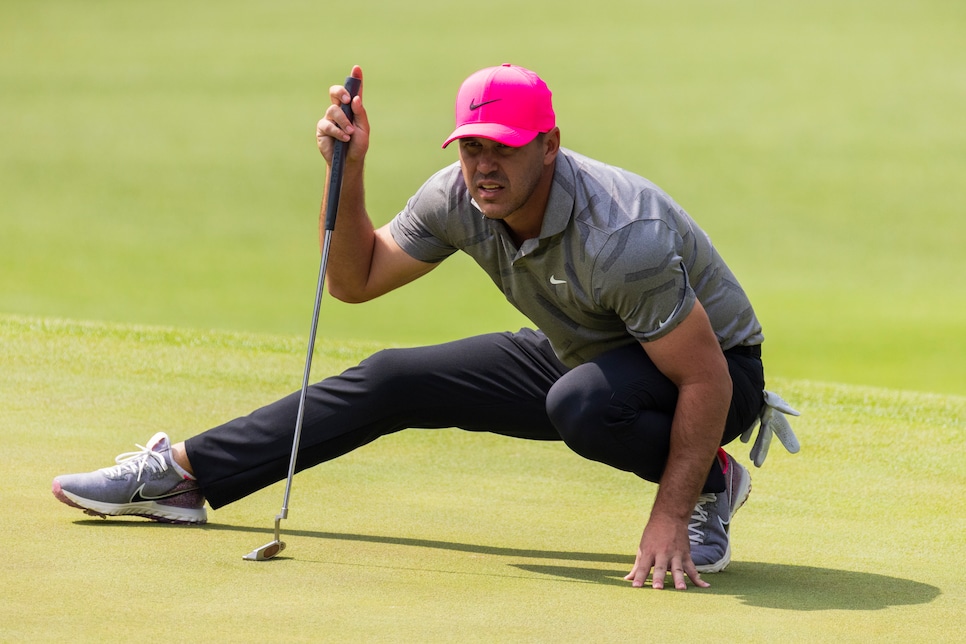 AUGUSTA, Ga. — Let's face it, nobody looks tough in a hot pink cap, not even big, bad Brooks Koepka. But he still managed to turn the first round of this Masters into a profile in courage, limping across 18 hilly holes just three weeks after knee surgery. Koepka's ball-striking looked rusty for most of the round but a gritty burst of birdies down the stretch helped him post a 74 that kept him in the tournament on a day when rounds under par were precious. It also burnished the badass reputation Koepka has tried so hard to cultivate. How's the knee?
"It was fine," he grunted following the round. "Just didn't play good."
There's some truth to that—hooked tee shots on 7 and 14 led to bogeys and after a perfect drive on the 13th hole he fanned his approach into the creek, making another bogey on what is supposed to be a birdie hole. After the round, as Koepka lingered near the clubhouse, that one swing was still chapping his hide. "I can't believe I missed that right," he muttered. "I had the whole world to the left."
If he can clean things up a bit he's not in a bad position on a firm, fiery Augusta National that figures to prove Koepka's maxim that major championships are the easiest tournaments to win because so many players beat themselves. Once considered golf's big-game hunter, Koepka (who turns 31 next month) is now faced with a harrowing question: Can he stay healthy long enough to be a force again? The man who delights in posting sweaty images from the gym missed the 2018 Masters after having surgery to repair a torn tendon in his wrist, and much of the last two seasons were compromised after Koepka had surgery on his left knee and then re-injured it slipping on concrete at the 2019 CJ Cup. This led to compensations in his swing and gait that turned into a labrum injury.
Earlier this year Koepka was complaining about a tweaked neck and then while enjoying an off-week in March he suffered an unspecified "freak accident" during which he dislocated his right kneecap. (For a dude who loves to call himself an athlete, not a golfer, Koepka is beginning to seem rather clumsy.) This necessitated yet another surgery on March 16, to reattach a ligament and in his words "clean up whatever had broken off from the knee cap.''
This begs one more question: Is Koepka chasing Jack's record for majors or Tiger's record for operations?
After the first round, Koepka said he was encouraged that there didn't appear to be swelling and that the knee had improved significantly since his arrival in Augusta. "It's tired right now, I'm not going to lie," he mumbled. "But just got to play better." He did channel Bryson DeChambeau in offering a perplexing medical analysis. "The problem is it's just all the neurological stuff from your brain to there, firing different muscles," Koepka said in a detached monotone. "After surgery it takes some time, and the legs are just not strong enough."
Indeed, on a few tee boxes Koepka plopped down on a nearby bench to take a load off. It was an unexpected concession from a player who strains to project alpha energy. But Abe Ancer, who played in the group in front of Koepka and got to observe him in action, sounded a note of optimism. "Sometimes when you're battling an injury or just not feeling your best, it changes your expectations and in a way it frees you up," Ancer said. "If [Koepka] he can keep going he might surprise himself." Not to mention the rest of the field.
MORE MASTERS 2021 STORIES FROM GOLF DIGEST: