Saying Goodbye
Masters 2021: When should a past champion call it a career at Augusta National?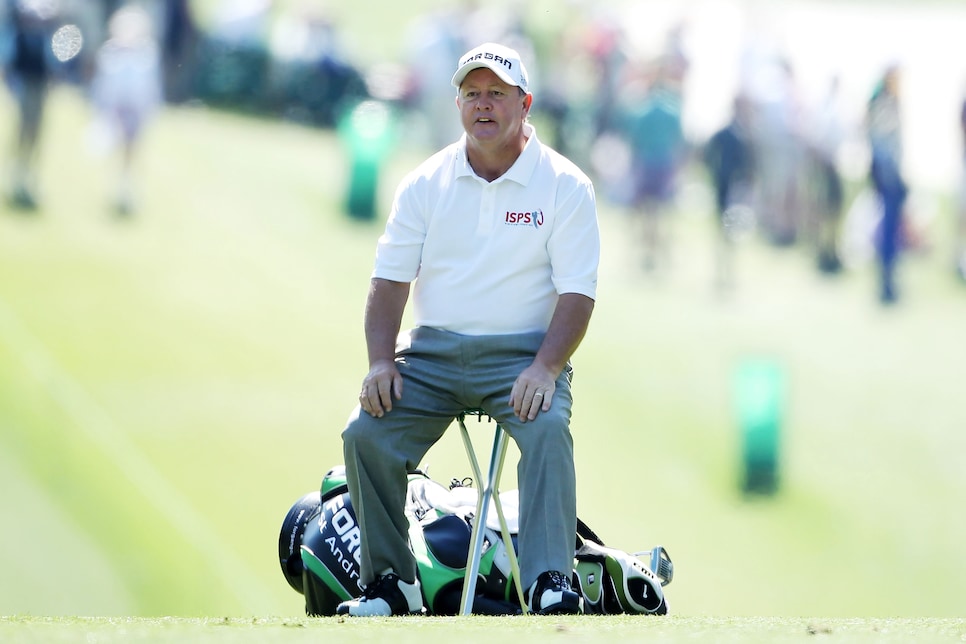 Photo By: Andrew Redington
This is a story about proud men, men with something to be proud of. Every April, they attend one of the sports world's most exclusive gatherings. Every April, they are allowed to don a special and distinctive green garment, one worn by only a few. Every April, as past winners of golf's most important tournament, they can play in the Masters at Augusta National. That is their privilege, one allowed them for as long as they choose to take advantage of their bygone victory. Any discretion is theirs and theirs alone.
All good things, though, have a natural shelf life. So it is that a less attractive decision-making process represents perhaps the only disappointing aspect of that sumptuous package of Masters goodies: When to stop playing in golf's so-called "rite of spring?"
When does the fall in performance that is the inevitable consequence of age lead to discreet retirement?
When is it time to give up the opportunity of a lifetime and get out of the way?
When does embarrassment supersede excitement?
What scores are too high, too much of a blow to that well-earned pride?
When, then, is it time to sit back on the clubhouse veranda and watch younger men perform?
The timetables and motivations may vary, but every one of those questions leads to the same destination. And the eventual conclusions, as ever, depend on who you ask. The common factor, however, is not staying too long, as 1970 champion Billy Casper did when he shot 105 in his last Masters round in 2005. Which is easier said than done. The temptation is always there. The mind of a champion can be a wondrous thing.
"I remember Gary Player coming into the locker room a few years ago," says two-time Masters champion Bernhard Langer. "He told me he had made the biggest mistake of his life. I was a bit taken aback as you can imagine. I asked him what was going on. He told me he had announced his retirement from the Masters that year but he had just shot 78 and thought he might still be competitive."
Still, most players announce their intention to make one last curtain call and so enjoy the adulation of the patrons as they tour the hills and dales of Augusta National for a final time. Some, like Arnold Palmer, change their minds and do it twice (2002 and 2004). Others, 1988 champion Sandy Lyle but one example, simply change their minds and keep playing.
Then there is Ian Woosnam. In 2016, he was apparently done with the tournament he won in 1991. "It's just getting really tough," said the Welshman at the time. "That's my last go. I am not fit enough to play with my bad back. Every time I play this course it just seizes on me, and I can't swing the club properly. I am in pain all the way round, so it's time to say 'bye bye' really."
But he continued on. Then, three years and three more missed cuts later (his last made cut came in 2008), Woosnam basically repeated himself.
"I think this is going to be my last time playing here," he sighed in 2019. "I'm just in too much pain. And it happens every time I get here. It must be the hills because I've been playing and hitting a lot of balls recently with no ill-effects. But as soon as I get on this course my back bothers me."
Next week, Woosnam, at 63, is scheduled to make his 32nd appearance at Augusta, one he feels might be his swansong. Then again maybe not.
"I don't know if this will be my last Masters," he says, having skipped playing last November. "I just want to see how I go. Given the condition of my back, I can never say for sure. I know I've said before that I'm finished, but I also said that could change if my back improved. And it has. Plus, I don't want to go out that way. My real objective is to get round pain-free. I would enjoy that. I've been in pain for the last 20 years really."
So it's tough to say goodbye. But with age comes deterioration. Even Fred Couples, who has recorded 11 top-10 finishes in 35 Masters appearances can see the end of the road, or should we say Magnolia Lane. The 1992 champion his missed the cut three times in his last five starts after making it in 28 of his first 30 appearances.
"This is a course I think I can play," says Couples, 61. "If that's not good enough to compete at a semi-certain level, I don't want to do that. I don't know when that's going to be, but I'm not going to come out here and wave and tell everyone it's my last round."
"Each year it became harder and harder to break 80," agrees two-time winner Ben Crenshaw, who retired from Masters competition amidst much pomp and ceremony in 2015 at 63. "I'm part of a bygone era when it comes to distance. I was beating my head against a brick wall. I just felt like I didn't belong out there anymore. We're all 2 down to father time. I was out of presses."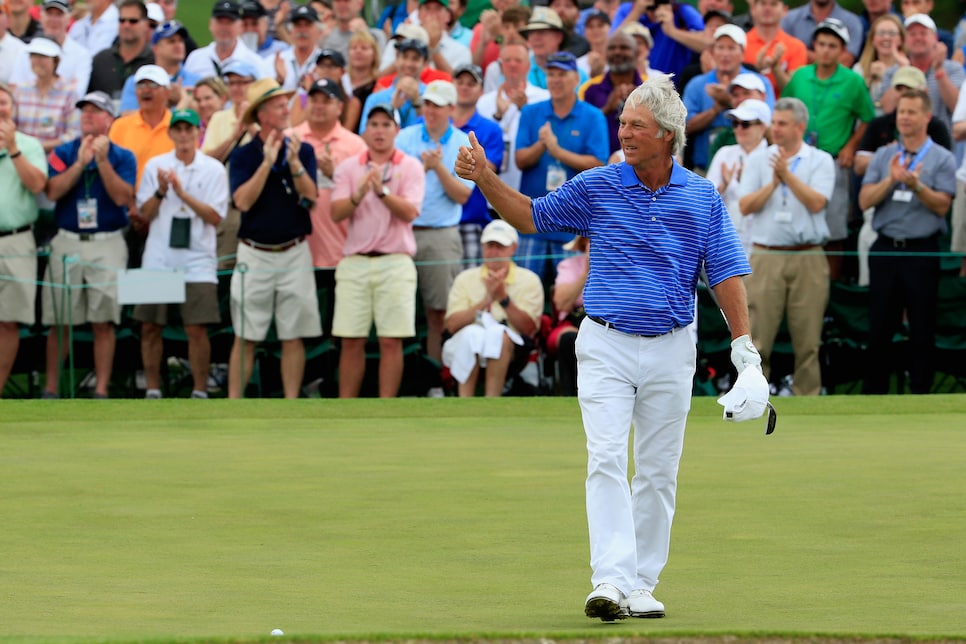 Ben Crenshaw announced his retirement ahead of time in 2015 and received standing ovations throughout his final round.
Jamie Squire
Others wait until the eve of their last round to tell the world, "enough." Craig Stadler (at 60), Fuzzy Zoeller (57) and Ray Floyd (66) all chose that route to retirement.
"People ask me why I don't play in the Masters any more," says Zoeller, who called it quits in 2009, three decades on from his 1979 victory and after missing the cut in 10 of his last 11 Masters starts. "I'm just not competitive. If I'm not competitive, I can't do it. I don't have an ego. And I knew it was time. Golf is a game to me, a hard game, but still a game. And there are 18 hard games on that course. On some you'll be fine but others are going to kick your butt. And too many were doing that to me. I didn't feel that I had a chance. That's a terrible feeling. And the time when you know it is time to step aside and let the young guys have at it."
The biggest factor in the demise of many past champions is the length of the examination they are asked to take these days. When Jose Maria Olazabal won the first of his two green jackets in 1994, Augusta National measured 6,925 yards. This year the course will be 550 yards longer. Combined with the fact that the Spaniard is 28 years older, chances are he's going to struggle to keep up. Which he has. Since finishing T-3 in 2006, the now 55-year-old has missed seven cuts in 10 starts.
"Time is a handicap, no question," he says. "Every year the course seems to get longer. Last year I hit a lot of 5-woods and 3-irons to the par-4 greens. So I have to be very sharp, especially with the short game. But it is just a matter of how you feel, whether you continue to play or not. We all have the right to do so, and I will do so as long as I don't feel like I am embarrassing myself in front of people. The bottom line is the score. As long as I can get round in a decent number I will play."
That is a common theme. As is motivation. As is the depressing thought that the limit of an aging past champion's ambition is to make the halfway cut. One who rebelled at that notion, even while feeling like he is capable of making it to the weekend, is O'Meara. The 1998 champion made his Masters bow in 2018.
"My last good Masters [2015] was when I was 58 years old," he says. "I made the cut when the course was dry. I tied for 22nd. After that, I missed every cut. I'd shoot in the mid-to high-70s. So when I turned 62 I felt like that was going to be it for me. I wasn't enjoying it as much. I didn't want to go out there and have to play my tail off just to make the cut. I didn't want that to feel like something special. It just felt like my time had come and gone. I didn't make a big statement about it. I was tired of finishing on Friday and having the media ask me if I was done. I didn't say anything at the Champions Dinner on Tuesday evening. I just walked away."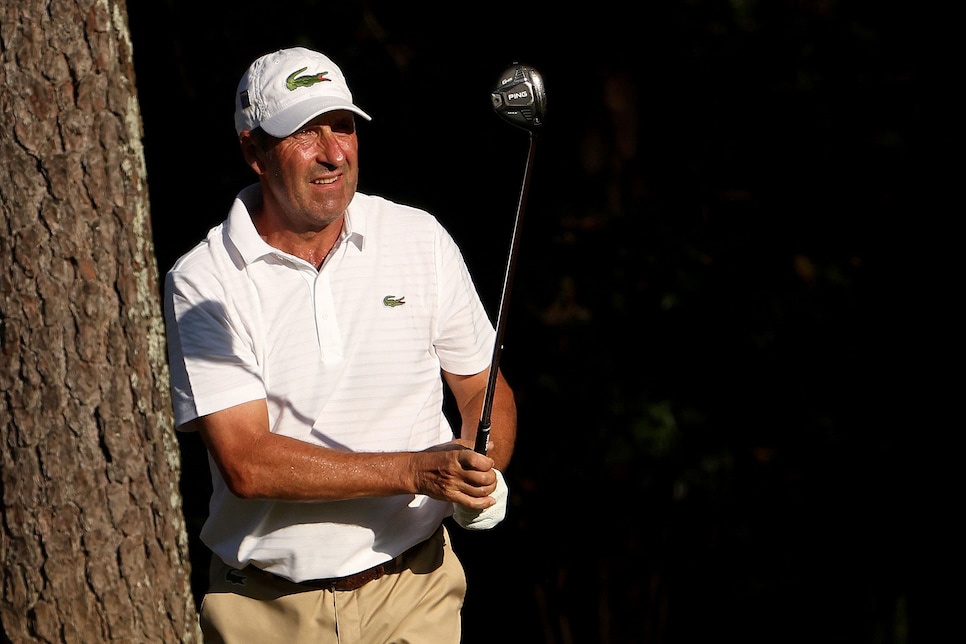 Jose Maria Olazabal says that as past champions age, they have to get more creative in the way they approach playing the course.
Jamie Squire
OK, let's talk specifics. Are there holes that have become just too long, just too tough, for men who are routinely 60-70 yards behind their younger brethren off the tee? A few come immediately to these experienced minds.
"The seventh hole is a classic example," Olazabal says. "I used to hit a 3-wood or a 1-iron off that tee. Then have an 8- or 9-iron to the green. Now I am hitting a solid drive and still having a 4- or 5-iron left. To a green that is elevated and very shallow for those clubs. It is virtually impossible for the ball to stop on the green. That is a great example of how the course has changed for us over the years."
Other holes stick out, too.
"The 11th, 14th and 17th are also very difficult for us now," says 1987 champion Larry Mize, who shot an eye-opening 70 in last year's first round at age 62. "The tees have been moved back so far. I'm hitting a long iron or a hybrid into both now. Last year, I hit a 5-wood into 17 on Day 1. We are hitting right into the hill off the tee. The kids fly over that and get some roll. But our drives hit and stop."
The fifth is yet another brute. In 1993, when Langer won for his second time, the par 4 measured 435 yards. Last year, when the then 63-year-old German became the oldest man to make the halfway cut, it was a whopping 495 yards. Every day, he needed a 3-wood to reach the green with his second shot.
"I am hitting a lot of 2- and 3-hybrids on holes where the younger guys are hitting 8- and 9-irons into the greens," Langer says with a smile. "So it's a big challenge for me."
Not an insurmountable one though. In the final round last November, Langer was paired with the longest hitter on the PGA Tour, Bryson DeChambeau—and out-scored him by two, 71-73.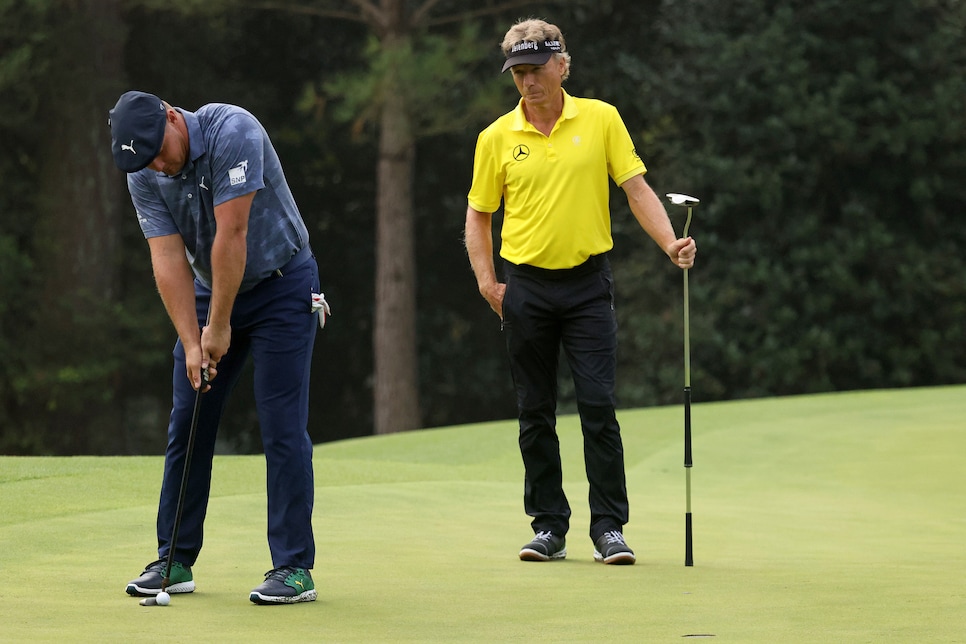 Despite Bernhard Langer being 36 years Bryson DeChambeau's senior, he was able to outduel the U.S. Open champion, 71-73, in the final round at Augusta last November.
Rob Carr
"There is a definite advantage from playing that course 100 times or more," Langer says. "I know how all the putts break. I've seen all the pin positions. I understand what each means. I know that when the pin is in position X, I can't miss in position Y. Sometimes it is better to be 20 yards short than three feet above. I know too, how certain winds affect shots. I've seen. I've watched. And I've experienced so much. Add it all up and it is a definite benefit.
"It often comes down to a matter of inches. When I was paired with Bryson he got very frustrated. He made mistakes you just can't make. He missed in the wrong places. More than once he almost hit a good shot, but it wasn't. Then he would make bogey and sometimes double bogey."
So experience counts for a lot around Augusta National, maybe more than anywhere else in the world other than the Old Course at St. Andrews. In turn, the more senior members of the Masters field have begun using a common refrain when describing their course strategy, noting the need for "intelligent missing."
"I have to think about where I am going to miss, about where I will have the best chance to get down in two more shots," says Olazabal, the owner of one of golf's most potent short games. "It doesn't matter how aggressive I was when I was at my peak, these days I am standing over shots knowing I have virtually no chance to finish close to the hole. So I think of the best area, the one where I will have a relatively easy chip-and-putt. Or two putts. I think more about making pars than birdies."
All of which sounds a lot like hard work. But still these old champions keep coming back. There is, after all, much to enjoy about a week at Augusta National when you don't have to worry about such things as making the cut, breaking 80 or reaching an increasingly distant par 4 in fewer than three shots.
"Mentally, I approach the Masters differently now. I go there knowing that making the weekend is already a success," Olazabal says. "But I go there for many reasons. Every time I set foot on the property I have so many positive memories. Just being part of the tournament is fantastic, with things like the champions dinner. Being able to watch the new generation and how they play the course is a fascination for me. So many positives, although it is hard to think of those things when you are struggling. But it is part of life. And the game prepares you for that in the sense that, even at your peak, you are successful only a very small percentage of the time."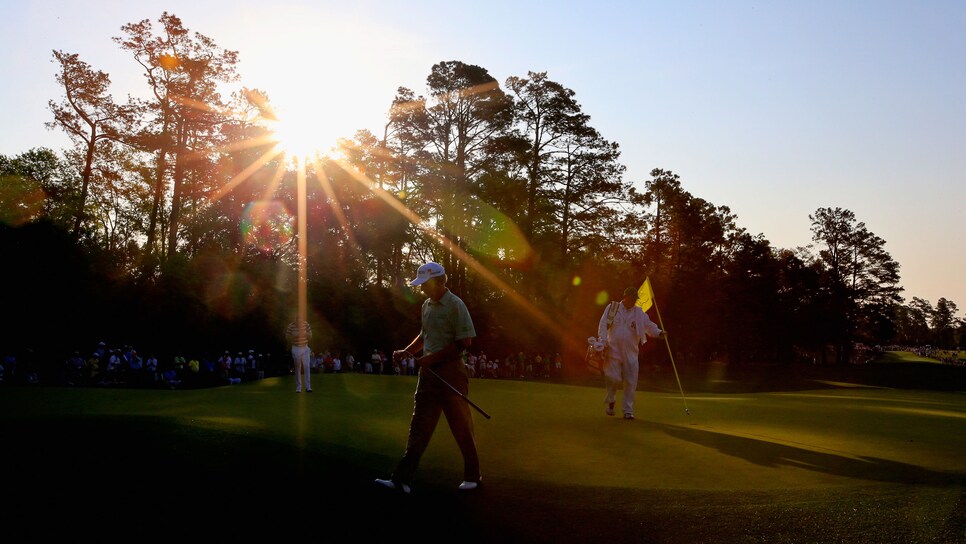 Larry Mize knows that at age 62, he's down to his last handful of Masters starts.
Jamie Squire
The last word, however, belongs to Langer, whose T-29 last year represented a phenomenal feat for a man in his 60s. While he has no immediate plans to quit playing, the 41-time PGA Tour Champions winner knows that day will inevitably arrive. He is just happy that he—along with his fellow champions—is allowed to leave on his own terms.
"Last year I asked the chairman how long I am allowed to compete," Langer says. "I wasn't sure. I didn't know if there was an age limit. [The club briefly instilled one in 2002 at 65, but scrapped the plan before it went into place in 2004 after blowback from fans and past winners.] But he told me I am welcome to play as long as I like and that I will know when to stop. That was reassuring. My plan is therefore to play a few more years. When I can't reach par 4s, or when I'm shooting high numbers, that will be the time to stop playing."
Until, then, of course, we get to enjoy these proud men, who can still give us a taste of a time when professional golf was more "smooth" than "smash."