The Game Before The Game
Masters 2021: At Augusta, the jockeying for position begins with practice rounds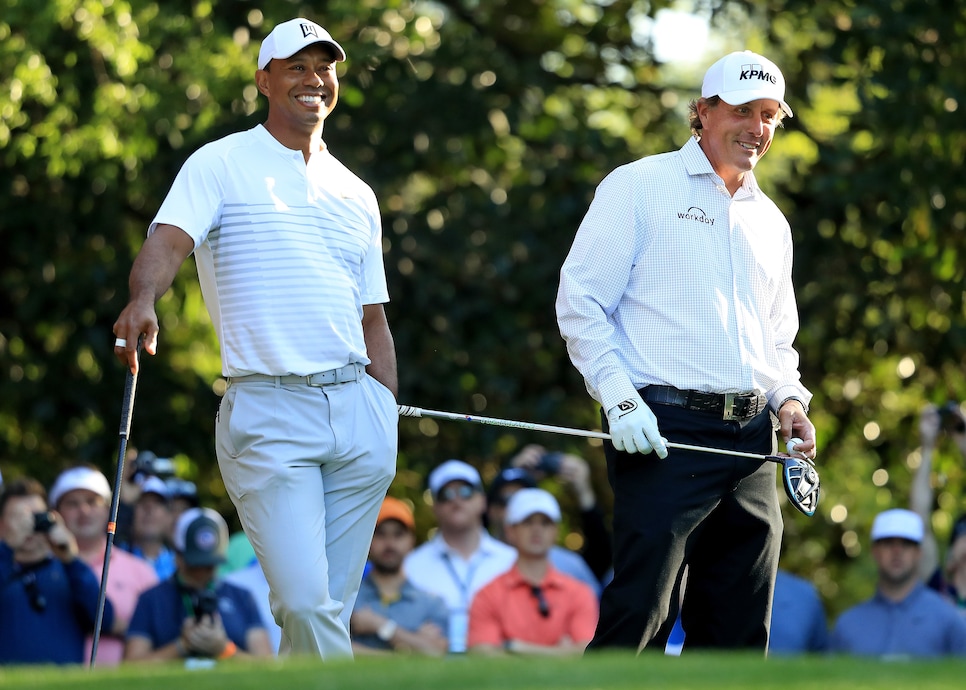 Photo By: Andrew Redington
Played annually at a bastion for the 1 percent, it figures that the Masters has a rigid caste system. The fans feel it. Snagging one of the toughest tickets in sports should be enough, but once you're on the grounds there is always a tantalizing experience just out of reach: a spot under The Tree, or a table on the clubhouse veranda for lunch, or a gilded ticket to Berckmans Place.
For the players, no other tournament draws such a stark contrast between the haves and the have-nots. Every Masters Tuesday, Phil Mickelson likes to torture colleagues without a green jacket by asking,"Hey, do you have plans for dinner tonight?" The gotcha is that Phil most certainly does: the annual champions dinner, one of the most exclusive gatherings in sport. There is also the separate locker room set aside just for former champions. Keegan Bradley was thrilled the first time Mickelson invited him to have lunch in this inner sanctum. "At some point Phil disappears, and when he comes back he's wearing his green jacket," says Bradley. "He was like,'I got a little chilly and needed another layer.' That was brutal. There's not a comeback for that."
The differences in station are especially acute during the practice rounds, which bring together a unique mix of peach-fuzzed amateurs, Tour veterans trying not to think about the enormity of the opportunity and living legends chewing the scenery. "Sometimes on the first tee you run across a Ben Crenshaw or someone like that," says Mackenzie Hughes, "and it takes a little bravery to say,'Sir, do you mind if I play with you?' They're always very hospitable, which is one of the cool things about the Masters."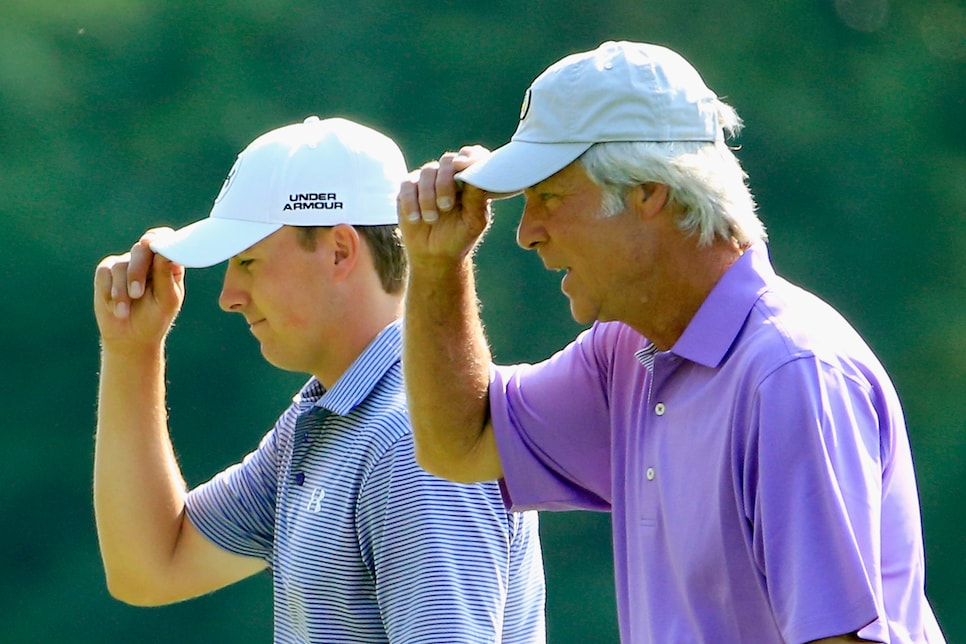 Through the years Crenshaw, like Jack Nicklaus and Arnold Palmer before him, grew accustomed to getting letters in the mail from first-time Masters participants hoping to set up a practice round pairing well in advance. "That was always a very nice gesture," says Crenshaw. "It was fun for us old-timers to show the kids around and impart a little knowledge. There is so much subtlety around Augusta National so it's a lot to learn for any young player. And for the older champions, it's neat to see the course through their eyes and to feel their excitement and awe at being there."
Everyone wants to play a practice round with Freddy Couples (including Tiger Woods, who usually does at least once during Masters weeks when he is healthy). For Hughes' first Masters, in 2017, he was milling around near the first tee hoping to find a game when Couples and Mickelson rolled up. "I was like, 'Oh man, oh man, what should I do?'" says Hughes. He was dying to join them but too starstruck to ask. But Mickelson gave him a nod and Hughes played 9 holes with the two Hall of Famers. "It was incredible," he says.
Beyond his innate cool, Couples is a popular playing partner because he is liberal in dispensing the course knowledge he's accrued through the years. "Tiger's not like that," says Billy Horschel. "He doesn't like to share." For ambitious young players trying to break through, this generosity of spirit is a key factor in whom they try to play practice rounds alongside. "I go with whoever can help me the most out there," says Jon Rahm. "That's why I play a lot with Phil and [Jose Maria] Olazabal and other people like that."
For his two Masters, Horschel picked the brain of 2000 champ Vijay Singh, a similarly spiky personality. Alas, the plan backfired on the 16th hole, when Horschel tried to skip his ball across the pond fronting the green. "It went low and just barely hit the water and then it was like a jet taking off," says Horschel. "The ball flew right into the people back of the green. Vijay died laughing. He thought it was the most hilarious thing in the world I had to yell Fore! on a par-3 on a skip shot."
As for how all these pairings come about, text messages are the preferred medium, usually the day before. Lurking also works. "A lot of guys have their regular games," says Tommy Fleetwood,"but sometimes you just turn up on the tee and there will be guys going out and we'll join up. It's pretty relaxed."
Of course, Augusta National is the biggest stage in the sport and occasionally the practice rounds are about commerce, not art. In 2018, Woods and Mickelson played their first practice round together in two decades, largely to stimulate interest in their forthcoming pay-per-view exhibition match. Knowing the number of eyeballs their Augusta pairing would generate, Mickelson also used the occasion to unveil an unfortunate button-down Oxford shirt as part of a new sponsorship deal. Why had it taken so long for Tiger and Phil to peg it in a Masters practice round? The beef dated to the 1998 L.A. Open, where they had a Tuesday match that ended with Woods losing $500 to the muckraking Mickelson, who made photocopies of the five $100 bills and put them in his would-be rival's locker along with a hand-scrawled note: "Just wanted you know Benji and his friends are very happy in their new home.''