The Masters
Masters 2021: Our 10 favorite pairings for Thursday and Friday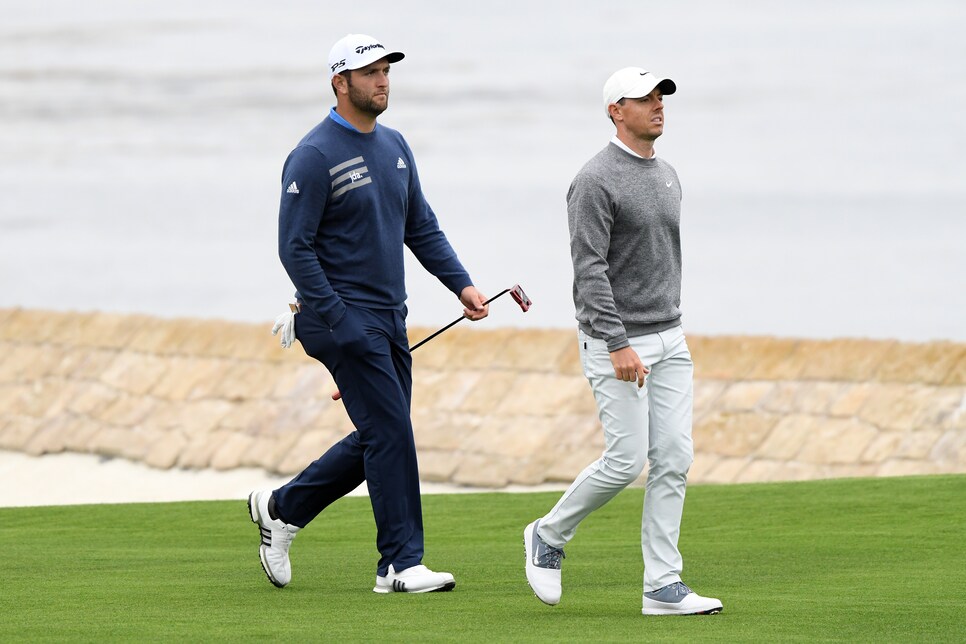 The first- and second-round tee times for the 2021 Masters were announced Tuesday, headlined by the group of Rory McIlroy, Jon Rahm and Xander Schauffele. But this trio of superstars are far from the only marquee attraction. Here are 10 pairings we're most excited to watch Thursday and Friday at Augusta National.
Bernhard Langer, Will Zalatoris, Joe Long (a)
Thursday: 8:48 a.m.; Friday: 11:54 a.m.
We could write how this encapsulates the beautiful amalgamation of the field in a 63-year-old former champ, a fledgling talent and an amateur getting (possibly) a once-in-a-lifetime start. That we're enthralled at the prospects of Zalatoris, who has a legitimate chance to become the first Masters rookie since Fuzzy Zoeller to win this tournament, and fascinated that Langer can continue to hang in spite of surrendering 30 years and 50 yards to his competitors.
But really, we're just thrilled that Langer and Long (A) are paired together.
Jason Day, Matthew Wolff, Cameron Champ
Thursday: 9:36 a.m.; Friday: 12:48 p.m.
Anyone from this group could shoot 65. Or they could go the opposite way—and hard. That spectrum makes this a must-watch in the Thursday morning wave.
Brooks Koepka, Victor Hovland, Bubba Watson
Thursday: 10:06 a.m.; Friday: 1:12 p.m.
Perhaps it's too much to ask Koepka, coming off a still officially undisclosed injury and surgery, to be the world-beater he once was, a form we saw glimpses of earlier this year at the Phoenix Open and WGC-Workday. Conversely, given he's been on property for less than three days and is already trolling folks on social media, it's safe to say the man is feeling good about his chances. Throw in his success at Augusta National (T-11/T-2/T-7 in last three starts) he'll be as interesting a watch as any on Thursday. Meanwhile, it seems weird to call a guy with a win and seven top-15 finishes this season a dark horse but Hovland (+3500) fits the bill. He took Low Am honors in 2019 and his tee-to-green game (11th on tour in that category) is conducive to Augusta success. And don't overlook Watson: The two-time Masters champ winner posted a T-5 and T-12 in the last two April Masters and is coming off a strong showing at the WGC-Match Play.
Dustin Johnson, Lee Westwood, Tyler Strafaci (A)
Thursday: 10:30 a.m.; Friday: 1:36 p.m.
What a treat for Strafaci. Gets to play with the best player in the world … and Dustin Johnson!
With momentum off recent runs at Bay Hill and TPC Sawgrass, hard to see this as anything but Westwood's last chance at romance. Though the Open Championship is the kindest of the four majors to veterans, Westwood clearly has an affinity for Augusta National (although don't we all?) with two runners-up and six top-10s in his Masters career. … One thing to monitor with Johnson this week—and we can't believe we're typing this—is his driving. Historically one of the best bombers on tour, DJ enters the Masters ranked 63rd in the category. Augusta National is a second-shot course, but even with Yosemite-like confines, if you're not putting yourself in an attackable angle, that distance doesn't mean much. For Johnson to give himself a chance at a repeat, he needs to get right with the big stick.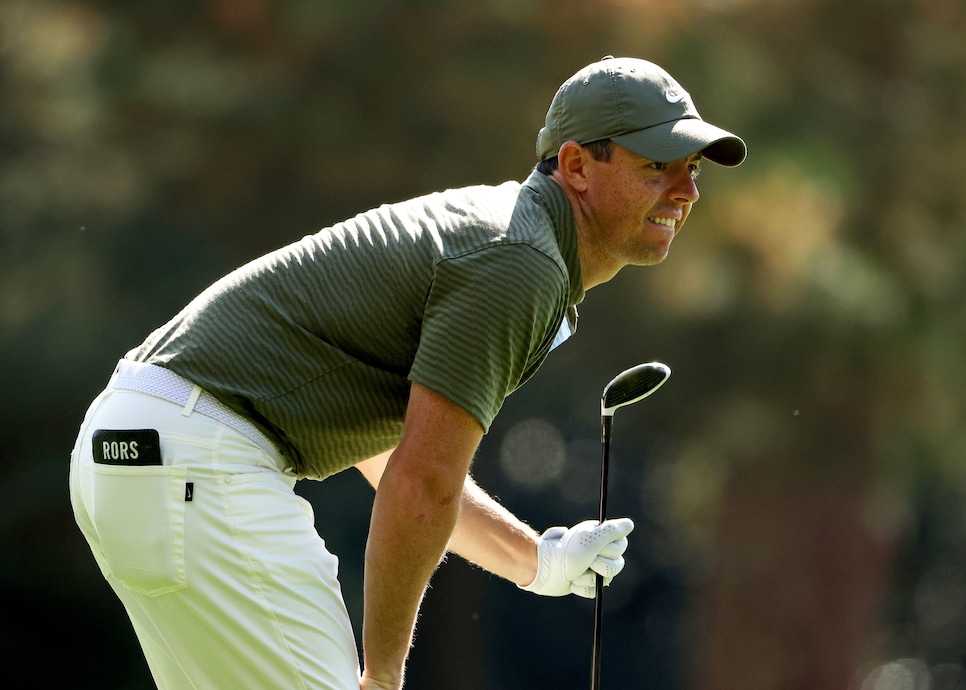 Rory McIlroy, Jon Rahm, Xander Schauffele
Thursday: 10:42 a.m; Friday: 1:48 p.m.
For a guy who's arguably the most discussed player in golf not named Tiger, it's amazing how often "You know, people aren't talking enough about Rory" is a pre-Masters storyline. And yet … people aren't talking enough about Rory.
Yes, he hasn't looked like his dominant self as of late, something he readily admitted at the Players. He also hasn't been in the wilderness either, ranking third in strokes gained/off-the-tee with a T-6 at the WGC-Workday and T-10 at Bay Hill. A certain three-time major winner is the current talk of the town, but McIlroy can change that with a 68 or lower on Thursday. … We have no idea how much stock to put into the "Nappy Factor," which is a theory that players see a performance boost when becoming new fathers. But if Rahm, who welcomed his first child last weekend, is hanging around the leader board, get ready to hear about it non-stop ... Xander has seven top-10s in 14 major starts. It is ridiculously impressive, and a testament to how well his game plays no matter the venue. But at some juncture, fair or not, folks are going to start wondering why those top finishes aren't translating to trophies. Would be great to see Xander put that issue to rest before it rises.
Patrick Reed, Daniel Berger, Paul Casey
Thursday: 10:54 a.m.; Friday: 2 p.m.
The forecast is calling for a firm-and-fast Augusta National. Berger and Casey are both ranked in the top 20 in bogey avoidance on tour, while Reed's short game (first in SG/putting) is the envy of his professional brethren. Should those conditions come to pass, one of these three should be near the top of the board come Saturday.
Patrick Cantlay, Sungjae Im, Matthew Fitzpatrick
Thursday: 1:24 p.m.; Friday: 10:18 a.m.
Would happily trade 10 years off my life for the ball-striking of this trio. That is all.
Bryson DeChambeau, Adam Scott, Max Homa
Thursday: 1:36 p.m.; Friday: 10:30 a.m.
Between Scott's looks, Homa's charm and DeChambeau's muscle, feel like this group would make a fantastic heist crew. Scott's only had one top-10 at Augusta National since his breakthrough win in 2013, and the stats show he's struggling of late (95th tee-to-green, 63rd strokes-gained total). But the Aussie did look sharp at the Honda Classic, giving hope he has something left in the tank. … Homa's popularity makes him a trendy sleeper, but his results back up the sentiment. The win at Riviera gets the attention yet it's far from a one-week wonder with eight top-25s in his last 10 starts. … As for the Beefy man, well, don't think his lackluster fall Masters proved Augusta is Bryson-proof. Watching him in person that week, he wasn't far off from contention, and he's only improved his game since. Moreover, as he proved at Winged Foot (and more recently at Bay Hill and TPC Sawgrass), DeChambeau thrives in tough conditions. With Augusta National expected to be far tougher a scoring test this week, the Bryson Reckoning could be upon us.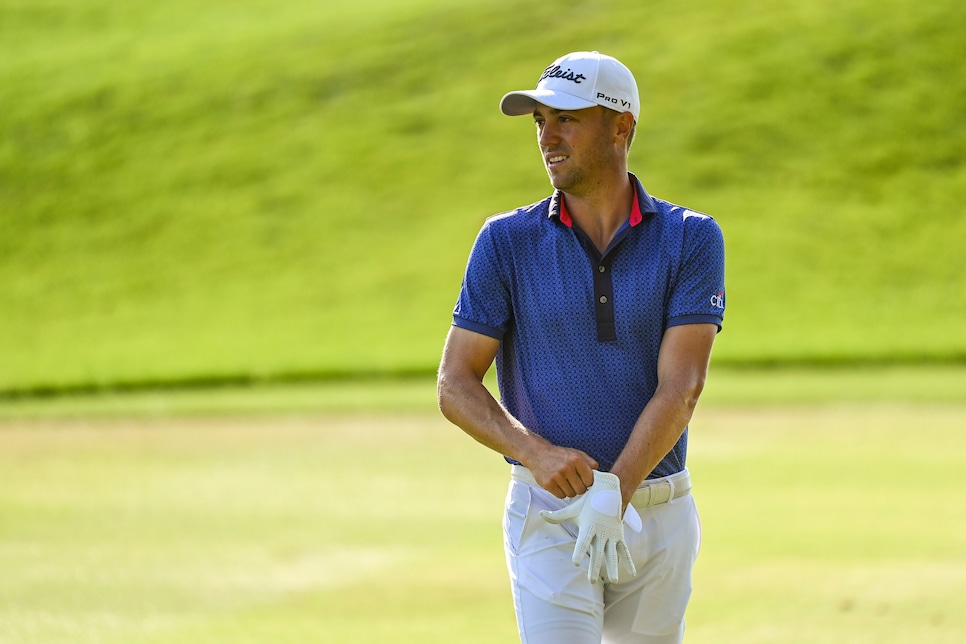 Justin Thomas, Tony Finau, Louis Oosthuizen
Thursday: 1:48 p.m.; Friday: 10:42 a.m.
We say this with love: Why is Oosthuizen always listed as someone to look out for at this tournament? Sure, we all loved his albatross, but he's failed to produce a top-10 at the Masters since his runner-up in 2012. Keep this in mind when he shoves this analysis in our face with a 67 on Thursday. … Thomas' track record at the Masters may appear mixed at first glance, but he's managed to better his standing in each of his previous five Masters starts (T-39, T-22, T-17, T-12, fourth) and is coming off one of the biggest Ws of his career at the Players. And TPC Sawgrass was no fluke: Thomas ranks third in SG/approach and fifth in SG/total on tour this season. More importantly, the 27-year-old seems to be in a better space after several on- and off-the-course obstacles (some of which were self-inflicted) earlier this year. … After that winter heater Finau is coming in missing the cut in two of his last three starts. He's also finished in the top 10 seven times in his last 11 majors, so hard envisioning him not factoring in to some degree this week.
Jordan Spieth, Cam Smith, Collin Morikawa
Thursday: 2 p.m.; Friday: 10:54 a.m.
Not sure if this is a reward or punishment for Smith becoming the first player to break 70 in all four rounds of the Masters. Given his love of big-game hunting, let's go with reward.
Augusta National is the premier second-shot course in the world, which is why a lot of people love Morikawa this week (leading the tour in SG/approach). However, his battles with his short game (183rd in SG/putting) make him a bit of a wildcard. The stats have proved putting doesn't matter as much as we think it does at Augusta National, and certainly there are a number of past winners who are far from lights-out on the greens. Still, this remains a dynamic to keep an eye on in the early rounds … For Spieth, the game is buzzing over his win in San Antonio. But his performance was not so much the completion of a comeback as it was a continuation of a process, one that was paying dividends at TPC Scottsdale and Pebble Beach and Bay Hill. Better yet, those worries and self-doubts over the past four years have turned into conviction. The expectations might be too much this week. That they exist at all is something to cherish.