Crunching the Numbers
Masters 2021: Does Dustin Johnson's Masters win deserve an asterisk? The data is revealing
Let's be clear: This article will not somehow claim that Dustin Johnson is undeserving of his Masters title. That would be foolish. DJ dominated the field at Augusta National in 2020 and won by five strokes, shattering the 72-hole scoring mark among nine records he broke or tied that week. Still, there's a question we think is worth asking: Based on the record-breaking low scores in November—for reasons we'll get into—does this victory somehow warrant a statistical asterisk?
That November date brought a Masters quite different than what we've come to expect. Without patrons, the ambiance lacked the energy that golfers normally thrive on over the weekend, particularly at this tournament. Then there are other things: softer greens and different temperatures. But how different did Augusta really play compared to past Masters? In studying the data through my website, RickRunGood.com, and the stats that the Masters makes available, there are quantifiable conclusions you can make. Let's take a look:
Those receptive greens led to records being broken every day
Last year's Masters got off to a slow and soggy start—with overnight rains and a three-hour delay early on Thursday. Augusta National was wet and receptive from the beginning. When you give the best players in the world an opportunity to shoot at pins, they are going to take advantage … and they did.
The first round of the 2020 Masters was the lowest-scoring opening round (71.41) in the 84 editions of the tournament—and the only one where the average fell below par. Twenty-four players shot sub-70 scores, the most in any round in Masters history. If that wasn't enough, things continued the same way in Round 2, when the 91 golfers played to a 71.52 scoring average—the lowest Round 2 scoring average in history. Our eventual champion shot rounds of 65-70 to hit the halfway mark at nine under par. Four other golfers matched that mark.
Turns out, there were countless scoring records that fell in November, proving it wasn't just DJ who played well/took advantage of the conditions: 50.5 percent of all rounds were under par—another new record. There were 92 rounds in the 60s, accounting for 30.36 percent of all rounds, another record. Cameron Smith became the first golfer in Masters history to shoot in the 60s for all four rounds—and he finished five shots behind DJ. No matter where you looked, a scoring record was being set at Augusta National.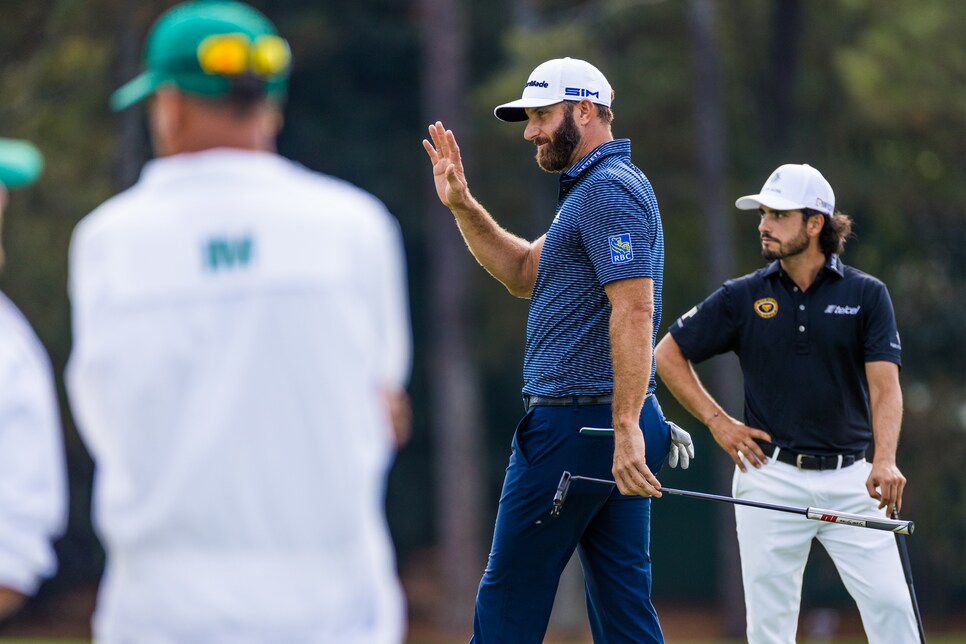 Going deeper into these low scores
One of the best illustrations of how the soft conditions improved scoring would be through greens-in-regulation percentage. In 2020, the field achieved a jarring 67.9 percent GIR percentage, nearly three full percentage points better than 2019. While three percentage points might not sound like a lot, as an average, that's a huge number. For context: Three percentage points is the difference in being the best GIR player on tour and ranking 40th.
Maybe the most notable reason to look differently at Johnson's win isn't even related to the course, but rather the field. By all accounts, his victory came in one of the weakest Masters fields of all time, or at least recent memory. The World Rankings conduct a "Strength of Field" calculation that is both complex and powerful when comparing one tournament to another. The 2020 Masters had a SoF number of 761, which means it was the weakest Masters field since the OWGR started tracking this regularly in 2000. To put it into perspective, the average SoF number in the past 21 years was 799.1—when Charl Schwatzel was victorious in 2011, it marked the strongest field (837).
OK, so should this really get an asterisk?
The easiest course and the easiest field—so should DJ's 2020 victory be paired with an asterisk? No, of course not!
The conditions nor the field were unique to Johnson. Every player had the same opportunity, and it was Johnson emerged victorious at Augusta National. Remember that 67.9 percent GIR metric for the field? Johnson only missed 12 greens all week, leading the field with a staggering 83.3 GIR percentage. Not only was that the best mark by far, it was also the best mark at the Masters since the stat has been tracked in full, in 1980. Even with advantageous conditions, no one took advantage quite like DJ.
The most telling view at DJ's dominance is what he did at Amen Corner. Most golf fans understand that Nos. 11-13, especially on Sunday, will go a long way in determining the champion. This stretch of holes is notably difficult and has changed the trajectory of countless Masters. Amen Corner played just a hair under par (-0.03) for the week, meaning if you played them in even par, you were thrilled. Johnson dismantled Amen Corner, playing it in six under and gaining 5.88 strokes on the field over that stretch alone.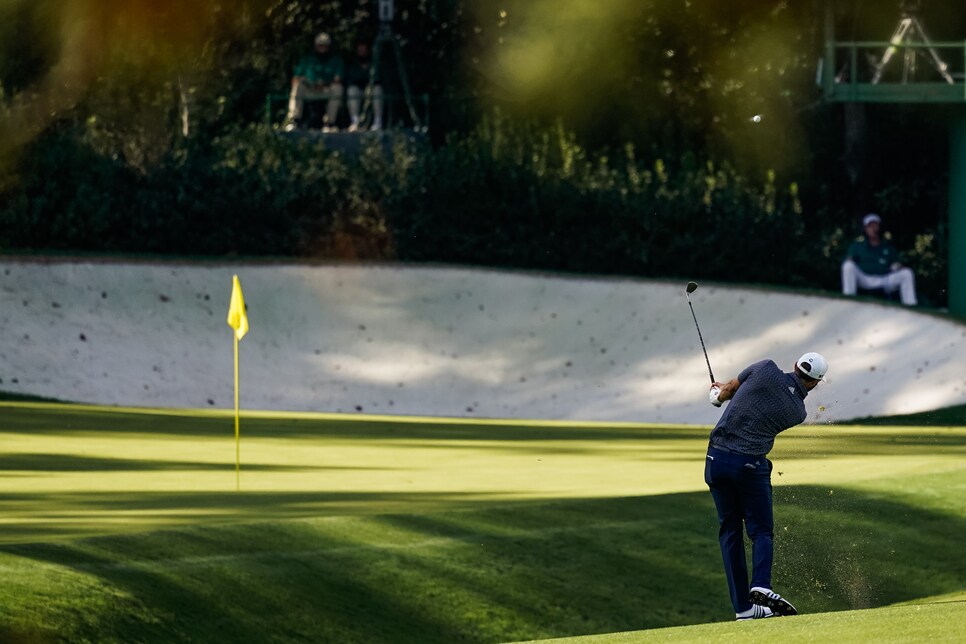 Let's go deeper and include the 10th hole, which was the second-most difficult in 2020 behind the 11th. That stretch of four holes played a total of 0.824 strokes over par for four days combined. With DJ making par on the 10th all four days, that means he gained 6.824 strokes on the field just on that four-hole stretch! It's truly jarring how much Johnson separated himself from the field on those holes, a devastating result for his competitors.
DJ started the weekend as a co-leader and promptly shot a 65 in the third round, which gave him a four-shot cushion heading into Sunday. He didn't stop there, shooting a final-round 68, gaining 4.167 strokes on the field and actually extending to a five-shot victory.
This was a complete performance by a dominant golfer who played the same course as everyone else. Will the 2020 Masters be remembered differently? Of course. Should it have an asterisk? Absolutely not. DJ reached the pinnacle of his sport in dominating fashion with records that will likely stand for some time—for reasons out of DJ's control.