Masters Lite
Masters 2021: Augusta prepares for yet another new-look tournament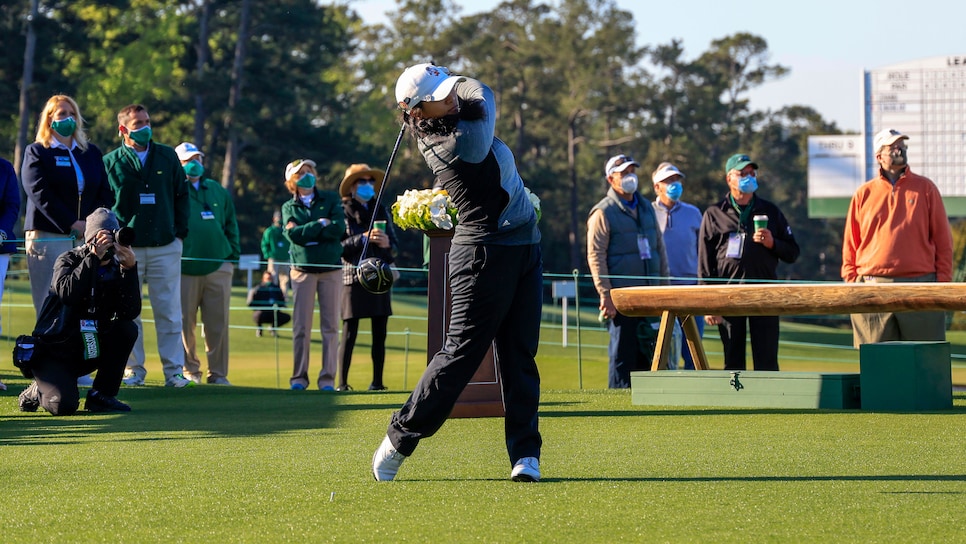 AUGUSTA, Ga. — Back in ancient, simpler times—say, 2019—if you searched a national booking website for a hotel here the week before the Masters, there probably wouldn't be a room at any price in a 100-mile radius. And if you happened to get lucky and catch a cancellation, you'd pay $300 a night for a drive-up motel that looks like something out of an Alfred Hitchcock flick. That was then. This year, for what could be dubbed Masters Lite in the coming week, it is, "What's your pleasure?"
Five days before the 85th edition of the tournament begins, big spenders could still bid on a five-bedroom, five-bath house (with a private cottage) for $15,000 on the Masters Housing Bureau site. There were 120 such listings in the $$$$$$ category among 709 total.
On a tighter budget? No worries. Just seven miles from the gates of Augusta National Golf Club, the Best Inn, on an Interstate 20 frontage road, had rooms going for $57 per night, and there were plenty more like it. In all, one website listed 11 accommodations for less than $100 and 40 that were less than $200. Crazy for the second week of April.
There are plenty of numbers to toss around about the first Masters played in front of a limited live audience because of the COVID-19 pandemic, but the housing and hotel prices alone say a lot.
Havird Usry, a lifelong Augustan and successful restauranteur in town, summed it up in a way only a Southerner could: "If 2019 was the full pie, I'd say you're only getting a couple of slices now."
Last year's Masters was postponed, moved to November with no patrons allowed, and World No. 1 Dustin Johnson pulled off one of the more impressive major wins in recent memory, whipping up a five-shot victory that was the biggest Masters rout since Tiger Woods slipped on his first green jacket in 1997.
The experience, some concluded, with its fall colors, no flowers and the deepest Augusta "rough" in decades, was strangely satisfying, though no one wanted to ever see it repeated.
This year provides a head-snapping turnaround with a second Masters played in five months. As many states and sports entities ease restrictions and allow fans back in the stands, Augusta National deemed it possible to have fans on-site this coming week. But, as usual with those who don the green jackets, the exact number of patrons allowed on the grounds isn't known, and so there are only guesses as to what the competition might look and feel like come Thursday. Though PGA Tour events have been allowing crowds in the several thousands for a couple of months, this will be the first major contested with spectators since the 2019 Open Championship at Royal Portrush.
Don't expect, though, to see people packed into massive grandstands at Amen Corner or the 15th hole—magnificent scenes we took for granted until last year. There are no grandstands anywhere on the course. The Masters tradition of patrons plopping down their green chairs in their favorite spots is alive, though during Saturday's final round of the Augusta National Women's Amateur, most fans chose to lounge on grass as lush as their carpet at home. There's a list of rules in the seating areas: face coverings at all times; no eating, drinking or smoking; and chairs can't be left unattended. (One of the beautiful perks in normal times is that you can leave a chair, walk around and return to find it waiting for you.)

The supply of badges for this year's Masters is low and the prices are high. (Tod Leonard)
The players will hope for the fans to make plenty of noise—at the appropriate times, of course. "I think it will feel better," World No. 6 Xander Schauffele said this week as he prepared to play in his fourth Masters. "The property being empty was strange for me last year; I can't imagine what it was like for guys who have been going there for 20 years. People walking around will feel more normal. You want to hear cheers when you make a birdie. And I'm sure those people who get to go will be super excited."
Those lucky enough to attend are going to have once-in-a-lifetime views that only Augusta National members and reporters could brag about in November. They'll also have access to nearly all the amenities at a "normal" Masters. All but one concession stand was open during Saturday's final round of the ANWA and the main merchandise center was fully stocked.
The guesstimates among Augusta locals are that there will be up to 12,000 people on the grounds per day—cut from an estimated 40,000 to 50,000 during a normal tournament. That calculation is based, in part, on the city of Augusta saying it expects to need 6,000 parking spaces total—3,000 for fans and 3,000 for workers. Just as telling of the circumstance—the city has decided not to close the I-20 exit to Washington Road, the main thoroughfare to the tournament that can get as jammed as New York's Park Avenue.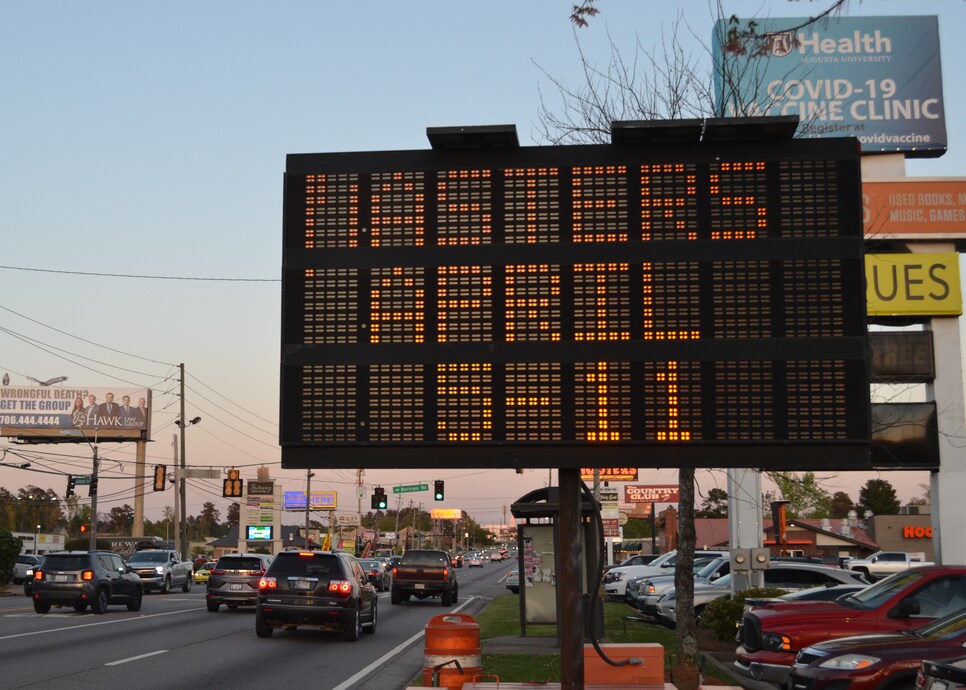 A sign advertising the Masters on Washington Road is near a strip mall that has a COVID-19 vaccine center. (Tod Leonard)
Whom exactly is getting the tickets is one of Augusta's biggest gossip games. Many patrons who have been getting badges for decades received word from ANGC this year saying they would not be able to attend, though they would have access to tickets in 2022. The speculation is that most of the tickets will go to players' families, those with ties to Augusta National members and workers, and the tournament's largest corporate sponsors.
Augusta National first announced that all patrons would need to provide proof of a negative COVID-19 test before attending, but rescinded the restriction, though attendees who visit the Masters' high-end hospitality area, Berckmans Place, will need such proof. Masks will be required at all times.
The trickle-down of fewer tickets is significant all around the region. Restaurants anticipate business to be down, though they're having a hard time getting a handle on how much. "It would be better if they at least gave us an idea," said one restaurant manager who requested anonymity. At the Hooters on Washington Road, known best for John Daly parking his RV there each April to sell swag, they've cut their outdoor party space by three-quarters. And, no, JD will not be hanging out this year.
In a portrait of our times, Hooters also now shares a strip-mall parking lot with a COVID-19 vaccine site.
Brokers who operate the secondary ticket market, which feeds the demand to attend the Masters—while also filling hotels and restaurants—say they have only a small fraction of the inventory compared to the past. One broker, who asked not to be identified, said he normally would have several hundred tickets per day available; this year, that number is about 10 a day.
"I could sell a lot of tickets right now if I could get my hands on more grounds passes. They are hard to get," said the broker, who added that most of his reliable patron suppliers didn't get tickets this year.
Earlier in the week on Washington Road, the morning unusually chilly for spring, two men sat bundled up in folding chairs near cardboard lawn signs that read, "Need Tickets." Business was non-existent. "Nothing," said one. "But we have to stay out here just in case."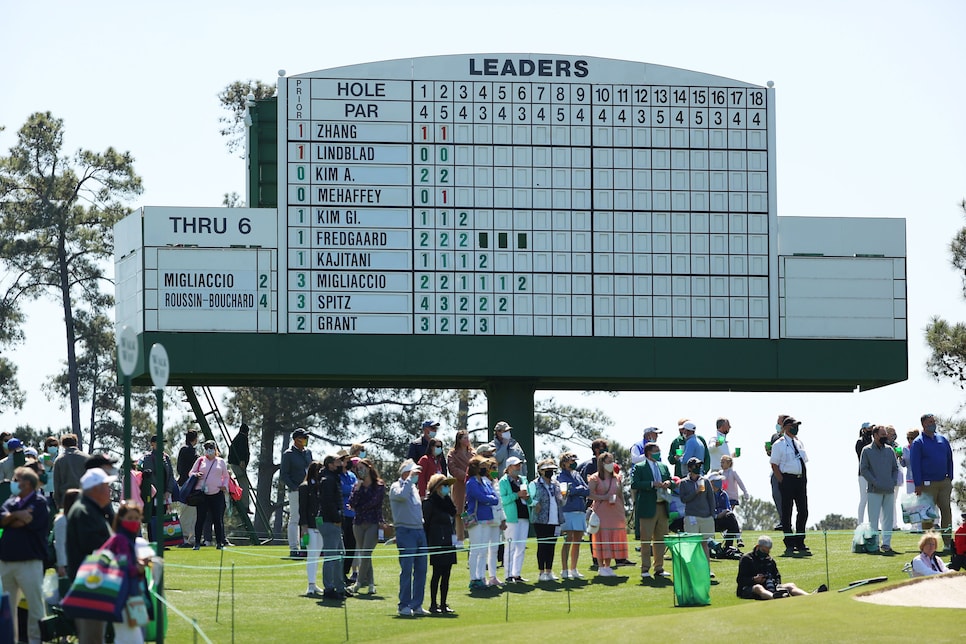 Crowds for the final round of the Augusta Women's Amateur on Saturday are an indicator for what galleries might look like for the Masters.
Kevin C. Cox
They're all fighting for scraps—though they are of the filet-mignon variety, because the scarcity of tickets has driven up prices. In 2019, the broker said, a daily grounds ticket went for $2,000 per day. This year, they're averaging about $3,000. A weekly badge in '19 was $9,000; now it's $12,500.
In the last 13 months, the floor dropped out on the rental housing market. Residents missed out almost completely in 2020 but hoped for better times this year. It hasn't happened for most. Usry said there are about 100 homes in his North Augusta, S.C., neighborhood that are usually filled with Masters renters. This year, about three are taken.
The effect on hotels is equally challenging in an industry already hit hard by the pandemic. Bennish Brown, CEO and President of the Augusta Convention & Visitors Bureau, said the hotel/motel taxes gathered by Augusta-Richmond County during the 2019 Masters was $26.2 million, or about three times any other month. For the November Masters, the sum was $8.3 million.
"I know for many of the businesses, the Masters is considered a 13th month of revenue," Brown said. "With the impact of COVID and the playing of the Masters last year without patrons, it dealt a severe blow to a lot of businesses. Some have found a way to make adjustments and stay open, and for some businesses it has proven to be the last nail in the coffin."
Still, Brown noted, it's not as if the Masters and Augusta National—enormous benefactors in the region—will disappear. "Regardless of how these one-time odds stack up, we cannot overlook how fortunate we are," he said.
Havird Usry said his Fat Man's restaurants and catering businesses have never closed during the pandemic, and that he's seeing an uptick in people dining out again as vaccines continue to be rolled out. He said he's got several regular out-of-town Masters clients returning this year, though the groups are smaller.
"It's not going to be normal, but we're pumped up," Usry said.
He recalled with a laugh that he and a co-worker were recently trying to get a handle on alcohol inventory for the Masters. Their memories were fuzzy and they had to leaf through the calendar—all the way back to 2019. "It was like an awakening," Usry said.