From the Magazine
Masters 2021: Lee Elder reflects on his extraordinary life as he preps for another historic first at Augusta National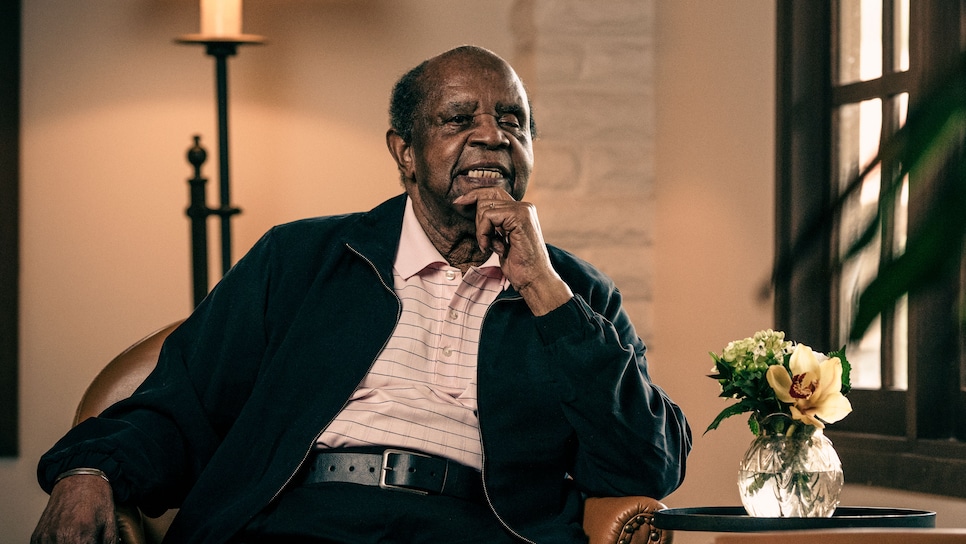 Lee Elder got some awful news this morning. Hank Aaron died, and it's hitting Elder hard. Aaron was 86. Elder is 86. They grew close over the years as great sportsmen of their era, bonded by achievement, history and the death threats they endured as Black men who dared to break barriers previously unchallenged in their professions.
Elder has been looking forward to lunch on this January day. The occasion is to talk about his upcoming trip to Augusta National Golf Club, where for the first time he will join Jack Nicklaus and Gary Player as an honorary starter for the Masters. Elder has thought of little else since Augusta National Chairman Fred Ridley called in November with the invitation to further polish Elder's Masters legacy.
But on this day at the Rancho Bernardo Inn, down the street from where Elder and his wife Sharon rent a home in an upscale San Diego neighborhood, there's a ceiling of dark clouds, and a cold wind blows through a deserted patio. Elder is distracted, solemnly preoccupied with his memories of Aaron.
Some of the parallels of the lives of Elder and Aaron are fairly startling. On April 8, 1974, Aaron became baseball's home-run king by slugging No. 715 at Atlanta's Fulton County Stadium. Thirteen days later, Elder beat Peter Oosterhuis in a playoff at the Monsanto Open in Pensacola, Fla., setting in motion a fascinating and sometimes harrowing march toward the Masters the following April. Nearly a year to the day of Aaron's feat, Elder became the first Black man to compete in the Masters.
For that week in 1975 and the five other occasions Elder played in the Masters, he says Aaron arranged for a car to be waiting at the Atlanta airport for his use. Aaron called Elder regularly to see how he was faring and to help him calm his nerves.
"He was a good man, I tell you," Elder says. "See, a lot of people really feel that I was in the Jackie Robinson era. I knew Jackie, and I followed him quite a bit.
"We played golf together. But it wasn't like with me and Hank. We could relate more because we came along during the same time in the Civil Rights era."
Usually gregarious, with an easy smile and deep belly laugh, Elder shakes his head and leans on the cane he grips tightly. "It's been a sad day," he says. "You meet someone and become closely associated with them, and then something like this happens. All of a sudden, he dies. It's pretty hard to digest."
Mortality is on Elder's mind these days. He knows he is in the twilight of his life. A decade ago, he had quadruple bypass heart surgery. He is blind in his left eye, the iris a milky white, from having diabetes for 25 years. Three times a day he must stick himself with a needle filled with insulin. "I cry inside every time he has to do that," says one of Elder's closest friends, Dave Scott, a longtime San Diego television weatherman who serves as a confidant and caretaker for Lee and Sharon, Elder's wife of 26 years. Elder's endearing nickname for Scott: "Mostly Sunny."
At lunch, Scott, gently clutching Elder's elbow, helps him up a short set of stairs because the golfer has an arthritic knee that he says is due for a couple of injections before he arrives at Augusta. For now, he will take any help he can get and uses one of those sit-down electric scooters when Scott takes him shopping at Walmart.
Despite the ailments, Elder says, "You know, I wouldn't want it any other way right now in my life."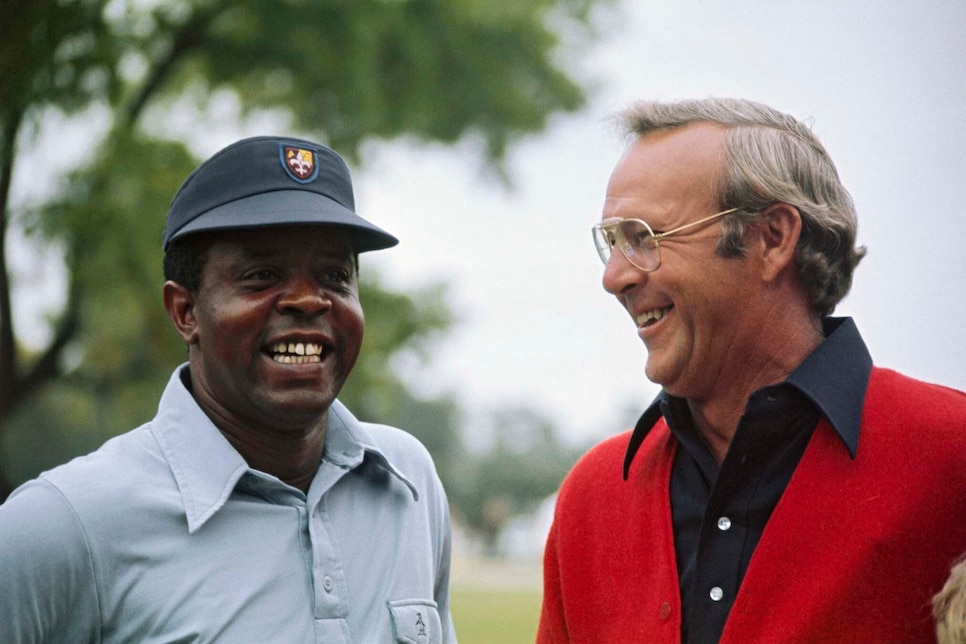 Lee Elder with Arnold Palmer before the 1975 Masters.
Bettmann
When Fred Ridley announced at the pandemic-delayed Masters in November that Elder would be an honorary starter beginning in 2021, the golfer received an outpouring of congratulations from people of all walks, among them Augusta National member and former U.S. Secretary of State Condoleezza Rice, NBA Hall of Famer Julius Erving and actor Chris Tucker.
Nicklaus wrote Elder a letter, the contents of which Elder chooses to keep private, and he was touched. "People say that Jack doesn't write letters to people that much, but when he does, it comes from the heart," Elder says. "I'm so happy he thought that much of me. Along the trail, we had some pretty tough battles."
"It's been a good run for me in the sense that it's been so positive," Elder offers. "When people called, they weren't calling to say this should have been done a long time ago. The conversation was of peacefulness, calm, and thank goodness this happened before it was too late."
Too late. Quietly, and with grace, Elder wondered if he would be recognized for his historical significance to the club. Augusta National reveres its champions, but for most other milestones, the calendar turns with nary a golf clap. When the 40th anniversary of Elder's first Masters appearance arrived in 2015, Augusta mayor Hardie Davis declared Thursday of tournament week "Robert Lee Elder Day," and Gary Player advocated for a party that took place away from the course.
Tucker was among the speakers who lauded Elder and his accomplishments. The recipient of this love was humbled.
But weeks earlier, Elder told me in an interview, "I do feel like I would have liked some kind of recognition [by Augusta National]. It's just something that I felt deserving of."
Elder professes his love for Augusta National as an institution. "It's wonderful," he says.
"Every other club in America should look to it for how it treats it members." He is devoted to the Masters, having attended nearly every tournament since he was a player. But he also says that the only Augusta National chairmen he knew well were Clifford Roberts, co-founder of the club with Bobby Jones, and Ridley, the current chairman.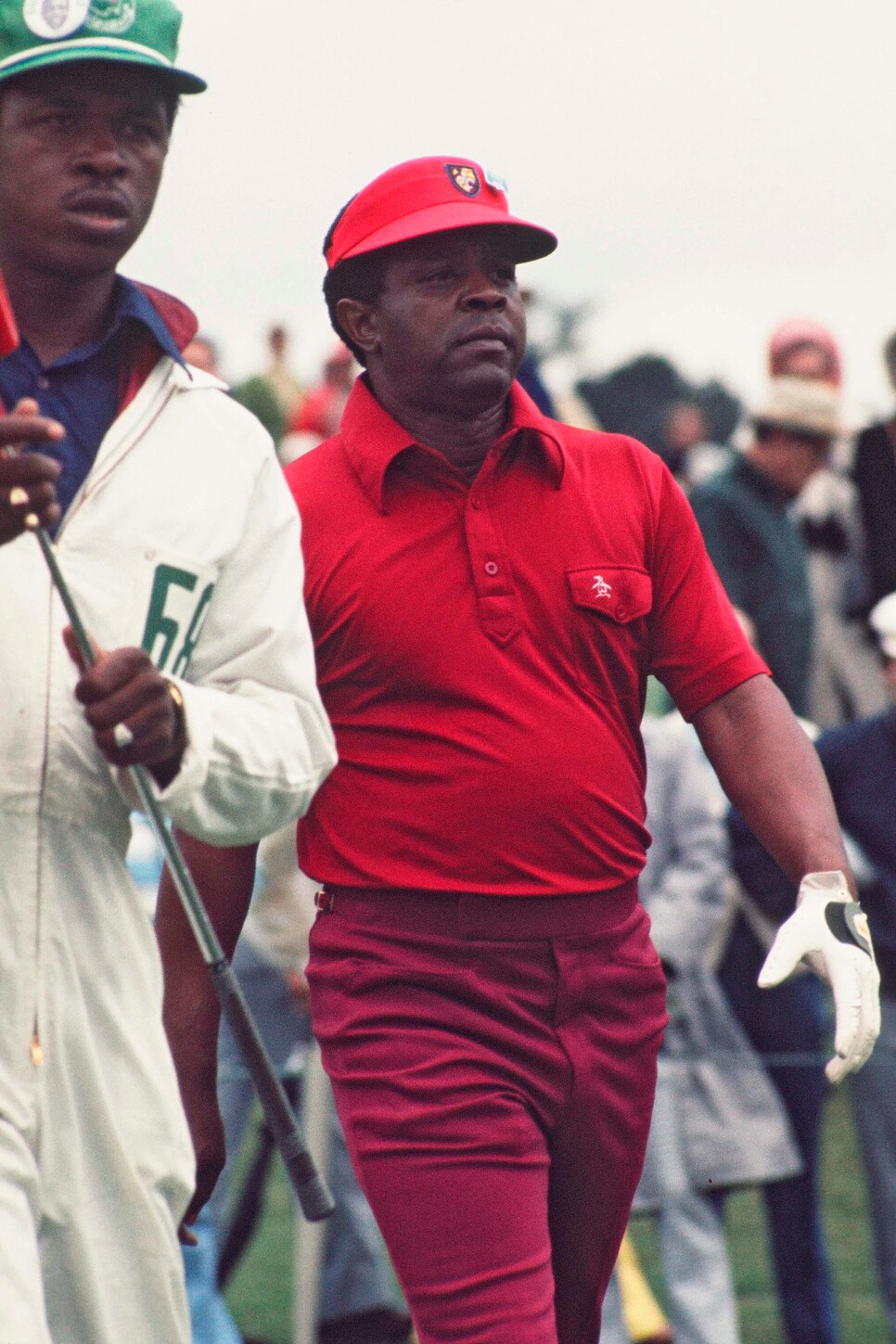 Elder and caddie during the 1975 Masters
Augusta National
Fates and philosophies change depending on who's in charge, and in Ridley, Elder found a supporter who was more than a passing acquaintance. In a bit of serendipity, Elder was invited years ago to play Augusta National by member J. Paul Austin, who was then CEO of Coca-Cola. Austin, who died in 1985, also invited then-tour player Deane Beman—the future commissioner of the PGA Tour—and the 1975 U.S. Amateur champion to fill out that foursome. That man was Fred Ridley, who would become president of the United States Golf Association before becoming chairman of ANGC in 2017.
More than four decades later, it was Ridley who placed the call to Elder in early November 2020 to ask if he would consider being an honorary starter.
"He could hardly get the conversation out of his mouth," Elder recalls, laughing, "before I said, 'Mr. Chairman, I'd be more than happy to do anything to be associated with Augusta National.' There were a whole lot of people they could have selected, and I'm sure there are people saying there are people more deserving than Lee Elder. But Fred is a wonderful, wonderful person, and he was the right person to do this."
There were conversations among his business friends in Augusta, Elder says, that he should have replaced Arnold Palmer as an honorary starter after Palmer's death before the 2017 Masters. But Elder says he believes Augusta National members were moved to action when Golf Digest editor-in-chief Jerry Tarde made the case for Elder's inclusion in a column in July. "That was the steppingstone," Elder says.
When Elder walks onto Augusta National's first tee the morning of April 8, 2021, he will be greeted by Ridley, and he will shake hands with and tip his cap to two men in Nicklaus, now 81, and Player, 85, who have led very different lives from his own. Palmer, Nicklaus and Player formed the "Big Three," and they all built empires on their brands. Elder never had the same stature or public relations platform, and he had to deal with some financial setbacks early in his career. In 17 full seasons on the PGA Tour and with four wins, Elder earned $1,020,514, or less than a current tour player receives for a single victory.
Elder never wallowed in his misfortune. Before his first Masters appearance, which came 11 months after his win in Pensacola, Elder was a popular "get" on the banquet circuit.
It widened his waistline and didn't do much for his golf—he made only $26,810 on tour in 1975—but he found his groove with a homespun, relatable way of telling inspirational stories, and he realized he could make as much money in front of a microphone as grinding over four-footers.
Not quite done with playing, Elder tore up the senior circuit for a period in the mid-1980s, winning seven times in two years. He got his eighth win in 1988, and by 1990 he was finished with professional golf. In the 31 years since, Lee and Sharon Elder have traveled the world, often without having a home of their own for years at a time.
They booked as many appearances at pro-ams and celebrity events as the demand allowed and often stayed in hotels or homes of friends and organizers. The pandemic has grounded them in California since March 2020. "I tell people I don't have a lot of money, but I have a lot of love," Elder says, laughing.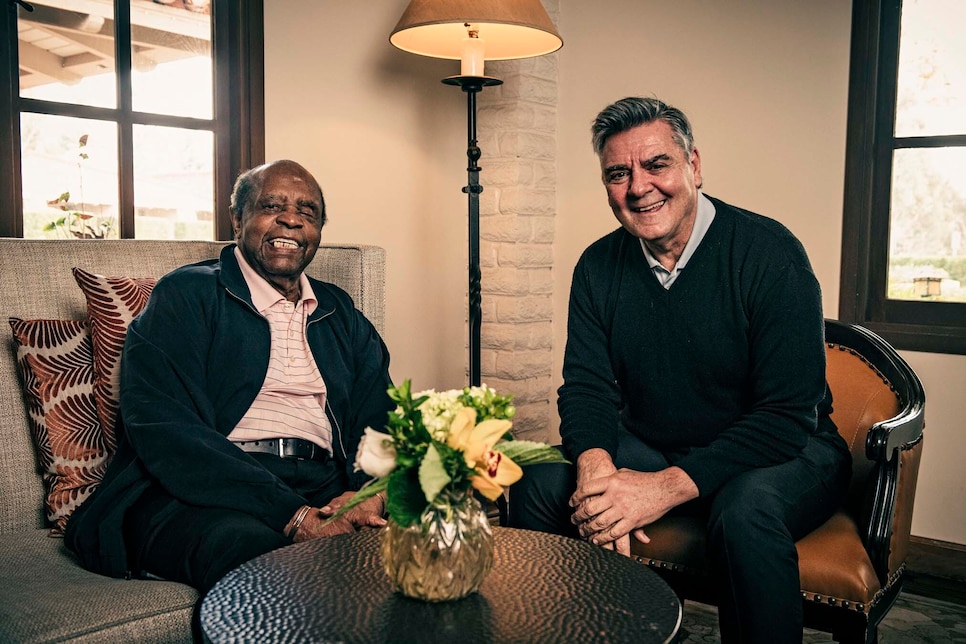 "I just love him like a dad," Dave Scott says of Elder.
J.D. Cuban
The Elders have done it their way, and many in golf might look askance at how they have hustled to make ends meet and have a better life. Their existence is so different from that of many of his playing peers, Elder says, that he is more comfortable hanging out with Scott than, say, Gary Player, who has been one of his closest friends and most ardent supporters. "Gary's in a little bit different category," Elder says. "We've been invited to come visit him, but I'm the type of person who wants to be around people who are real. I'm not saying he has phony people around him, but I don't think that's an area that would be suitable for Sharon and me."
The Elders met Scott, who has worked for 29 years at one television station with the envious task of being a San Diego weather forecaster, at the inaugural charity golf event organized by late NFL great Junior Seau. With a Scottish father who introduced him to golf early, Scott became a top-level junior player, and in college he was enthralled by the notion of a Black man playing in the Masters.
Scott, 64, recognized early in his life that he had an affinity for people of color, becoming aware of their challenges and the prejudices they faced while he lived for a time in Hawaii as a kid. He took up jazz trombone as a youngster and later was the only white member of a band that played clubs in downtown San Diego. Scott married, had three children with and later divorced Luana Harris, the sister of Pro Football Hall of Famer Franco Harris.
Scott says the connection he had with Elder was instant. "I just love him like a dad," he says. "To me, Lee is an honor in my life."
For years, Scott played a couple of rounds a week with Elder, many of them at La Costa. "Did you get the Fritos?" Elder would ask when Scott arrived.
"He loves Fritos as much as he loves golf," Scott says, rolling his eyes. Lunch after golf is almost always the same—tuna sandwich and clam chowder.
Now, the two get out to play about once a month at the Rancho Bernardo Inn, and Elder might hit only a few balls.
"But he loves how peaceful it is out there," Scott says.
Scott was among the first people Elder told about getting the invitation to be an honorary starter at the Masters. "You're not going to believe this, Mostly Sunny!" he said over the phone. Scott could sense Elder's joy and his relief.
During the cable-television broadcast of the Masters' opening shots on Thursday, millions of people for the first time will see Lee Elder swing a golf club—not anything like he did in his prime, but it doesn't matter. In following Jock Hutchison, Fred McLeod, Gene Sarazen, Sam Snead, Byron Nelson, Palmer, Nicklaus and Player, Elder joins an elite and distinguished class of players that Augusta National implores us, in its polite Southern manner, to respect and remember. It is validation like no other in golf.
Two years ago, Scott traveled to Pebble Beach when Elder received the Bob Jones Award, the highest honor the USGA bestows. At that point, they both figured that would be the pinnacle, and Elder was wholly satisfied with that.
But then the Augusta opportunity arrived, and it somehow feels bigger, as if Elder is being reintroduced not just to the golf world, but the whole world.
"This is more amazing because it's the Masters, it's Augusta National and what the club has overcome with its own issues," Scott says. "To see Lee finally get this honor, to know he's alive and will walk up on that tee . . . people of color all around the world are going to celebrate this. And I hope I'm there so he can look up at me and say, 'I made it, Mostly Sunny.' "