News
Why Lee Elder should be a Masters honorary starter
The last accolades for a good man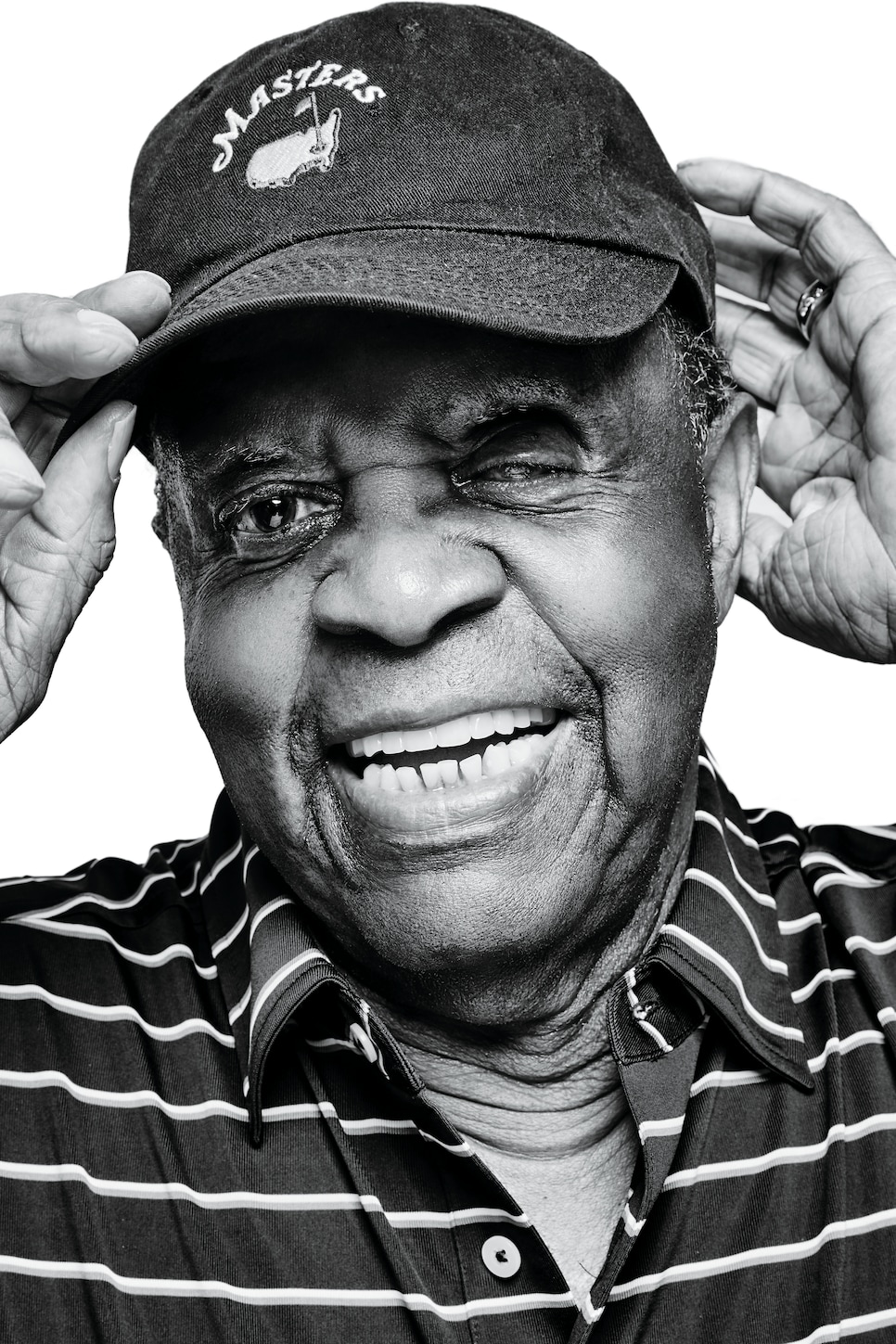 I've always been inspired by the tradition of the honorary starters at the Masters—the two or three aging heroes who hit the opening shots of the tournament. When I was still in college in the fall of 1976, I borrowed my roommate's Gremlin and drove to a nursing home in suburban Chicago to meet Jock Hutchison, 92, the 1921 British Open champion, who served with 1908 U.S. Open champion Fred McLeod as the original honorary starters.
"How's Freddie?" Jock asked.
"He died," said his son Jock Jr., who had joined us. (McLeod died the previous May at age 94.)
"What he die of?" Jock said.
"He just died, Dad," said the son.
Inspiring is the word for honorary starters as Jock and Fred begat Gene Sarazen, Byron Nelson and Sam Snead, who begat Arnold Palmer, Gary Player and Jack Nicklaus. (In 1983, Ken Venturi stood in for Lord Byron.)
Was there a more poignant image on the first tee than an empty lawn chair draped with Arnie's green jacket at the 2017 Masters? "The almost unbearable sadness we all feel at the passing of Arnold Palmer," said then-chairman Billy Payne, "is surpassed only by the love and affection we feel for him in our hearts." Wiping away the tears, Gary and Jack teed off, proving once and for all: Even gods cry.
I expect to be inspired again this year, when the Masters is played off-kilter in November. I have no inside information, none at all, operating only in the belief that the Augusta National Golf Club does the right thing. In my imagination, I'm rushing to the plantation clubhouse on a crisp autumnal morning to see Jack and Gary on the first tee with Lee Elder, 86, celebrating the 45th anniversary of breaking the color barrier at the 1975 Masters and doing it again as the first Black honorary starter.
He's not a past champion, you say? Neither were Hutchison, McLeod or Venturi. But what's Elder's connection? He won the Bob Jones Award for sportsmanship last year—reflecting the virtue of Augusta's founder is enough for me.
"If Jackie Robinson is heralded for breaking the color barrier in baseball and being the first Black man to play in the World Series, then Charlie Sifford and Lee Elder should be jointly held in similar regard," says Wendell Haskins, a leader in Black golf who championed this idea when he was director of diversity for the PGA of America.
Sifford, who died in 2015, won the 1967 Greater Hartford Open but didn't get the customary invitation to the Masters. When Elder won the 1974 Monsanto Open, he finally got the call from then-chairman Cliff Roberts. "I can't say for sure right now," said Elder, making Roberts cool his heels. But eventually Elder accepted and played with indomitable spirit and gracious élan, as he always did.
After the Shoal Creek controversy, Augusta National acted quickly to take in its first Black member in 1990 and has since added six more. Slower on gender, the club accepted its first female members in 2012. Now there's worldwide protest against racism and social injustice—leave it to Augusta National to end this dismal year on an upbeat note.
"I had a close association with the Rev. Joseph Lowery, who introduced me to Dr. King in 1967," Elder says. "I met the Rev. Ralph Abernathy and Dr. Walter Fauntroy and John Lewis. I was inspired by their work and the fight they carried on. I wanted to be a part of it, which wasn't easy for a golfer because we played on weekends."
Now, he's too old to walk in protests, yet still strong enough to walk to the first tee. Would he accept if asked? "In a heartbeat," he says.
In my mind, I see Nicklaus and Player welcoming Elder, the way old friends and warriors do. Gary was Lee's pick to present him with the Bob Jones Award last summer, and at the ceremony Gary recalled bringing Lee to South Africa to play a series of exhibitions. "For the first time ever, there were young Black children coming to the golf course not to caddie, but to watch Lee, and you should've seen the looks on their faces," Player said. We'll see those looks again among people of all colors if Lee is an honorary starter this year.
Born one of 10 kids, he was 9 years old when his father died in Germany during World War II, and his mother died three months later. He took up golf as a caddie, embraced it in the Army, and his first big break came from playing a match with Joe Louis. Elder once won 18 of 22 tournaments on the United Golf Association Tour for Black golfers; he won four times on the PGA Tour and eight on the Champions Tour.
"As I look back over the accomplishments I've had in my life," he told me in July, "the one thing that I'm proudest of is playing in the Ryder Cup [in 1979] and representing my country."
He would never say it himself. He's too indomitable and gracious, but we've taken too long to get to this moment. Lee Elder is a good man who deserves one last accolade.