Only The Beginning
You just won the Masters. Here's what happens next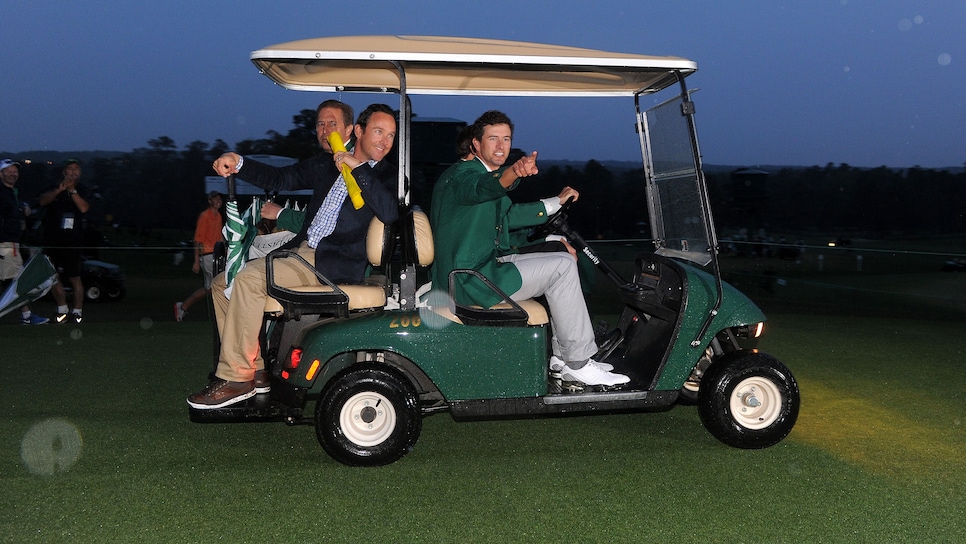 AUGUSTA, Ga. — So you've just won the Masters. Now what? After a tearful hug with loved ones behind the final green, and a quick trip to the scoring area to avoid any De Vincenzoesque shenanigans, you are whisked to Butler Cabin for the always awkward green jacket ceremony. The cabin is much bigger than it appears on TV; the entire lower level serves as a TV studio during Masters week. A club official will be waiting with a half-dozen green jackets, having guessed your size but offering a variety of choices. You only have a few seconds to decide. In the heady moments after his victory, as he was being spirited into Butler Cabin, Zach Johnson was asked for his size. "Um, er, well…" Overwhelmed by the moment, he couldn't summon an answer. Luckily his agent Brad Buffoni was on hand to bark 40 regular.
As soon as that jacket ceremony is over you saunter 100 yards or so to the practice putting green for the outdoor jacket ceremony, in a little path cleared by Pinkertons. In non-COVID times, fans throng both sides and the atmosphere is electric. The outdoor ceremony is usually conducted in a golden twilight. The best view is from the back veranda of the clubhouse, where drinks are always flowing.
After the second jacket ceremony, you are driven in a golf cart to the press building. It is not uncommon for the reporters to applaud when you enter the room, a sign of respect and expression of relief, as deadlines loom. While you answer questions—some banal, some poignant—tournament officials bring your family into Butler Cabin. The feeling there is exhilaration mixed with exhaustion. "You're definitely in shock," says Amy Mickelson. "It's surreal and overwhelming. The back nine is always so emotional, because so much can happen on every hole. When it's over you feel euphoric but the moment definitely hits you hard. I think more than anything you feel gratitude." The veteran move is to bring a change of clothes for the festivities that follow. Says Amy, "Julie Crenshaw"—wife of Ben—"told me to bring something nice to change into and leave it in the car just in case, so you can grab it if you need it."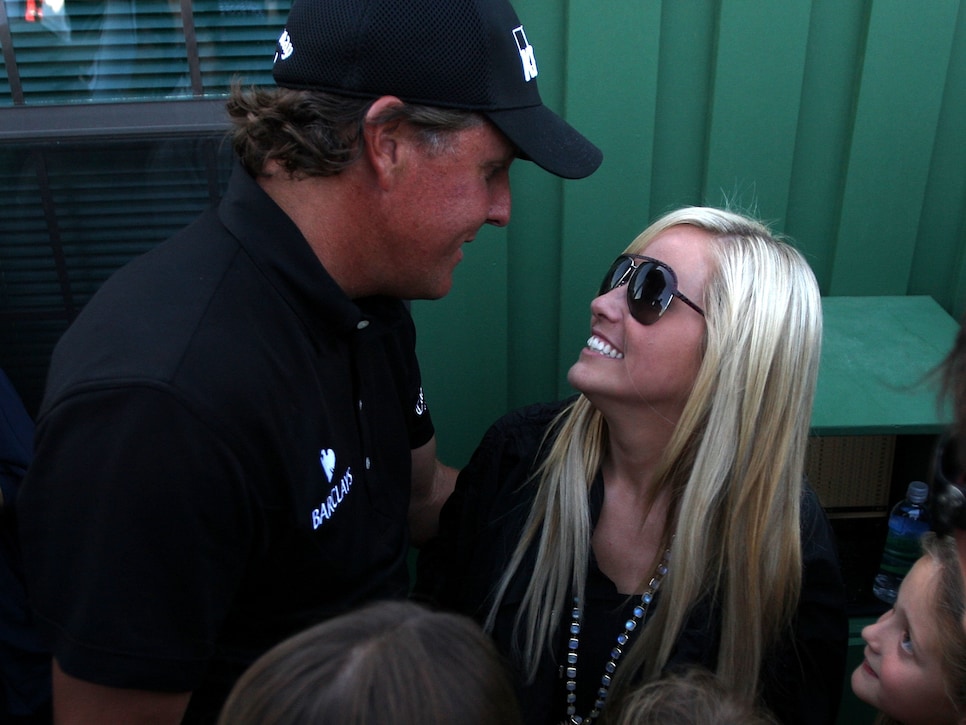 Phil and Amy after Mickelson's third Masters win.
Streeter Lecka
When the Q&A in the press room is over you are taken for sit-down one-on-ones with Golf Channel and ESPN. (Depending on timing, some years these may happen later in the evening.) Then it's back in the golf cart to be reunited with your family in Butler Cabin. For many champs, this is the most emotional moment. Yes, you've had a quick hug behind the 18th green with select family, but now the magnitude of the moment has sunk in, and you're wearing a spiffy new blazer as you are greeted by all of your people. When Johnson walked into Butler Cabin, he hugged his father Dave for at least 20 seconds, both of their bodies heaving with emotion.
"After my press conference I went to Butler Cabin," says Patrick Reed, "and I didn't know my daughter and the whole family were there. My daughter comes out and when she opens the door she said, 'Daddy, you did it, I'm proud of you,' and gives me a hug, and I just melted. That moment was so special to me."
After 20 minutes or so of celebrating, you and your family are led to a dinner with the entire Augusta National membership. For many years it was held in the formal dining room within the clubhouse but in more recent years the venue has been an expansive temporary pavilion adjacent to Butler Cabin set up for the occasion. (Tent doesn't do this thing justice.) It is quite a scene.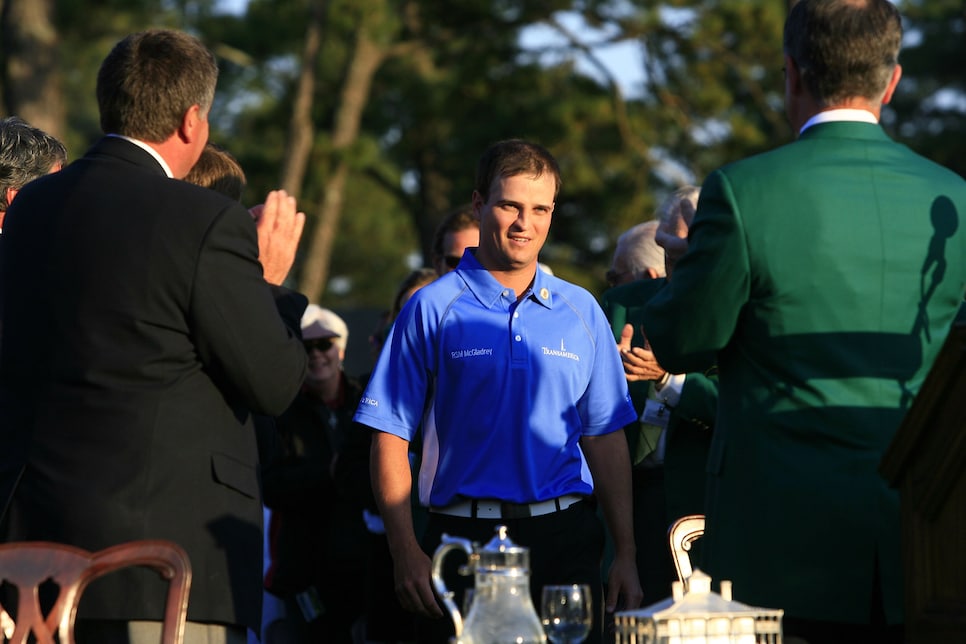 "It's amazing when you walk in the room and see all those green jackets," Reed says. "Mine, I get to go out and play for it and try to earn it on the golf course, and for them to be invited and be the very few select around the world that have the opportunity to be a member here and to come to such a coveted place and to play such an amazing golf course and be a part of such a small group and to get them all together is really special." This is part of the reflexive awe so many players have for the Masters; it is rare for them to be the poorest person in a room.
Unlike the Tuesday night Champions Dinner, the club handles the menu (lobster macaroni and cheese is a perennial favorite) and covers the cost. But after his breakthrough win in 2004, Phil Mickelson pulled aside then chairman Hootie Johnson. "He was so overjoyed to have won he really wanted to celebrate," Amy says Amy, "so he tells Hootie, 'Go deep in the wine cellar and pull out your best stuff.'" Augusta National's cellar is legendary and has been widely described as among the best in the world. A particular favorite among the green jackets is Château Lafite Rothschild, a Bordeaux of which some vintages can retail for up to $15,000 a bottle. "Phil got pulled away and after he was gone I heard Hootie say to another club official, 'Do be sure that Mr. Mickelson is presented the bill for the wine.'"
During dinner, it's common for some of the richest and most powerful people on the planet to stop by the champion's table and pay their respects. "Gosh, I got a couple phone calls from high up in the government, the vice president and president, which was a cool honor," says Bubba Watson. "You're not allowed cell phones there by the way. There was a member that gave me their cell phone and said, 'This is the vice president of the United States.'"
After dinner, it is time to leave the grounds and begin more private celebrations. (You are presented a slick garment bag with the Masters logo and the year you won that the green jacket can be transported in, should you ever take it off.) When you finally make it to your car it is usually the first time a new champ has been reunited with their cell phone. Reed recalls having more than 200 text messages, and other champs with larger social circles have reported even gaudier numbers. It's never too early to begin enjoying your newly elevated status. Every Masters Tuesday, Mickelson delights in torturing jacket-less colleagues by asking, "Hey, do you have any dinner plans tonight?" Dustin Johnson was one of his favorite targets and he fell for it more than once. Last November, after having finally won his first Masters, Johnson took time on Sunday evening to dash off a text to Mickelson: I know what I'm doing for dinner next year on Tuesday, motherfucker.
MORE MASTERS 2021 STORIES FROM GOLF DIGEST: