AUGUSTA, Ga. — It's a funky name. Long, too—nine letters, to be exact. But it rolls off the tongue, and that's good news for golf fans, because it's not going anywhere.
Za-la-tor-is. Will Zalatoris, the fastest rising star in golf.
Twenty-eight months ago, after failing to advance past Korn Ferry Tour qualifying school, he sat down for a sobering conversation with his two coaches, Troy Denton and Josh Gregory. He was staring at a winter of mini-tour events, a crushing blow for a guy who won the U.S. Junior and starred at powerhouse Wake Forest.
So then he got to work. He played mini-tour events all winter in 2018-19, then parlayed some Monday qualifiers and sponsor's exemptions into Korn Ferry status. Then he caught fire in a few KFT starts in 2020 and parlayed that into a spot in the U.S. Open, and parlayed that into a T-6 finish, and parlaying that into a few more sponsor's exemptions, and parlayed that into Special Temporary Status on the PGA Tour, and parlayed that into a spot in the top 50 of the World Ranking, and parlayed that into a tee time at the 2021 Masters—where he sits at two-under 70, one of the best rounds of Thursday's morning wave at a cranky Augusta National.
"This one is different," Zalatoris said after his first Masters round, which featured an eagle on 15. "You know, when you hear the, 'Fore please, now driving,' you dream about that for your entire life."
And, later: "The joke that I've been saying with my family is if I'm stupid enough to think I can play here, then I'm stupid enough to think I can win it."
Only he's not even close to stupid. In fact, he relies on data and statistics perhaps more than anyone on tour, this side of Bryson DeChambeau. Zalatoris was the first adopter of DECADE, a course-management system developed by Scott Fawcett, a 47-year-old data guru who holds three math degrees. The second adopter, in a stroke of irony, was DeChambeau.
When Zalatoris won the Texas State Amateur as a 17-year-old in 2014, Fawcett was on the bag. That was the first week they put the DECADE system into play. We're summarizing here, but DECADE is a math-based approach to strategy that prioritizes data over folklore. It combines PGA Tour scoring statistics with shot-dispersion patterns to inform players on club selection and lines to aim for. Avoiding mistakes takes precedence over flag-hunting. Playing to the fat part of the green is the name of the game. So is trusting your shot dispersion.
"It's really not that complicated," says Fawcett.
Fawcett holds a steadfast belief that trying to work the ball both ways with the driver will only widen that dispersion chart. When the club is moving that fast, even a slight miss can result in a round-killing mistake, and slight misses are more likely when you're deviating from your comfort zone. Denton and Gregory share that belief. And do does Zalatoris. He likes to cut his driver, and so he's taken his fade with him to Winged Foot and TPC Sawgrass and now Augusta, where the age-old belief is that a right-to-left ball flight is king—although that narrative took a blow last year, when Dustin Johnson hit almost exclusively cuts in setting the 72-hole scoring record.
Zalatoris is, in that way, a Bryson DeChambeau-lite. Probably 100 pounds lighter, in fact. Bryson is thick, Zalatoris rail-thin. But they share an inner belief that their way is the best way for them, conventional wisdom be damned.
Take the second hole at Augusta for example. The 575-yard par 5 turns hard left, and the right side of the fairway is guarded by a bunker. The Augusta textbook would tell you to hit driver; it's a par 5, after all. But Zalatoris simply does not draw his driver, and a cut brings that bunker into play. So he pulled 3-wood, which he does draw, and piped one down the center. His par saw him drop roughly .3 shots to the field (the hole is averaging around 4.7), but the choice essentially took a big number completely out of play.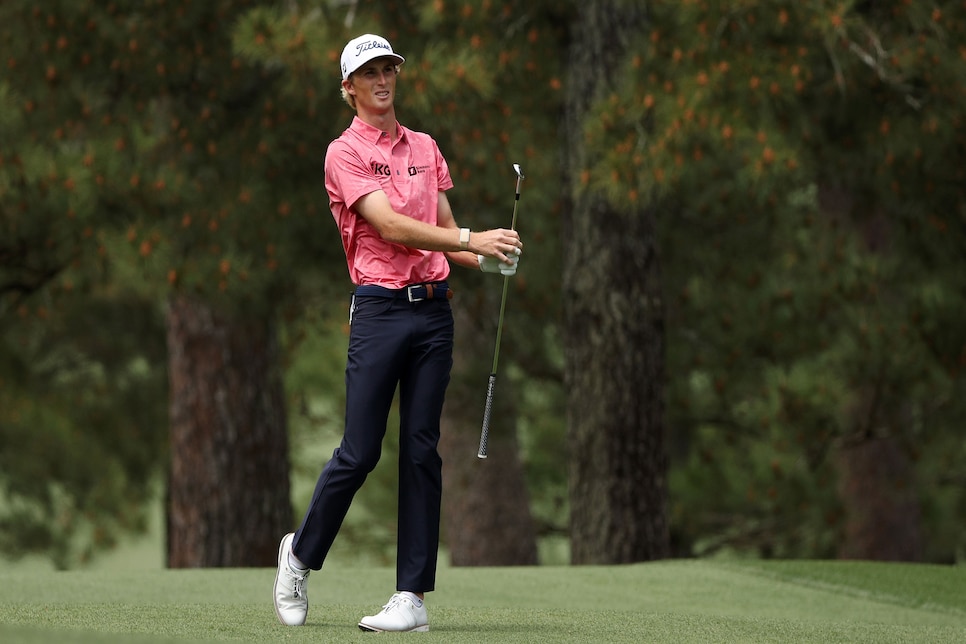 The strategy has the stamp of approval from someone with serious local knowledge. Gregory was once the head men's coach for the Augusta University (the school formerly known as Augusta State), where his teams with Patrick Reed and Henrik Norlander won back-to-back national championships in 2010 and 2011. (There are still signs on the local highway celebrating that victory). Gregory knows Augusta National fairly well. So how does he feel about the right-to-left axiom?
"The most overrated thing ever," Gregory said. "It used to be that way, when the course was 500 yards shorter. You used to have to turn it. But there aren't really any holes now that force you to turn it a certain way. Only 10 and 13, really, and so he'll just hit 3-wood there because he can turn three wood over."
Of course, a cutting-edge strategy system does not guarantee success on any level of golf. Although Zalatoris grew up with some level of privilege—his father, Rick, was a member at the legendary California Golf Club before moving the family to Texas, where they joined Bent Tree Country Club—the Masters rookie grinds with a blue-collar work ethic. On the first day of the WGC-Dell Technologies Match Play two weeks ago, Jason Kokrak birdied four of his last five holes to beat Zalatoris, 1 up. He'd be excused for letting out a few expletives in the name of catharsis. Or going into the locker room to sulk. Instead, without saying a word, he pulled out his Dave Pelz putting tutor, walked straight to the practice green and began rolling the rock.
"He is an ideal student for Troy and I," Gregory says. "He's been doing the same drills forever. The same ones we'll probably do in about 20 minutes."
Same drills, same shot shape. It's really not that complicated.