LOS ANGELES — For all the hand-wringing about Los Angeles Country Club giving players too much during the week, equilibrium was at least partially restored at the start of the weekend—not the least because prototypical Southern California weather finally arrived. The lowest score among the top eight players on Saturday was just 68, and Rickie Fowler's late three-putt kept a compelling group within contact of the lead.
Fowler (10 under) is trying to win his first major—and first tournament anywhere since the 2019 Waste Management Open. Wyndham Clark (10 under) won for the first time earlier this year at the Wells Fargo and is also looking for his first major. And in the next-to-last pairing? Rory McIlroy (nine under) is trying to exorcise nearly a decade of major championship frustration, while World No. 1 Scottie Scheffler (seven under) is in position again despite an uneven week on the greens.
How good is Rickie's memory?
Fowler is undoubtedly the sentimental favorite to make it all the way back from an epic slump that dropped him outside the world's top 180. As inspiring as his return has been, Fowler's last real dose of major contention was at the Masters in 2018—and his last sniff at the U.S. Open was in 2017 at Erin Hills.
Whether or not that 2017 experience is a valuable avatar for Fowler depends on your perspective. Erin Hills was similarly receptive early—Fowler was the first-round leader at seven under and Brian Harman led at 12 under after three rounds. But Brooks Koepka won his first major by taking control Sunday with a 67, while Fowler finished fifth after shooting an even-par 72 on Sunday.
That seems like it happened in a different career, but Fowler said both his previous experiences in majors and the journey out of his slump has left him with a healthy, low stress perspective. "This is the best I've felt in a normal tournament—but especially a major—ever in my career," he said. "I'm not scared to fail. I've dealt with all that. We're just going to go have fun, continue to try to execute and see where we stand on 18."
Will Rory surge or stall?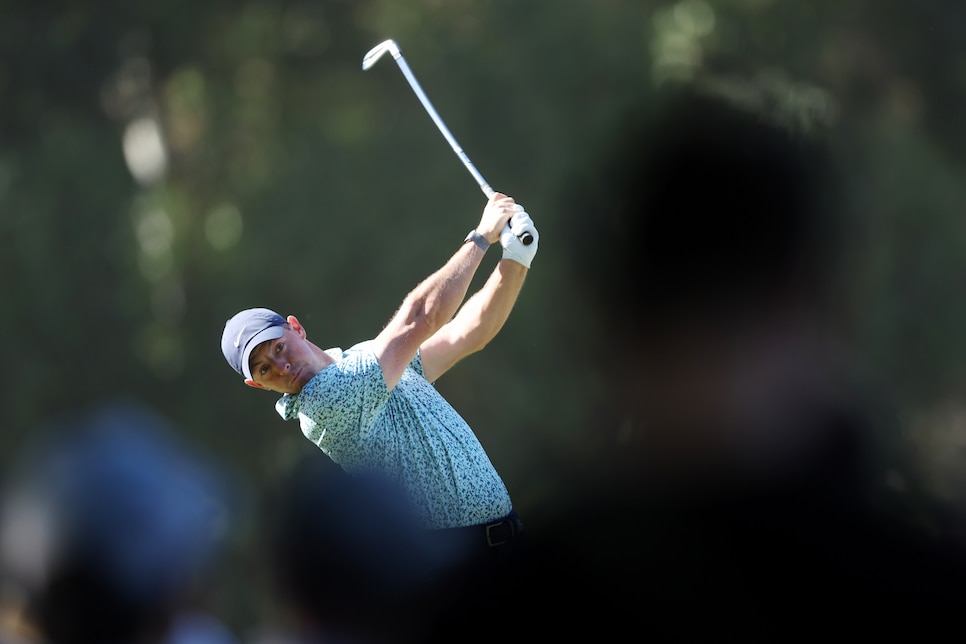 Rory McIlroy plays his shot from the seventh tee during the third round of the 123rd U.S. Open.
Sean M. Haffey
At least we're not talking about back-door top-fives this week. McIlroy started strong and has been a consistent presence near the top of the leaderboard, but it has come without any of the momentum surges that have been signatures in his four major wins.
He was never in any serious trouble Saturday and almost coasted to his 69, but he was visibly frustrated walking off 18 about a round that saw just three birdies and never seemed to shift out of low gear. His post-round comments were short and clipped, and he might have revealed the most about his state of mind when asked about the value of having the most major-winning experience among the last two pairings.
"I don't know—it's been a long time since I've done it," McIlroy said. "I'm going to go out there and try to execute a game plan, and over the last three days I feel like I've executed that game plan really, really well. I just need to do it for one more day."
Will Wyndham Clark blink?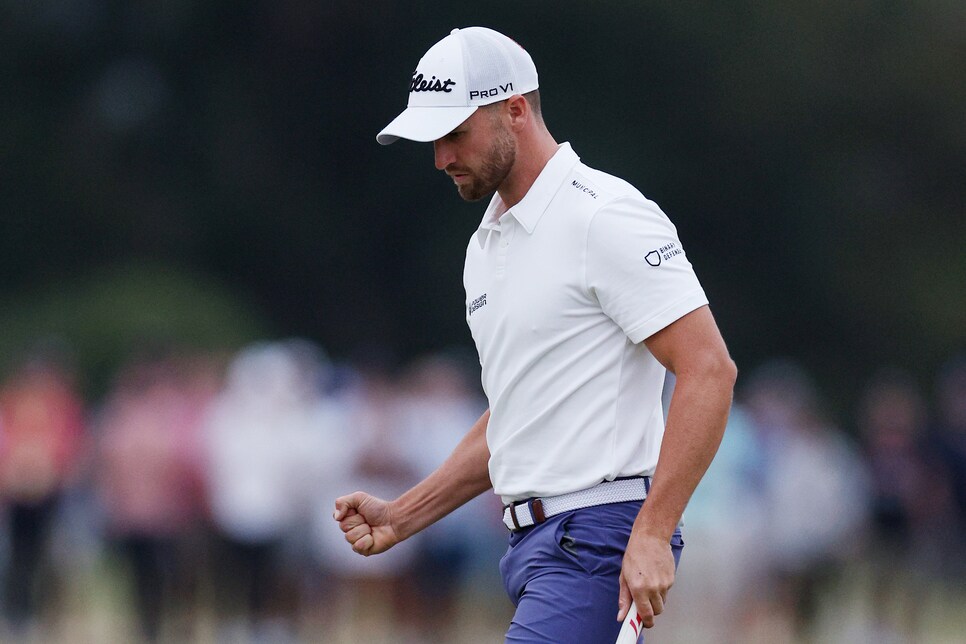 Wyndham Clark reacts to his birdie putt on the 18th green during the third round of the 123rd U.S. Open Championship.
Richard Heathcote
We know he can close—Clark did it convincingly at the Wells Fargo last month to capture his first PGA Tour title. But major championship pressure hits different. Still, the place to crack might have been 13 on Saturday, when Clark was coming off consecutive bogeys that dropped him out of the solo lead. He responded with birdies there and on 18 to get into the last pairing with Fowler—a fellow Oklahoma State Cowboy he idolized during his time in Stillwater. "To follow those bogeys with a birdie and a birdie at the end, I felt like I handed the adversity," he said. "I feel like my best round is still out there."
If you're judging by body language, Clark's boss club twirl after he stuffed his approach on 18 is a pretty good leading indicator of just how comfortable he is.
How many clubs will Scottie be playing with?
The stats say Scheffler is climbing out of the putting slump he's been in for the last month—he's in positive strokes gained/putting territory for the week—but some of the visuals on Saturday afternoon had to be concerning.
There was, for example, the seven-footer for birdie on the miniature par-3 15th that didn't scare the hole, and the stretch of gettable holes in the middle of the front nine he played in very vanilla even par.
After signing for his 68, the famously amiable Scheffler forcefully (for him) redirected a line of questioning about his putting toward how good he felt about grinding his way through a poor ball-striking round on Thursday and grabbing momentum back with his eagle from the fairway and birdie finish. "I'm standing there on 17 tee and I'm seven shots back. I'm thinking maybe I can steal one shot coming in," Scheffler said. "I hit a nice drive and the shot goes in, and that's a huge boost. Another two good shots into 18, nail the putt and all of a sudden instead of seven shots back I'm only four. Hopefully I'll just keep it rolling."
Well, the 1973 U.S. Open has been a popular topic this week, from Johnny Miller making an appearance to accept the Bobby Jones Award from the USGA on the 50th anniversary of his win at Oakmont to Fowler and Xander Schauffele breaking Miller's single-round U.S. Open scoring record with their 62s on Thursday. Could somebody come from six back like Miller did to track down Arnold Palmer?
Dustin Johnson seems like the only realistic candidate. He's five behind and has the explosive game that translates into birdie runs. Schauffele does too, and he's also five behind, but his struggles on Saturday made that 62 seem like it happened a month ago. He was visibly uncomfortable over the ball as he left two in the bunker on No. 1 and spent the rest of the day trying to tread water.
MORE FROM GOLF DIGEST @ THE U.S. OPEN