Less than two months ago, before the 2023 Masters, professional golf was divided. The game's biggest story was whether LIV golfers could compete against their PGA Tour colleagues in the majors. Boy, have things changed in eight weeks.
In the lead up to the Masters, the question was put to many of LIV's star players, including Brooks Koepka, Cameron Smith and Dustin Johnson: was their new circuit's lighter schedule (eight events in 2022, 14 in 2023), and the 54-hole, no-cut format they were playing, going to leave them underprepared when it came to golf's four biggest championships? Would playing just three LIV events before each of the first two majors be enough reps?
Halfway through this men's majors season, LIV players are justifiably bullish about the answer. Koepka and Phil Mickelson tied second at Augusta National, where 12 of 17 LIV players made the cut and three finished in the top 10. A month later at the PGA Championship at Oak Hill, Koepka won, claiming his fifth career major title, while 11 LIV players made the weekend. Again, three finished in the top 10.
None was as pleased as Mickelson, a six-time major champion, at LIV golfers' performances.
Sounding as bombastic as it was likely intended to be, there was a point. PGA Tour pros had played six designated events ahead of the Masters and two more before the PGA. Listen to the voices of Rory McIlroy, who famously withdrew from the RBC Heritage in part due to mental fatigue, Justin Thomas (who has had one top-10 finish in nine starts since February) and Jordan Spieth, and watch them on the course, and tired was an easy assessment of their games.
After the PGA Tour announced its surprise deal last week with Saudi Arabia's Public Investment Fund, which owns LIV Golf, it's unlikely the same dichotomy will exist in pro golf in 2024. LIV recruits may well come back to the PGA and DP World tours. Regardless, Mickelson's claim is worth exploring. Can a lighter tournament schedule, like LIV offered, be conducive to better performances in the major championships?
Players on both sides certainly think so. Let's start with U.S. Open defending champion Matt Fitzpatrick.
"Listen, I'll be brutally honest," Fitzpatrick said when asked by Golf Digest before news of the merger. "I'd love to be playing 14 times plus four majors. I think that's the perfect amount of golf. On average, the last three or four years, I've been playing between probably 25 to 27 [events]. It's half the year. Playing 18 tournaments [total] a year, if everyone did that, that'd be great. It's much better to have more time off, in my opinion, to be able to spend time with family and friends and practice."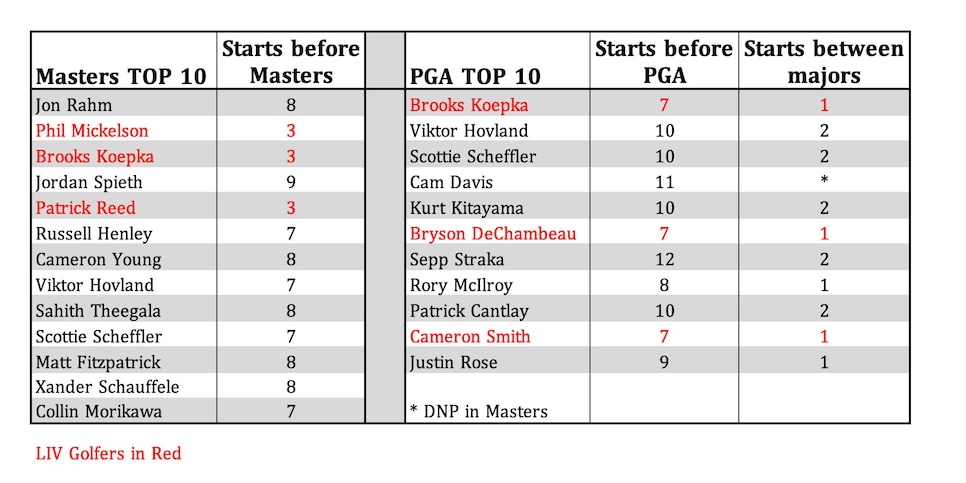 The chart above shows the difference in the amount of times LIV golfers (in red) have played compared to PGA Tour players in 2023.
But is it the "best" way? PGA Tour players still made-up more than 70 percent of the top 10 (and ties) in the first two majors (They also had a larger majority of players in each championship). Koepka and Mickelson might have tied second at the Masters, but PGA Tour star Jon Rahm won it by four shots.
"Listen, Phil is a friend of mine, but what else is he going to say? Right?" Rahm said. "He's going to advocate for his side and that's perfectly fine. There are many ways to prepare for a tournament. My schedule has not changed, really. I played 19 events [in 2022] year from the Tournament of Champions to the Tour Championship and it will be the same this year. Phil himself used to always play the week before [a major]. Tiger [Woods] and Jack [Nicklaus] didn't play the week before. Who says one way is better than the other?"
McIlroy was less diplomatic. He pointed out 15 events was the minimum number required to maintain PGA Tour membership. "I think that's a pretty flawed argument," McIlroy said of Mickelson's claim. "No one makes anyone play 25 events on the PGA Tour. Fifteen is the minimum [to maintain membership]. So you can play 15 and your four major championships and there you go."
It must be noted that for top players, the tour's schedule of "designated" $20 million events this year has obligated them to play at least 17 (12 designated, four majors and the Players Championship) to be eligible to receive the full share of their payout from the Player Impact Program.
Fewer events and more time off were two of several reasons Smith signed with LIV last September. Before that, the Australian won three PGA Tour events, including the Players Championship and the 150th Open at St. Andrews. In all, he played 17 official tournaments and five LIV events. This year, his schedule will have almost the same number. The Australian has been satisfied with the tournament load leading into the majors, despite a disappointing T-34 at the Masters, where he owns a second and third placing. Smith also finished T-9 at the PGA at Oak Hill.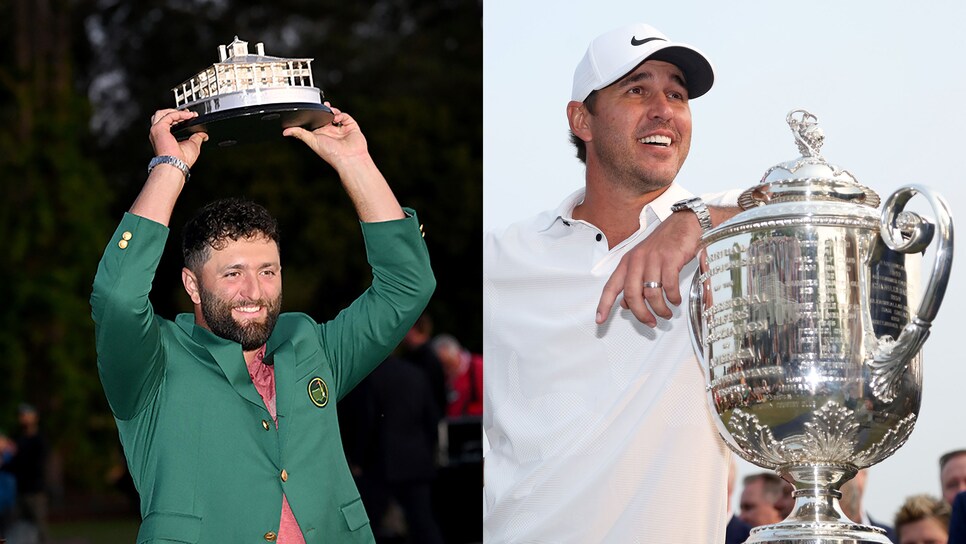 Each tour has claimed a major so far in 2023, Jon Rahm with his Masters and Brooks Koepka at the PGA Championship. (Photos from Getty Images)

"I've enjoyed the LIV schedule this year; we've had three events leading into each of the first two majors," Smith said, who has a T-2 and T-3 from LIV's seven events this year. "There's been a good amount of tournament reps, but I've also felt rested. At the PGA, that T-9 was my best result at the event. I'm starting to feel pretty good about my game heading into the U.S. Open, and I've heard great things about L.A. Country Club."
Both Smith and fellow LIV golfer Johnson did, however, concede LIV's three-month offseason offered the temptation to put the clubs down longer than they would have on the PGA Tour.
"It's just taken me a little while to get back into things this year; I had a very nice off-season where I didn't do much, on purpose," Johnson, a two-time major winner, said. "It really doesn't matter what tour you're playing on; you're traveling to different places, playing different courses. Just the playing part of it is what gets you ready going into a major. "
Added Koepka, "Yeah, I'd agree with that. I think it's more about just reps, right? It doesn't matter where you get your reps, as long as you're getting them."

But are LIV players getting enough reps? So far, it would to be the case. The U.S. Open and the 151st Open Championship at Royal Liverpool will provide more clarity. One thing golf's top players agree unanimously on is that less is more—for players and fans. Perhaps that will be communicated to the board of directors of golf's new merged entity, including its new chairman Yassir Al-Rumayyan and CEO, PGA Tour commissioner Jay Monahan.
"[Fewer tournaments] allows golf fans to miss golf," Fitzpatrick said. "You turn the TV on, there's an event somewhere in the world. People get bored of that. Getting all the best guys to play together, if you did that 18 times a year, that's probably a good formula."