Course setup
U.S. Open 2023: Rough has been slow to grow at LACC, so will the world's best light it up?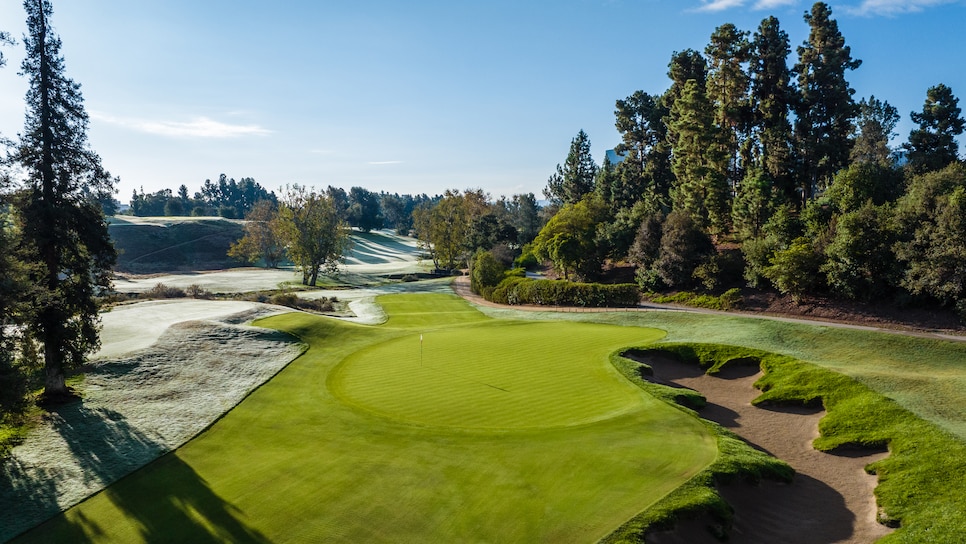 On a clear day in September 2022, there was heavy morning frost on the ground at Los Angeles Country Club.
As soon as Southern Californians begin their weather lament to visitors, glumly tossing out their phrases "May Gray" and "June Gloom," it often elicits a smirk or roll of the eyes. Those kooky West Coasters—they don't have real weather, so they have to make up reasons to be grumpy when they don't need their umbrellas on the beach.
Know this, however: The colloquial terms exist because there are legitimate meteorological conditions that produce heavy marine layers that are common on Southern California's coast in the early part of the summer. This year, the gray and the gloom have extended miles inland, and there have been full weeks in which even usually bright spots haven't seen the sun for a week at a time. That's bad for the vendors selling ice cream on the Venice boardwalk, and it absolutely hasn't been great for growing Bermuda grass on a certain oasis on the edge of Beverly Hills that is set to host a big golf tournament next week.
In 2014, Los Angeles Country Club officially invited the USGA to stage the 123rd U.S. Open on its North Course. The club and the USGA prepared for the competition for nine years with an understandable confidence that they could dial up the test just about any way they wanted. Since rain is nearly non-existent in the Southland in the summer, "firm and fast" has been USGA Chief Championships Officer John Bodenhamer's mantra—the goal being to stay as true as possible to architect George C. Thomas' challenge to smartly play the North's many angles.
To that end, the plan envisioned limiting the best players in the world from wantonly bombing their way around the course with the fear of wayward drives being met with playing out of Bermuda rough from tilted and awkward lies. The conditions figured to be a rare examination for U.S. Open players, with the USGA not having devised a setup with Bermuda grass since the 2005 championship at Pinehurst No. 2.
But Bermuda grass is called that for a reason. It flourishes in hot, humid conditions, and with LACC sitting only eight miles east of the Santa Monica Pier, it's been shrouded in clouds for a couple of months. So, the USGA has legitimate concerns that the rough may not be as hearty and penal as it originally envisioned. Could it mean an onslaught of red numbers come tournament time?
"Certainly, the weather pattern through this year has been a bit different than what we kind of thought it would be," the USGA's Jeff Hall, who works in concert with Bodenhamer on U.S. Open setups, said over the phone on the first weekend of June.
"Typically," he added dryly, setting up his punchline, "if you invite the USGA, we'll change your weather pattern."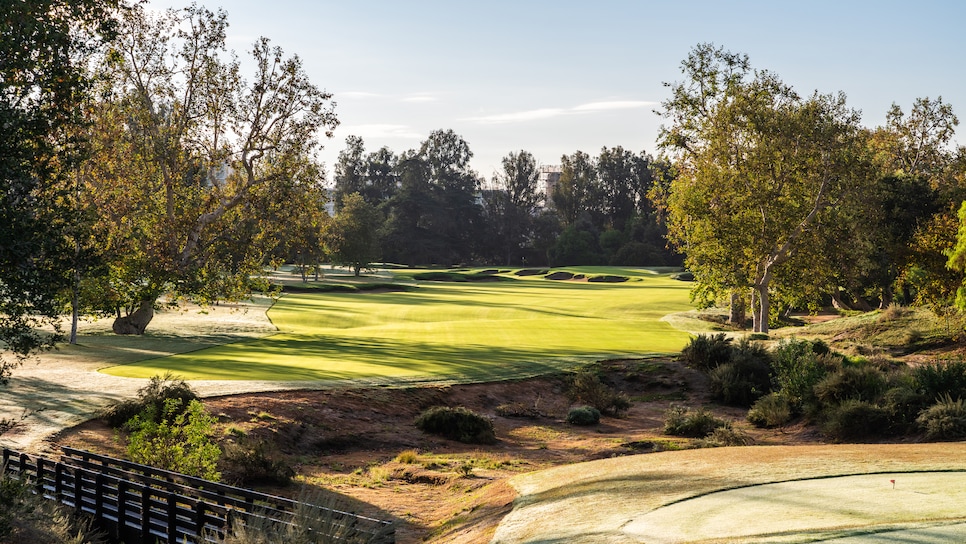 The par-4 17th at LACC is an example of generous fairway width, but presents plenty of trouble for any wayward tee shots.
Brian Oar
Noting that he and his colleagues were heading out to L.A. from the East Coast in a matter of hours, Hall said, "It's still a bit of a mystery. We'll start to see how things are, but even having said that, we're not playing at 9 a.m. on Monday. There's still more time for Mother Nature to do her thing. At the end of the day, it's an outdoor game; Mother Nature has a seat at the table. Everybody is doing the best they can. I can assure you that we have our goals; we believe we'll achieve that with the rough. But if we don't, it's not because everybody hasn't been trying to make it happen."
Before getting to LACC, Hall said he was hearing and seeing promising reports from the club's chief superintendent, Chris Wilson. The USGA was asking for the rough to be at least 3¼ inches in the buildup to the Open, and there was evidence that mowers were getting clippings at that height. The key, of course, will be how consistent the deeper stuff will be. It should be noted, too, that Bermuda doesn't have to be five inches to be troublesome, because the thinness of its blades allows for balls to nestle deeeper.
Kevin Kienast, the 20-year superintendent at Aviara Golf Club in Carlsbad, on the North San Diego County coast, is heading into his first spring/summer with Bermuda after a full conversion last year. He also noted the whims of the weather, saying, "Your hands are tied" in terms of growth. "You can't fertilize your way out of it. You have to wait until the Bermuda decides to grow, and that takes heat."
Anecdotally, turf growers suggest Bermuda thrives best when the soil temperature is at least 75 degrees. There's one rule of thumb that the combined temperatures of a day's highs and lows should add up to 150 degrees for prime growth. In L.A. this spring, they were lucky to get to 120. In May, the high temperature in Beverly Hills reached 70 only twice. On most days the temps rarely got out of the mid-60s, and, probably more critically, the lows were always in the 50s. The first week of June was no better. Two days reached 70, but the high this past Monday was 64.
Tournament week is forecast to start off on the cooler side, but the good news is that the Thursday-Sunday competition days are all expected to be partly cloudy and in the mid-70s, with not a drop of rain in sight. That's a forecast any major would covet.
The rough issue is intriguing at LACC, which already is expected to feature some of the widest fairways ever in an Open. In the conversation with Hall, he said he had just finished calculating fairway widths on the North, and the average was 43 yards. But there's a trick to that: If at first some fairways appear as roomy as an LAX runway, the golfer soon discovers that the ideal landing area is only wide enough to put down a Cessna. There's nary flat lie on most of the property and some steep slopes that lead to untenable positions.
So even if the rough is not up to the standard of Winged Foot or Oakmont, it doesn't necessarily mean the world's best will tear up LACC. Hall pointed out that thin Bermuda lies can be tricky in their own right. The golfers will have to account for fliers to very firm greens that sometimes tilt away from them. Hall even cheerfully noted that if the rough is a bit thinner around the greens, that too-hot approaches may bounce farther into North's troublesome sand washes.
Collin Morikawa, the two-time major champion who was part of the victorious American side in the 2017 Walker Cup at LACC, understands the nuances of the North Course well. "Even if the rough is not that bad, you're not gonna be able to put enough spin on it," he said. "So, it's kind of got that dry thinness to it where you might get some jumpers. You might not be hacking it out, but you might see some balls tumble 20 yards, 10 yards over the green, which, in turn, isn't good either."
In other words, if the conditions aren't exactly the way the USGA envisioned them nearly a decade ago, it doesn't mean this U.S. Open will be any less entertaining to watch.
—Dave Shedloski contributed to this report.