U.S. Open 2023
U.S. Open Final Qualifying 2023: Who's in, who's out and everything you need to know from 'Golf's Longest Day'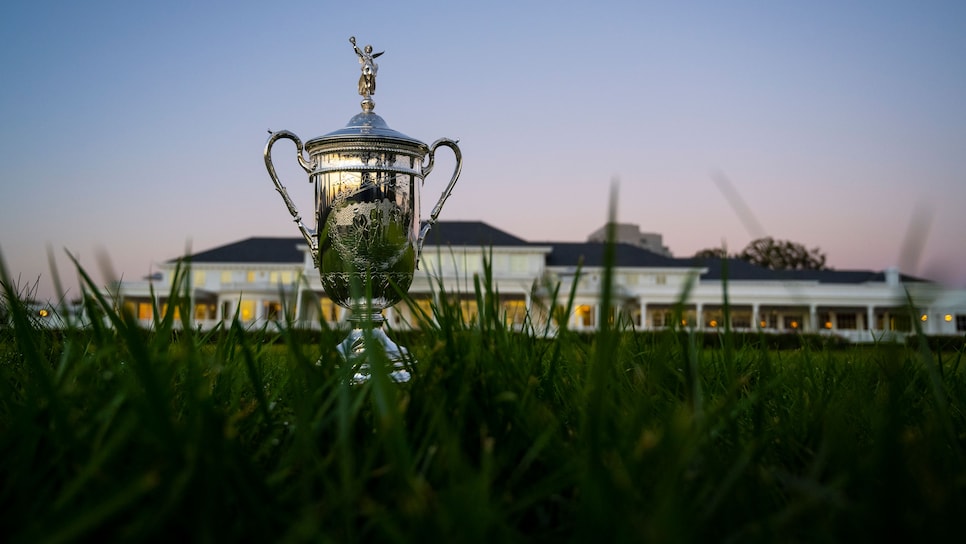 The USGA is taking the 123rd U.S. Open next week to the vaunted and somewhat mysterious venue that is the Los Angeles Country Club's North Course. Not surprisingly, there were a record number of entries this year to try to reach the national championship—10,187.
From those hopeful masses, the USGA local qualfiers whittled down the final number of contestants for Open spots to the 645 players who were set to compete over 36 holes at 10 venues on Monday in golf's so-called "Longest Day." The number of spots available vary by site, but the final total will be 45 golfers who will advance to play at LACC.
Eighteen qualifying spots aleady have been secured over the last month at sites in Japan, England and Dallas.
Below is the list of qualifying results.
Lakes Golf & CC/Brookside Golf & CC
Columbus, Ohio • 103 players for 11 spots
Olin Browne Jr., whose father qualified for the U.S. Open in 2005 with a sterling 59 and won the 2011 U.S. Senior Open, reached his first U.S. Open at the age of 34 by leading a group of 11 qualifiers.
Browne, of Hobe Sound, Fla., followed up a morning 66 at The Lakes with a 67 to earn medalist honors at 11-under 133, one stroke better than PGA Tour player Davis Thompson, who scorched Brookside in the afternoon with a nine-under 63. Six players tied at nine-under 134, including 50-year-old Stewart Cink, and Eric Cole, who qualified for his second U.S. Open.
Stewart Cink qualified for the U.S. Open at age 50.
Sam Greenwood
Having attempted to qualify for the U.S. Open since he was 17, Browne naturally was ecstatic about finally advancing to the championship field. "It's awesome. I'm exhausted right now. Worn out," said Browne, who is playing primarily on the mini tours. "My caddie wouldn't tell me where we stood, so I had no idea where I was and I just tried to keep doing what I was doing and I'm thrilled, man. I can't wait. I'm so excited."
The feel-good qualifier is 28-year-old Corey Pereira of Cameron Park, Calif., who has taken nearly all of the year off from golf to care for his girlfriend, Leah Bertuccelli, who is battling cancer. Pereira, who fell short of retaining Korn Ferry Tour status last year, has competed in just two events this year, the local and final qualifiers for the U.S. Open. He sank a 15-foot par putt on the 18th hole at Brookside to avoid falling into a playoff.
"Golf has taken a step down for me," Pereira, a University of Washington product, said. "I want to be with her. She's on her 10th round of chemo, and it's my biggest priority is being there to support her. I was thinking on the back nine today that I'm so lucky to just be out here competing and knowing if I hit a bad shot, it might cost me a bogey, which is nothing compared to what Leah deals with. It's given me a huge amount of perspective."
Four players finished at eight-under 136, including 2009 U.S. Open champion Lucas Glover, to play off for three spots, and Glover was the odd man out when he missed a two-foot par putt to fall to first alternate. Fellow tour player Kevin Streelman and amateurs Nick Dunlap, a rising sophomore at Alabama and the 2021 Junior Amateur champion, and David Nyfjall of Sweden, a Northwestern graduate student, earned the last three berths.
Former Oklahoma State golfer Zach Bauchou shot 148 in front of a sizable gallery drawn to Bauchou's caddie, Viktor Hovland, a playoff winner on Sunday at the Memorial Tournament in nearby Dublin, Ohio. Bauchou and Hovland were teammates on OSU's 2018 national championship squad.
Asked if Bauchou was paying him well, Hovland, who earned $3.6 million on Sunday, grinned and replied, "not enough."—Dave Shedloski
Summit, N.J. • 67 players for 4 spots
In a field that included multiple former and current PGA Tour pros, it was amateur Michael Thorbjornsen who earned medalist honors with rounds of 66 and 68.
Thorbjornsen, the No. 3-ranked male amateur in the world, made 13 birdies against five bogeys. At just 21 years old, this will already be Thorbjornsen's third career U.S. Open appearance, the Stanford standout having qualified in 2019 as an 18-year-old and again last year. He made the cut in his U.S. Open debut at Pebble Beach but missed last year at The Country Club at Brookline.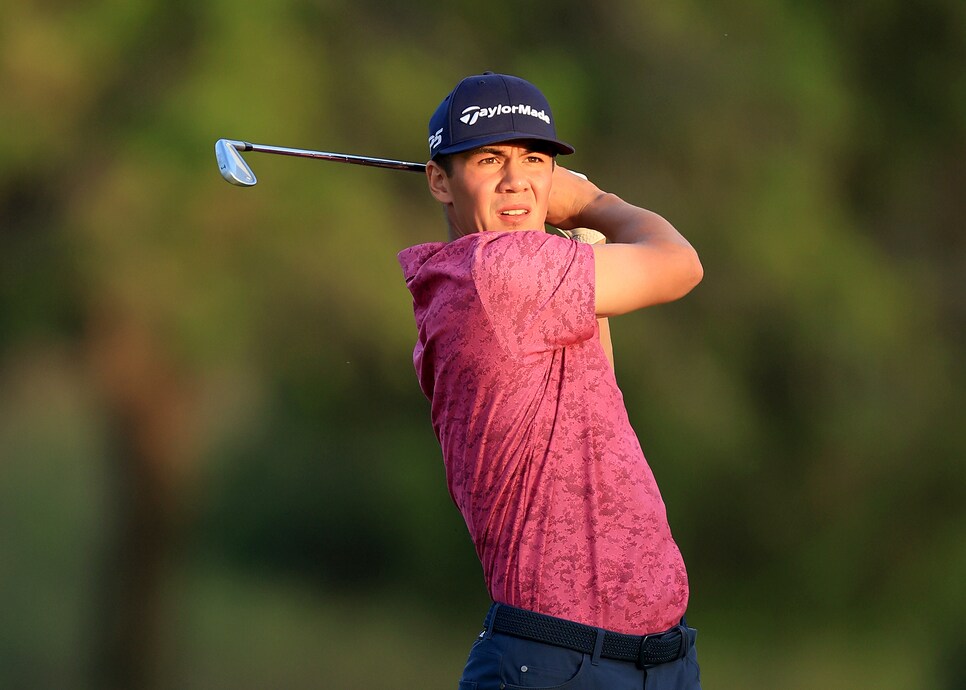 Michael Thorbjornsen plays a shot during the 2023 Hero Dubai Desert Classic.
David Cannon
Like two of his amateur counterparts, Ludvig Aberg and Sam Bennett, Thorbjornsen has already flashed some serious potential on the national stage, having finished inside the top five last year at the Travelers Championship. LACC will be a prime opportunity to remind everyone that he's one of golf's many next big things.
"Whenever any of us are given an opportunity to play with the best, I feel like we always want to stand up and do our best," Thorbjornsen said Monday. "I want them to play well, I want myself to play well, I just think it's a matter of time for a lot of the guys in the amateur world who are playing well out there on tour. There's so many limited opportunities that we have within the year, I hope I play well and I'm up there on the big stage in the top 10. We'll see what happens."
Thorbjornsen will go straight from New Jersey to Canada to tee it up in the RBC Canadian Open on a sponsor's exemption. Then he's off to L.A., then back to the East Coast for a Travelers Championship return. He'll then take a week off before playing in the John Deere before the amateur circuit ramps up in the late summer, with the Western Amateur, the U.S. Amateur and the Walker Cup all on his schedule.
Berry Henson, the 438th-ranked golfer in the world, finished one behind Thorbjornsen at seven under. Amateur Christian Cavaliere of Katonah, N.Y., finished at six under, while former tour pro Andrew Svoboda grabbed the fourth and final spot in a 2-for-1 playoff against Christopher Crawford, who is the first alternate out of the N.J. site.—Chris Powers
Ball Ground, Ga. • 43 players for 3 spots
An amateur topped everyone, but it wasn't just any amateur. Gordon Sargent, SEC Player of the Year from Vanderbilt and the world's No. 2-ranked amateur, set the tone early by shooting 64 in his morning round, which included two eagles. The 20-year-old sophomore closed with 67 in the afternoon to lead everyone at 13 under par. He made 12 birdies and two eagles during his 36 holes.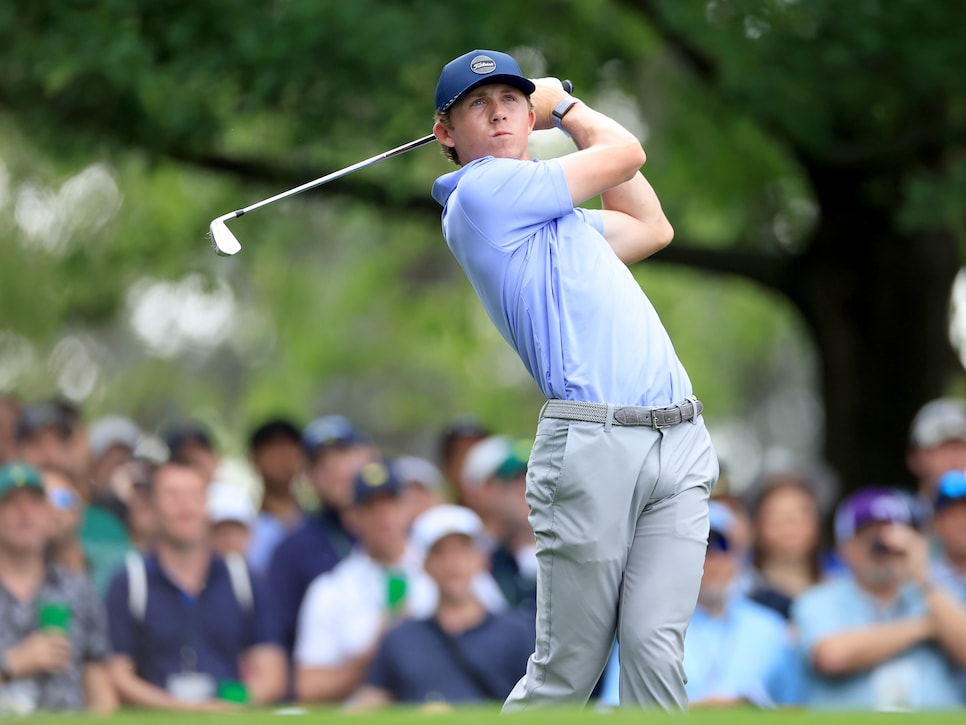 Gordon Sargent hits a shot during the 2023 Masters.
David Cannon
Kyle Mueller (66-67) and J.J. Grey (64-69) captured the remaining two spots, ending tied at 11 under par. Grey lost his good friend Sam Asbury to suicide while they were in college at Georgia State. Asbury's family has continued to help fund Grey's professional golf career.
Among those not qualifying were Bill Haas, Patton Kizzire and Ted Potter Jr., who all have won multiple PGA Tour titles. Potter, a 39-year-old lefty who last won the AT&T Pebble Beach Pro-Am in 2018, shot 65-74. Haas, 41, and Kizzire, 37, both withdrew before the end of the day. —Jay Coffin
Lambton Golf & Country Club
Toronto • 27 players for 3 spots
Michael Block, the 46-year-old Southern California teaching professional who captivated fans with his awe-shucks attitude at last month's PGA Championship, will have to wait until next year to make a major championship encore.
Hoping to play his way into the field at Los Angeles Country Club, just 65 miles from his home course at Arroyo Trabuco Golf Club, Block followed up a one-under 69 in the morning with an impressive four-under 66. Yet his 135 total left him six shots back of medalist Ryan Gerard and two shy of qualifying for his third career U.S. Open. Block's consolation is his spot in this week's field at PGA Tour's RBC Canadian Open, thanks to a sponsor's exemption. And there will also be next year's PGA at Valhalla, having earned a return trip with his T-15 at Oak Hill three weeks ago.
Gerard, meanwhile, will compete in his second straight U.S. Open after shooting a seven-under 63 in his morning round—which included a hole-in-one—followed by a four-under 66 in the afternoon to win by three shots. The 23-year-old North Carolina native was co-medalist a year ago at the Jupiter, Fla., qualifier, only to miss the cut in what was his first start in a PGA Tour sanctioned event.
Earlier this year, Gerard Monday qualified for the PGA Tour's Honda Classic, only to then go on and finish T-4 at PGA National and earn the special temporary membership status he currently holds on tour.
Joining Gerard in advancing from Canada are two other PGA Tour pros: Vincent Norrman, a 25-year-old from Sweden who closed with an afternoon 63 to finish second at eight-under 132, and Ryan Armour, who finished solo third at seven under. The 47-year-old Ohio native has been a pro golfer since 1999 but had never qualified for the U.S. Open … until now.
Coming up one shot short of qualifying was 2016 PGA Championship winner Jimmy Walker. Three off the pace was Ludvig Aberg, the recent college player of the year who'll make his pro debut this week at the RBC Canadian Open. —Ryan Herrington
Durham, N.C. • 76 players for 5 spots
The biggest name in the field belonged to recent LIV Golf champion Harold Varner III, but playing in his home state, he came up agonizingly short in a bid to claim one of the five available spots. Varner finished at eight under (67-69), tied for 11th among 76 players, three shots out of a potential playoff. Just a week removed from his first career professional win on American soil, at LIV Golf Washington D.C., Varner couldn't build on the momentum of a front-nine 33 in his second round of the day, and with just a single birdie on the back nine, he fell off the pace set by the leaders clustered together near the top.
Patrick Cover, a Mooresville, N.C., native who currently plays on the Korn Ferry Tour, turned in the clutch performance of the day, posting four birdies over his final nine holes to complete an afternoon 65 and go from out of contention to 12 under, grabbing one of two medalist spots. Cover, 27, attended UNC-Wilmington and is a journeyman in the truest sense of the word; in the last five years, has bounced between PGA Tour China, PGA Tour Latinoamerica, PGA Tour Canada, and the Korn Ferry Tour. It has been a grinder's journey, with no top-10s since 2021, though he has made seven of 11 cuts this year on the KFT.
The Bull City was also kind to Yuto Katsuragawa, who had tremendous success on the Japan Golf Tour Tour in 2022 but who has struggled mightily on the Korn Ferry Tour this year, with six missed cuts and a WD in eight tries. He seized control immediately with a morning 64, tied for the low round of the day. Katsuragawa followed that with a 68 in the afternoon to finish at 12 under, claiming the other medalist spot.
Paul Barjon, a Frenchman whose unsuccessful PGA Tour campaign in 2022 saw him relegated to the Korn Ferry Tour, where his results have been similarly anemic, was one of a trio of players at 11 under. His was arguably the most clutch performance after Cover's—he shot an afternoon 64 that included six birdies, one eagle, and no bogeys as he flew up the leaderboard. He was joined at 11 under by two Americans, McClure Meissner of Dallas, Texas, and Frankie Capan of North Oaks, Minn. Meissner, a 24-year-old SMU alum, finished T-2 at the KFT's Panama Championship in early 2023, while Capan, 23 and an FGCU grad, has notched two top-10s on the KFT this year, including a T-6 at last weekend's UNC Health Championship.
Raleigh's Doc Redman put aside his PGA Tour struggles to make a late charge, but his 67-68 left him two shots outside a playoff. Meantime, Josh Teater, Sean O'Hair, Sam Saunders, Bo Van Pelt, Spencer Levin, and Chesson Hadley were among the better-known players who failed to qualify.—Shane Ryan
Boynton Beach, Fla. • 51 players for 3 spots
Austen Truslow, who occasionally chips one handed during competition, started slowly early Monday and was only one under after his first 12 holes, before making three consecutive birdies to shoot 66 in his first round. He then shot an easy 69 in the afternoon to claim medalist honors at five under par to qualify for his first U.S. Open.
Brendan Valdes, an All-SEC sophomore from Auburn, captured the second spot, while the final position remained up for grabs for a while longer.
Wesley Bryan and Luis Gagne were both sitting at two under par, with LIV Golf's Carlos Ortiz at three under on the day with three holes remaining. But Ortiz made bogey on the seventh hole (his 16th of the second round) to drop back into a tie at two under and parred his last two holes, sending the qualifier into a three-for-one playoff. And Ortiz prevailed on the sixth extra frame when he made birdie. The winner of the 2020 Houston Open will be playing in his fourth U.S. Open.
Among the others not qualifying were Cameron Kuchar (76-76), Matt Kuchar's 15-year-old son, and Cristian DiMarco (75-72), son of PGA Tour veteran Chris DiMarco. Matthew Wolff withdrew 30 minutes before his first-round tee time.—Jay Coffin
Rockville, Md. • 60 players for 4 spots
In one of the schedule's more selective U.S. Open sectional qualifiers, it was a story of professional golfers faltering, and amateurs stepping up.
No. 1-ranked Korn Ferry Tour player Ben Kohles seemed to have medalist honors wrapped up for most of the day. A two-timer Korn Ferry Tour winner in April, Kohles shot a three-under 69 in his opening round and was five under through 15 holes of his second. He finished bogey-double-bogey to drop from first place into a four-man playoff at three-under. A bogey on his first playoff hole sealed his fate.
Instead, the medalist honors at four under went to Karl Vilips, the 48th-ranked amateur in the world who is a junior at Stanford University, and Isaac Simmons, a redshirt freshman at Liberty University.
Kohles was joined in the playoff by LIV Golf player Sebastian Munoz, who grabbed the lead after 18 holes with a five-under 66, but stalled with just one birdie, one double bogey and two bogeys in his final 15 holes. His much-needed birdie did come eventually, though, courtesy of a 25-footer on the first playoff hole to secure his spot in the U.S. Open.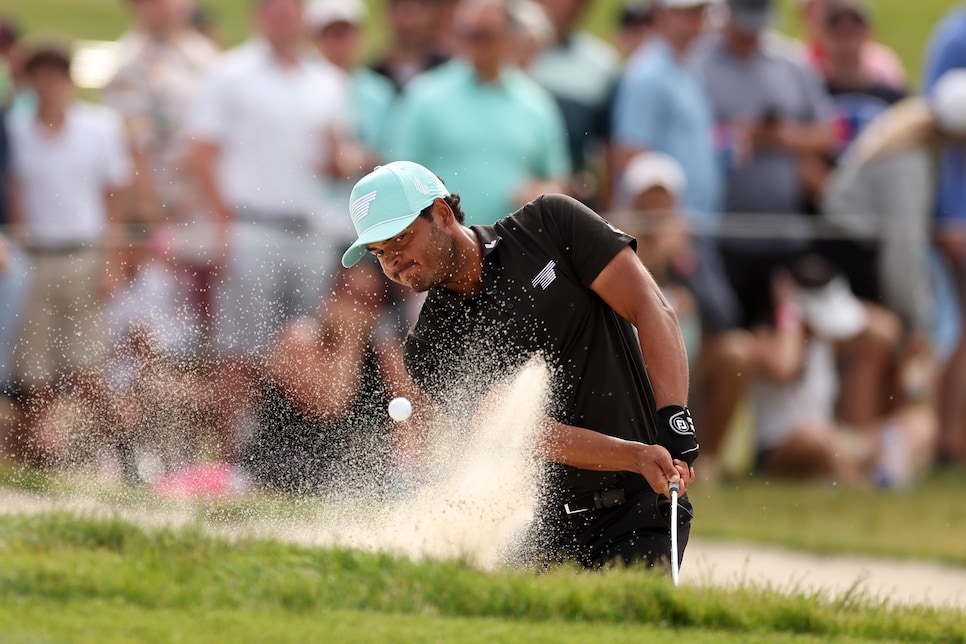 Sebastian Munoz plays his shot from the bunker into the 18th green during day three of the LIV Golf Invitational - DC.
Rob Carr
Wake Forest junior Michael Brennan was the final player to prevail from the playoff, thanks to a heroic up-and-down. His ball sitting deep in the long grass on the lip of a greenside bunker, Brennan hit an incredible shot to within 10 feet and made the putt.
It looked ike another LIV golfer in the field, Marc Leishman, would grab one of the four spots. An eagle on his opening hole, along with four other birdies, helped him to a three-under 68. That put him inside the qualifying line through 18 holes. But a three-over 74 in his second round meant the man who finished inside the top 15 of last year's U.S. Open won't be making the trip this year.—Luke Kerr-Dineen
Springfield, Ohio • 75 players for 5 spots
PGA Tour player Sam Stevens torched Springfield Country Club for an eight-under 62 and claimed medalist honors by three shots over Taylor Pendrith of Canada after each competed at the Memorial Tournament. Stevens, 26 and ranked 126th in the world, finished at 13-under 127.
Nick Hardy, who won his first tour title earlier this year with Davis Riley at the Zurich Classic of New Orleans, ended up third at eight-under 132 by rallying with an afternoon 61.
Three players finished at 133 and played off for two spots. Second-year tour member Dylan Wu advanced early, leaving amateur Matthew Moldovan, an Ohio State junior recently selected to the U.S. Palmer Cup team, and Outlaw Tour player Alex Schaake of Omaha, Neb., to battle it out for the final berth. Schaake's three-foot birdie putt on the eighth extra hole earned him his first U.S. Open berth. Moldovan had qualified last year by finishing third in Springfield.
A footnote: PGA Tour player Brian Stuard, who has qualified for the U.S. Open seven times out of Springfield, fell well short this time at 140.—Dave Shedloski
Tacoma Country & Golf Club
Tacoma, Wash. • 54 players for 2 spots
Canadian Jesse Schutte has had his share of career second chances through the years, and this might be the biggest one of all. The 34-year-old from British Columbia shot 73-66 to share medalist honors with Stanford rising junior Alex Yang (72-67). They were the only two qualifiers in a field that featured few recognizable professional names.
Schutte has played in a combined three PGA Tour and Korn Ferry events in his life, and never in a major. His future seemed promising when he went to Oklahoma and was named the Big 12's Newcomer of the Year. But he told the Oregonian in 2011 that he was more into partying than playing. "I kind of lost perspective—I think that's the best way to put it," he said. "I just kind of went through the system, did what I was supposed to do, and that was it. There wasn't much passion like there is now."
After leaving Oklahoma in his junior year, Schutte was preparing to turn pro, but then-Oregon State coach Brian Watts convinced him to give his team a try. That didn't work out either, and Schutte has been battling to reach a comfortable level in the pro game ever since. He went to the PGA Tour Q School finals in 2011, but didn't advance.
Yang was born in Hong Kong and grew up in California. In two full college seasons with the Cardinal, his best finish is a tie for 31st.—Tod Leonard
Los Angeles • 89 players for 5 spots
Omar Morales, a rising junior at UCLA, which practices at Hillcrest, used some home-course knowledge to earn medalist honors by shooting 12 under (65-65). "I've been everywhere on this course," Morales, who hails from Mexico, told Golf Channel upon earning his first start in a major championship.
Another Pac-12 Conference player, Englishman Barclay Brown, who just completed his senior year at Stanford, tied for second at 10 under with Spaniard David Puig, who left Arizona State to join LIV Golf last year. Puig made four birdies on his back nine, including one at the last, to avoid a playoff that had to be extended into Tuesday due to darkness.
In the three-for-two playoff, 46-year-old PGA Tour veteran Charley Hoffman and Arizona State's Preston Summerhays prevailed, with 32-year-old California journeyman Josh Anderson being eliminated. Summerhays scored 30 on the front nine to shoot 62 in the second round, while Hoffman, a four-time tour winner, fired a 64 that included two eagles in the second round.
Among those who missed qualifying were Brendan Steele, a three-time PGA Tour winner who is now with LIV Golf; Korn Ferry player Norman Xiong, a member of the victorious 2017 U.S. Walker Cup team at LACC who registered a Did Not Finish on Monday; and 18-year-old Dylan Block, the son of recent PGA Championship curiosity Michael Block. Dylan Block opened with an 81 but bounced back with a 71.—Tod Leonard