Cracking The Code
The inside story of Matt Fitzpatrick's dramatic transformation
Months of hard work led to a first major championship. Here's what you can learn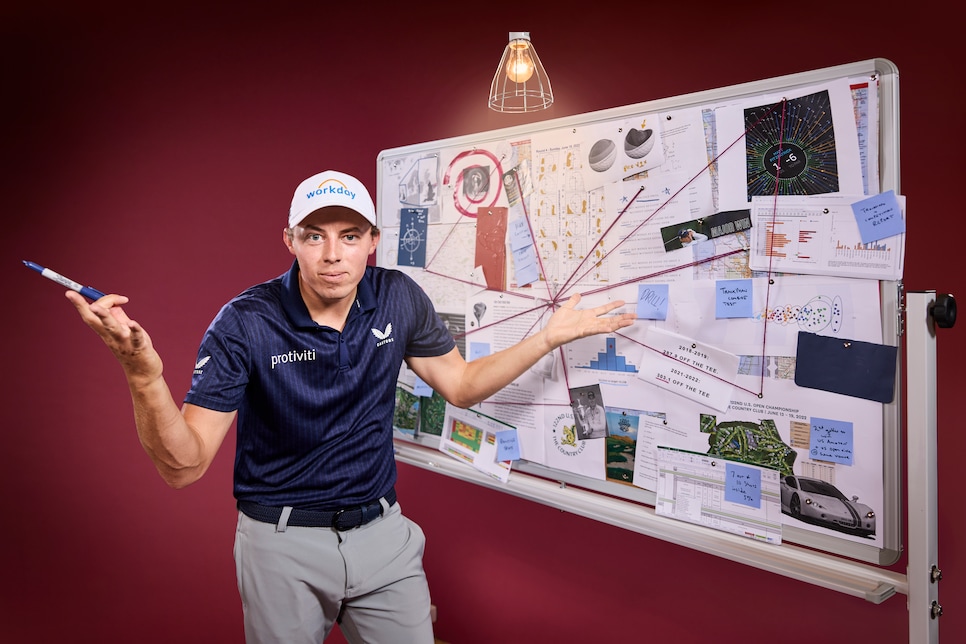 Some major champions seem destined for greatness; their triumphs are not a stunning development, rather an eventuality. Matt Fitzpatrick isn't one of those guys—his words, not ours.
Winning the U.S. Amateur at 18 and making a Ryder Cup team before 22 might make you think Fitzpatrick would be satisfied with his place among the game's best. But before this year, Fitz and his coach, Mike Walker, knew that despite those accomplishments—and a top-50 world ranking—his game didn't stack up with the very best golfers.
"He played with Brooks Koepka and Justin Thomas at the 2020 Masters," Walker says. "Matt hit a 7-wood into 11, while those boys flicked short irons. Matt didn't have a chance. We needed to make some serious strides if he was to ever reach that level."
Fitzpatrick's analytical nature has fueled his quest to get all he can out of his 5-foot-9 frame. "Some people are born with speed, I had to build mine," he says. With that in mind, Fitzpatrick consults a swing coach, a putting coach, a statistician, a trainer, a biomechanist and a performance coach. He logs every competitive shot and pores over spreadsheets like a financial analyst. "He'll turn over every last stone to find that 1 percent," Walker says. "And then he'll go out and find another stone."
The hard work paid off in June at The Country Club, when he won the U.S. Open and joined Jack Nicklaus as the only men to win a U.S. Amateur and a U.S. Open on the same course. On these pages, Fitzpatrick shares some key lessons from his journey to become a major champion. —Dan Rapaport
INTERACTIVE: Each button provides further insight into specific areas of Matt's detailed performance game plan.
I fancy myself a fast player, and I've publicly bemoaned slow play more than a few times, so I devised a code for my yardage books to quickly note the relevant info. I don't want to slow down my group while deciding what to hit.
I record the outcome of every shot in these books and have the results entered into a stat program developed by tour pro (and former U.S. Amateur champion) Edoardo Molinari. I know that sounds a little over the top, but logging all those numbers and then reviewing them reveals an honest assessment of your game. For an average golfer like you, saying you hit your 7-iron 150 yards might be the default answer. But do you really? Or learning you miss to the right way more often than to the left might influence your aim. Stats don't lie.
Back to the coding in my yardage books, this is the 18th hole from this year's U.S. Open. There are different entries for each of the rounds. On Sunday, I pulled my 3-wood into that left bunker and then hit the shot of my life to save par and cap off the best round of my career—a two-under 68 to win the U.S. Open.