going for broke
With pro poker stars, you've never seen such bad golfers play for so much money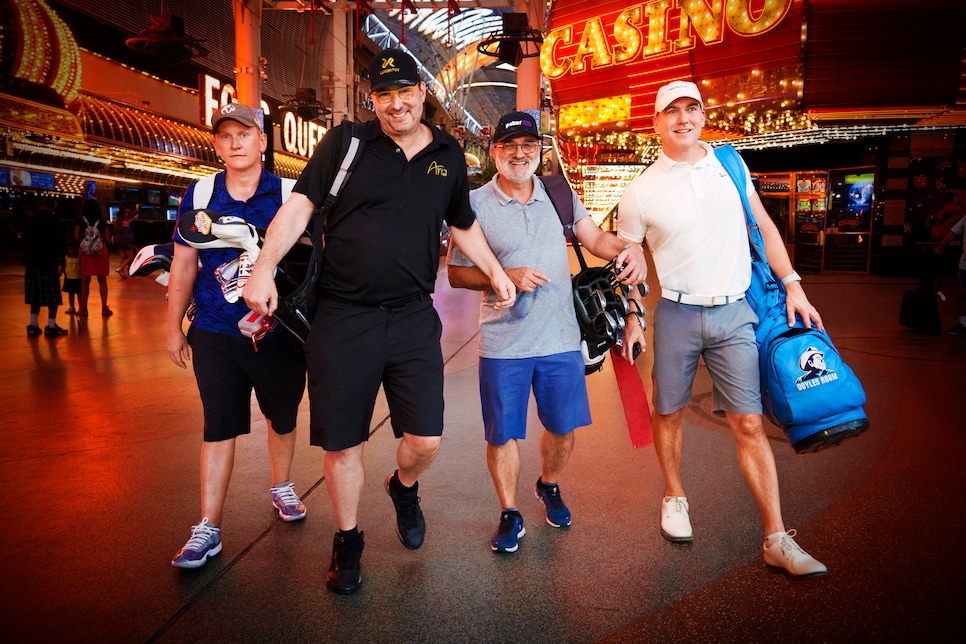 PROFESSIONAL POKER PLAYER PHIL HELLMUTH ONCE won $56,000 during a round of golf, but one annoyance lingers from that Las Vegas afternoon in 2007 when he and Jeff Friedman, a plus-3 who Hellmuth calls "the best golfing poker player" in the world, teamed up against a multimillionaire vitamin telemarketer named Denny and his professional golf partner. Hellmuth had been told two things about Denny: He's really rich, and he loves to gamble.
However, Denny could be slippery: He once played Monopoly for real money, lost $1 million and welched. (Having spent the past couple of decades covering high-stakes gambling, not to mention two years playing on a well-funded card-counting team, I've gotten to know the world's best poker players and have had my share of encounters with Denny. During our first meeting, amid a posse of high rollers attending the 2003 Super Bowl, he smoked weed, drank screwdrivers out of a coffee carafe and hustled me at putting into a hotel room's water glass. Years later, I asked him about the board-game story. He said, with a smirk, "I'm not paying a million dollars on a Monopoly bet.")
Denny and Hellmuth's showdown at Bali Hai Golf Club on the Vegas Strip began with $2,000 wagered on each hole. But the guys agreed to gamble with "an invisible doubling cube." It allowed them to double the stakes before or after an opponent's shot. The opposition can then take the elevated bet or concede the hole. By the ninth, Hellmuth and Friedman were ahead $12,000. "Denny got angry at his partner for messing up," Hellmuth recalls. "Suddenly, the guy said he didn't feel well and had to leave. Denny brought in a fresh pro. Denny must have texted him and told him to show up. It was obviously wrong, but we let it go. I couldn't imagine him being better than Jeff." By the last hole, Hellmuth and Friedman were up $24,000. "Denny wanted to play the 18th for $16,000; I told him he would have to give us the cube," Hellmuth says. "He hit his first ball in the water. I doubled the stakes. He conceded. We were up $40,000. Then he said, 'Let's do it again for $16,000.' I couldn't say no and hit first. The hole was a 140-yard par 3. I hit it to 25 feet. He hit his next ball into the water; I doubled the stakes again, and he swore. He knew he owed us $56,000 and stormed off."
Hellmuth had agreed to cover any losses incurred by his side and to keep 85 percent of the winnings. "Denny paid me $20,000 of the $56,000, and I gave Jeff more than his share," Hellmuth says. "I expected Denny to pay me the rest, but I never saw him again." Denny passed away in 2014.
Nicknamed the Poker Brat for his habit of throwing fits when things go bad at the tables, Hellmuth, 58, took up poker while attending the University of Wisconsin. He dropped out in 1985 to pursue card playing full time and started playing high-stakes golf about the same time. He now lives with his wife and sons in Palo Alto, Calif., though a high-roller suite at the Las Vegas casino Aria serves as his second home. The 24-handicapper's career poker-tournament winnings exceed $28 million.
IT'S NEARLY 100 DEGREES ON AN afternoon in August at TPC Las Vegas, and Hellmuth will be joined by fellow poker players Ben Lamb, 37, Mori Eskandani, 66, and Brian Balsbaugh, 50, to compete in a friendly golf match for what, in their circle, adds up to friendly stakes. Hellmuth and Lamb play poker professionally. Balsbaugh plays recreationally and serves as an attorney and agent for many poker players (including Hellmuth). Eskandani, president of the poker-streaming service PokerGO, is a former pro who still plays in some of Las Vegas' highest-stakes games.
Lamb, a 7-handicap, rolls up to the bag drop in his green Lamborghini. He enters the clubhouse with a leather bag of cash slung over his shoulder. "I always bring money unless the stakes are massively high—in which case we settle in the casino," he says. "I keep the cash next to my pistol. It's a tricked-out Glock." Has he ever brandished it? "Never. But it's nice to have."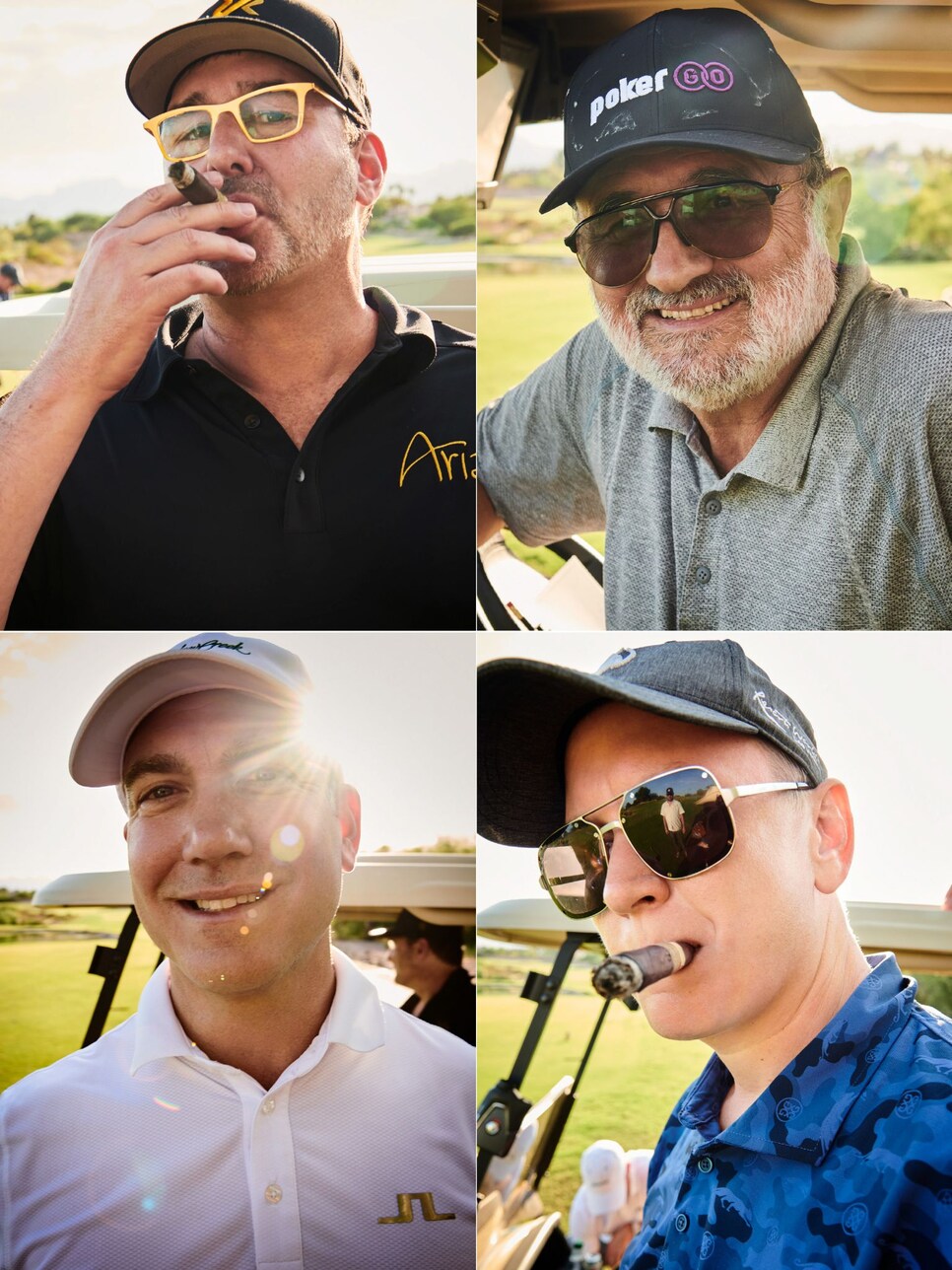 POKER FACES Clockwise from top left: Phil Hellmuth, Mori Eskandani, Ben Lamb and Brian Balsbaugh love gambling on golf. Photographs by Jeff Lipsky
Lamb began playing golf at age 8, found other interests after turning 16 ("I got a car") and resumed playing in 2012 with his new pro-poker pals. Lamb moved to Las Vegas in search of pricier poker games than he could find at home in Tulsa. Specializing in the "nosebleed" stakes in which buy-ins reach $200,000, Lamb usually plays golf for bigger money than he will today. "We'll have $1,000 to $10,000 changing hands," he predicts with a casual air. "There's a different feeling when you're trying to take $50,000 or $100,000 off somebody. In any high-stakes gambling, the idea is to demolish the other guy. How friendly can you be with a guy who you want to put on the street?"
The day before, Lamb had won $15,000 on the course: "A guy lost $100,000 playing poker, and he hoped to get even."
Lamb learned about the pitfalls of chasing losses early on. "The first high-stakes golf gambling I did was with Bobby Baldwin," Lamb says of the poker player turned casino executive. "We played more than 1,000 holes at $10,000 per hole. I'd get behind and press half the time. Usually I ended up losing more. I was young and stupid. It took me a while to realize that Bobby, one of the sharpest guys, rarely pressed. He took his medicine. Bobby beat the shit out of me and taught me expensive lessons."
Dealing with losses even if you can afford them is critical for anyone in Lamb's line of work. "You have a bunch of wins and losses, and it stops being a big deal," says Lamb, who has been married for five years. "You don't become numb. However, you learn to accept that poker is a skill-heavy game that can be luck-dependent one night to the next. That is not in your control. Golf, though, is much more in your control. There's less luck. It's a purer form of gambling. That's why I love to play golf. Gambling at golf gives me control that I don't have in poker."
As for today's potential payoff, Lamb says, "If Hellmuth goes into his pocket to pay me. That's worth it." Lamb is a believer in paying off bets quickly. "I settle up before the clubs are cleaned," he says. "I snap-pay so that I get snap-paid."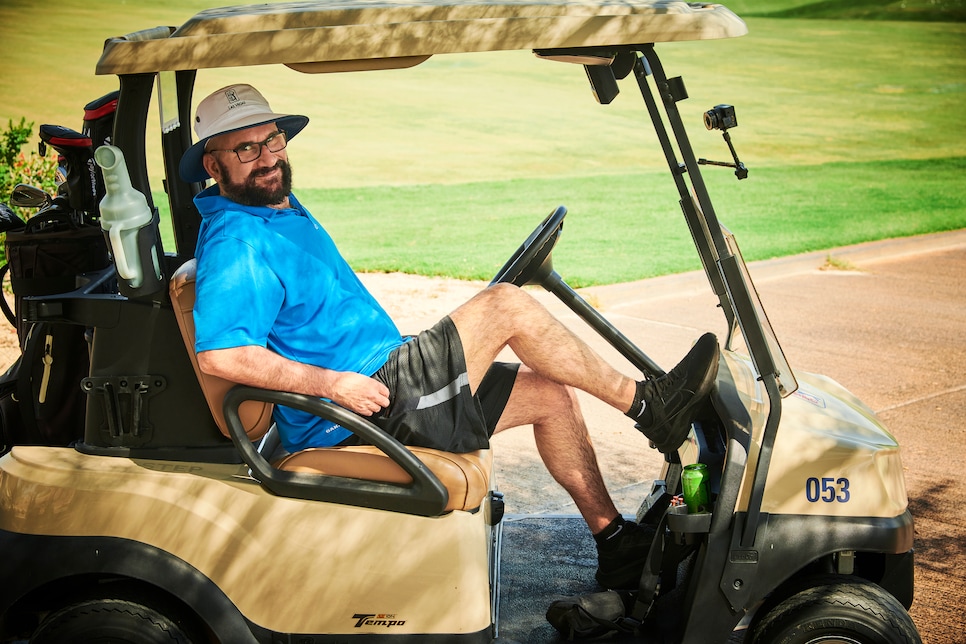 TRASH TALKER Four-time World Series of Poker bracelet winner Mike (the Mouth) Matusow says he "will bet on anything."
Similarly inclined is Eskandani who bears a perpetual smile that might come from having won millions at poker. Eskandani is an Iranian immigrant who dropped into poker as a means of support after his family's import/export business failed in 1979 (when the Shah of Iran was overthrown). Luckily, he has a natural affinity for cards. According to an admiring Hellmuth, "Mori made enough money at poker to support himself and his extended family."
Married with grown children, Eskandani lives on a golf course in Vegas. He exercises by running four holes as fast as he can and making bogeys with a 7-iron. Back in the 1990s he had zero interest in playing golf, but his propoker cronies would not hear of it. On his 40th birthday, in 1996, they gave him a set of clubs, shoes and 10 lessons. This was not motivated by generosity but self-preservation. "They were tired of me getting to the poker room at 10 a.m. while they played golf," says Eskandani, a 12-handicap. "By the time the other pros came in from playing golf, I would have already cleaned out the tourists. They couldn't stand that.
"My instructor asked if I was going to play for money with those guys. I said, 'What do you think?' He said, 'Then you better learn to chip.' He was right."
Rounding out the foursome is Balsbaugh, who has no desire to bet as high as the others, but he will still gamble for yip-inducing sums. Carefully groomed, the former golf agent worked with the PGA Tour's Casey Martin and Ben Crane before moving from Minneapolis to Vegas and focusing on poker players. "I like being around action," says Balsbaugh, a married father of three who has negotiated thousands of promotional deals. He quickly discovered that poker players and professional golfers view money differently. "When I worked at golf, my job was to entertain clients. It took two years for any golfer to pay. After I got into poker, it took three years before anyone let me pick up a tab."
In fact, Hellmuth gave Balsbaugh $37,500 out of his Tournament of Champions winnings in 2004 to cover moving costs and get him started in Vegas. Balsbaugh at the time was a new father making an uncertain career change. "That was a needed vote of confidence," he says. "It was a gift, not a loan or a commission payment."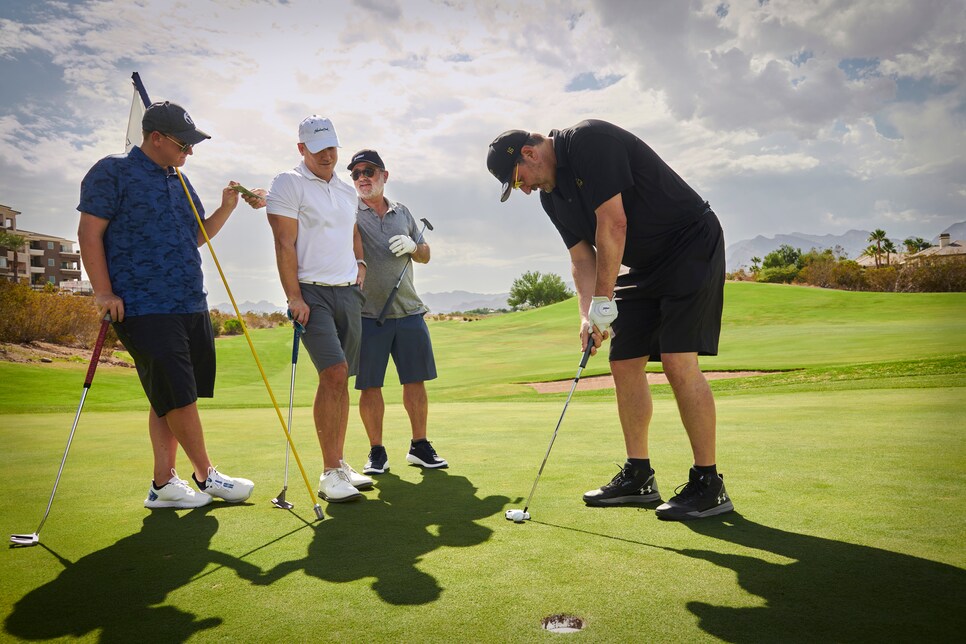 MAKE OR MISS? From left: Lamb, Balsbaugh and Eskandani place their bets on Hellmuth's short putt.
MATCHES SUCH AS THE ONE TAKING PLACE TODAY ARE hardly unusual in Sin City. Golf gambling has long gone hand in hand with poker. Balsbaugh traces it to the late 1960s arrival of Texas road hustlers Doyle Brunson, Thomas (Amarillo Slim) Preston and Brian (Sailor) Roberts. "They traveled from town to town playing poker," Balsbaugh says. "They partnered at everything—including golf—and convinced golf opponents to play poker with them."
Lucrative matches followed their Vegas arrival. In the 1970s, marijuana trafficker Jimmy Chagra—who inspired the killer played by Javier Bardem in "No Country for Old Men"—hit town and might have been trying to come off as a professional gambler for legal reasons. Playing golf with poker players, he routinely paid losses with shopping bags full of cash. During a Chagra match against Puggy Pearson, a notorious angle shooter, Chagra's armed bodyguard caught Puggy kicking his ball to get a better lie despite having locked up the match. Mayhem ensued before the match busted up. Somehow, and for the grace of the old Sahara golf course, no shots were fired.
'I'M A GOLF DEGENERATE WHO LIVES FOR THE PULLBACK OF $30,000 PUTTS.'
When online poker boomed in the early 2000s, guys like Daniel Negreanu, a friendly face of poker and the third-winningest tournament player with $46 million, and top all-around gambler Phil Ivey played sky high. Six-figure settle-ups took place in golf-course parking lots, and rules were unconventional: The guys greased clubs to reduce curving, paid golf coaches to physically maneuver them for shots during matches, and nobody was limited to 14 clubs. "Doyle Brunson went out with 40 clubs," remembers Balsbaugh who now has Brunson's oversize bag. "He had every wood, every iron, different wedges. He had advantages in that bag. They played gamblers' rules."
Balsbaugh even caddied the last holes of a challenge accepted by his poker client Erik Lindgren. "Erik had to play four rounds from the back tees in one summer day walking and break 100 every round," Balsbaugh says. "By the end he could barely stand, but he did it and made around $200,000. Erik lost 19 pounds that day."
Balsbaugh, an 8-handicap, remembers playing Shadow Creek with Ivey and Lindgren in 2009. "They were terrible then," Balsbaugh says. "By the ninth hole, between them, there were two pars—and they played for $50,000 per hole. The 18th was for more than $100,000, and Ivey won it."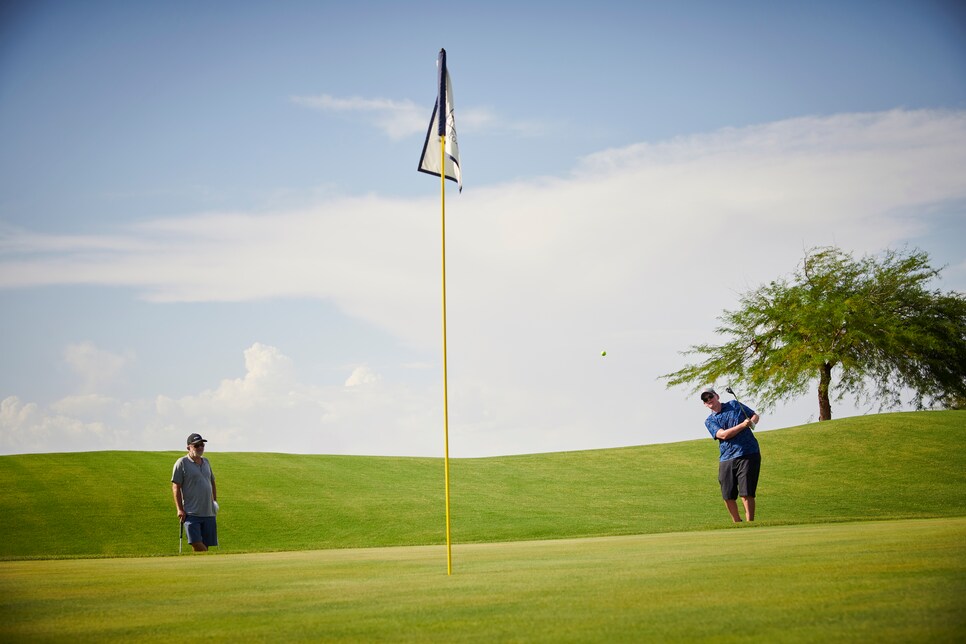 I LIKE MY ODDS "Gambling at golf gives me control that I don't have in poker," says Lamb (right) with Eskandani.
"Poker inflates the amount of money that is meaningful," Balsbaugh says. "Phil, Mori and Ben have been in situations where they can win or lose $500,000 at poker, so winning or losing $10,000 at golf doesn't seem like a big deal. You wouldn't become a professional poker player if you did not have some gamble in you. They gamble on just about everything: weight loss, no drinking, enduring discomfort. One poker player wagered $100,000 that he could live in a dark room for 30 days. They want there to be a little pain."
Riding along today but not playing because of a spinalcord injury is contentious poker pro Mike (The Mouth) Matusow. He grew up in Vegas, worked in his father's furniture store, and was first exposed to cards via video poker. "I don't know shit about golf," says the bald and bearded Mouth, "but I'll bet on anything."
Because of the heat, the guys decide to play just 12 holes. Hellmuth lobbies for them to be broken up into three four-hole matches with adjustments.
Everyone agrees, but Hellmuth wants more. "Mori, you killed me the last few times," he says to Eskandani. "You need to give me one and a half."
"One and a half what?" asks Eskandani.
"Strokes," Hellmuth replies. "Per four holes."
"Are you playing to break even or for someone to win?" Eskandani asks.
"There won't be a big swing," says Hellmuth, who has won $1.1 million at poker so far in 2022. "I don't want one."
Draining his cocktail, Lamb orders a refill and remarks, "There might be big swings if we bet enough money."
Maybe. But as Eskandani later explains, getting older makes even the heartiest gamblers less enthusiastic about embracing serious risk at golf and poker. "Not long ago, I had aces against kings, and the guy made his third king, and it cost me $150,000; that hit me hard, harder than it would have when I was young," he says. "In your senior years, you can't take a punch the way you used to. Your mental strength deteriorates just like your physical strength does. Plus, you have less time left to win it back. At a certain point, it's hard to justify betting so much money."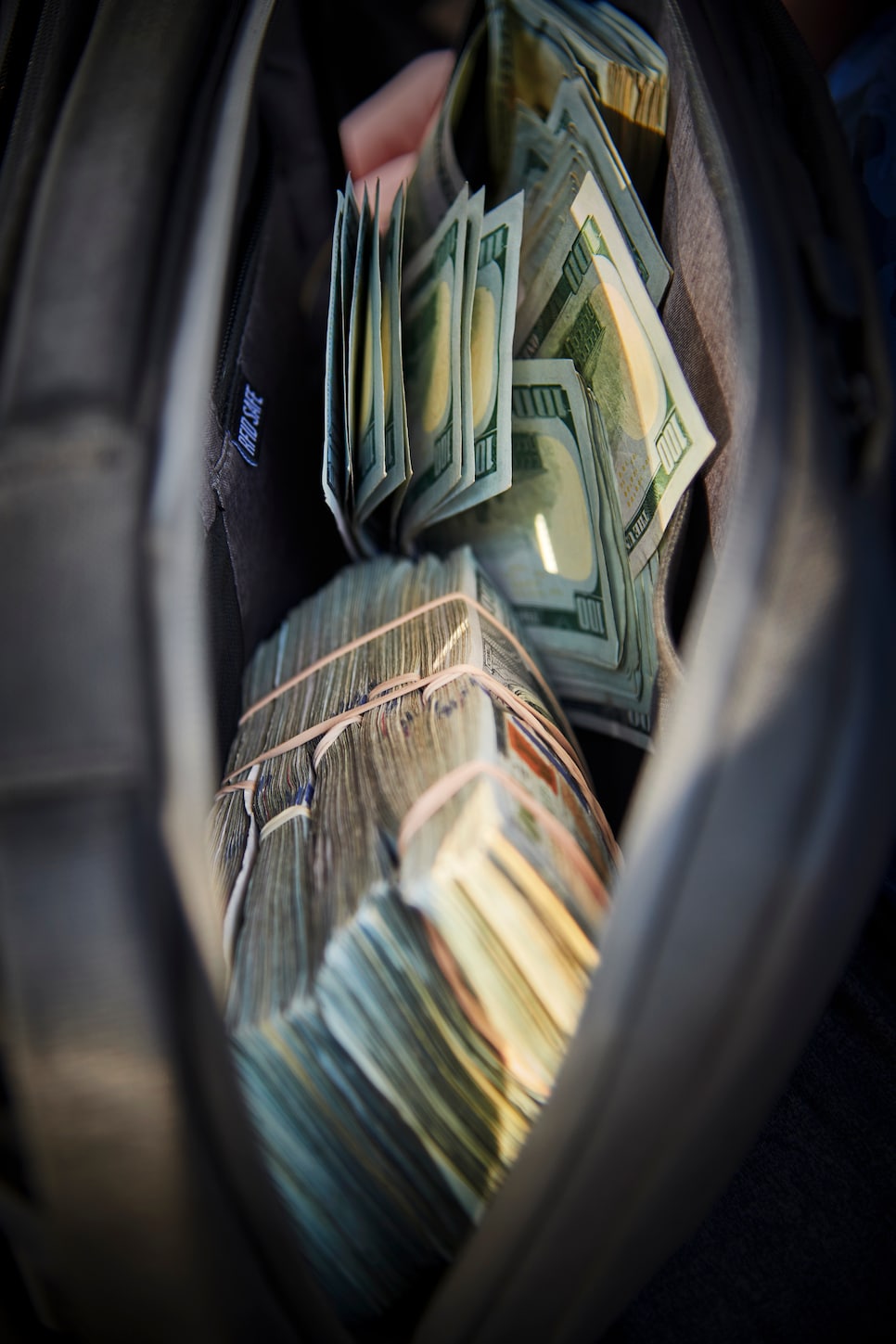 FLEX MOVE? Who's bringing a satchel full of cash to a match and marking their balls with $5,000 poker chips?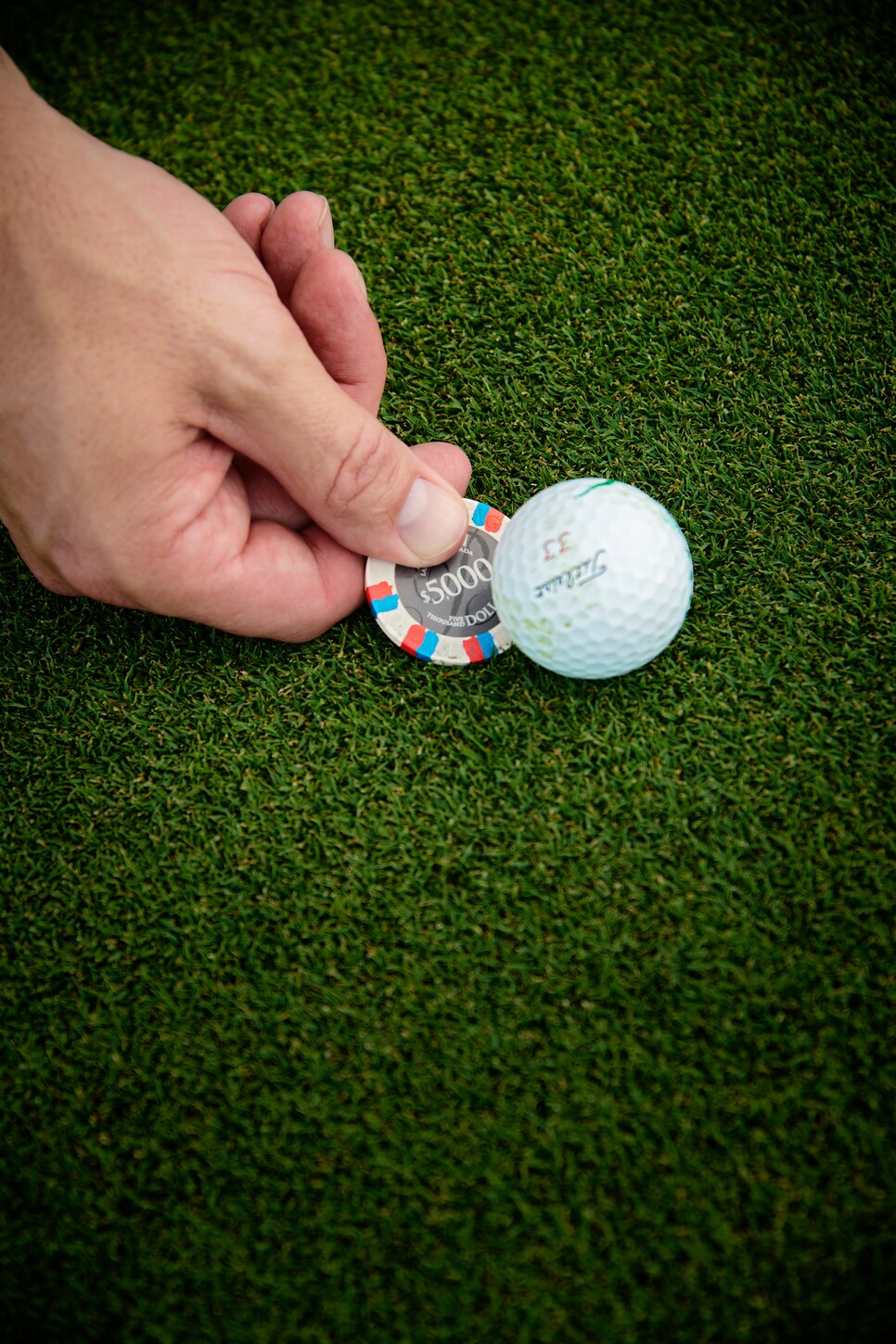 HELLMUTH HAS ANOTHER CONCERN. "The only reason I don't want to be on Ben's team," he half-jokes, "is because he may intentionally lose. If he is in Golf Digest losing, he will make a million dollars from gamblers underestimating him."
"Phil," Lamb says, "it would be smart for me to lose, but I don't have it in me. I so hate paying money to you guys that I won't be able to. It'll cost me millions."
Terms settled, they head to the range. Talk turns to the poker they plan on playing tonight in Aria's highlimit room. "I have to keep the stakes to $200/$400," says Hellmuth, suggesting a game in which $100,000 can change hands. "I don't have much money here."
POKER STARS GAMBLE ON ABOUT ANYTHING, BUT THEY WANT THERE TO BE A LITTLE PAIN.
"Your credit is good with me," says Lamb, making the point that they can go higher. Hearing this, Matusow piles on. "Phil, your credit is always good with me. I love when you owe me money."
Miffed, Hellmuth shoots back, "Have I ever owed you money?"
"You owe me a thousand, bitch," Matusow says.
"I don't owe you anything yet," Hellmuth says, referring to a gambling debt that is part of a running tally. "We agreed to settle up at a specific number."
The guys hit range balls in the stifling heat. After a particularly good one, Lamb says, "Don't tell Mori, but I think I struck the flag I was aiming at. I'll lose the first hole on purpose if I can get them to press." Watching his partner struggling, however, Lamb reconsiders. "I don't see how I can win with Hellmuth. Look at him."
After wrapping it up on the range, Hellmuth himself frets, "I don't like our chances. I am missing a lot."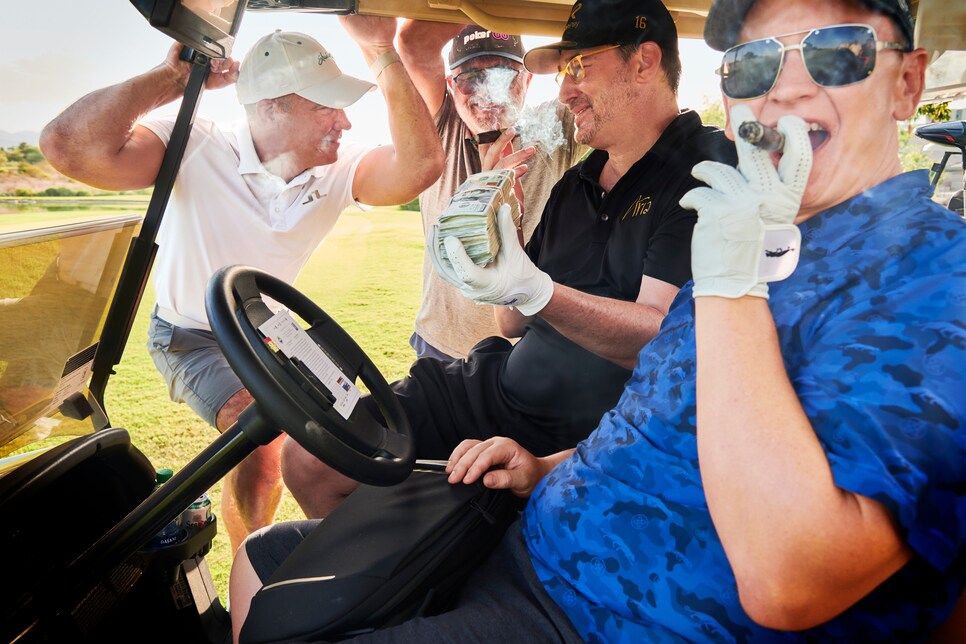 LET IT RIDE From left: Balsbaugh, Eskandani, Hellmuth and Lamb set terms for the day's game.
AT THE START OF THE SECOND TOURNAMENT MATCH, Eskandani asks me, "Have you ever seen such bad golfers play for so much money?" But for Eskandani, this is nothing. During the late 1990s, he witnessed a setup that outdid most others: "One of the better hustlers was Tommy Fisher. He was 5-foot-3 and played wonderful golf. He offered a bet that had two players scrambling against him, with no strokes, as long as he got one free throw every hole. These two guys jumped on it and wondered how far he could throw a golf ball. But they got it completely wrong. When they asked me what Tommy would shoot, I said, 'about 54.' They thought he would throw the ball from the tee, but Tommy was a scratch golfer who hit his drives far and straight. He threw the ball when he neared the hole. Everything would be an eagle or birdie. They had zero chance."
Sometimes a bad day on the course can turn around at the tables. Hellmuth and poker pro Huck Seed—famous for winning a bet in which he mastered a standing backflip in two days for $10,000—were competing against two poker guys in golf and getting slaughtered: "I lost $16,000, and Huck lost $80,000," he says. "Then we decided to play poker, and I got hot. I won $42,000 one day and $7,000 the next. I ended up $33,000 ahead. Huck got killed at poker. He had a rough trip."
'GOLF CHALLENGES YOUR SOUL MORE THAN POKER DOES. I SAY THAT WITH CERTAINTY.'
Back to the match, the guys trade holes with bogeys and lost balls as Matusow places bets. "Phil," Matusow heckles as Hellmuth prepares for a shot, "I can't even lift a club, but I can play better than you." When Hellmuth threatens to never bring him to play golf again, Eskandani, probably happy to see his opponent irked, calmly says, "What do you think will happen when you bring a guy named The Mouth onto a golf course? His voice is part of the scenery, just like the chirping of birds."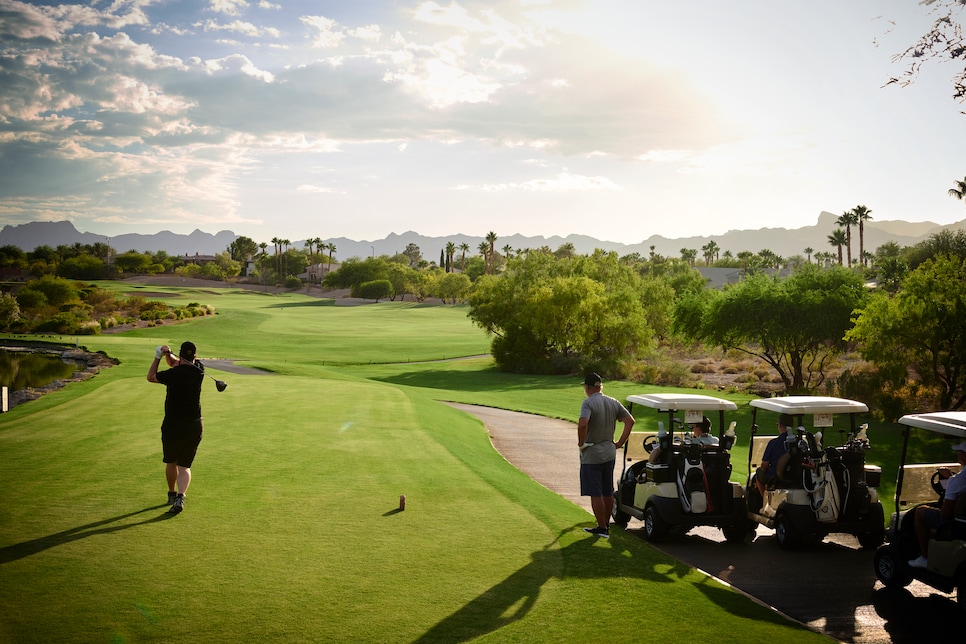 NO MERCY "In any high-stakes gambling, the idea is to demolish the other guy," Lamb says.
AFTER HALVING THEIR SEVENTH AND EIGHTH HOLES, the guys retreat to the clubhouse. There's talk of calling it a day because of the heat, but they agree to play another match, this time at only three holes but for double the stakes: $4,000 a team per hole. Lamb will kick in $3,000, and Hellmuth is sticking with $1,000; Eskandani will go in for $3,500 and Balsbaugh is risking $500. Lamb comes up with a wrinkle that the guys embrace: Everyone starts with 13 clubs, and no club, except for putters, can be used more than once. After the terms are set, the guys proceed to the 10th tee box for the first of three final holes: a 420-yard par 4. Eskandani and Balsbaugh win the hole with a bogey, and Matusow wagers $600 on the wrong side and mutters about "getting crushed."
That said, nobody got taken as easily as Eskandani did when he played a scramble in which an opposing player had no arms. "This guy had a long putter that he put under his chin, and he never missed a 12-footer," Eskandani says. "His partner hit all the long shots. Of course, we knew it was a hustle, but we had to see it. It was worth a couple thousand.
By the final hole of today's match, Eskandani looms as the big winner. He's ahead $5,000 on the matches and $1,600 from Matusow wagers. His partner, Balsbaugh, is up $1,000. They decide the last hole is double or nothing for everyone. This is precisely the situation these guys relish. Lamb tells me, "People think I'm a hustler, but, actually, I'm a golf degenerate who lives for the pullback of $30,000 putts. I've had hundreds of them."
But everybody will get a small taste of that pullback on the final hole, TPC's 15th, a 604-yard par 5. It plays out as a comedy of errors, beginning with Lamb throwing his driver after a wayward tee shot. Having wagered on him and Hellmuth, Matusow nervously asks, "Where'd the ball go?"
"Down the center," says Lamb, sarcastically.
"For real?" replies Matusow. "Were you celebrating?"
"Nobody celebrates by throwing a club."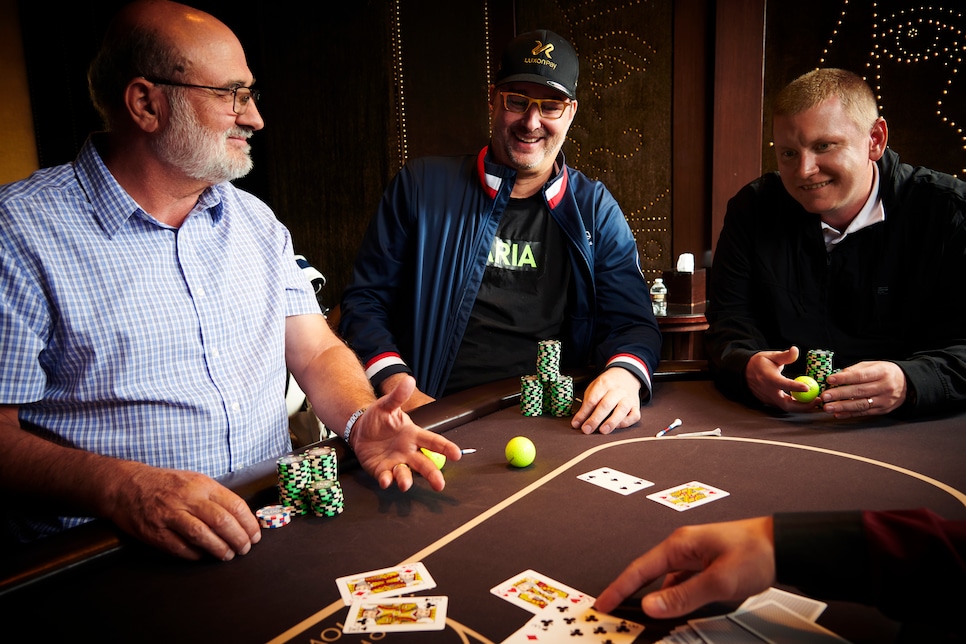 LET'S DEAL Eskandani, Hellmuth and Lamb in Aria's enclave for high-stakes poker action.
After a series of botched shots, both sides finally end up on the green. Balsbaugh and Eskandani each fail to hole it from 25 feet, and Hellmuth and Lamb have a chance to win the hole and bring the wagers to even. Lamb just misses their 12-foot putt, and it comes down to Hellmuth attempting to erase their losses.
Says Eskandani: "Make it, Phil. Deep down, I want you to."
Ignoring what might have been a taunt, Hellmuth draws back and sends his ball toward the hole before it veers away. Overall, the damage lands pretty much where Lamb predicted: Eskandani is ahead by $6,600, Balsbaugh is up $1,000, Hellmuth is down $2,000 and Lamb is down $4,000. Matusow is in the red by $1,600, but that doesn't include a $5,000 poker chip he thinks he somehow lost in the cart. Hearing this, Hellmuth crows, "Mikey is the big loser for the day!"
Before anyone settles up, Lamb bets Eskandani $1,500 that he won't hole that 12-foot putt in two attempts. Eskandani misses both. The difficulty remains mysterious.
PLAYING POKER PROFESSIONALLY INFLATES THE AMOUNT OF MONEY THAT'S MEANINGFUL.
A COUPLE OF HOURS LATER, DURING A FEAST OF RARE beef and red wine inside Jean Georges Steakhouse at Aria, Hellmuth buys Lamb a pour of Caymus; they clink glasses, and he thanks his partner for "carrying me on your back." Then Hellmuth, Lamb and Eskandani repair to their natural habitat: Aria's gambling enclave, with ornately-patterned walls and solicitous dealers, reserved for the highest stakes card games and discreetly situated at the rear of the poker room. Unlike on the golf course, no stakes, terms or games to be played are negotiated. Hundred-dollar chips fly around the table as if they are pieces of pocket change. After about 20 minutes, Eskandani finds himself ahead by $600 and dismissively describes the profit as "a toothpick." This begs the question as to how these guys, who have all made millions at poker tables and view high-altitude golf gambling as a diversion, square the two pursuits.
"On the course, stuff goes into your head that is more important than money," Eskandani says. "It's completely different from poker. At golf, you don't want to look bad, and you don't want to let your partner down. Golf challenges your soul more than poker does. I say that with certainty."