The Late Show
Ping-pong, night putting, and champagne: Behind the scenes of Matt Fitzpatrick's U.S. Open celebration
A low-key champion is not the partying type, but it was hard not to enjoy the view from the top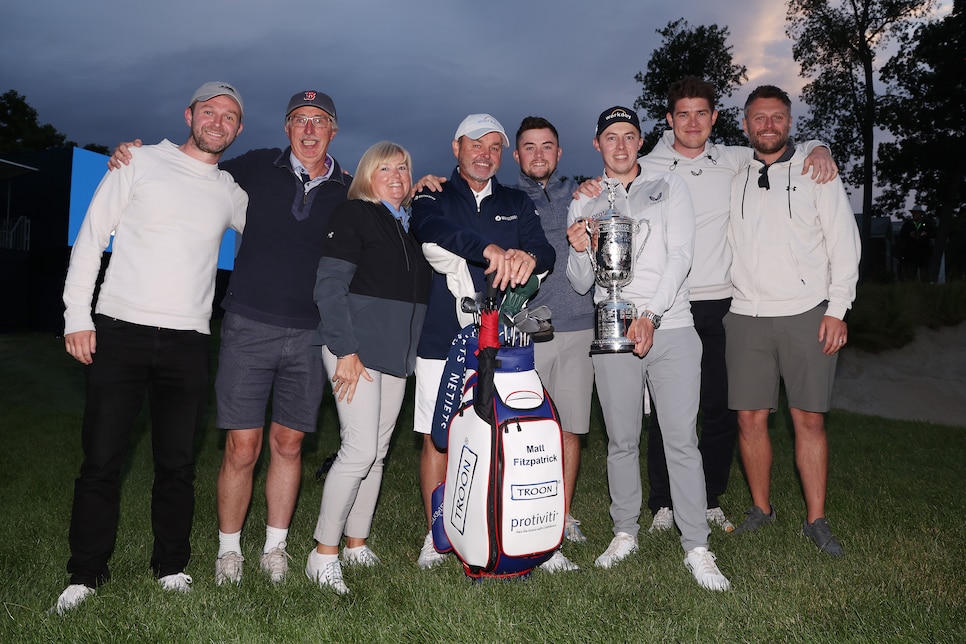 BROOKLINE, Mass. — Alex Fitzpatrick was sure Will Zalatoris would make it. Damn sure. He'd just watched his older brother miss his birdie putt on the high side on the 72nd hole of the United States Open, and he knew Zalatoris had watched it as well, and now he was sure Zalatoris would pour his in the middle.
"I don't want a playoff, Dan," he said from just behind the 18th green, his voice trembling. "I really don't want a playoff."
Sue Fitzpatrick, bubbly but soft-spoken, could hardly watch, for she hadn't had a stomach since about 1 p.m. Even the best golfers in the world are, of course, someone's son. Russ Fitzpatrick, the genesis of his oldest boy's predilection for number-crunching, held it together admirably. But Matt Roberts, Matt Fitzpatrick's trainer, had a hard time stringing together sentences for the last four holes. It's not a nice thing, rooting for someone else to miss a putt. But in sport, one man's triumph is almost always another's heartbreak, and, well, which side do you want to be on?
Russ, Sue and Alex bee-lined for the 18th green. It wasn't a long way to go; the USGA had graciously pulled the Fitzpatrick clan inside the ropes for the final few holes. (And yes, Netflix was all over it). Alex just missed overlapping with Zalatoris at Wake Forest, and with his head spinning in ecstasy, he remembered to console his fellow Demon Deacon. Russ followed behind, and Zalatoris was only gracious in the face of disappointment.
"If I had to lose to anyone," he said, "I'm glad it was your son." Five hours later, with a nearly empty wine glass in hand, Russ beamed at the display of sportsmanship.
Back on the 18th green, Russ found his son for a hug every golf dad dreams of. It was Father's Day in England, too, and this was the best present possible. Off to the side, Billy Foster melted into a pool of tears, for this was his first time caddieing for a major winner in more than 30 years of walking off numbers and chasing the sun.
I hung back, wanting to give the family and the integral team—Roberts, manager/childhood best friend Ted Brady, agent Mark Steinberg were all on-site but Mike Walker, Fitzpatrick's longtime swing coach, was not—some space. I've written before about my relationship with Matt, tracing back to our freshman year at Northwestern, and how much it differs from the typical golfer-writer dynamic. Matt was my friend long before he was contending for majors and I was writing about them.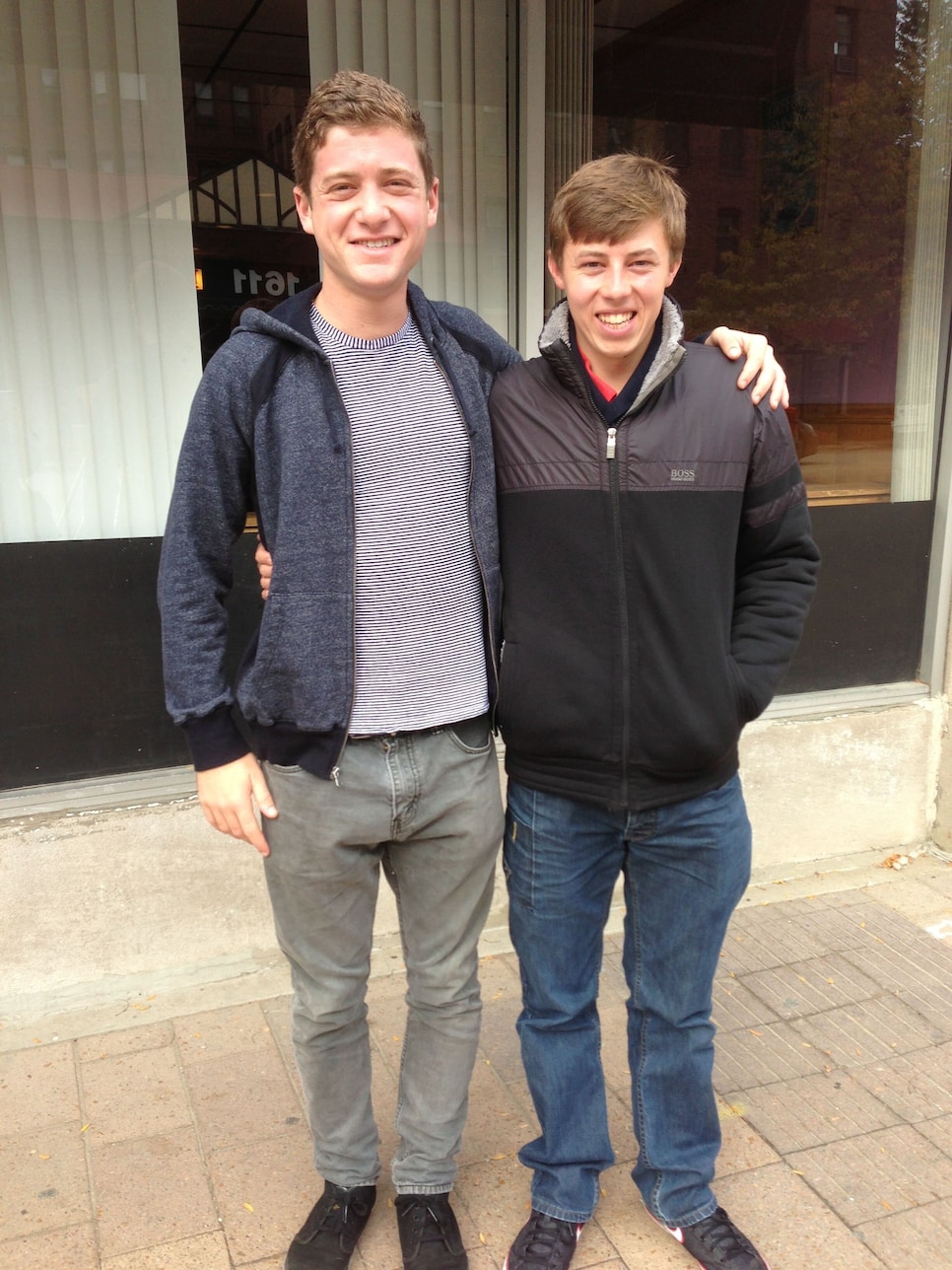 The author with Fitzpatrick as freshmen at Northwestern.
My fiancee, mindful of my history with Matt and not bashful to begin with, dragged me into the fray. Next thing I knew, we were double-hugging the man on top of the golf universe. I told him how proud I was of him before reminding him of the deal we struck in 2017: that if he ever wins a major championship, he has to buy me a Trackman. They run close to $20,000 and have become much more available in the half-decade since our little handshake agreement. In all honesty, I'd sell it immediately, and that's not the spirit of the deal. We'll have to work something else out.
Once the embraces finished, Fitzpatrick dashed to the scoring tent to make everything officially official. His phone rang. It was Jack Nicklaus, congratulating him on winning his second major championship. The first, of course, being the member-guest at the Bear's Club back in Florida. Fitzpatrick, flanked by a police escort and USGA officials making sure the trains ran on time, re-emerged for the trophy ceremony with NBC's Mike Tirico. Next came pictures. Lots and lots of pictures. By himself. With Alex, who caddied for him when he won the 2013 U.S. Amateur on these same grounds. (It's not exactly the same golf course; The Country Club has 27 fantastic holes, and this year's routing was a conglomeration of the three nines). With his parents. With his family, and his team. With the grounds crew. With the Brookline police force. Then it was off to the press conference, where he told scribes about the best ball-striking round of his life, capped off by the shot of his life: a choked down 9-iron from the fairway bunker that started just left of the mound in front of his ball, soared into the chilly Boston sky, cut toward the flag and plopped down to 18 feet. Matt Civil, a childhood friend who made the trip, and Alex, who'd flown up from North Carolina that morning, grabbed Fitzpatrick's putter and attempted the same putt he'd just missed. Civil's caught the right side of the cup and fell. Alex, who just turned professional, gunned his past on the high side. Adrenaline, baby.
Over by the interview area, Brady was engaged in a futile effort to answer all the messages on his phone. Steinberg, too, fielded some calls. Some were from current sponsors, ecstatic for the exposure. Others were potential new ones, wanting a piece of the man on top of the sport.
After 20-odd minutes with the press, Fitzpatrick trudged upstairs to Golf Channel's "Live From" set. A PGA Tour official emerged from the media center, found Brady and delivered some fun news: the "Today" show wanted him Tuesday morning. Jimmy Fallon's interested, too. Good thing Matt was already planning on being in New York City this week. With the media interviews finally over, it was back to the 18th green for more pictures. Then, with temperatures dropping quickly, into the clubhouse for a meet-and-greet of sorts with The Country Club membership. In the least surprising news of the day, they informed the Fitzpatrick clan that Matthew will be made an honorary member of the club. That's what happens when you win the U.S. Amateur and the U.S. Open there.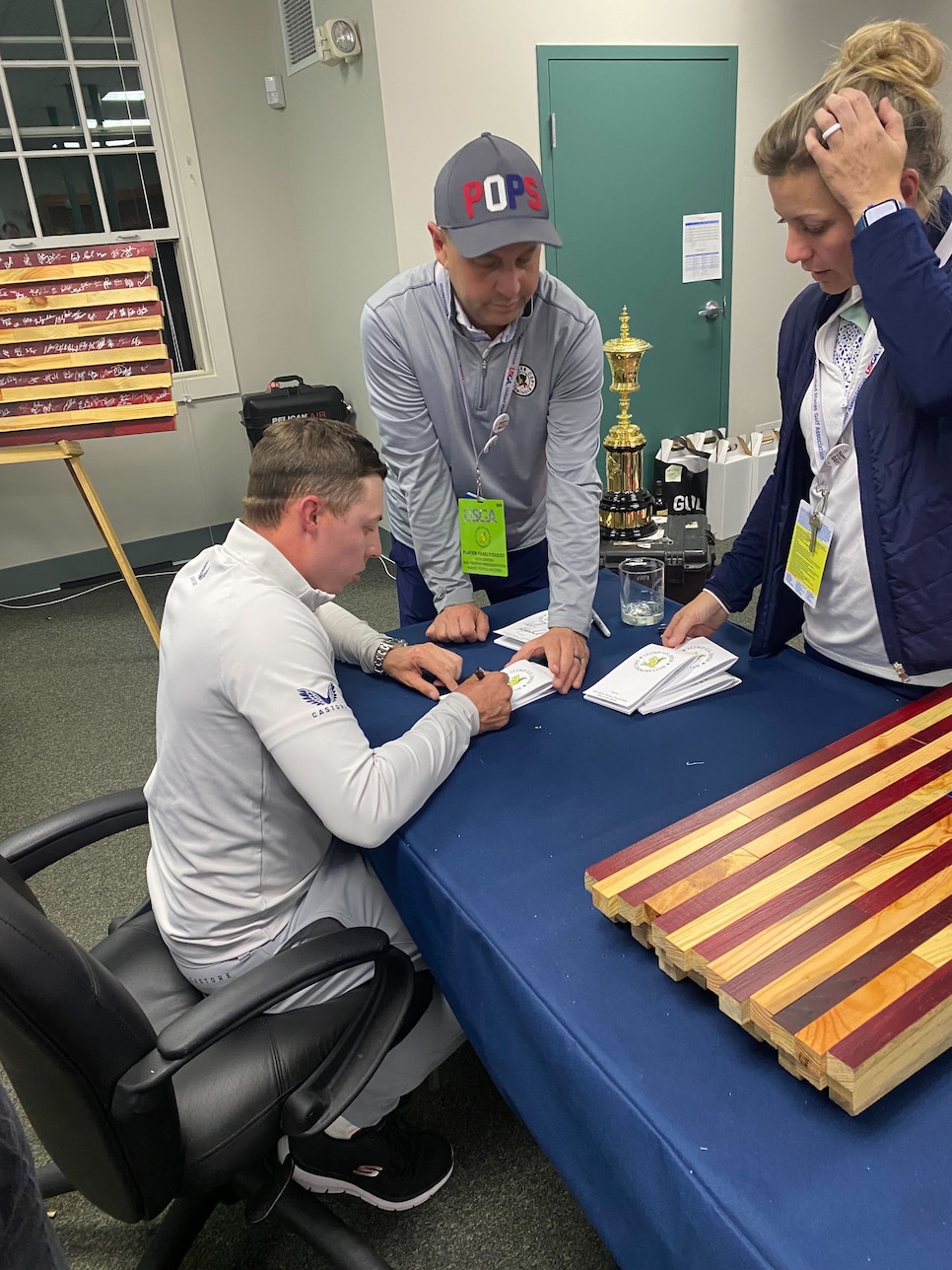 With Matt off shaking hands and smiling, USGA staff began setting up for the party in a player lounge. Light hors d'oeuvres, full bar. Foster got his hands on a bottle of Dom Perignon but declined to spray it locker-room style. "It's about $300 a bottle!" On the back wall was one of those basketball hoops you hang on a door, accompanied by a scoreboard for the week-long free-throw contest. Denny McCarthy, a putting savant who finished tied for seventh, led the way with seven consecutive makes. What can you say—the man has a silky touch. Harris English and Jon Rahm tied for second with five. In the middle of the room were four massive tables pushed together; on top of them were things for Matt to sign. So, so many things. Flags. Banners. Tickets. Credentials. Name plates. Ping-pong paddles. Coffee mugs. A Celtics jersey. Copies of The Greatest Game Ever Played.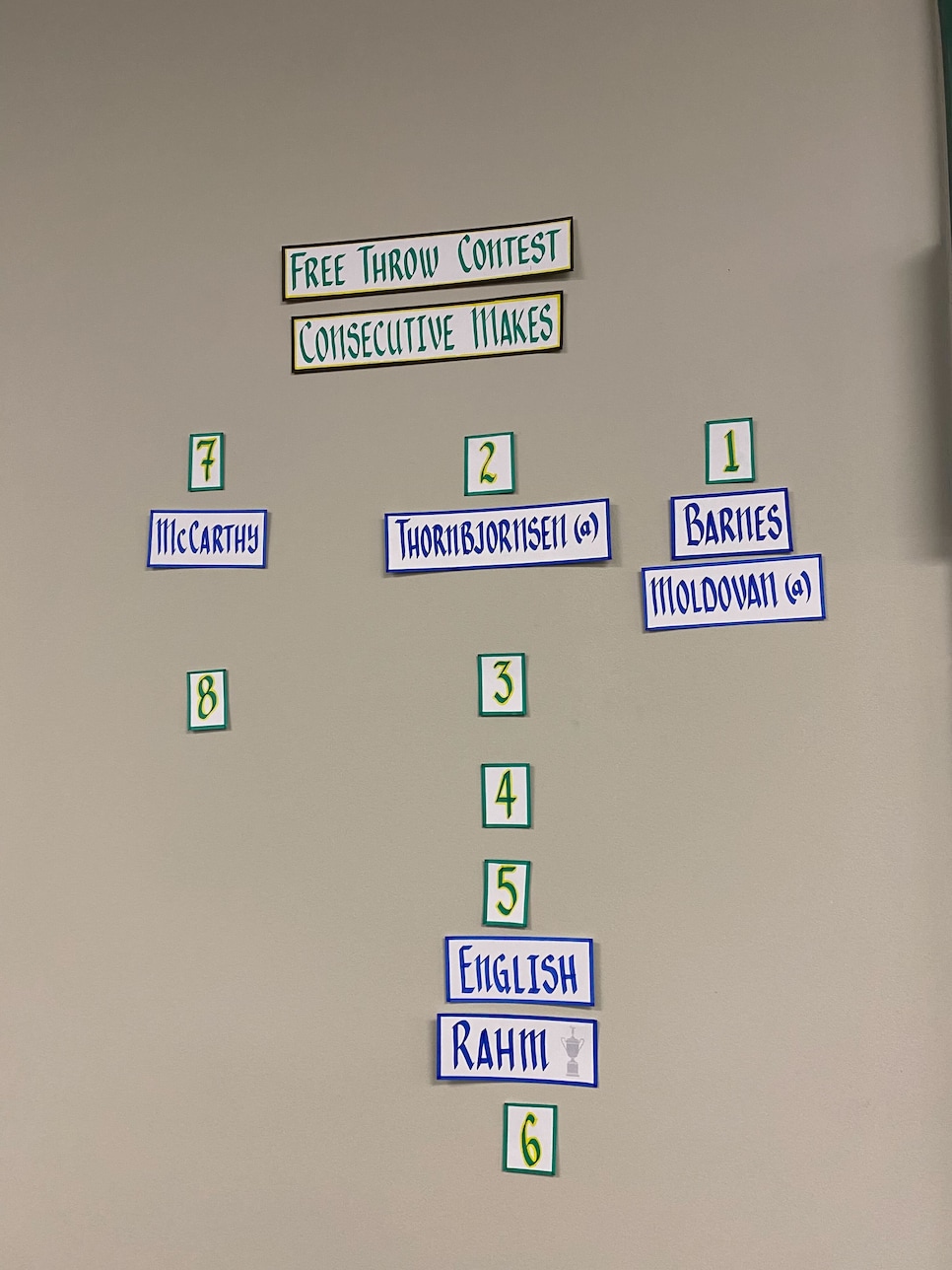 The champ finally emerged, finished with one spell of schmoozing and about to start another. There was an awkward silence as he stood in front of a room of about 40, who began to clamor for a speeeeeech. It wasn't going to come. Matt had a look on his face that said What, winning the U.S. Open wasn't enough? Foster, spurred on by the Dom, filled the void and shared some words.
"To think that you putted like Edward Scissorhands and still won a major championship," he joked. Fitzpatrick hit 17 of 18 greens and shot 68 despite 35 putts. "Just an incredible ball-striking performance. You're going to get tired of winning these. I love you, lad."
There was no bottle-popping. No chugging of any beers. If you expected models and bottles, you don't know Matthew. This would not be your typical celebration, for Matt was indifferent to what a typical celebration looks like. The man's clearly not concerned with aesthetics. Just watch him play golf. He leaves the flagstick in on nearly every putt, including the four-footers. He chips cross-handed. He has braces as a 27-year-old multimillionaire.
"If it's better and it works and it helps you win, may as well do it," he said earlier in the week. "I'd rather win than worry about looking stupid. It depends if you want to be second all your life, then just do [the normal thing]. But, yeah, if it helps your game and it helps you improve, then there's no reason not to do it in my opinion."
On this, the happiest night of his life, he wanted to do what he wanted to do, which is sign all those damn things, get back to his host family's house and chill. Just, chill. Maybe then he'd have a few cocktails, but not with all these people around, and not with all this shit to sign. Repeated efforts—I can assure you, there were many—to get him to imbibe were matter-of-factly declined. "I've got to practice tomorrow," he joked. At least I think he was joking. With Matt and his practice, you're never sure.
The celebration perfectly symbolized the person Matt is, and it's the reason there was any celebration at all, low-key as it was. Nothing showy about it. He would not be Instagramming videos of any drinking out of the trophy. (Though he did allow himself one flex: at some point the U.S. Amateur trophy made an appearance, and he held it while he watched the engraver carve 2022 MATT FITZPATRICK onto his new, and surprisingly light, piece of hardware. Once she'd finished the job, he took a photo with the U.S. Am hardware in one hand and the U.S. Open in another.) As far as victory laps go, that was about it.
His parents and his team did, on the contrary, celebrate with their share of drinks. Russ wasted little time lobbying Foster to stay on his son's bag for at least a couple more years, afraid that finally winning a major would make retirement look pretty sweet for Foster, who is approaching 60. In exchange, Foster let Russ know he wanted a replica of the U.S. Open trophy. Done deal.
As the night wore on, the magnitude of his son's accomplishment began to wash over Russ, a golf nerd to his core.
"I idolized Tony Jacklin," he said, sitting on a couch and watching a re-run of the NBC broadcast, gleefully dissecting every shot. "When he won the U.S. Open in 1970, that's when I began watching golf and when I fell in love with the game. So for the only Englishmen since the wars to have won the U.S. Open be Tony Jacklin, Justin Rose and my boy—that's really, really special."
The crowd began to thin as the clock inched toward midnight, and the Fitzpatricks were eager to get back to the house of their host family, the Fultons, who also hosted them in 2013. They knew they'd be waiting for them, and they didn't want to disappoint. As the Fitzpatrick family headed for the car, Russ lagged a bit behind, wheeling a burly hard-shell case.
"Here's something I never expected to do, Dan!" he beamed. "Load a courtesy car with the U.S. Open trophy."
Getting Ubers to The Country Club was impossible given road closures, so my fiancee and I hitched a ride with Roberts, Civil, Foster and Brady. They'd drive us back to the host family's house, and we'd get picked up from there. Civil is the crew's DJ, and he quickly connected to the bluetooth sound system. His taste is … eclectic. We began with some whiny English soft-rock before a rather stark shift to Cher's "Believe," which got the entire car, including Foster, belting at the top of our lungs, basking in pure euphoria: DO YOU BELIEVE IN LIFE AFTER LOVE!? With just a few minutes left on the ride and our Uber approaching—our timing was perfect—Civil queued up one last song. "Juicy," by the Notorious B.I.G. Brady, puffing on a cigar in the back seat, would rap every single word, but his first five summed up the night perfectly: