Voices
PGA Championship 2022: Watching Matt Fitzpatrick in contention, I was a friend first, golf writer second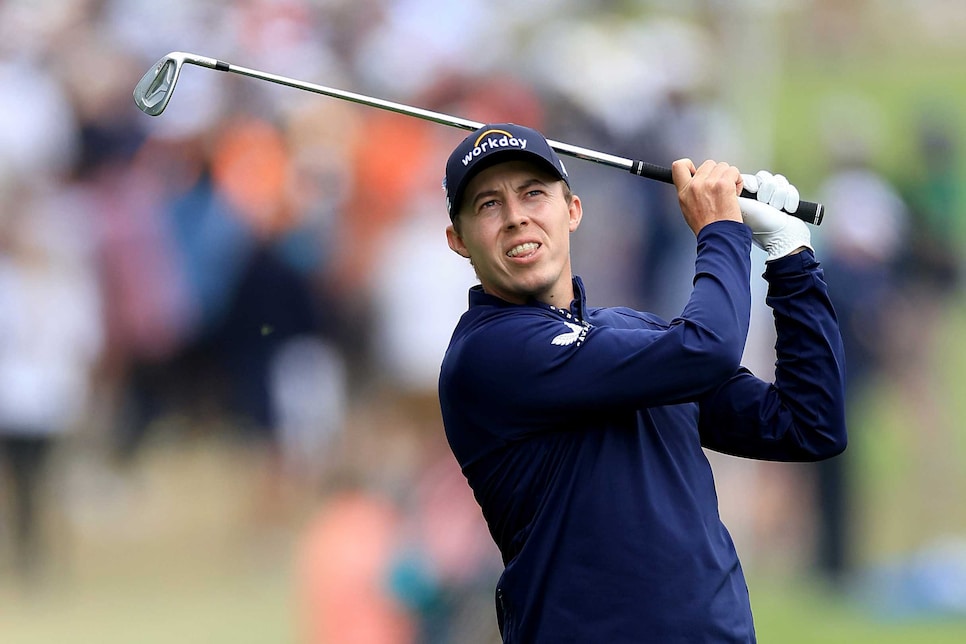 TULSA — Let's get this out of the way: I am not impartial when it comes to Matt Fitzpatrick. I can't be. I know, I know: No cheering in the press box. I don't care. He's one of my best friends. That comes before any professional responsibility. Call me a fanboy, call me whatever you want. But that's my guy.
Matt and I overlapped for the 10 minutes he was at Northwestern, and we've been close friends ever since. I know his family. He knows mine. I know his friends from Sheffield. He knows mine from Los Angeles. People will often ask who my favorite guys on tour are. For me, it's Fitz, and then it's everyone else. He'll be at my wedding. He'd be at my bachelor party if he didn't take his job so freakin' seriously. But that's another story.
Now you have some idea as to why these last 24 hours at the PGA Championship have been such a herky-jerk vortex of emotions for me. On Saturday afternoon, Matt birdied 17 and 18 to post a very Fitzy 67. Matt has this weird habit of playing his best golf on days when you'd rather be anywhere but a golf course. Saturday at Southern Hills fit the bill: crunchy course, temps in the low 60s, spitting rain, gusty winds. After a bogey-bogey start, he somehow found six birdies in his last 16 holes while his competitors searched for pars. Just like that, he was in the final group of a major championship for the first time. And, golf being golf, it happened at the one major he'd always say he had no chance in: the USPGA. (That's what the Brits call it.) PGA Championship venues are usually long and juicy, with ankle-high rough and soft-ish greens. Bomber fodder. Matt's first five PGA starts yielded three missed cuts, a T-41 and a T-49. When he turned up at Southern Hills this year, he thought he was in for more of the same.
"My dad called me and he was asking how is the course looking," Fitzy said Friday, "and no offense to the PGA here, but I was like, It's a typical PGA, it's long and tough and just not really my cup of tea." Then he opened with 68-69 and, what'dyaknow, the course began to grow on him … until Saturday morning. Overnight rain had softened the course considerably. I texted him something along the lines of: It's playing more like a PGA now—wet, beastly.
"Welp, that's it," he responded. "It was a fun 36 holes. Here comes a T-30." British humor. It's an acquired taste. Seven hours later, he'd earned the last tee time on Sunday.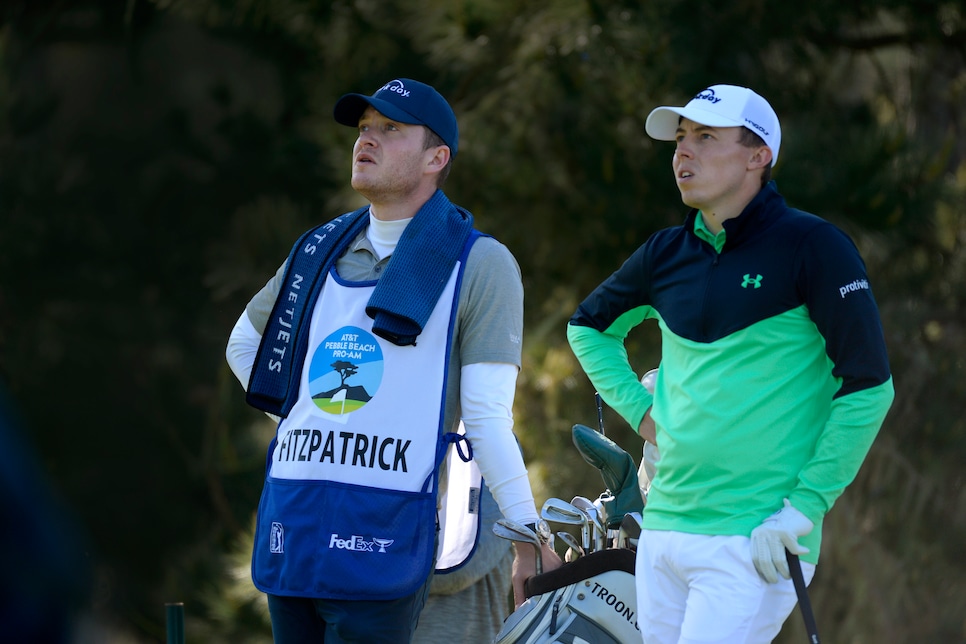 Our writer caddied for Fitzpatrick at the 2020 AT&T Pebble Beach Pro-Am.
J.D. Cuban
We initially had planned to have dinner on Friday, but he finished his work (playing golf) before I finished mine (writing about the people playing golf) and decided to push to Saturday. But we'd agreed on that before that finishing flourish, before he had a legitimate chance to win. I wanted to ask point blank if we were still on, but I didn't want to plant the thought in his head that we might be off. I'm a golf nut, and the opportunity to dine with one of my best friends the night before he chased a major championship? Does it get any better? I asked if 7:30 worked. He said yes. I Ubered over, 15 minutes late. Blame the Tulsa rideshare market's supply issues.
My self-assigned mission was to keep him as loose as possible. Not that he needed any help—despite the broadcast's best efforts to portray him as an overeager upstart, Fitz has won big tournaments around the world. He wasn't nervous. But I wanted to feel like I was helping. Sue me.
His chef for the week cooked us chicken and something else that I was too nervous to ask about. The mystery substance was delicious, as was the chicken. Fitzy, Thomas Pieters and I shot the shit for about an hour and a half, with the Heat-Celtics game in the background. Pieters is a big basketball fan. Fitz just wanted to be entertained because he wanted to stay up a bit later than normal given his 1:35 p.m. tee time, and he didn't want to just stare at his phone all night. We did not discuss the upcoming round once until Pieters hit the hay early to sneak in some shut-eye before a 5 a.m. wakeup. (He finished T-71 this week). Then, urged on by a few beers, I couldn't help myself. What do you think the winning score will be? I proposed eight under—I was way off—but he wanted to check the wind forecast before making a guess.
"Supposed to be calmer than today," he said dead-pan. I couldn't tell if that was good news or bad news, so I asked. "Oh, I hope it's pumping. I hope it's absolutely horrific out there." Imagine looking at a wind forecast for your tee time and actually wanting it to be windier.
Fitz was pumped after this chip in birdie on the 15th hole.
Andrew Redington
After the basketball game went final I headed home and allowed myself to fantasize about chugging tequila out of the Wanamaker. There was a karmic feeling about it all. The golf gods owed Fitzy one after his brutal finish at the Ryder Cup last September—he fatted an approach into the water on 18 at Whistling Straits, in the last match on Sunday, with Rory McIlroy and Padraig Harrington standing next to him, to become the first player since the 1950s to play two Ryder Cups and have zero points—and, pardon the biased cliché, but no one deserves it more than Fitz. Well, maybe his caddie, Billy Foster, who's been at this for nearly 40 years. Billy's worked full-time for Seve Ballesteros, Thomas Bjorn, Darren Clarke and Lee Westwood. He's worked events for Tiger Woods and Sergio Garcia. And yet he's somehow never been on the bag for a major championship victory. And he's not going to be doing this for much longer.
Back to Matt. He is, simply put, the hardest worker I've ever come across. He gyms basically every day. Drinks maybe three times a year. The way he goes about his golf is hard to describe, but I'll try. It's as if he's playing for his last meal every time he tees it up. He knows he isn't the most naturally gifted, so he is relentless in his quest for any infinitesimal advantage, and he doesn't care what it looks like. He putts with the flagstick in always. He chips cross-handed. The DGAFness extends to his personal life—he wanted to fix his teeth, so he got braces as a 27-year-old multimillionaire.
His uncanny discipline is a huge reason he is a 27-year-old multimillionaire. Matt has documented every single shot he's hit since he was 15 years old. For example: say he's 165 yards out and hitting an 8-iron. But he wants to land it 161, 8 yards left of the flag. If he hits it 165 and it lands in the hole, he'll walk it off and chart the shot as a four-yard miss on distance and an eight-yard miss on his line. This gives him way more accurate data than is available on the PGA Tour because he's measuring his shot against his target, not where the hole is. After every round, including pro-ams and practice rounds and hit-and-giggle with his buddies, he enters his sui generis stats into a computer program designed by former Ryder Cupper Edoardo Molinari. He now has a database of thousands and thousands of shots to help him understand his patterns and tendencies, and he uses it to inform his practice and on-course strategy. He rests easy at night knowing he's done everything possible to milk every last bit of achievement out of his body. It's a beautiful thing.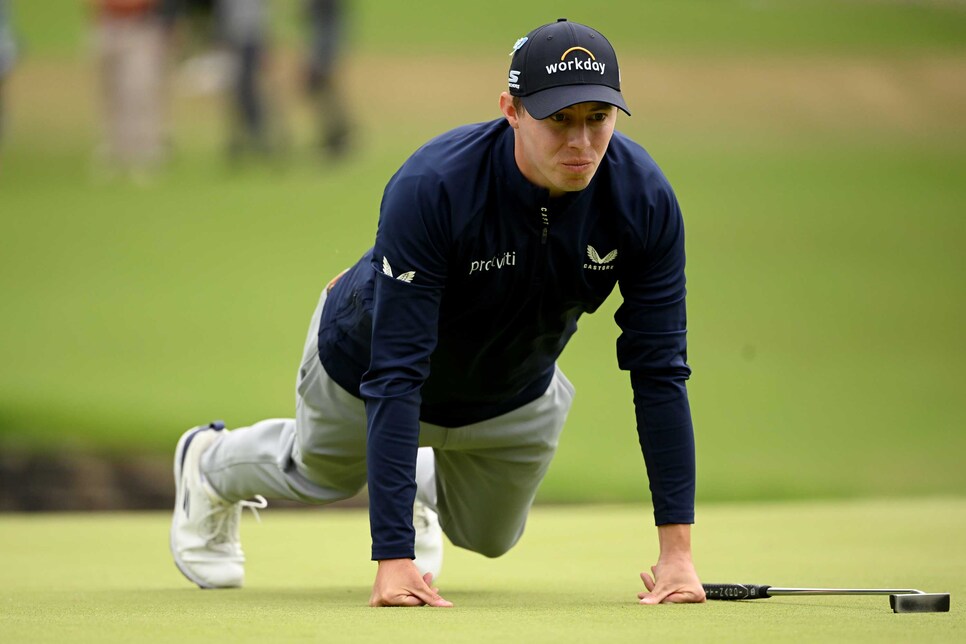 "Billy Foster calls him Bernhard Langer's love child" says Fitzy's coach, Mike Walker. "Absolutely no stone unturned. And even when you think he's found all the stones, he looks for another one. It's admirable. Sometimes you feel like it gets a bit much, but you're tipping your hat to him at the same time. You'd rather have it that way than the opposite. I've learned from him. The way he goes about his business, his stats, his spreadsheets. He's unbelievable."
The first sign of distress on Sunday came on the very first hole. I know Fitzy's game better than anyone who is not related to him or on his payroll. When I'm at an event he's playing in, I'll always peel off to watch him as much as I can. His miss these days is a flat pull. It's not a great miss—spinny blocks land soft, but flat pulls hit the ground running—and it happened on his first swing. Left, quickly, into the trees. Then: a flyer lie, an indifferent chip and a bogey. The tone was set. I was peeved with the start, and the broadcast didn't help. The announcers thought Matt's warmup was too fast. "Rapid fire" is how they described it. They'd clearly never watched him hit balls before. He's always that way. They kept pushing the "too fast" narrative through the first few holes, and they clearly hadn't watched him play tournament golf very often. He's always that way.
Matt did not play well at all on Sunday. It's really that simple. He struggled with that pull throughout the round. But everyone else not named Justin Thomas played pretty crappy, too, and after he chipped in for birdie on 15 he was suddenly just two back with three holes to play. I was intensely nervous. It was my 1,000th reminder that I don't have the stomach for professional golf.
I was downright giddy when, just when Mito Pereira appeared to be giving the tournament away and no one wanted to accept his gift, Fitzy hit his second to 20ish feet on 16. You know when something awesome happens, and everyone around you suddenly becomes your best friend? I was there. When he missed the putt, then hit the lowest and pullest of the low pulls on 17 to torpedo any chance of a late rally, it felt like my dog died. Even par would've brought him the hardware. One over for a playoff. He signed for three-over 73 and his first top five in a major. On the whole, a great and successful week. He made a bunch of money and moved up to No. 15 in the world. On a granular level, it was a gut punch.
I tapped Billy's shoulder as he walked up the hill behind the 18th green. I tried to say "good job," but I realized that'd be a strange thing to say as I was saying it, and I think I only managed an indecipherable grunt. "Cheers, Dan," he said with a smile. I asked about his club selection on 17, and his response made clear that the club wasn't the issue. "He just hit these pulls all day … at least Leeds (United) won and stayed in the Premier League!" Billy keeps things light.
After he wrapped up in the scorer's tent, Matt trudged over to the car wash of media obligations. I hovered until he was finished—as a friend, not a writer—and finally got the bro-hug I was waiting for. I told him I was proud of him, and that this was the first of many electric Sunday afternoons. He thanked me and told me he'd see me at the Memorial. I actually won't be there that week, but that sure as hell wasn't the time for a scheduling conversation.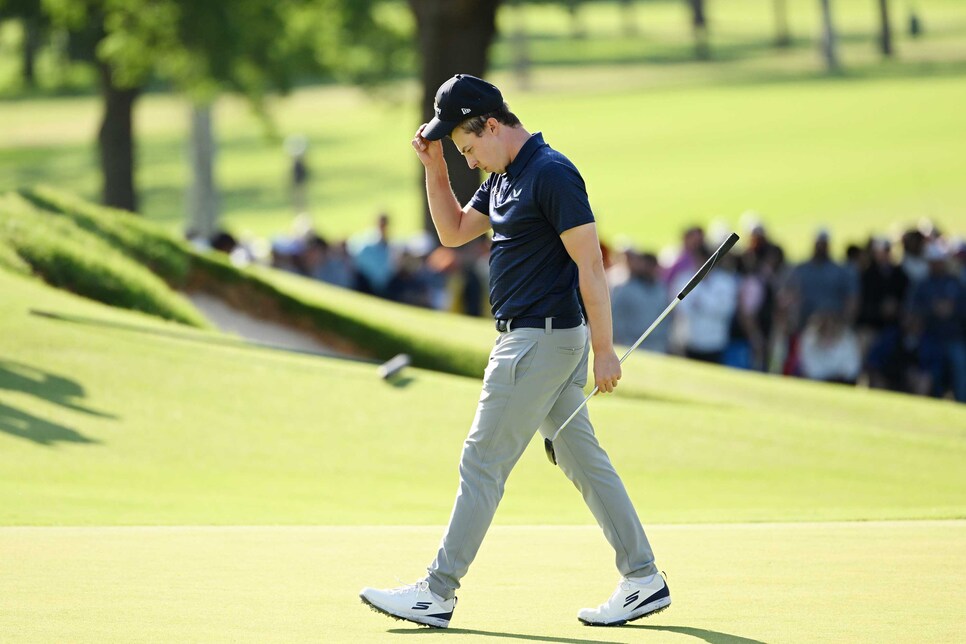 Fitzpatrick's T-5 finish after a closing 73 was his best showing so far in a major championship.
Ross Kinnaird
As I walked back toward the media center to begin writing this article, I felt a bit silly for being so emotionally invested in an outcome that did not involve me. I reminded myself that nothing was actually wrong, that the result of this golf tournament didn't actually matter to my life. I didn't have any wagers on the line. My livelihood doesn't depend on Matt's golf. But that's a dangerous line of thinking. Extend that nihilism to its logical extreme and you're left with pure apathy. In a vacuum, nothing that happened at Southern Hills on Sunday—not Pereira's collapse, not Rory's roller coaster, not JT's triumph—matters all that much.
But life doesn't happen in a vacuum, and nor does golf. JT knows this. "It is just an unbelievable team win for all of us," he said with one arm on the trophy. In that moment of pure ecstasy, standing on top of the golf world, he thought first of the people around him. Accomplishments ring hollow if there's no one to share them with. I heard that, and I felt better about caring so deeply.