U.S. Open
U.S. Open 2022: Caddie Billy Foster gets 'gorilla' off his back after years of major championship anguish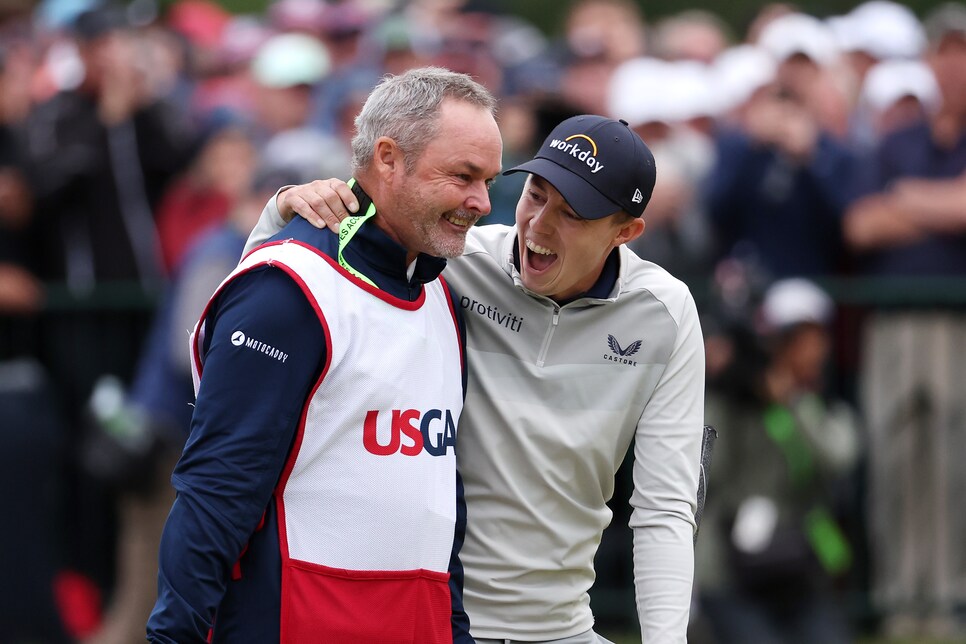 BROOKLINE, Mass. — Billy Foster's heart sank.
On the 72nd tee, where Matt Fitzpatrick (the boss man) arrived with a one-shot lead over Will Zalatoris and Scottie Scheffler, who was already in the clubhouse at five under, Foster and Fitzpatrick decided on 3-wood. It was a debate the two had been having throughout the week at The Country Club, Fitzpatrick leaning toward driver each day. Anytime the Englishman has a chance to let the big dog eat, the big dog is gonna eat.
But this was the final hole of the United States Open. With a one-shot lead. Allowing Fitzpatrick to bring trouble into play in that situation would be borderline caddie malpractice. So 3-wood it was.
"We had a difference of opinion there all week," Foster said afterward. "Today we said if you drive it straight down the middle [with a driver] it's going to run out into the rough—just hit the 3-wood. It's one of those where if you hit the fairway, you know it's going to be a 9-iron."
Fitzpatrick, however, did not hit the fairway. As his ball sailed directly toward one of the bunkers down the left side of the hole, Foster, already in a helpless position just by the nature of the job, was just about ready to vomit on Brookline's hallowed ground.
"It's in the air turning toward the trap and I'm just like …," said Foster, who then made the face-palm motion.
Surely, ghosts of majors past crept into Foster's brain, and he's got more than a few that have kept him up nights. This is a man who was on the bag for Thomas Bjorn at the 2003 Open Championship at Royal St. George's, where Bjorn took a two-shot lead to the 16th hole when catastrophe struck, with Bjorn leaving two shots in a greenside bunker. He made double bogey and lost by one to Ben Curtis.
Foster was on the bag of Lee Westwood for 10 years, a relationship that featured nine top-three finishes in majors, including three runners-up. The 2010 loss to Phil Mickelson at the Masters was among the most painful, but none surpassed the anguish of Westwood's three-putt on the 72nd green at the 2009 Open Championship at Turnberry, knocking him out of a playoff for the claret jug with Tom Watson and Stewart Cink.
"I've probably had six or seven really close calls, a couple heartbreaking losses," Foster said. "It was tough to stomach sometimes."
An 18th hole Fitzpatrick collapse would have ranked right up there on the sick-to-the-stomach list, another unfortunate what-if in a caddieing career full of them. When the duo arrived to find the ball in the bunker with Zalatoris safely 30 yards ahead in the middle of the fairway, Foster had his doubts.
""It was sort of like, behind a steep lip, so he couldn't go at the flag," Foster said, "but he could just go to the left edge of the green. And he sort of plum-bobbed the ball at a tree at the back of the green that was probably like three or four yards inside the left edge of the green. Hit a good solid cut off that. What a golf shot. The weakness in his game this season has been his fairway bunker play, which has been about as good as mine, and I'm rubbish. But if you're going to hit a good one, it might as well be the last hole of a U.S. Open."
Fitzpatrick's shot, which has already become the stuff of U.S. Open legend, led to a two-putt par. That wound up being enough to clip Zalatoris, whose birdie effort slipped by the left edge of the cup and somehow didn't fall. Knowing he still had to tap in for par, Foster and Fitzpatrick couldn't quite start celebrating, but the tears were already flowing down the longtime looper's weathered face.
"Just pure, utter relief," Foster said. "I have the monkey off my back, but it feels more like a gorilla."
Making this one that much sweeter was that it came in the major after Foster's (and Fitzpatrick's) latest close call a month ago in the PGA Championship. Fitzpatrick entered the final round at Southern Hills three shots off the lead, with a even-par final round good enough to have won it, and one over getting him in a playoff. It was not to be that day, and "not to be that day" is something Foster has gotten a little too used to on Sundays at majors over the years.
"I ain't got many more years left in the game," Foster said when asked if he thought the major may never come. "The disappointing thing about the PGA was that it was there to win. We didn't have to do anything special at all. He just didn't quite perform on Sunday, didn't have his 'A' game and he missed too many fairways. Yeah, it's disappointing, but through the experience of losing, you knew it was coming. He obviously won the amateur here, I just thought there was every chance he could compete again, and sure enough he did."
Even after a lifetime of near-misses, Foster did allow himself to wonder if today was finally the day.
"Two or three times it flashes in front of your eyes and you have a little tear filling up and you say 'stop that, stop that. Don't even go there, just get on with it," Foster said. "But I'd be lying if it didn't cross my mind two or three times out there today. You just want it so badly you can't help but think about it. But we both did very well, we worked well out there today. There was no mistakes, not one. Everything was perfect."
By now, Foster's well-earned celebration has already begun. He had a flight out of Boston Sunday night that he happily missed, and his next one, scheduled for 2 p.m. on Monday, might leave without him, too. Who knows where the night will take him.
"I'll start with a beer in the caddie shack," Foster said while standing in the 18th fairway. "Followed by another 20."
After 30 long, major-less years, Foster has earned all 21 of those beers. Hell, if he wanted to polish off a whole 30 rack himself, nobody would blame him.