Payday at Brookline
U.S. Open 2022: Here's the record-breaking prize money payout for each golfer at The Country Club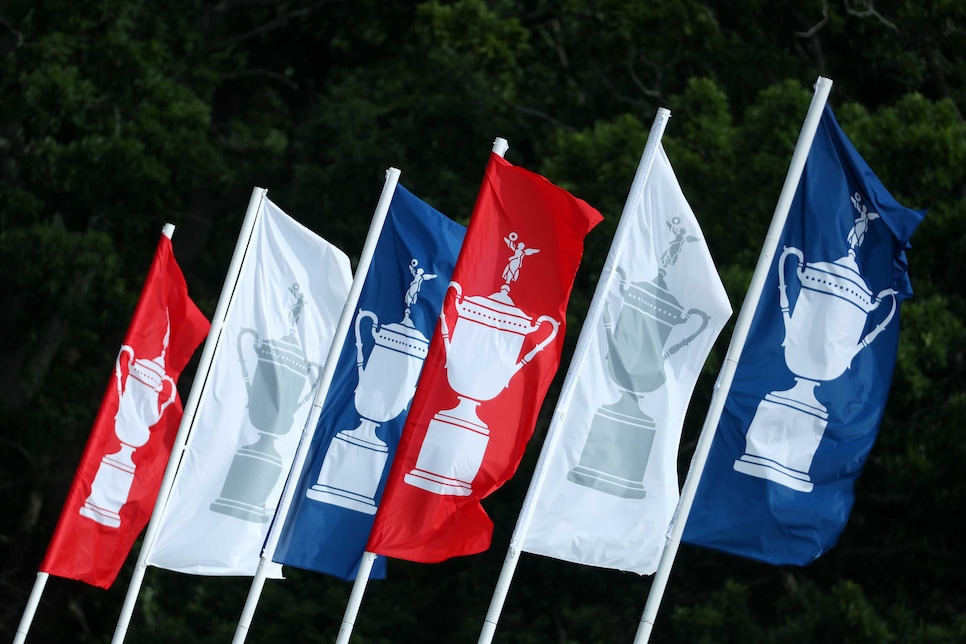 Flags blow in the breeze near the 15th hole at the 122nd U.S. Open.
Andrew Redington
BROOKLINE, Mass. — What is the most important benefit of winning a major championship: Legacy or loot? The romantic in us believes very much in the former. After all, you don't usually refer to a tour pro as "multi-million-dollar winner John Doe" but rather "major champion John Doe."
Still, given the current fissure in pro golf has been precipitated in large part by money—seven-, eight- and nine-figure contracts from LIV Golf luring players away from the PGA Tour and DP World Tour—it's no coincidence that the USGA announced on Wednesday that it was raising the prize money payout it is handing out at this year's U.S. Open.
Suffice it to say, it's not just a little cash increase we're talking about, but a sizeable bit of largesse. A year after the USGA handed out out $12.5 million at Torrey Pines, the total prize money payout at The Country Club is up to $17.5 million with the winner, Matt Fitzpatrick, earning $3.15 million. That's a 40 percent jump in one year.
Don't worry R&A, no pressure on you just when we get to the 150th Open at St. Andrews next month to add a little something to the $11.5 million you offered a year ago (wink, wink).
This is when we remind you that back in 1895, Horace Rawlins won the inaugural U.S. Open at Newport Country Club. For his effort, the 21-year-old Englishman claimed a payday of … $150.
And we'll continue to repeat ourselves but the size of the prize money payouts are put into better context when you break down the amount of money doled out for all the people who make the cut at The Country Club. The golfer who finishes last on Sunday among the 60 professionals who made the cut will earn $36,852. That's more than 240 times as much as Rawlins made for that first victory.
Consider too how much some notable past U.S. Open champions made when they won their titles and then look at what the players will be taking in this week, and the disparity is striking. Since World War II, here's some of those paydays:
1950: Ben Hogan at Merion, $4,000
1960: Arnold Palmer at Cherry Hills, $14,400
1973: Johnny Miller at Oakmont, $35,000
1980: Jack Nicklaus at Baltusrol, $55,000
1982: Tom Watson at Pebble Beach, $60,000
1992: Tom Kite at Pebble Beach, $275,000
2000: Tiger Woods at Pebble Beach, $800,000
2008: Tiger Woods at Torrey Pines, $1.35 million
2011: Rory McIlroy at Congressional, $1.44 million
2015: Jordan Spieth at Chambers Bay, $1.8 million
2017: Brooks Koepka at Erin Hills, $2.16 million
And look at the career U.S. Open earnings of some of the game's all-time greats. Jack Nicklaus, in 44 U.S. Open starts, made $363,955, slightly more than the player who finishes in 12th place will earn just this week. Arnold Palmer, in 32 U.S. Open starts, made $112,119.50. Finish 31st on Sunday, and you've made more. Ben Hogan's career U.S. Open earnings ($32,651.66) get beat by the last-place finisher among professionals.
Long story short: They played for a lot of loot this weekend. And here is how much everybody who makes the cut will earn. (Come back shortly after the tournament ends and we'll update this list with individual names and earnings).
Win: Matt Fitzpatrick, -6, $3,150,000
T-2: Will Zalatoris, -5, $1,557,687
T-2: Scottie Scheffler, -5, $1,557,687
4: Hideki Matsuyama, -3, $859,032
T-5: Collin Morikawa, -2, $674,953
T-5: Rory McIlroy, -2, $674,953
T-7: Denny McCarthy, -1, $515,934
T-7: Adam Hadwin, -1, $515,934
T-7: Keegan Bradley, -1, $515,934
T-10: Gary Woodland, E, $407,220
T-10: Joel Dahmen, E, $407,220
T-12: Seamus Power, +1, $347,058
T-12: Jon Rahm, +1, $347,058
T-14: Guido Migliozzi, +2, $241,302
T-14: Xander Schauffele, +2, $241,302
T-14: Marc Leishman, +2, $241,302
T-14: Adam Scott, +2, $241,302
T-14: Cameron Tringale, +2, $241,302
T-14: Patrick Cantlay, +2, $241,302
T-14: Sebastian Munoz, +2, $241,302
T-14: Hayden Buckley, +2, $241,302
T-14: Nick Hardy, +2, $241,302
23: Joohyung Kim, +3, $171,732
T-24: Mackenzie Hughes, +4, $150,849
T-24: Adam Schenk, +4, $150,849
T-24: Dustin Johnson, +4, $150,849
T-27: Thomas Pieters, +5, $127,002
T-27: Min Woo Lee, +5, $127,002
T-27: Aaron Wise, +5, $127,002
T-27: Sam Burns, +5, $127,002
T-31: MJ Dauffe, +6, $100,331
T-31: Callum Tarren, +6, $100,331
T-31: Todd Sinnott, +6, $100,331
T-31: Andrew Putnam, +6, $100,331
T-31: Davis Riley, +6, $100,331
T-31: Patrick Rodgers, +6, $100,331
T-37: K.H. Lee, +7, $75,916
T-37: Justin Rose, +7, $75,916
T-37: Joseph Bramlett, +7, $75,916
T-37: Justin Thomas, +7, $75,916
T-37: Jordan Spieth, +7, $75,916
T-37: Matthew NeSmith, +7, $75,916
T-43: Chris Gotterup, +8, $59,332
T-43: Richard Bland, +8, $59,332
T-43: Brian Harman, +8, $59,332
T-43: Travis Vick, +8, Amateur
T-47: Joaquin Niemann, +9, $50,672
T-47: Max Homa, +9, $50,672
T-49: Patrick Reed, +10, $44,038
T-49: Samuel Stevens, +10, $44,038
T-49: David Lingmerth, +10, $44,038
T-49: Sam Bennett, +10, Amateur
T-53: Sebastian Soderberg, +11, $40,630
T-53: Beau Hossler, +11, $40,630
55: Brooks Koepka, +12, $39,432
T-56: Tyrrell Hatton, +13, $38,511
T-56: Wil Besseling, +13, $38,511
T-56: Bryson DeChambeau, +13, $38,511
60: Brandon Matthews, +16, $37,589
T-61: Harris English, +17, $37,221
T-61: Austin Greaser, +17, Amateur
63: Grayson Murray, +18, $36,843
64. Stewart Hagestad, +19, Amateur
Note: the 81 professionals who missed the cut each received $10,000