Editor's Letter
When everything went wrong at The Country Club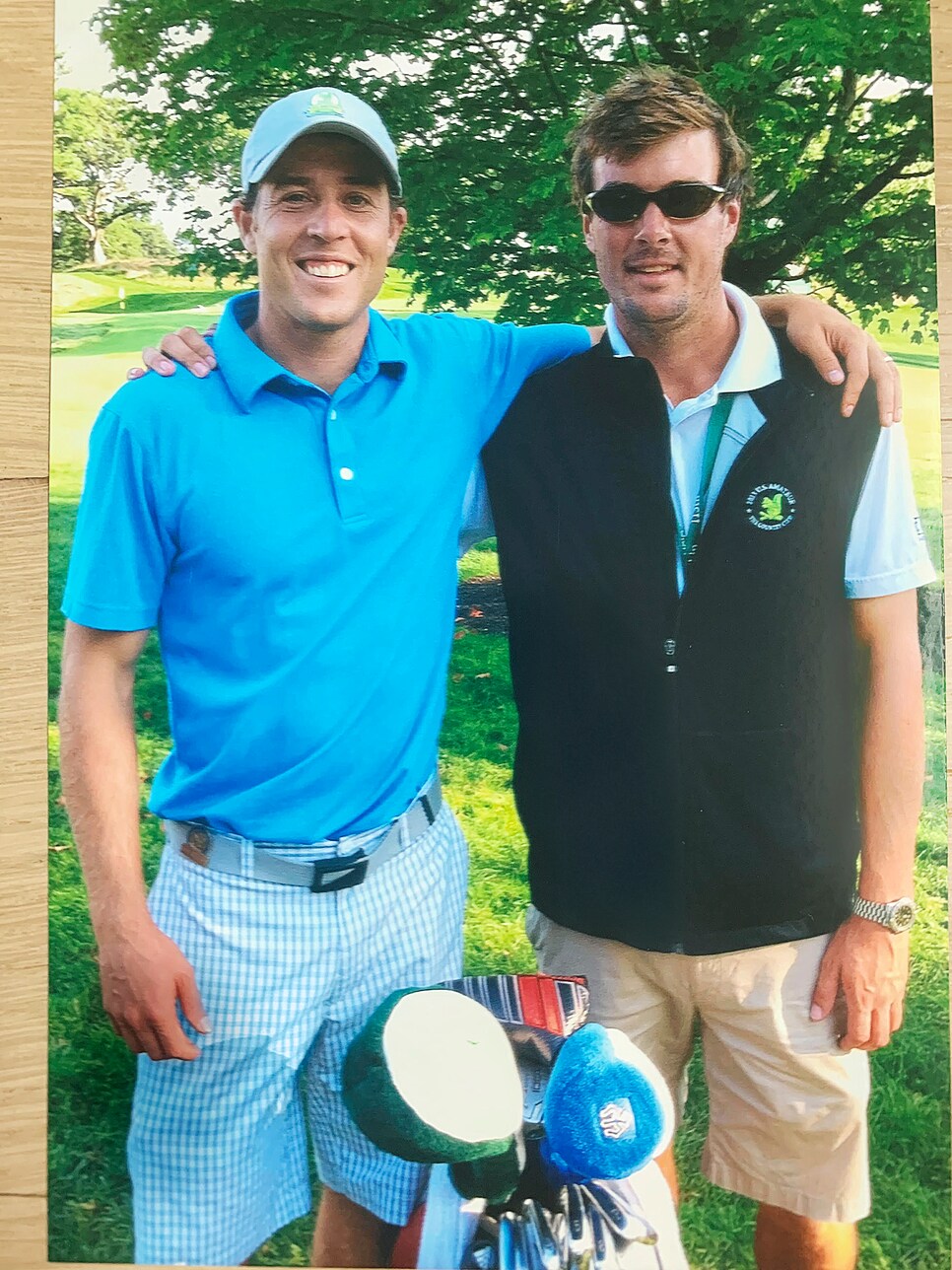 The author (left) leaned on expert caddie Doug Atha (right) at the 2013 U.S. Amateur. Photograph courtesy of Max Adler
This is not a humblebrag. We've all been paired with that irritating individual who recites his tournament résumé within the first two holes. That's the last person I want to be. But the return of the U.S. Open to The Country Club is occasion to recount the comedy of errors that was the pinnacle of my otherwise mediocre career, when in 2013 I qualified for the U.S. Amateur there.
I'd planned to carry my bag in the 36-hole qualifier. Still reasonably fit at age 31, of larger concern was yet another set of eyes with a caddie. This was during a dark and shameful period when I was struggling to pull the trigger, you see, my clubhead often freezing for like, 15 seconds before it trundled back. I'm sure I was agony to play with. But it dawned on me that an underdog needed every advantage in a 78-person-for-three-spots competition, so I texted Doug Atha, my only buddy who might be free on a Monday.
Somehow I medaled with 68-68—a still unexplained miracle.
I didn't belong anywhere then, but a friend at a private club offered me full use of his course's facilities. I was going to practice every night and be ready for the biggest tournament of my life.
One morning driving to work—not speeding—I got pulled over. The police officer ran my plate to discover an unpaid vehicle tax bill of about $700. Sensing no danger, professionally dressed as I was with hair freshly combed, I explained how my fiancee (now wife) and I had just moved across town, and the bill must have gone to our old rental. I would redress right away. However, the eager cop snipped my license before my eyes and towed my truck.
So instead of hitting balls on a sweet range, my week before the U.S. Amateur was a stressful mix of taxis and bike rides to the DMV and other bureaucratic pits. I wouldn't risk driving because if I was pulled over again, I might get thrown in jail and miss my chance of making the finals and a Masters invite. These were the delusional calculations going through my head.
Doug, in stereotypical caddie fashion, was already flagrantly without a driver's license, so the two of us took a train to Boston. Being the centenary of Francis Ouimet, I reread Mark Frost's The Greatest Game Ever Played and fantasized about golf 's pioneers riding the same line from New York.
I was immediately intimidated by the swings and bags on the range. I spotted one kid with a cherubic face who looked about 12 and thought, Well, maybe I can beat him. That was Matthew Fitzpatrick, who would win that week. At 7,310 yards and par 70, the course couldn't have played longer except that I was paired with Brandon Matthews, a wonderful guy with close to 200 mph ball speed who is now getting tour starts. A football field fit between our drives. On a rare hole where I had honors, I hit a decent driver to the corner of the dogleg, and his caddie, unconcerned with my ego, advised, "Three-iron at his ball."
The night between the medal rounds, Doug met a friend at a loud bar so that I could dine alone and rest. Sure enough, I picked the right dish at the right midtier establishment and got food poisoning. As all who stayed in the designated player hotel, The Boston Park Plaza, remember, when the fire alarm was pulled in the wee hours and all guests evacuated onto the street, I was the particularly anti-social one.
With Doug administering fluids and headcovers, I limped to 76-77, missing match play by nine strokes.
For weeks, I went to bed tortured about how badly it had gone, the blown shots and all else. But now I laugh. If there's a lesson, I guess it's this: Whatever your disappointments in this game, let them get funnier with time.