Editor's Letter
How to be an ethical golfer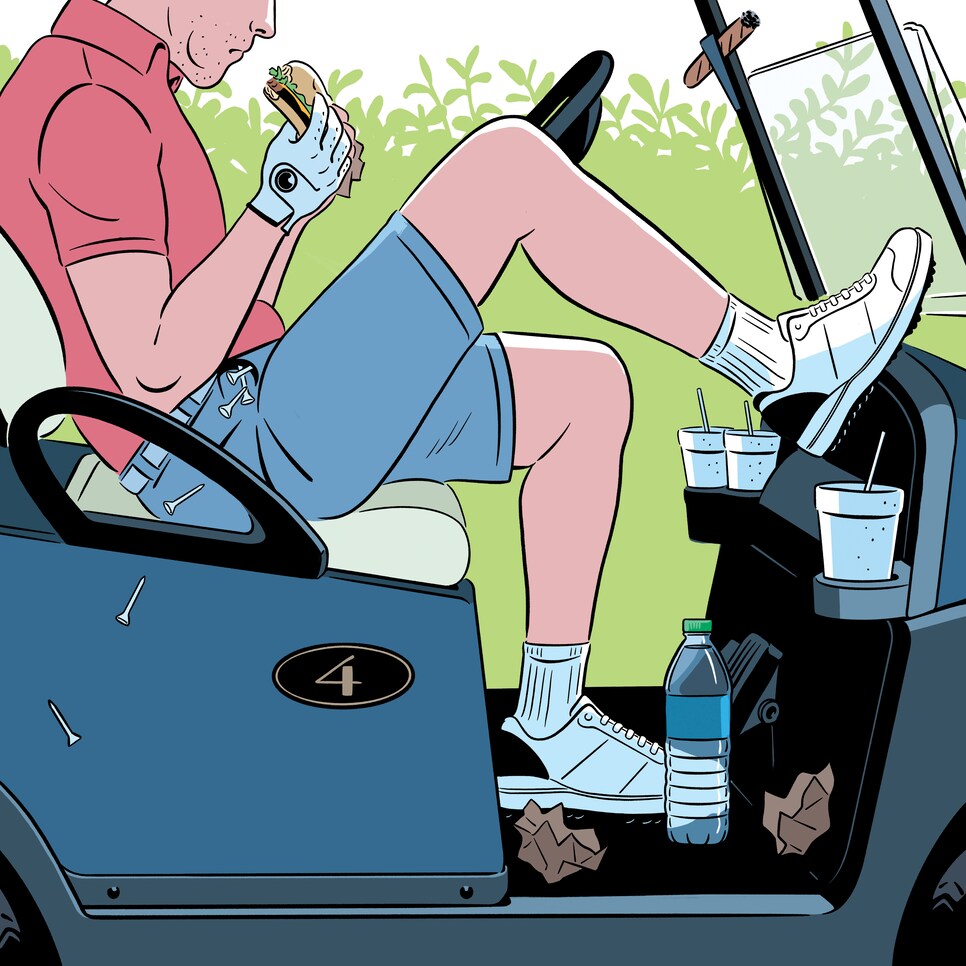 Illustration by Madison Ketcham
Big-engineered turfgrasses grow on drips of reclaimed water. The PGA Tour's Waste Management Phoenix Open is carbon-neutral. Our governing bodies are cooperating on sophisticated strategies, and even Rory McIlroy is adding awareness by talking about his footprint. But what can a regular golfer do that's meaningful?
Of all things, the lowly tee lets us glimpse in microcosm the conundrum of being an eco-conscious consumer. Most bamboo grows at least five times faster than hardwood, but milling both creates excess sawdust that gets burned in smog-producing factories. Molded tees waste not, but plastic and other materials can have thorny source implications. All things considered, "Play a biodegradable tee that decomposes quickly on the course," says Jonathan Smith, executive director of the GEO Foundation for Sustainable Golf.
Carpool to the course. Carry a stainless-steel bottle in your golf bag—it makes water taste better, too. Eliminate single-use plastic at the turn. Don't openly fetishize about locker-room showerheads that use more water. If you can, walk. Yes, the energy to power a cart is a blip, but all of the above contributes to an atmosphere of what sustainable sports consultant Andrew Szunyog calls "connection rather than consumption." Riding in a cart shifts one's mind-set from immersing in nature to speeding through it. To become more ethical, environmentally or otherwise, a good step is often slowing down and thinking about what it is you're doing. Do you treat your golf course like an amusement park, or a center of the community to be proud of?
You can buy shoes and shirts made from recycled plastic dragged from the ocean. Better yet, buy quality goods that endure because the emissions of manufacturing and shipping associated with repeat sales supersede all else.
Maybe the most vital act a weekend golfer can take is to "give gratitude to the staff," says Szunyog, who has worked as a tournament director and coach. "Don't be the guy complaining about course conditions, getting angry and throwing your ball in the lake after a bad hole." Transforming a course to use less water, pesticides and energy is a stressful endeavor for a superintendent. Appreciate the challenge of the occasional weird lie in the rough. Flawless, lightning fast-greens like Augusta National's in April are a championship spectacle we get to appreciate once a year. Most golf, however, should be played on slower greens and fuzzier fairways, which are great if you like lower scores, improved pace of play and less gasoline and money to maintain them.
Many clubs are naturalizing their courses, buying local to stock their restaurants, updating energy systems, and more. To proliferate this, regular golfers need only act with their wallets. "If prospective members are inquiring about these things in the application process, it'll encourage clubs to increase their best practices," says Andre Paul, who works with Szunyog at the ambitiously yet aptly named firm, Driving the Green.
While tiny actions can make a difference over a lifetime, what really matters is the food you eat and how you travel. Literature on cows, corn and methane abounds, so let's skip that here. As for cars and planes, it's no secret that the wealthy generate a disproportionate amount of pollution. Seen another way, by and large golfers belong to a class that has outsized economic power to change how the world behaves. "Can we put more consciousness into travel?" Smith asks. "Already the pandemic has nudged people to value trips as more special, momentous, to cut down on the frequency of travel but add more time while there."
Don't aggressively forward this to friends. No one likes being preached to. Either your personal relationship with the planet is hugely important as the one thing you can control, or you throw up your hands at the mathematical insignificance of being one of eight billion.
Golfers tend to pride themselves on doing the right thing, so for that I'm hopeful.