HARVARD'S YARD
U.S. Open 2022: The smartest golf team in the States tells you how to play The Country Club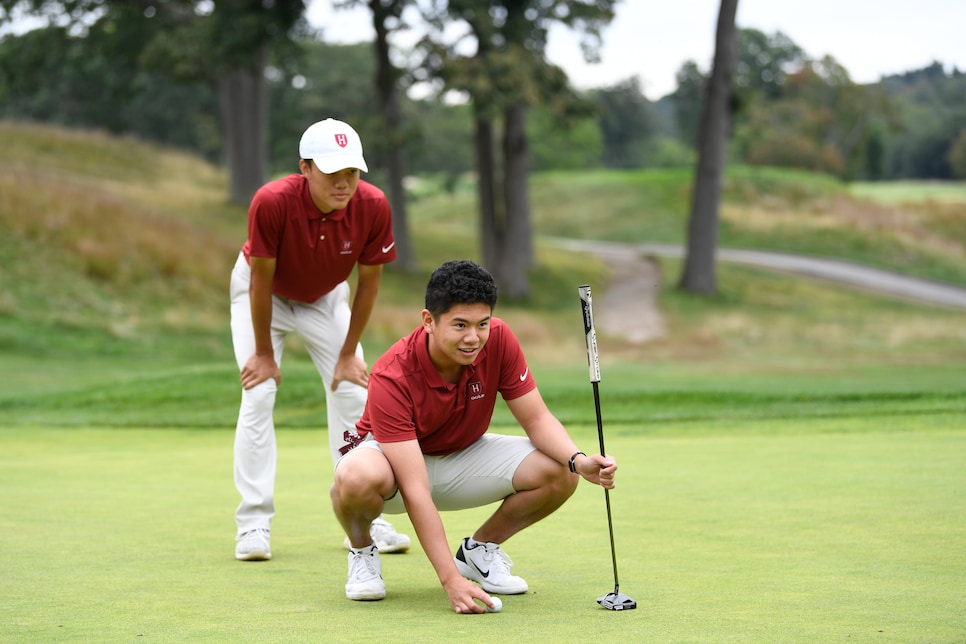 Sophomore Brian Ma (left) and freshman Jeffrey Fang (right) decipher a tricky putt at The Country Club.
It's one thing to know your home course well as a casual golfer. You can advise a member-guest partner what side of the fairway to favor and which bunkers to avoid. But when you're a Division I college golfer, the ins and outs of your team's home track become firmly etched in your brain shortly after arriving on campus. It's more than just a training ground, it's the stage where you go head-to-head with your teammates, where weekly qualifying rounds determine who makes the travel squad and who doesn't.
For the first time since 1988, the U.S. Open is returning to The Country Club, and to an area in metropolitan Boston with a large number of prestigious colleges and universities. Among them is the oldest and most revered college in the country, Harvard, which has long sent its golf team to practice at the site of the 2022 U.S. Open.
During the season, the Harvard squads have access to TCC on weekdays, practices usually being held at Brookline on Tuesdays, Wednesdays, Thursdays and some Fridays. TCC has 27 holes on its property: an 18-hole championship course and a nine-hole course called the Primrose. The U.S. Open routing will be a unique combination of holes from both courses. Although the Harvard team typically plays the front nine of the championship course most often, there isn't a hole or shot that they aren't familiar with.
We asked three Harvard players—freshman Jeffrey Fang, sophomore Brian Ma, and freshman Diego Saavedra-Davila—what it takes to both succeed and fail at the old-style major venue. From defining course features to hole-specifc strategy, these three student-athletes gave us exclusive insight on how to play The Country Club.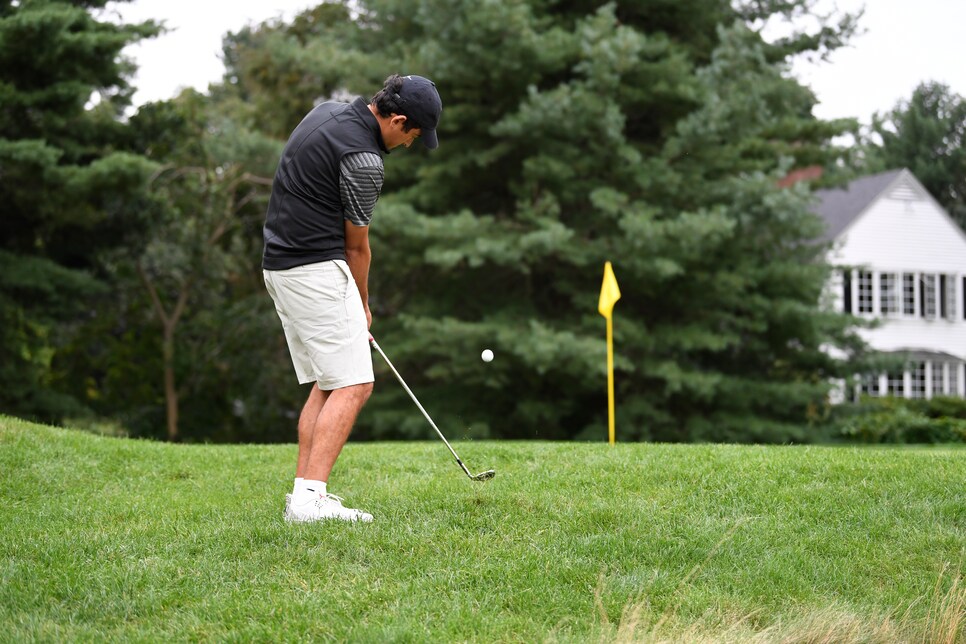 Senior Oliver Cordeiro chips from TCC's tangled rough.
Like any U.S. Open venue, The Country Club will place a premium on finding fairways thanks to the USGA's fondness for gnarly, penal rough. But according to the Harvard players, Brookline's rough is more than just frustratingly difficult to escape, it's painfully unpredictable.
"Even when there isn't a tournament [coming up], the rough at TCC is very thick, and it's very tangled," said Ma, who led the Ivy League with a 71.89 scoring average this past season. "The ball will sometimes nestle into the rough and even if you're just a foot off the green, you're going to have to play that shot like a bunker shot."
At TCC, there are serious decisions to be made when you're standing over a dicey lie in the rough with a precise shot required to hit the green. Fang, an Economics major, swears by maintaining a consistent strategy when it comes to those confusing lies.
"If your ball is sitting up and it's down grain, you can play it as a semi-normal shot. But you should probably always assume you might catch a flyer lie. When you're into the grain and the ball is sitting down, it's difficult to tell if it will come out dead at 70 percent of the power that you were intending, or come off as a flyer with zero spin and 10 percent more carry and roll out," Fang said. "I take the conservative play. I always assume that it's going to be a flier and play it short. My shots are usually short of the pin, or worst case, really short of the green. But long is not the place to be at TCC."
Saavedra-Davila puts things in simpler terms: "When you drive it in the rough, good luck advancing it more than 150 yards."
When asked about TCC's hardest tee shot, the Harvard guys were quick to mention the unconventionally shaped third hole. The 499-yard par 4 features a snakey fairway that weaves in and out of fescue-covered mounds, which are a course signature. Like many of the shots pros will encounter at TCC, there's a decision to be made.
"Long hitters might test their luck and see if they can muscle drives past the cliff, or players will drop back 40 yards and guarantee themselves a 200- to 220-yard approach shot from the fairway," Ma said. "I think the average player should use a 2-iron or 5-wood to stay out of trouble."
According to the Harvard guys, the opening stretch at Brookline is some of the toughest golf they'll face out there. Emerging from the third hole at even par will be a solid feat. One small mistake out of the gates could throw your entire round off, and it won't be easy to make up for that lost momentum.
"I was in a playoff once for our last qualifying spot with our ex-captain Peter [George]. It was our third hole in a sudden death playoff," Fang said. "He put his drive in a little bit of rough, but closer to the hole than me. I was way further back, probably 180 yards out in the fairway. I put my second shot just short of the green. When Peter hit, he caught a touch of a flier. He carried the green by maybe three yards and kicked all the way into the pond long of the green. And that was it, I got the spot because of that."
The short-but-not-so-sweet 11th
"I really hope people pay attention to the 11th hole," Saavedra-Davila said. A quick glance at Brookline's scorecard and you'll notice it's a 131-yard par 3.
What could be so special?
Turns out this short, downhill hole is a silent killer. Miss the green, and you're in for a grind—and not necessarily a grind for par, a grind for bogey.
"There are deep bunkers surrounding the green, and the green falls off a little bit," Ma said. "It looks like everything is in front of you. But No. 11 is in a pocket of the course where the wind swirls and gusts. If you aren't careful, you can end up 20 yards short of the green, you can leave yourself with a tricky bunker shot that runs away from you, or even worse, you could end up in the creek short of the green."
Even with a wedge in your hand on the tee, you'll have to play things safe. Walking away with a bogey or worse will be a tough defeat.
"I try to play to the center of the green almost regardless of where the pin is," Fang said. "Typically you'll be hitting a wedge from an elevated tee box, and naturally your ball flight may be high. For me, I just try to get really comfortable with knowing that even if the wind does switch, my ball will still end up fine with the target that I've picked."
The final answer will become clear in a matter of days, but for now, the Harvard team agrees to disagree on the possibility of overpowering The Country Club. Every year, the USGA insists a U.S. Open set-up will require precision and accuracy rather than big bombs. Then again, Bryson DeChambeau's 2020 U.S. Open victory at Winged Foot proved many traditionally minded golfers wrong.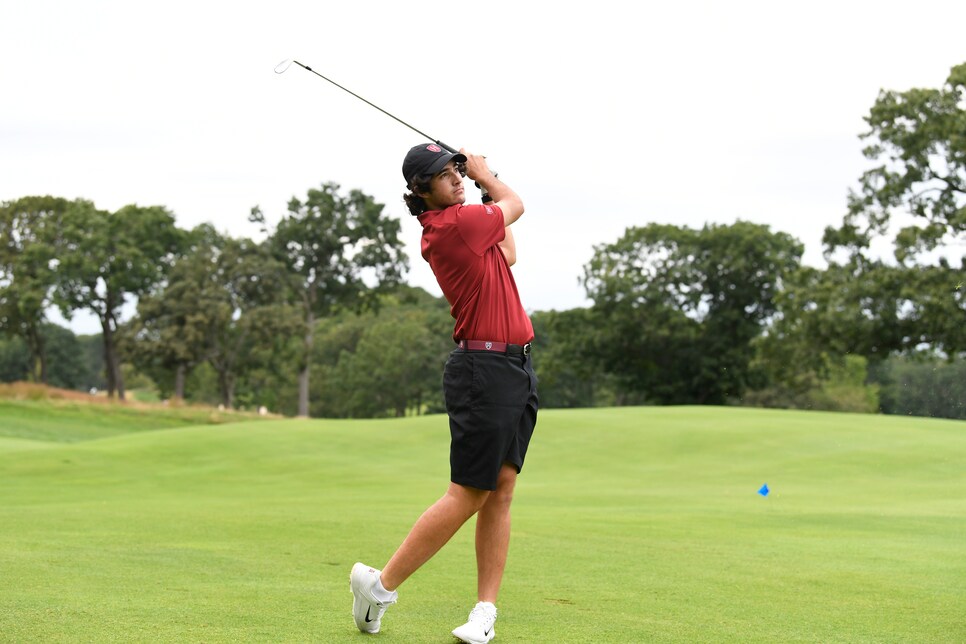 Freshman Diego Saavedra-Davila hits an approach during a practice round at TCC.
"I think bombing it with driver will work on a lot of the holes," Saavedra-Davila said. "If you hit a pitching wedge from the rough, you might not be able to land it on the green and keep it there, but you can run it up on a lot of holes. Running it up the front edge with a pitching wedge or 9-iron could work, so I think in that respect, the bomb-and-gauge method has a chance."
The other two were more skeptical.
"Of course Diego said that, he's a clubhead-speed and ball-speed addict," said Fang when he learned of his teammate's take. "You lose a disproportionate amount of shots by not hitting the fairway at TCC. On other golf courses, if you try to bomb it but then miss, and end up in the rough or on another fairway, that's usually fine. You'll probably lose .5 shots. But at TCC, if you put yourself in a bad spot where you're either in the rough, or you just have a terrible angle, you can easily lose one or two shots per one of those mistakes."
Ma agreed with his younger teammate, insisting TCC will not be conquered by distance.
"You have to learn to take your medicine. Sometimes you have to take an iron off the tee, just so you can keep it in the fairway and have a chance at putting spin on the ball," Ma said. "It's going to be a combination of the straightest hitter and the best putter who wins this tournament, not necessarily the longest hitter and the best putter."
Who that person will be is not yet apparent, but take these college golfers' perspectives into account when tuning into the U.S. Open broadcast next week. Ma, Fang and Saavedra-Davila might not be tour pros, but they always play The Country Club with championships in mind.