'Statistically Improbable'
'Just one of those bad days': When a golfer can't break 100 trying to qualify for the U.S. Open, something's fishy
The U.S. Open is meant to reward longshots, but some impostors take the idea too far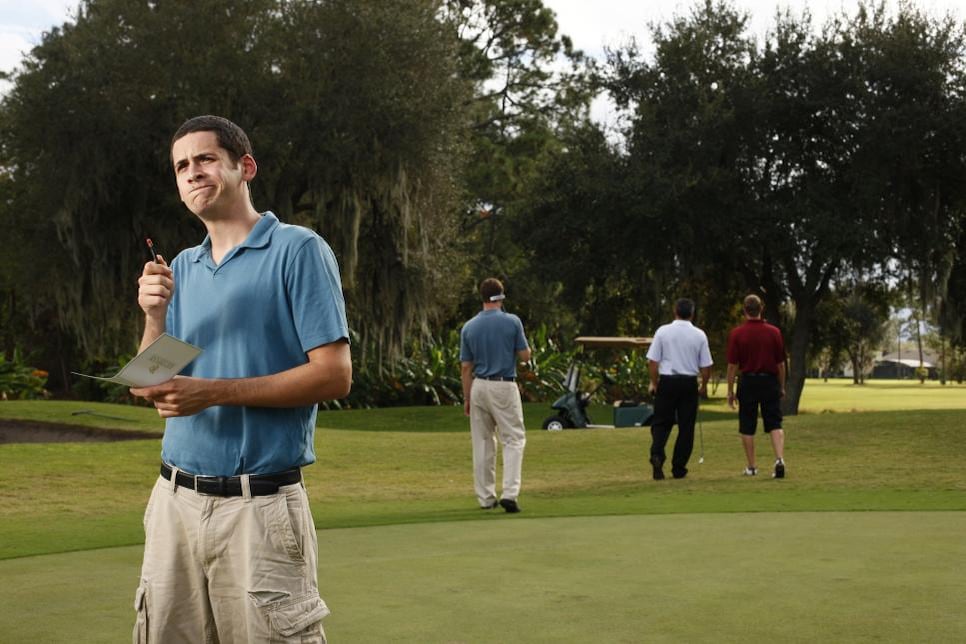 "It was a nightmare, to be honest. It was by far the worst golf experience I ever had."
—Charlie Woo, former Korean PGA Tour player, on being paired with an amateur who shot 113 in a U.S. Open local qualifier
Several weeks ago, Golf Digest reported on John Eckert, a weekend hack who lost his fantasy football league, played a U.S. Open local qualifier in Kansas City as punishment and grinded his way to a 112. The episode simultaneously amused and enraged the golf world, but at Golf Digest, we also became curious: How many people, across the country, shot worse than 100 in the qualifiers?
To be eligible to play in a local qualifier, a golfer must be either an amateur with a handicap index of 1.4 or better, or a professional. The USGA doesn't check on the professionals—Eckert exploited that loophole, lying to get into the field—but they do confirm the amateur handicaps. Considering how strong these fields should be, a 100-plus round seems to be outside the realm of possibility for those who meet the standards legitimately.
There were 109 local qualifying sites around the country, comprising about 8,880 golfers. Those one-day events took place in April and May, and full results are available for all but three of the sites (and those sites happened to be small).
Of those nearly 9,000 golfers, just 13 of them—about one-tenth of one percent—shot 100 or worse.
Let's put the important question bluntly: Were all 13 lying about their ability?
This was a more complicated question than it first seemed. Even very good players, and even pros, disagreed about whether things could get that bad for a player that good. Some said it was ludicrous to imagine such a huge stumble, regardless of conditions, while others said that in rotten weather, with the pressure of a qualifier, on a very tough course … well, maybe.
There is no greater expert in this field than Dean Knuth. A former Senior Director at the USGA, he was the man who invented the course rating system and the slope rating system, earning himself the nickname "The Pope of Slope" in the process. If there's something to know about golf handicaps, he knows it, and I turned to him on the question of plausibility.
"It's statistically improbable, that's for sure," he said. "If you look at these golfers' standard deviations, which is a plot of their scoring distribution, the right tail—the high end—typically ought to be 10 shots higher than their handicap. So if someone shoots 100, it's improbable that their handicap was 1.4 or better."
As he explained, the standard deviation for a golfer's score becomes smaller the more skilled they become, and as such, their theoretical "worst score" becomes lower. In plain English, that means that very good golfers simply don't screw up as badly as the rest of us. Thus, if a 1 handicap is expected to shoot a shot above the course rating on a solid day, the worst score he could be expected to make is, per Knuth, less than 10 shots worse than the course rating.
The USGA loosely follows these guidelines in responding to the nation's worst qualifying scores. Brent Paladino, the Senior Director in Championship Administration, explained that they receive reports from all 109 local qualifying sites, and the blanket rule is that anyone who shoots eight shots or worse above the course rating is subject to the USGA's performance policy. In a nutshell, the player would receive a letter asking them to prove their bona fides (usually, scores from other competitions), and if they failed to do so, they'd be suspended from playing in future USGA qualifiers until they could bring evidence of their ability to play at a national championship level. There are exceptions made—course conditions or bad weather might lead Paladino and his team to be more lenient—but eight shots above course rating is the baseline, and Paladino said his team plans to send out hundreds of letters to golfers this summer.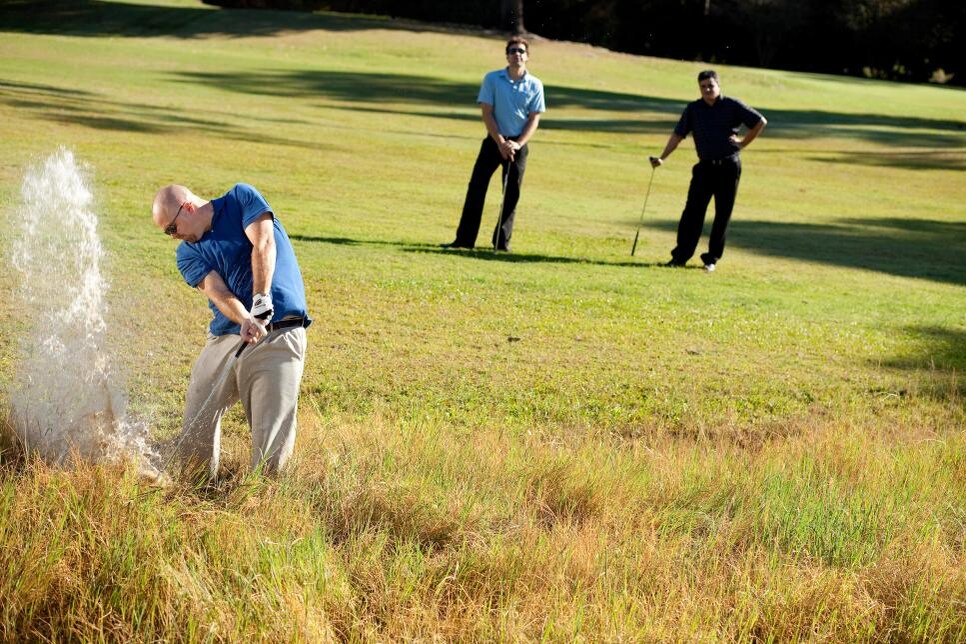 To put that in context, a score in the low 80s could trigger this policy, because on certain courses that would be considered a red flag. To shoot worse than 100? Well, that's a new level altogether—an anomaly beyond any standard deviation, beyond the bell curve, existing in its own separate universe on the x-axis of scores.
So: Who are these people?
In the course of reporting this story, I decided I wouldn't use the players' real names. The intent here is not to humiliate, and even though the information is publicly available, and even though there were legitimate questions about whether they belonged, and even though they made life difficult for playing partners who had a real shot to qualify for sectionals . . . well, there's no reason to twist the knife. It's also true that an arbitrary line is being drawn at 100. A score of 102 at a tough course in high wind might entail a significantly better performance than a 98 at an easier course with better weather, but because 100 is an easy measuring stick, the 98s and 99s remain under the radar.
Of the 13 players who shot worse than 100, 11 were amateurs (and here I count John Eckert, the fake professional). Their rough rounds came in Oregon, and Florida, and Washington, and Missouri, and Tennessee, and even Canada. One of the 11 happened to come at the same exact course where John Eckert shot his 112, and to have lightning strike twice in the same place was a headache for local officials.
"I wish it had happened at somebody else's qualifier," said Doug Habel, the Executive Director of Central Links Golf, who ran the show at Oakwood Country Club. "I would prefer for that never to happen in my qualifier again."
In their defense, Habel spoke of the tough conditions, with wind gusting up to 30 mph on a hot day. That was a common theme—spring weather is notoriously fickle everywhere, and from rain to wind to temperature extremes (both hot and cold), the site directors I spoke to almost universally cited miserable conditions. This is all relative, of course, because the successful qualifiers at Oakwood still shot 72, but it does explain how a golfer who can sometimes shoot in the 70s at his local muny might be in for a major dose of embarrassment at the qualifier.
Sam Parrott just finished his college career at the University of Central Missouri—he placed T-19 at the Division II national championships, and his team made the semifinals—and plans to pursue a professional career. As fate would have it, he played with the amateur who shot 108 at Oakwood, while his UCM teammate, Thomas Henson, played with John Eckert.
"I said to Thomas, 'at least your guy had a good story,'" Parrott said. "My guy just played bad golf."
Parrott shot 82 that day, 10 shots out of qualifying, and while he didn't blame the amateur for costing him a shot at the U.S. Open, he did point out that players can feed off each other at these qualifiers, and that a steady rhythm keeps everyone focused as they try to nab one of the few qualifying spots.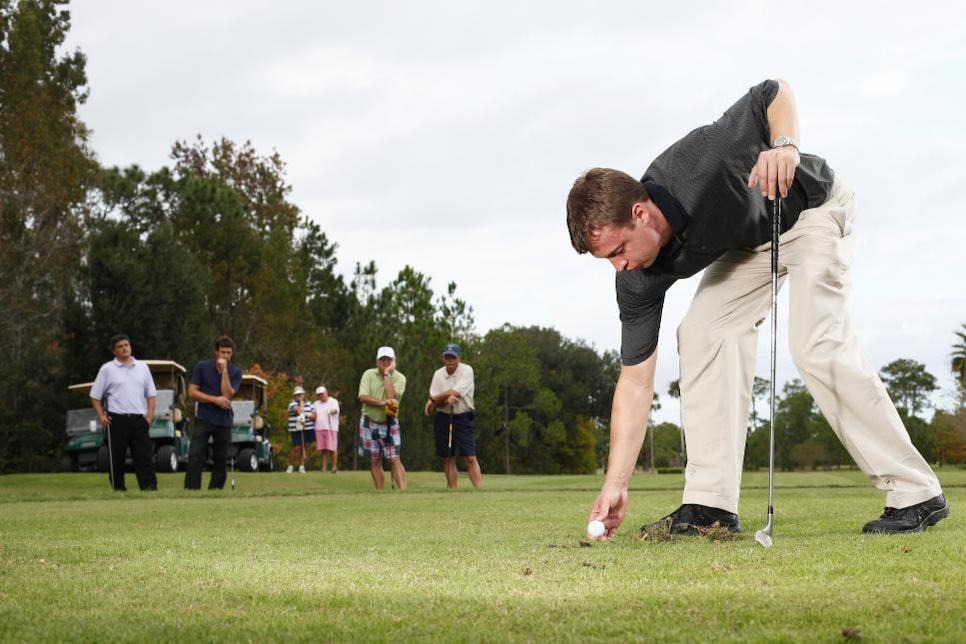 "There was one hole that sticks out to me," he said. "We started on the back nine, but we got to actual no. 6, our 15th, a dogleg left par 5, and he hit his third shot OB. I knew it was OB when he hit it, but we went up and looked, and sure enough, he had to walk all the way back to hit another shot. Then he hit it back and forth across the green three or four times, and proceeded to make an 11 on the hole. It was kinda just like, 'wow.'"
Bryan Milberger, the third player in that group, has made it through local qualifying in the past, and finished with a 77, just five shots off the mark. He gave credit to the amateur for being a "nice enough guy" and doing his best to keep pace, but even he lost his patience on the back nine—particularly after he and Parrott were silently begging the amateur to withdraw at the turn.
"I looked at my caddie on number 11, because it had become kind of a problem," he remembered, "and I said, 'I'm not helping him look for his ball anymore. I've been nice, and he really shouldn't be here, so I'm done.'"
Interestingly, both Milberger and Parrot saw flashes of good golf from the amateur, despite his 108. They could imagine him breaking 80 at a shorter, easier course, and when they spoke, they both imagined he was the kind of player who could shoot 75, and who was probably encouraged by his friends to try out the qualifier. But as to whether he could be a legitimate 1.4 handicap, they had the same answer: No way.
Alejandra Restrepo is an assistant pro at Trump National Doral. At his local qualifier, he missed out on a playoff to become an alternate by one shot, and missed the qualifying number by two. He also had the misfortune of playing with an amateur who posted a 112, which was tied with John Eckert for the second-worst score in the entire country. Of everyone I spoke to, he was the most forgiving of the situation—he plays with plenty of mediocre-to-poor players at his job, and despite the fact that he came so close to qualifying, he adamantly refused to pin any blame on his playing partner. That was a surprise, considering the circumstances of his round.
"My mom was caddying for me, and at the first checkpoint on the fourth or fifth hole, they gave us a warning because we were playing too slow," he said. "I was super cool, but I see both sides. The other guy playing with us? He was mad."
That other guy was Spencer Soosman, a University of Texas grad who played on the 2019 national runner-up team. He plays on the mini-tours now, and got his first victory at Wellington National—the site of local qualifying—a week earlier, shooting 66-72. At the qualifier itself, though, he shot 77, and he spoke of the effect the amateur had on him.
"It's golf, so you've got to be so mentally tough, and you can't be thinking about other people," he said. "But I started to not play well, and I'm not necessarily saying it's because of him, but the round just keeps dragging and dragging. After seven holes, you're close to the clubhouse, and you're thinking, it's the polite thing if you're shooting 50, 55, to say, 'okay, I'm done, I'll see you later.' Instead, the guy didn't even think twice, and it just kept going and going and going. And he never apologized."
For Soosman, this is a job, and watching his playing partner chunk his Miura blades hole after hole couldn't help but frustrate him and make his task harder—all at a course that he had lit up just a week earlier.
The story was the same at every stop; difficult conditions, yes, but not so difficult that the best players couldn't shoot even par or better. In each case, the playing partners of the 100+ group ended up mildly to extremely annoyed, and local officials couldn't do much about it. Through various means, I reached out to the players themselves, but only three opted to get in touch—which, frankly, was three more than I expected. Interestingly, two of those three were the only professionals among the 13 who failed to break 100.
'I'm not helping him look for his ball anymore. I've been nice, and he really shouldn't be here, so I'm done.'
One of the pros, who I'll call James (again, none of them requested anonymity, but I'm granting it anyway), was surprisingly willing to entertain what could be seen as insulting questions, and started by clarifying his status.
"I am a pro," he said. "It was just one of those bad days. Golf is witchcraft. Some days it works, and some days it doesn't."
In his two practice rounds at the qualifying site, he said, he shot par one day and two over the next. On the day of the qualifier, it had rained, which meant the fairways were wet and he often felt compelled to hack out of plugged lies rather than call an official and wait for a ruling. (The local official confirmed this, saying that several players were upset that clean-and-place wasn't used. James' playing partners shot 82 and 92, respectively.) He also said the pin placements were extremely difficult, and estimated that he took approximately 60 putts on the day.
James is 30, and was a pipefitter up until two years ago, when he took professional status and left his job. In his case, that didn't entail any specific tests, because he didn't originally set out to become a teaching pro; it was more or less a matter of checking the "pro" box when entering a tournament. He doesn't have aspirations of playing the PGA Tour or Korn Ferry Tour, but now he does teach at a golf facility. He said he was a +3 handicap when he turned pro, and that just last week, he went out to a local municipal course and shot a 62.
At qualifying that day, he shot a 109. I geared myself up to ask the difficult question.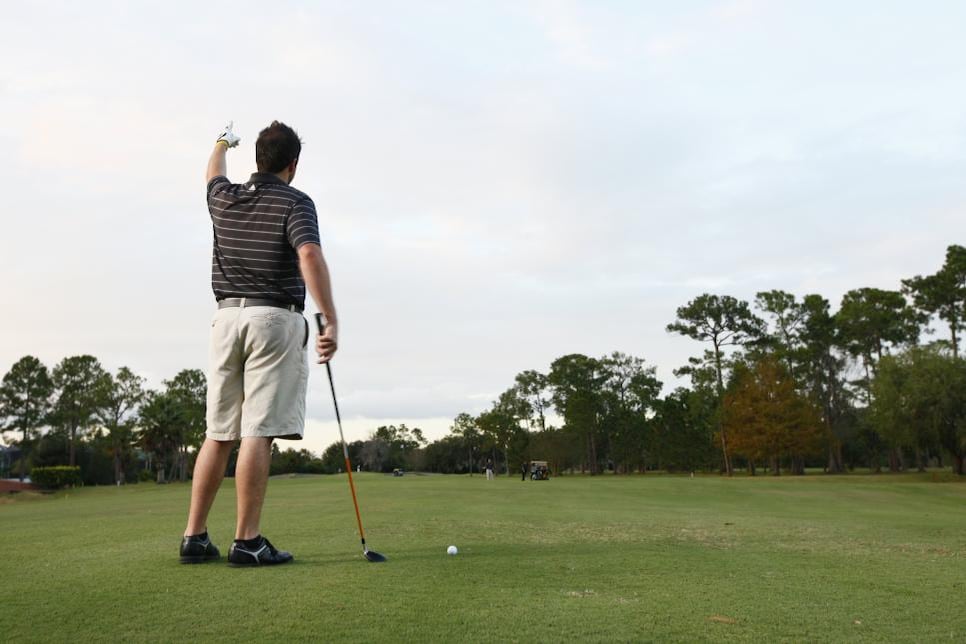 "I'm not meaning to insult you," I said, "but I know when people read that you're someone who can go out and shoot a 62, but also a 109, they're going to say it's an incredible swing of strokes. That's 47 strokes. I guarantee you there'll be some people who say, 'I don't believe this guy.' What would you say to that?"
"Um, no, I completely agree," he said. "You hear those stories all the time. But golf is a game of misses, and whoever misses the best is going to win. Look at some of these tour pros today, how many of them go out and win a tournament, and then have one of those tournaments where you see them throw up a crazy number like a 14 or 15 on a hole. It happens all the time. The difference is, they recover better."
The second pro was Scott, a 20-year-old who had been a professional for two years. He spoke about the pressure he felt, and the speed of the greens. Scott was unique in that alone among the 100+ club (he shot 102), he partnered with someone who qualified for the sectional round. In fact, the best and worst scores of that qualifier came from the same pairing, and they were 33 shots apart. Unlike James, Scott had passed his playing assessment and worked at a local course. He cited several other tournaments he had played, including various qualifiers, but I could find no record of any of it, and follow up emails didn't clarify the situation.
Kade Brown, a former Creighton golfer who currently plays on the mini tours, had the strange experience of playing with Scott, the worst player on the course, and the medalist.
"My first question was, 'how did he pass his PAT?'" Brown said. "He must have played totally out of his shoes."
Still, Brown said that Scott was a pleasant playing partner, and fast enough that it didn't affect his own game. He was frustrated for the first few holes, but once he started talking with Scott, his frustration ebbed because he was so nice.
"He said, 'Sorry, it's not usually this bad,'" Brown said. "But then I asked a couple other guys who knew him, and they said it was this bad."
He ended up liking Scott, and didn't feel the least bit bitter—in fact, when I brought it up to him, he had almost forgotten the whole thing—but when I asked him whether Scott could really have a 1.4 handicap, he didn't hesitate.
"If he was playing a course with any hazards, he's not breaking 80."
"Ike," an amateur, shot the worst score of any local qualifier in the country with a 113. In an email, he claimed to be "tormented" and "run down" with social media trolls who posted his scorecard, but agreed to talk on the grounds that I mention the "extreme wind hail and torrential rain" in his qualifier. I was curious to see what he'd say over the phone, because one of his playing partners shot 74, and the other 80—fine scores, considering the conditions he described. When Ike's own round was over, the site officials realized that he was scheduled to play a PGA Tour regional qualifier not long after, and one official had to ask him to drop out. He agreed.
Later, he emailed me saying he didn't want to speak over the phone, but he agreed to expound on what he meant by social media harassment.
"As far as social media trolls," he wrote, "it just consisted of someone posting my scorecard with my name and then me receiving death threats and messages telling me that I didn't work hard at all to get this opportunity and that I'm the reason why Golf is becoming soft. Do whatever you please with that information but the only thing I will say is that I do believe the athletes at the tournament I played in teed off in probably the worst conditions I've ever seen in golf…people need to understand that a scorecard isn't just the score there are many things that go into it like conditions, pressure, and other things people see right past and just look at the score and don't think twice about it."
Charlie Woo, who spent years on the Korean PGA Tour and has made the sectional qualifier multiple times, had a different perspective. He was paired with Ike, and not only did he shoot 74—just three shots off the number that would have given him the opportunity to advance—but he blames his missed chance squarely on his playing partner.
"That kid that I played with?" he said. "Throw my group away. Not only were the conditions tough, but when someone shoots 113 at a national event, you get placed on the clock right away."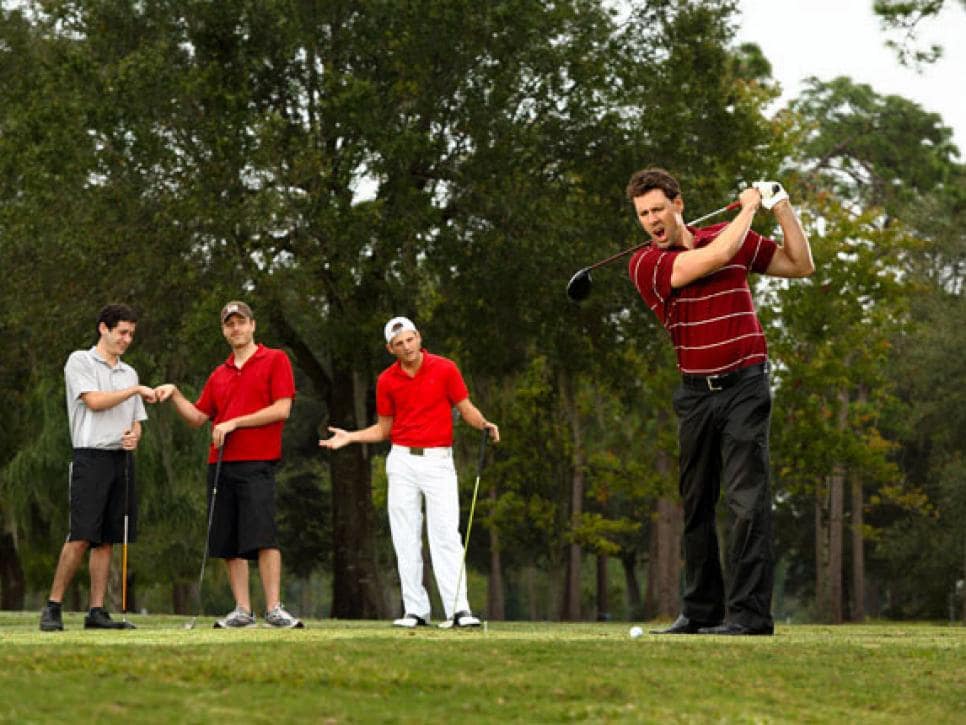 Woo, who called the round a "nightmare," described how on the first hole, he watched Ike hit a 50-foot putt off the green. He didn't quite know what he was dealing with yet—he had never played a competitive round, even in juniors, where someone had shot over 100—so he assumed the greens were extraordinarily fast. Thus, he left his 40-foot putt 10 feet short. He made the par putt, but the madness had only begun. On the second hole, Ike picked up a ball in the rough to show them he'd found it, and then replaced it without any kind of marker. (Nobody called him on it, which means his ultimate score probably should have been worse than 113.)
By the seventh hole, when Woo's group was put on the clock, there was no longer any doubt that a disaster was unfolding before his eyes. They stayed on the clock for five holes, in which time Woo made two bogeys. He played a solid back nine, coming in at one over, but it was too late to make up the lost ground.
"I try not to tell this story to people that know I participated in the tournament, because it sounds like I'm making an excuse," he said. "But all day long, I was saying, 'why am I putting myself into this situation?' He threw me off left and right. I felt very, very discouraged, and I felt like, you know, I don't want to sign up for the U.S. Open ever again."
Woo did more than hope that Ike would leave after nine holes—he actually tried to get the officials to kick him off. Their hands were tied, though, and despite being sympathetic to what he was saying, they couldn't do more than hope. (The painful irony after the fact, for Woo, is that he tried to sign up for the regional PGA Tour qualifier the day registration opened, but was shut out by players like Ike.)
As far as a solution, Woo was like many others I spoke with in advocating for the USGA to institute a nine-hole cutoff to mitigate the damage. Steve Fell, the head men's golf coach at the University of West Florida, has seen this situation play out too often with current and former players like Alejandro Restrepo, and he offered a different solution.
"It's not fair to the guys trying to make a living," he wrote. "In my opinion, there should be a tournament handicap and a club handicap. If you don't have a tournament handicap of whatever it is to play in a US Open Qualifier or a Monday Qualifier, then sorry, you don't qualify. It might be something that the World Amateur Ranking gets involved in and the tournament has to be listed with them to be eligible…then it's still open to everyone that is really eligible and not these people trying to pull something over and make it miserable to the guys that rightly belong out there trying to compete."
This is still a rare phenomenon, at least at the extreme ends, and parts of it are so ridiculous that it becomes funny. But to hear stories from people like Charlie Woo and Spencer Soosman is to understand how it can negatively affect a legitimate contender. They didn't deserve it, and no matter what anyone else thinks, there was nothing funny to them when he saw his latest chance to qualify for his first U.S. Open go up in smoke because of a player that didn't belong. That, in the end, is the audacity of the impostor, and the reason that so many of them never even apologized, and why Eckert himself emphatically told another reporter that he had no reservations about playing; the outrageous result is very much about them, with very little thought given to anyone else.