LIV Golf
The LIV Golf series: What we know, what we don't, and the massive ramifications of the Saudi-backed league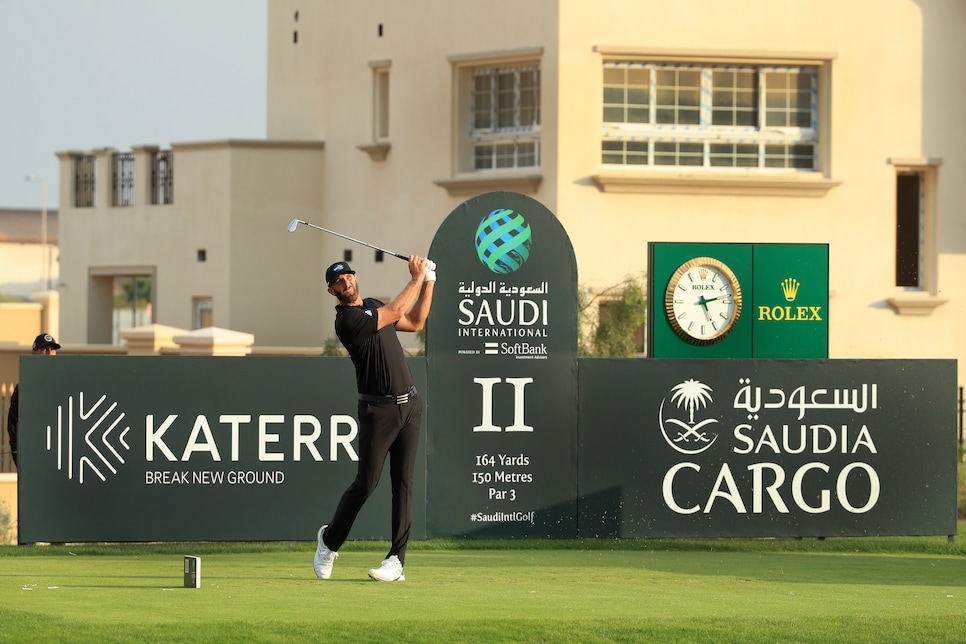 The threat of a competing Saudi Arabia-backed professional golf league has floated like a storm on the game's horizon for the better part of two years. That storm is no longer on the distance but at the sport's doorstep, as LIV Golf announced 42 players will compete in its inaugural event beginning June 9 in London. With the fledgling league beginning in earnest, it's time to catch up on what has transpired thus far, what we know and what we don't, and the ramifications of a possible fissure in professional golf.
The idea of a breakaway circuit from the PGA Tour is far from a novel idea; the PGA Tour itself came to pass after players split from the PGA of America in 1967 to form the Tournament Players Division. More recently, former World No. 1 Greg Norman and media tycoon Rupert Murdoch attempted to create a "World Golf Tour" in the mid-1990s featuring the top players competing in an eight-event series. A television contract with Murdoch's Fox Sports was even secured. But the endeavor was squashed as then-PGA Tour Commissioner Tim Finchem flexed both the tour's legal chops and standing in the game. Other iterations of a world tour have come and gone without much fanfare.
However, the current framework began to arise in earnest in the fall of 2019, to the point that current PGA Tour Commissioner Jay Monahan issued a warning in January 2020 that any player who sided with a rival league would face suspension and possibly a lifetime ban. In spite of Monahan's threat, multiple players are reportedly weighing offers to join a fledgling league.
Who is challenging the PGA Tour?
Technically, there are two entities trying to rival the tour: the Premier Golf League and a Saudi-backed golf tour. The PGL was the first of the groups to coalesce in 2020, backed at the time by the Public Investment Fund of Saudi Arabia. However, the PIF—the sovereign wealth fund of Saudi Arabia, which, according to the Sovereign Wealth Fund Institute, has $580 billion in assets—eventually backed another entity in the newly formed LIV Golf Investments. LIV Golf aspired to have its own global professional tour, often referred to as the "Super Golf League." The PGL attempted to achieve a partnership with the European Tour but failed, with the Euro Tour eventually agreeing to a "strategic alliance" with the PGA Tour. Though the PGL concept still exists, and officials behind the venture reportedly have reached out to the PGA Tour about forming a partnership, its prospects have faded with the emergence of LIV Golf.
Why is the LIV Golf league controversial?
The PIF is essentially the financial arm of the Saudi Arabia government, which has been accused of numerous human-rights violations. To improve its reputation, especially to the Western world, Saudi Arabia has heavily invested in various athletic organizations and events, a practice often referred to as "sportswashing." This exercise, particularly when used by state-run groups, is considered a form of propaganda to distract the public from its abuses. The most famous example of sportswashing is when Nazi Germany hosted the 1936 Summer Olympics.
Saudi Arabia has recently hosted motorsports, soccer, boxing, tennis and wrestling spectacles. In October 2021, the PIF purchased an 80-percent stake in Newcastle United, a Premier League soccer club. Since 2019, the country has hosted the Saudi International, an event formerly sanctioned by the European Tour that has drawn some of the top names in golf, who are paid considerable appearance fees.
What do we know about LIV Golf?
Founded in 2021, LIV Golf named the aforementioned Norman as its CEO in October, followed by a number of former executives from the PGA Tour and other sports affiliations. In February 2022, LIV Golf announced a $300 million, 10-year investment in the Asian Tour at the Saudi International (which now falls under the Asian Tour umbrella and is sponsored by PIF) that included a 10-event international series that will host tournaments in Asia, the Middle East and Europe.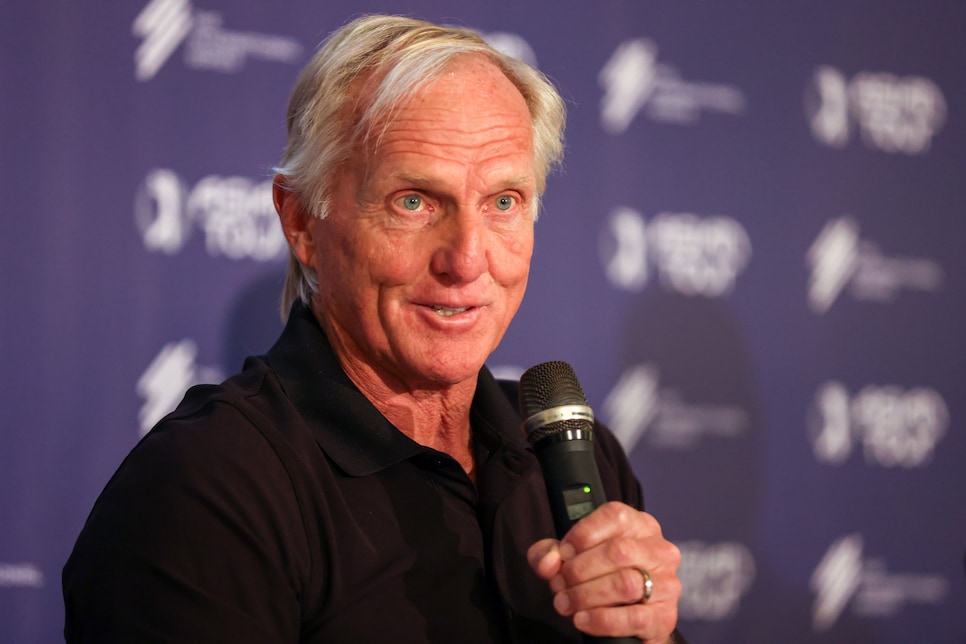 On March 15, LIV Golf announced an eight-tournament, $255 million series—called the LIV Golf Invitational—that will kick off at the Centurion Club outside of London the week before the U.S. Open starting June 9. Each event will be a three-round, 54-hole competition with no cuts. There will also be shotgun starts in order to fit the events in a shorter time window, along with a team component, with 48 players divided between 12 squads. Five of the events will be held in the United States. Those sites are Pumpkin Ridge Golf Club in Portland (July 1-3), Trump National Golf Club in Bedminster, N.J. (July 29-31), the International in Boston (Sept. 2-4), Rich Harvest Farms in Chicago (Sept. 16-18) and Trump Doral (Oct. 29-31). Other hosts include Stonehill Golf Club in Bangkok and Royal Greens Golf Club in Jeddah.
The first seven events will each boast $25 million purses, $20 million for individual prizes and another $5 million for the team competition. The eighth event will offer $30 million for the top three players of the season, with another $50 million for teams in total prize funds.
On Tuesday, May 31, LIV Golf announced the players who signed up for the opener in London, an event that is headlined by Dustin Johnson. The two-time major winner was previously linked to the fledgling circuit, although Johnson came out with a statement in February pledging loyalty to the PGA Tour. But Johnson's agent, David Winkle, released a statement to various outlets Tuesday saying Johnson continued to weigh the offer. "Dustin's been contemplating this for the past two years and decided it was in his and his family's best interest to pursue it," Winkle said. "He's never had any issue with the PGA Tour and is grateful for all it's given him but in the end felt this was too compelling to pass up."
Phil Mickelson has also jumped to LIV Golf and will play in the London event, ending the 51-year-old's three-month sabbatical from golf. The news is not necessarily surprising; Mickelson has been among the most prominent names connected to the LIV Golf operations and he noted in a February interview with Golf Digest that the PGA Tour's "obnoxious greed" had him looking elsewhere to play professionally. Moreover, Mickelson's agent, Steve Loy, acknowledged in April that Mickelson had requested a release from the PGA Tour to play in LIV Golf's inaugural competition at the Centurion Club.
Other notable names in the field include Louis Oosthuizen, Sergio Garcia, Lee Westwood, Talor Gooch, Martin Kaymer, Kevin Na and Ian Poulter. All told, four players in the top 50 are among the participants—Johnson (13), Oosthuizen (20), Na (33) and Gooch (35)—and 16 of the top 100.
Additionally, Bryson DeChambeau and Patrick Reed will reportedly join the series when it comes to the United States. Despite DeChambeau denying rumors multiple times, his agent confirmed on June 8 that DeChambeau is leaving the tour. "Bryson has always been an innovator," agent Brett Falkoff wrote to multiple outlets. "Having the opportunity to get in on the ground floor of something unique has always been intriguing to him. Professional golf as we know it is changing and it's happening quickly."
It's very possible that a number of players will jump to LIV Golf later this summer or next season. Some could be waiting until after the U.S. Open to defect, while others are watching for the tour's response before making their decision. Among those players linked to LIV Golf that are not in the London event include Jason Kokrak (who is sponsored by Saudi Golf) and Adam Scott (who has expressed interest in the limited schedule). Rickie Fowler has also telegraphed interest in the LIV Golf concept.
As of writing, here are those scheduled to appear at the London opener: Oliver Bekker, Richard Bland, Laurie Canter, TK Chantananuwat, Hennie Du Plessis, Oliver Fisher, Sergio Garcia, Talor Gooch, Branden Grace, Justin Harding, Sam Horsfield, Dustin Johnson, Matt Jones, Sadom Kaewkanjana, Martin Kaymer, Phachara Khongwatmai, Sihwan Kim, Ryosuke Kinoshita, Chase Koepka, Jinichiro Kozuma, Pablo Larrazabal, Graeme McDowell, Jediah Morgan, Kevin Na, Shaun Norris, Andy Ogletree, Louis Oosthuizen, Wade Ormsby, Adrian Otaegui, Turk Pettit, James Piot, Ian Poulter, David Puig, JC Ritchie, Charles Schwartzel, Hudson Swafford, Hideto Tanihara, Peter Uihlein, Scott Vincent, Lee Westwood, Bernd Wiesberger, Blake Windred.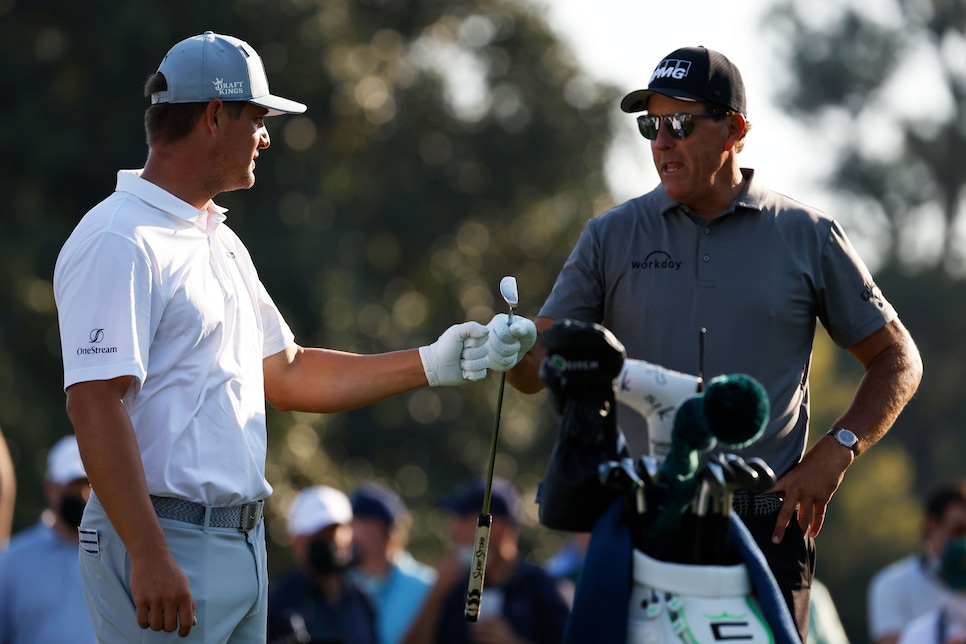 What don't we know about LIV Golf?
No broadcast partner has been announced, although more than a few eyebrows were raised when former FOX Sports President David Hill was signed by LIV Golf; mentioned above, Murdoch's FOX Sports was originally aligned with Norman's WGT in the mid-1990s. It appears the first event will be made available on YouTube and Facebook.
Also unclear is the role of sponsors, be it with the league or players. For example the Royal Bank of Canada stripped its logo from its staff members who played in the Saudi International, and RBC appeared to cut ties with Johnson following Tuesday's announcement.
What players have said they don't want to be involved with LIV Golf?
Rory McIlroy has been LIV Golf's most outspoken critic, stating he's not comfortable with where the money is coming from. McIlroy reiterated his stance at the 2022 Genesis Invitational to Golf Digest. "Look, I've lived it—for the top guys, all that money really isn't going to change their life," McIlroy told Golf Digest's Dan Rapaport. "I'm in a way better financial position than I was a decade ago and my life is no different. I still use the same three, four rooms in my house. I just don't see the value in tarnishing a reputation for extra millions."
World No. 1 Scottie Scheffler, Jon Rahm, Collin Morikawa, Justin Thomas, Jordan Spieth and Brooks Koepka have also said they will not defect to the SGL. Following Mickelson's comments, Xander Schauffele committed to the tour as well. Perhaps most importantly, Tiger Woods pledged his loyalty to the PGA Tour at the end of 2021.
"I've decided for myself that I'm supporting the PGA Tour. That's where my legacy is," Woods said in November 2021. "I've been fortunate enough to have won 82 events on this tour and 15 major championships, and been a part of the World Golf Championships, the start of them and the end of them. So I have allegiance to the PGA Tour."
What has been the response from the PGA Tour?
Some observers believe the tour's recent purse and FedEx Cup prize money increases are a direct response to the SGL threat; however, when the tour's new media rights deal was announced in the beginning of 2020 (a nine-year agreement believed to be valued at $7 billion), Monahan promised the money would "put us in a position to significantly increase player earnings." In that same breath, the tour enacted a Player Impact Program in 2021, an initiative aimed at compensating the game's most popular names separate from how they perform on the course. Last year, $40 million was allocated for the top 10 players on the tour's PIP standings, with $50 million assigned for 2022. The tour will also award a $50,000 bonus for any player who reaches 15 starts during the 2021-22 season.
As for the idea that players may be excommunicated from the tour if they join the SGL, Monahan remains steadfast in his declaration from January 2020: them or us. Per Monahan's ultimatum from 2020: "If the Team Golf Concept [one of the other names used by the PGL] or another iteration of this structure becomes a reality in 2022 or at any time before or after, our members will have to decide whether they want to continue to be a member of the PGA Tour or play on a new series." At a players meeting at the 2021 Wells Fargo Championship, Monahan repeated his position: Any player joining the Saudi-backed golf league will face immediate suspension and possible expulsion from the PGA Tour. Though questions have arisen if the tour can lawfully ban a player for life, legal experts confirmed to Golf Digest that the PGA Tour would likely win any battle challenging its authority to do so.
At the Players Championship, the tour's flagship event, Monahan said "We're moving on," adding "All this talk about the league and about money has been distracting to our players, our partners and most importantly our fans. We're focused on legacy, not leverage."
What has been the response from golf's other organizations?
With its strategic alliance, the European Tour—rebranded in 2022 as the DP World Tour—is in lockstep with the PGA Tour. Perhaps the biggest unknown is how Augusta National, the PGA of America, the USGA and the R&A will respond to players siding with LIV Golf; specifically, if LIV Golf players will still be allowed to compete in the Masters, PGA Championship, U.S. Open and the Open Championship. Augusta National, the USGA and R&A issued statements supporting the PGA Tour and European Tour in May 2021, yet most of the statements didn't address the playing status of those who defect. The PGA of America was direct in its answer, with CEO Seth Waugh stating at the 2021 PGA Championship that those players who joined the rival league would not be allowed in future PGA Championships or Ryder Cups.
"If someone wants to play on a Ryder Cup for the U.S., they're going to need to be a member of the PGA of America, and they get that membership through being a member of the [PGA] Tour," Waugh said. "I believe the Europeans feel the same way, and so I don't know that we can be more clear than that. It's a little murkier in our championship, but to play, from a U.S. perspective, you also have to be a member of the tour and the PGA of America to play in our championship, and we don't see that changing."
Waugh reiterated his stance at the 2022 PGA, calling the LIV Golf concept "flawed" and "not good for the game."
However, the 2022 U.S. Open will allow LIV Golf players to compete. "Regarding players who may choose to play in London this week, we simply asked ourselves this question—should a player who had earned his way into the 2022 U.S. Open, via our published field criteria, be pulled out of the field as a result of his decision to play in another event? And we ultimately decided that they should not," read a statement. "Our decision regarding our field for the 2022 U.S. Open should not be construed as the USGA supporting an alternative organizing entity, nor supportive of any individual player actions or comments. Rather, it is simply a response to whether or not the USGA views playing in an alternative event, without the consent of their home tour, an offense that should disqualify them for the U.S. Open."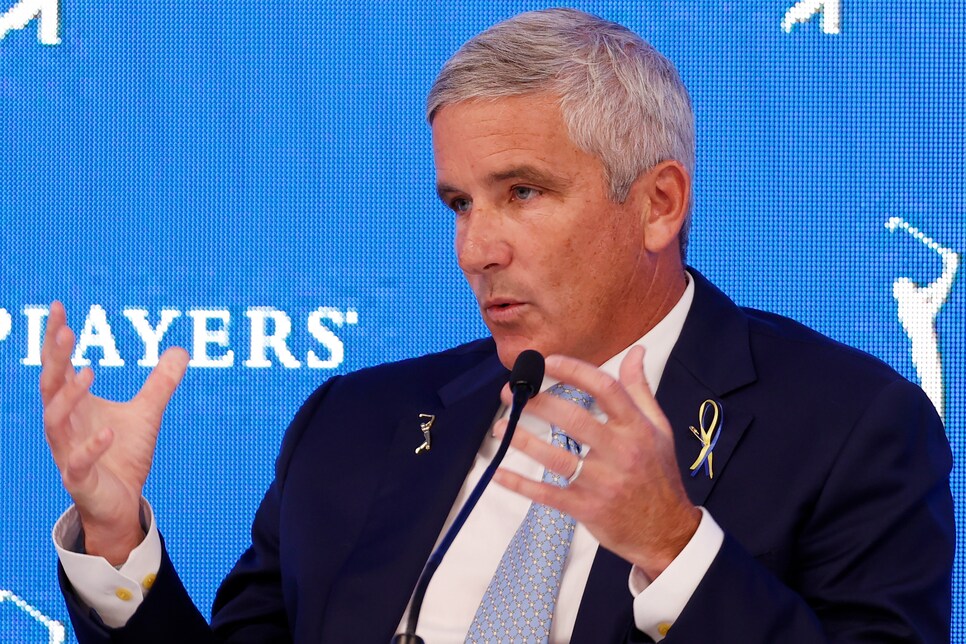 Most likely, a courtroom. The tour is adamant they have the legal authority to issue disciplinary measures, and Norman has openly expressed his desires for players to challenge that authority. Normall additionally telegraphed his litigation threats in an open letter to the tour.
"Surely you jest," Norman wrote in a February letter. "And surely, your lawyers at the PGA Tour must be holding their breath...for decades, I have fought for the rights of players to enjoy a career in which they are rewarded fully and properly for their efforts. They are one-in-a-million athetes. Yet for decades, the Tour has put its own financial ambitions ahead of the players, and every player on the tour knows it. The Tour is the Players Tour not your administration's Tour. Why do you call the crown jewel in all tournaments outside the Majors "The Players Championship" and not "The Administration's Championship?
"But when you try to bluff and intimidate players by bullying and threatening them, you are guilty of going too far, being unfair, and you likely are in violation of the law."
Antitrust issues are not new to the tour. In fact, the FTC concluded after a four-year investigation in the early 1990s that the tour had violated antitrust laws—partially due to the aforementioned rule stipulating permission for a conflicting-event release—and recommended federal action. But no action was ultimately taken, a circumstance credited to the work of then-tour Commissioner Tim Finchem (a lawyer himself who worked in President Jimmy Carter's administration) and the tour's lobbying mastery. Coincidentally, this clashed with Norman's first try to challenge the PGA Tour through his attempt to launch the World Tour.
There was a 2015 class-action lawsuit brought by caddies against the tour using antitrust and intellectual property claims, an effort that proved unsuccessful. The tour has also successfully defended itself against antitrust claims from Morris Communications Corporation regarding the tour's limitations on real-time scoring, and it prevailed in former tour player Harry Toscano's Clayton Act antitrust lawsuit against the Senior PGA Tour. History is on its side.
Why does all this matter?
Ethics and morals aside, a divided world at the sport's top levels could have massive ramifications in the game. Should the list of LIV Golf defectors not grow from the initial London field list, the PGA Tour would be fine; only Johnson qualifies as a player with notable accomplishments that remains in his relative prime. Essentially, LIV Golf would be a Senior Tour light with a handful of amateur and young-ish players.
However, should a high number of 35-and-younger players with playing pedigrees and popularity side with the Saudi-backed league in the following months and years, professional golf could transform into professional boxing, a sport whose competition has been watered down by rivaling governing bodies with conflicting financial interests. The sport's relevance, and to an extent existence, would be at stake.