AL NUROOJ, Saudi Arabia — Never before during his three decades as a professional golfer has the phrase, "What will Phil Mickelson do next?" been so apt. Or intriguing. Or mysterious. For the last few months, many questions have hung over the future of the game's greatest left-handed practitioner.
Will he make the jump to the still-to-be-born Saudi-backed Super Golf League?
Will he spurn those advances and stick with the PGA Tour on which he has 45 victories?
Will he, at the age of 51, stroll off in the direction of the PGA Tour Champions?
Or will he be able to do a bit of all of the above, after the lawyers inevitably get involved?
The resolutions to those issues, as of right now, remain unknown. But one thing can now be revealed. Should Mickelson end the most frustrating aspect of his storied career, put those infamous six runners-up finishes behind him and finally win a U.S. Open, he will call an immediate halt to his playing days.
"If I win the U.S. Open, I will retire," he told Golf Digest in an interview on Wednesday. "That would be my last tournament. I will have achieved the career Grand Slam and I won't have anything more to prove."
More immediately, however, Mickelson has other matters on his active mind. Serious matters. Potentially life-changing matters. And matters for which he has become something of a poster boy. While Mickelson says that "pretty much every player in the top 100 has been contacted at some point," he has been the man most closely associated—publicly at least—with the aforementioned SGL.
That stance has or will bring him into direct conflict with the tour he has played on as a professional since 1992. Along with the DP World Tour, the PGA Tour has taken an aggressive posture in response to what the Saudis may or may not come up with to lure away the top players. So if Mickelson was to lead the charge toward the SGL, it is safe to assume he would be the subject of some criticism. "Lack of loyalty" would surely be mentioned.
But that would be an opinion, Mickelson said, that doesn't fully take into account the PGA Tour's relationship with its players, particularly in the realm of media rights. As ever, he offered, there are two sides to this dispute.
"It's not public knowledge, all that goes on," Mickelson said. "But the players don't have access to their own media. If the tour wanted to end any threat [from Saudi or anywhere else], they could just hand back the media rights to the players. But they would rather throw $25 million here and $40 million there than give back the roughly $20 billion in digital assets they control. Or give up access to the $50-plus million they make every year on their own media channel.
"There are many issues, but that is one of the biggest," he continued. "For me personally, it's not enough that they are sitting on hundreds of millions of digital moments. They also have access to my shots, access I do not have. They also charge companies to use shots I have hit. And when I did 'The Match'—there have been five of them—the tour forced me to pay them $1 million each time. For my own media rights. That type of greed is, to me, beyond obnoxious."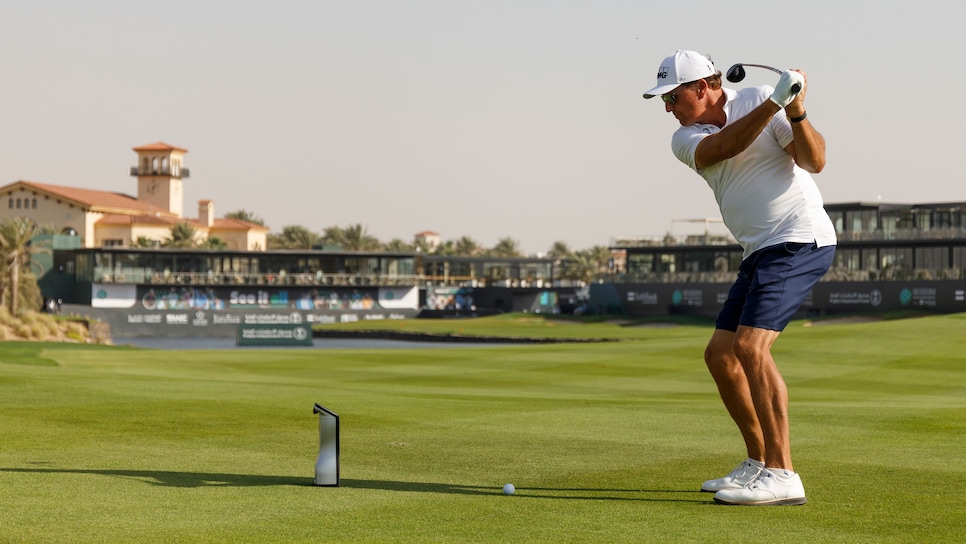 Phil Mickelson was getting in some practice on Wednesday at Royal Greens G&CC ahead of this week's Saudi International.
Oisin Keniry
The PGA Tour declined to comment on Mickelson's comments on Wednesday. However, the tour has previously cited that its business model is consistent with other professional sports leagues in that it relies on media rights to maximize revenue. In a Nov. 21, 2021 memo to players, PGA Tour Commissioner Jay Monahan said 85 percent of the tour's consolidated revenue is tournament-related, either from sponsors or from domestic and international media. In the memo, Monahan also noted that 55 percent of the tour's 2021 revenue will be directed back to players.
There are other examples of what Mickelson clearly sees as golf's equivalent of "intellectual property." During the 2010 Masters, he famously hit a shot from the pine straw to the 13th green at Augusta National. Later, someone wanted to use seven seconds of that clip. They had to pay $30,000 per second every time it aired. The total cost was $3.5 million, which was three times what Mickelson earned for winning the tournament. (Editor's Note: Although the Masters counts as an official PGA Tour event, the event and its media are not owned by the PGA Tour.)
"I'm not sure how this is going to play out," Mickelson said. "My ultimate loyalty is to the game of golf and what it has given me. I am so appreciative of the life it has provided. I don't know what is going to happen. I don't know where things are headed. But I know I will be criticized. That's not my concern. All that would do is dumb down one of the most intricate issues in sports. It would be so naive to not factor in all of the complexities. The media rights are but a small fraction of everything else. And it is the tour's obnoxious greed that has really opened the door for opportunities elsewhere."
In the brave new world Mickelson would like to see and help create, he has answers to his own questions. And plans he would like to make.
"Why hasn't golf had cameras and microphones on players and caddies?" he asked. "Because the player would not benefit, only the tour [so players resist wearing them]. Take this Netflix project that is underway. None of the players are getting paid. But the tour is getting paid a lot of money. As is Augusta National. As is the USGA. But if the players had their own channel, maybe they put up their own content and we start to see golf presented a bit more intimately.
"If I had access to my own channel and access to my own media, I would have a camera and microphone on my hat," he went on. "And on my [caddie] brother's hat. And on my golf bag with a 360 view. And I would bring the viewers in. They would see and hear what is going on. But none of that happens [currently] because why would any player do that? To make more millions for the tour? They already make enough. The tour only understands leverage. And now the players are getting some of that. So things are changing and will continue to change. I just hope the leverage doesn't go away. If it does, we'll be back to the status quo."
Still, other than his on-going discontent with the PGA Tour's media rights policy, all is well in Mickelson's world. With their three children out of the house and off to college, he and wife Amy are indulging in some exotic travel. Last December, the pair spent time in Iceland and Denmark. Next week will see them skiing in Montana. And a trip to Rwanda and Tanzania is planned for later this year.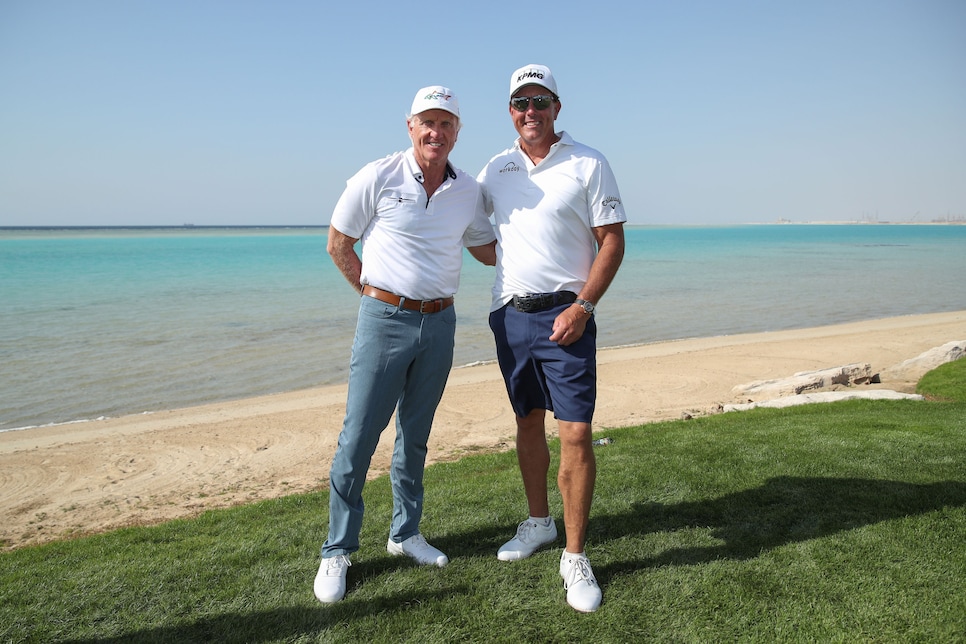 Phil Mickelson poses with Greg Norman, CEO of Liv Golf Investments during a practice round ahead of the Saudi International. Norman is overseeing the possible creation of the Super Golf League.
Luke Walker/WME IMG
"I want to see the gorillas," said Mickelson with a smile. "I'm still driven to work hard and play and compete. But I'm also not blindly obsessed. My life balance has shifted. I'm enjoying the present, wherever I'm at."
Lest we forget too, this is a current major champion we are talking about—the oldest in history—after his epic victory in the PGA Championship at Kiawah last May. It was something of an oasis among much mediocrity, however. Only occasional forays onto the Champions Tour, where he won twice in 2021, were highlights.
Oh, there was one more. As one of American captain Steve Stricker's assistants at the Ryder Cup, Mickelson found a new joy in the biennial contest with the Europeans. The result, a record-breaking 19-9 hammering of the Old World, didn't hurt either.
"I really enjoyed being a vice-captain and spending time with Davis Love, Jim Furyk, Fred Couples, Zach Johnson and Steve," he said. "I loved being in the room with those guys to talk strategy and share our experiences, positive and negative, over the years. All to give the players of today an opportunity to succeed.
"That was really fun," he continued. "I felt no stress. The Ryder Cup is the most pressure-packed week. At least for me. So I had a much more enjoyable experience. Amy couldn't believe it. She had never seen me so calm at a Ryder Cup—and enjoying it so much. It was always the hardest week of the year for me, as much as I love it."
Enough of that though. Tellingly, Mickelson's mind wanders to Boston and The Country Club, where this June he will make his 31st attempt to win his national title. And he fancies his chances.
"I have great memories of the 1999 Ryder Cup there," he said. "It's not a course you can overpower. You have to use precision shot-making and short game. If I play like I did at Kiawah, I'm in contention at least. It won't be about 'bombing.' It will be about control. You really have to shape your shots to get the ball close to some of the pins, those tucked away on a high tier or behind a bunker. Otherwise you are hitting into the middle of the greens, which makes it hard to make birdies. I feel like that gives me an opportunity."
Let's hope it happens. Apart from anything else, it would solve so many problems.