Global Golf
Money? No. But this Super Golf League wrinkle is something players are talking about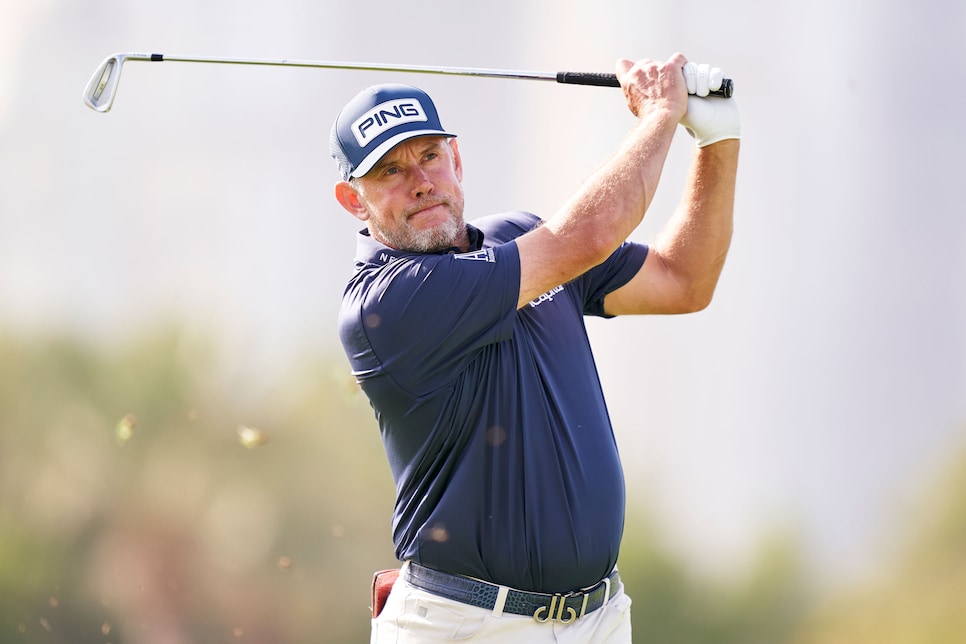 Lee Westwood said a regular team aspect to golf would bring more action and make the sport more interesting to watch.
Quality Sport Images
AL MUROOJ, Saudi Arabia — Given the location, the "elephant in the room" idiom isn't really appropriate. So "camel in the desert" it is. Or, to put more clearly, here's what few if any of the players competing in this week's Saudi International want to discuss: the so-called Super Golf League that appears to be creeping ever closer to some sort of inauguration.
England's Daily Telegraph on Tuesday reported that Ian Poulter has been offered £22 million to sign up for the Super League, an action that would almost certainly deny him the chance to be Ryder Cup captain. Before all this speculation began, the Englishman was the favorite to be European skipper in 2025 at Bethpage Black.
But no one is too keen to talk about that either.
So it is time to change the angle of attack. Never mind all the fuss and bother attached to this new-fangled tour, or league, or circuit, whatever it is, or is going to be. What do the players think of the team concept that is reportedly going to be part of the weekly mix when the Saudis come to play—if they ever do? Is that something the players would like? Is it something they think has a chance to be entertaining?
"I think it's a really good concept," said Dustin Johnson, a two-time Saudi International winner defending his title here this week. "I think it makes it a little more interesting for the fans and for the players. Yeah, I like the concept. But I can't speak for Ian. Yeah, I'm sure they're … well, yeah, obviously whether they have or haven't [made him an offer], I'm not allowed to disclose. You'd have to ask Ian on that one."
Ah, but his questioner wasn't quite done.
"So you've had a similar offer?"
"No, not similar (laughter). It's just not similar."
Australia's Cam Smith is even less inclined to get into a discussion on leagues, super or not.
"To be honest, I haven't thought a lot about it," the recent Sentry Tournament of Champions winner on the PGA Tour said. "I've got guys around me that think about that stuff. I'm just out here trying to play the best I can. We'll worry about that stuff when it comes around."
"Again, that's a conversation for another time. I've got guys around me and a really good team around me that can think about that stuff. They're just worried about how I can compete and how I can be the best golfer I can be."
Have you had an approach?
Smith's good buddy and fellow Aussie, Marc Leishman, had only a little more to say on the subject. But he seemed to think there were benefits to be had from it all.
"I think competition is good for golf," began the 38-year-old Victorian. "I don't know the exact details of it yet, but as an independent contractor and golfer, I feel like I've got to explore all options. And I think, yeah, the competition as far as golf goes will help, help the game, and I'm excited to see where it goes. It is different. It is something new.
"Maybe this is golf's way to spread its appeal," he continued. "Any team sport is fun. I grew up playing football and cricket. We only get to play golf as a team at the Presidents Cup and the Zurich Classic in New Orleans. It's certainly different, and it can be pretty exciting. So I do think it's a good thing Greg [Norman, CEO of the group trying to get the league started] has done. We've spoken about growing the game. I think this is something that could do that."
At first, it didn't sound like Lee Westwood was going to have anything to say at all.
"I don't know whether I want to answer questions on that," he said with a smile. "I've signed an NDA. But from my perspective, you can ask [wife] Helen, when I'm at home I watch a lot of sport but not a lot of golf. The only time I watched the Masters was when Tiger won in 2019. And even then, I only watched the back nine on Sunday. I wasn't really interested in Days 1, 2 an 3. So golf has to move with the times and become more heat-of-the-moment, volatile and impactful right from the word go. A team aspect gives you that. There's more action happening in more places.
"Other than the majors, it seems to me it's just 72-hole stroke-play events week in and week out," he continued. "And when I'm finished playing those, I've had enough of golf by then. But I think team golf every now and again would be a good thing. People seem to enjoy watching it. So yes, I think the team aspect is exciting. It's a little bit more volatile than week in, week out 72-hole stroke play. People like to pick teams rather than individuals now and then. It's different, and I think golf does need different."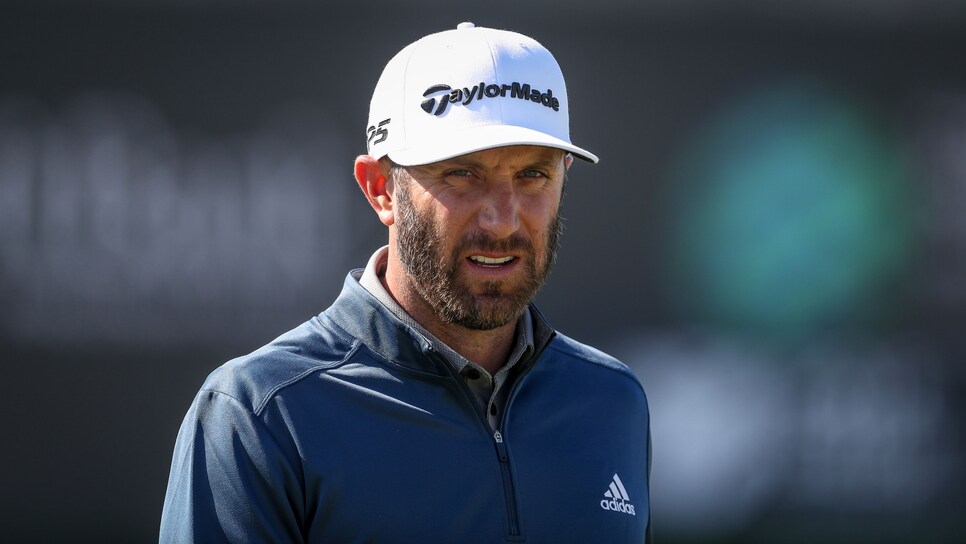 Dustin Johnson is a two-time Saudi International winner defending his title this week at Royal Greens.
Oisin Keniry
That was a theme picked up by another Englishman, Tommy Fleetwood.
"I do like the sound of it all," said the World No. 46. "Whatever is going to happen will be good for golf. Even now, so many people are talking about the game and the possibilities. It's different. So if the league happens, or even if it doesn't, this period shows that golf can be an exciting sport, one willing to change. Whenever we play the Ryder Cup, I see everyone loving the team environment. But there seems to be so many possibilities right now. It's all Chinese whispers and hearsay at the moment. We'll just have to wait and see what does happen and if it is real."
That's a lot of talk about something that doesn't exist. A golfing mirage you might say.