News & Tours
Rory McIlroy sees upside in talk about rival tours: Players becoming more invested in pro golf's future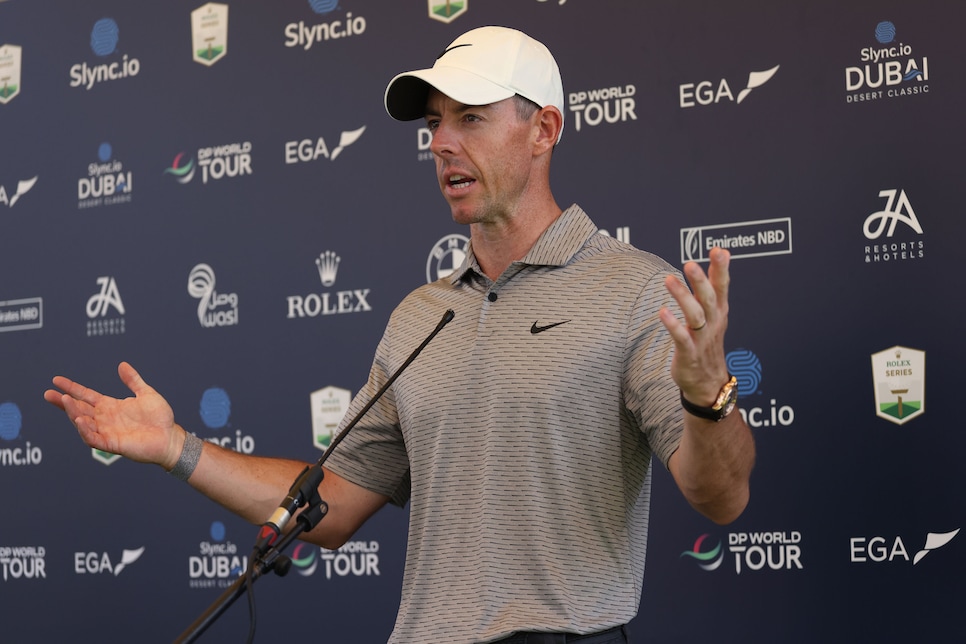 Rory McIlroy talks to the media after the Wednesday pro-am at the Slync.io Dubai Desert Classic.
Luke Walker
DUBAI — For something that hasn't even begun—and may not ever make it as far as the starting line—just the mere possibility of a Saudi Super League continues to energize much of the off-course chat on both the PGA Tour and the DP World Tour. And, as is so often the case, Rory McIlroy is something of a voice of reason amid the mixture of confusion and unawareness that is likely to remain the case until something concrete actually occurs.
Speaking after he completed his Wednesday pro-am round on the eve of the Slync.io Dubai Desert Classic, the Northern Irishman reiterated his previous stance with regard to just how the long-established circuits should react to the possibility of a wealthy interloper disturbing their dominance. At the same time, he repeated his misgivings about not just the proposed league but next week's Saudi International. After three years on what was then the European Tour, the event is now part of the Asian circuit and is funded by Saudi Arabia's Public Investment Fund (PIF).
"I've always thought that rival golf tours are just going to make the PGA Tour and the DP World Tour better," McIlroy said. "Competition is a good thing. Any business needs competition for things to progress and move on. I don't think that's a problem. But one thing I do worry about is if we restrict or punish guys for going to Saudi. Should we stop them making 10 percent of their yearly income just by playing? That creates resentment amongst the players and that creates a problem between the tours.
"It's a tricky one," he continued. "Everyone knows it's a tricky one. But I certainly don't blame anyone for going. At the end of the day, it's our job and livelihood. If someone comes and offers you that sort of money, it's hard to say no."
Still, public perception and that reality are often unhappy bedfellows. For the man and woman in the street, the question often asked is: Do these already incredibly wealthy golfers really need more money?
"I understand that," said Englishman Paul Casey, who played in Saudi last year having previously saying he would never go because of his relationship with UNICEF. "But it's a difficult thing to communicate what happens in our golf space when it comes to revenues, how much is played for and player's feelings about what their share should be. It's difficult because, to the general public, the numbers are incredible. So it's a delicate topic, which is why I tend not to talk about money."
Asked about the seemingly hardline reaction of both the PGA Tour and the DP World Tour towards the possible interlopers, McIlroy wasn't quite so circumspect and added a proviso. (If he wasn't so good at golf, he could have a future as a NATO peacekeeper).
"The best course of action is to concentrate on what you're doing and do it to the best of your ability," he said. "But for me competitive integrity is one of the biggest issues here. How hard are guys going to compete [on the Super League] when they know that they are guaranteed whatever the money is? When I started to get appearance fees, I struggled with that. There I was going to tournaments in Korea and Japan feeling like I'd already won before I teed it up. I had to get over that mental battle.
"Having said that, [joining the new league] is not something I would want to do," he continued. "I like being my own boss. I don't want to be told what to do. I don't want to be told where to show up or when to show up. If I feel like taking a couple weeks off, I like to be able to do that."
That view is clearly shared by Sergio Garcia. The Spaniard needed releases from the PGA Tour and the DP World Tour in order to fulfil his contractual obligation to compete in Saudi next week (according to multiple sources, 46 players are being paid to play, the minimum fee $400,000). And he made little or no attempt to hide his disagreement with the PGA Tour's insistence that he support the AT&T Pebble Beach Pro-Am at least once in the next two years. "We'll see," was the former Masters champion's withering response.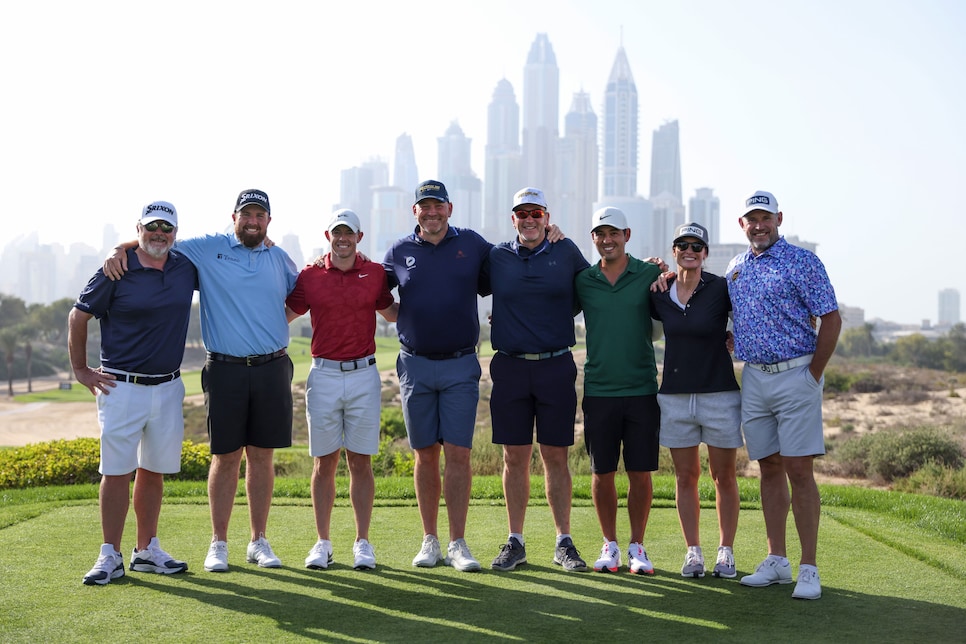 Shane Lowry, Rory McIlroy, Thomas Bjørn of Denmark and Lee Westwood, joined by their caddies, during a practice round ahead of the Slync.io Dubai Desert Classic.
Luke Walker
Still, in McIlroy's mind, this prolonged saga has proved at least one heartening result. Because there has been so much going on, many more PGA Tour players are taking more of an interest in the politics of the business.
"This has galvanized the players and the membership," said the four-time major champion, the current chairman of the PGA Tour Players Advisory Council. "Players now want to be more involved. And we've got the better players wanting to serve as a route onto the policy board for the PGA Tour. They want to make a difference. Jordan Spieth did it for a few years. I'm doing it. And Patrick Cantlay wants to do it. Others want to be more involved, which is a good thing."
One last thing. Asked if the players can afford to, or are likely to, take a moral stance on the fact that the new money is emanating from a state with a poor record of human rights, Viktor Hovland was quick to dismiss such a notion. For the Norwegian, practically trumps morality.
"I played [in Saudi] last year because it was a European Tour event," he said. "I had to play some European Tour events in order to play the Ryder Cup. That was the main reason behind my decision last year. With it being an Asian Tour event this year and where it fits in the schedule, I'd rather get back to the States and focus on the FedEx Cup."
McIlroy was typically philosophical and more expansive on the moral question.
"It's already past that point," he said. "Look at so many of the companies whose products we use. Take Uber; they are funded by the PIF. It's hard to go anywhere and not have something or someone involved that people won't agree with. If you try to be moralistic about it and have principles, you're not going to be able to live life. It's not black and white. There's a lot of grey areas. I've certainly thought about it and wrestled with it. But if you try to take that hard line, you're going to end up not being able to do what you want to do."