Memory Lane
Rory McIlroy still visualizes a Tiger Woods shot he saw up close in his first Dubai Desert Classic as a 16-year-old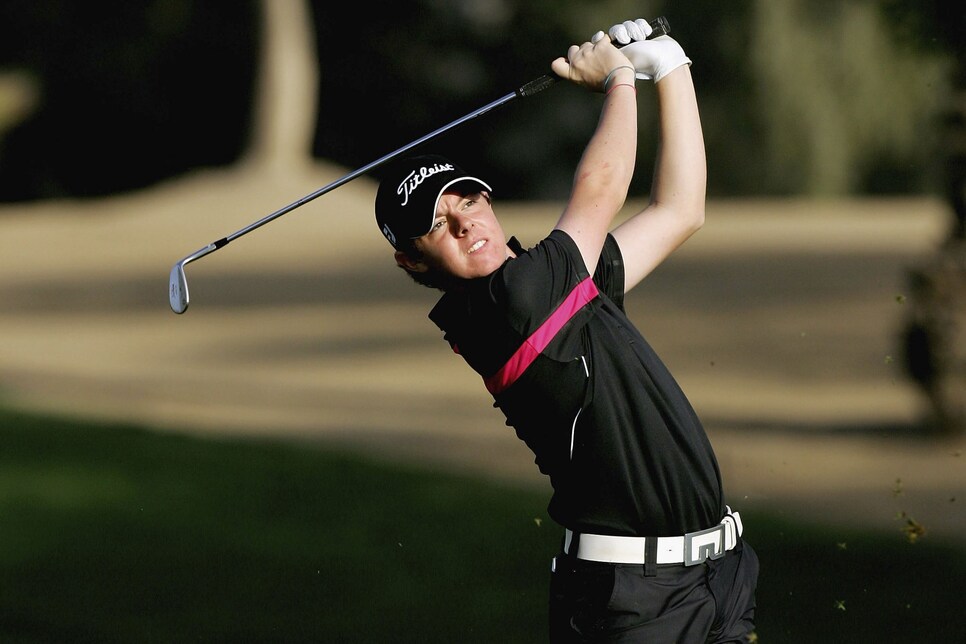 DUBAI — Half a lifetime ago—well, half of his at least—Rory McIlroy was a 16-year-old phenom playing in the 2006 Dubai Desert Classic. A pair of 72s saw the young Northern Irishman miss the cut by a shot. But no matter. McIlroy had other plans. Availing himself of a media credential, he walked inside the ropes watching his hero, Tiger Woods.
It turned out to be worth the effort. On the par-5 10th hole, Woods, who would go on to win the tournament by beating Ernie Els in a playoff, produced a shot that has resonated with McIlroy to this day.
"Tiger hit a 5-iron out of the right rough that landed on the green and stopped," says the now 32-year-old. "It is one of the best golf shots I've ever seen. It still sticks in my mind, and I was right there for it."
Getting up close and not quite personal with golf's best practitioners was actually nothing new for the young McIlroy. During his formative years, he was quite the spectator.
"I watched a lot of golf events as a teenager," he says. "I went to Mount Juliet for a World Golf Championship. I went to the Open at Troon. And I went to the World Match Play at Wentworth a bunch of times. I loved watching those guys play. I tried to learn something from them and get inspiration. If there are young kids running around this week and they can feel the same way or feel the same things as I did back then, then that's a pretty cool feeling."
Cheekily asked who he would watch today if he could reproduce 2006, McIlroy was predictably diplomatic after jokingly responding, "me."
"There are so many guys," he went on. "Obviously Collin [Morikawa] and Viktor [Hovland]. Then there are so many others that have been part of the tour for so long. I'm thinking of [Padraig] Harrington, [Ian] Poulter, [Lee] Westwood, [Henrik] Stenson and Monty [Colin Montgomerie] for sure. How many more times are people going to get a chance to see Monty play golf in this part of the world?"
Back inside the ropes with a caddie for company, Dubai has been the venue for subsequent highlights in McIlroy's exceptional career. One year after Tiger made his jaw drop in wonderment, the soon-to-be Walker Cup player shot a three-under 285 to finish tied for 52nd place. More importantly, that commendable finish made him the world's No. 1-ranked amateur.
"Later on, I lived in Dubai for four years as well," says McIlroy, whose maiden European Tour victory was the Desert Classic back in 2009, a feat he repeated six years later. "So I've got good memories here. And I have a lot of close friends from this region. It's a comfortable place for me and it's nice to be back."
Not all memories are good though. As is the case with most golfers of all abilities, McIlroy is prone to recalling the bad stuff, too. Walking off the 10th tee (that hole again), his mind wandered back four years to 2018 and the final round he played in the company of eventual champion, Haotong Li of China. The pair dueled all day before Li prevailed by a single shot.
"Two tournaments here stick out in particular because I won," McIlroy says. "But I've had plenty of chances to win and lots of memories, even something as stupid as standing on 11 tee this morning. Today was the first time I played that hole since 2018. All I thought about was hitting into the left bunker and making bogey. Haotong made a two, which was a big swing in the tournament."
And one more entry in the busy Dubai section of the McIlroy memory bank.