AL MUROOJ, Saudi Arabia — As ever when there is even a sniff of Saudi Arabia about the proceedings, what was unsaid by Greg Norman, CEO of LIV Golf Investments, and Cho Minn Thant, commissioner of the Asian Tour, was perhaps more illuminating than what was uttered out loud.
During a 50-minute press conference on Tuesday in the run-up to the star-studded Saudi International that will kick-off the 2022 Asian circuit there was only the briefest mention of the Super Golf League that Norman and the Saudi investors behind LIV Golf supposedly have tucked up their sleeves. And certainly no talk of which players—high-profile or otherwise—might be involved should that new venture come to pass.
What was announced is that the Asian Tour will feature the previously alluded to International Series of 10 events, with purses ranging between $1.5 million and $2 million. The first of those will take place in Thailand next month, followed by visits to England, Korea, Vietnam, the Middle East (twice, one being Saudi), China, Singapore and Hong Kong.
But even then there is mystery. The opening $1.5 million event will be played at the Black Mountain Golf Club in Hen Lek Fai, March 3-6. More provocatively, given the aggressive stance adopted by the DP World Tour with regard to their former Far East partners, the second will take place at the Centurion Club near London, June 9-12. There, the purse will total $2 million. After that? Nothing is certain other than the host nations. Dates and exact venues remain TBA.
"This is just the beginning," Norman repeated on several occasions, a reference to the International Series and perhaps still other announcements.
Indeed, Norman and Thant were at pains to paint a positive picture of what lies ahead, both known and unknown. Which is perhaps understandable as far as Thant is concerned. The Asian Tour only recently returned from a 21-month pandemic-induced period of inactivity, one that made it, in the minds of some cynics, susceptible to offers from controversial quarters.
"I must be honest, we were pretty worried at the start of the pandemic," Thant said. "And we're not through that yet. But I feel like we made the most of the crisis. We figured out a way to come back stronger than before. We're fortunate to have this opportunity, along with LIV, to elevate the tour coming out of the worst period the tour has ever faced. We weren't in the stronger financial position. We had no tournaments, no broadcasts, so no revenue. Our players were deprived of earning opportunities. But this is a once-in-a-lifetime opportunity, and we are embracing it fully."
That attitude has brought Thant's organization into direct conflict with both sides of the Atlantic. DP World Tour chief executive, Keith Pelley, recently went as far as to say that the Asian Tour has gone from being "partners to competitors." Provocative stuff in the generally gentile world of golf diplomacy.
"I'm not going to say I am surprised by the reaction of the PGA Tour and the DP World Tour. I'm shocked," Norman said. "I've been around a long time and see the opportunities that exist out there. So my message to them is 'please don't judge.' Instead, they should be judging themselves. I'm shocked and disappointed really. And no, I have not had a conversation with anyone at either tour."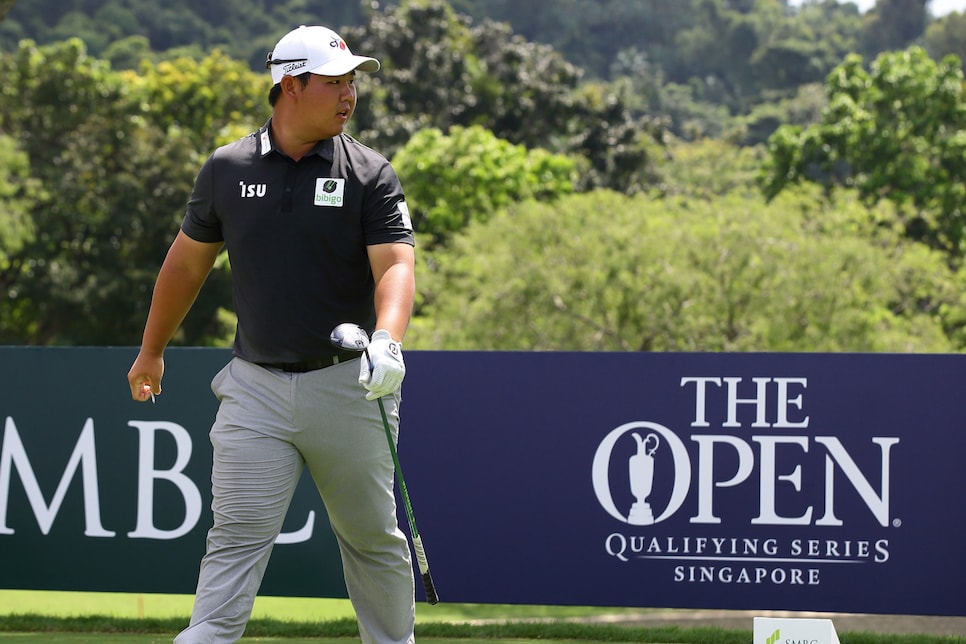 With the Asian Tour Order of Merit winner not given a spot into the Open Championship, Joohyung Kim had to play his way in with a top finish at last month's Singapore Open.
Suhaimi Abdullah/R&A
Norman continued: "If the PGA Tour is so confident in their product, a more understandable reaction would have been 'bring it on.' I don't have a theory as to why they have reacted this way. Because I'm focused on what we are going to do. We are 100 percent collaborative. We have identified the opportunities out there. And we want to work side by side with them. We want what we do to be complimentary to what they do. Besides, the bottom line is the players have a right to do whatever they want and play wherever they want."
Further confusing the Asian players and officials is the fact that their members have played across multiple tours for decades. "We encourage our guys to play in Europe," Thant says. "We encourage them to get onto the PGA Tour."
Still, perhaps this is all the inevitable consequence of an opportunity missed decades ago to create a worldwide circuit everywhere except the U.S., one that today could have been a legitimate rival for the PGA Tour.
"There have been chances for us to create a bigger Asian Tour," Thant admitted. "There have been chances for us to work with the Australians, the Koreans and the Japanese. But nothing like this before. From our perspective, the reactions of the other tours are disappointing more than surprising or shocking. We have members. We have stakeholders. We strive to improve playing opportunities for those players and members. We want to improve our business. But we would never dream of trying to put down another tour in order for us to get a bigger standing. We would rather collaborate. And until now that is what we have done. So we are still open to co-sanctioning events with the European Tour."
"I have spoken to [R&A CEO] Martin Slumbers about this," Thant said. "He has his reasons. But I'm not going to put words in his mouth. All I will say is that it would have been a crying shame for Joohyung had he not gone on to gain an exemption through the Singapore Open. That was a just reward for him."
For all that Thant and his players are feeling aggrieved about aspects of this on-going process, it is Norman, a perennial lightning rod, who has been focus of most vitriolic criticism. Not that he seems too fussed.
"I'm pretty resilient," said the former World No. 1. "Everyone is entitled to their opinions. But those should be based on facts. Everyone not getting together to create something everywhere outside the PGA Tour was a missed opportunity a long time ago. As a player, I saw the voids that were there. Why were they there? Because every tour was focused just on what they were trying to do. Which is fine. But don't stifle competition.
"So don't cut and paste stories," he continued. "And don't be prejudiced in your thought process. When you know the facts here, how hard is it to go 'wow, this has great potential.' I feel like this is a great initiative. So if others want to use me as a piñata, go for it. I know, long term, what we are going to do for the game is right."