PGA Tour
AT&T Pebble Beach Pro-Am has big plans in place despite Saudi event luring away several top players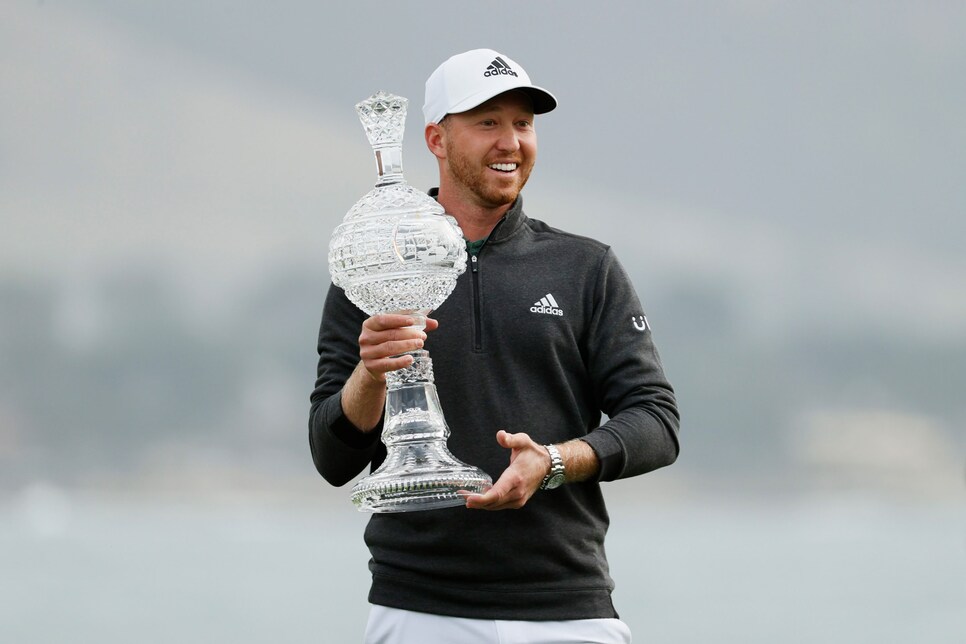 Daniel Berger will be back to defend his title at the AT&T Pebble Beach Pro-Am next week, but several top players will be skipping the event to play in the Saudi Invitational.
Steph Chambers
"We get to have a normal tournament," Steve John said with barely any prompting and with palpable optimism as he talked recently about next week's AT&T Pebble Beach Pro-Am. The CEO of the Monterey Peninsula Foundation and pro-am tournament director has plenty of reasons to relish the renewal of one of the most celebrated events on the PGA Tour, one that will resemble previous gatherings before the coronavirus pandemic put a crimp into the proceedings last year.
Not that the 75th anniversary edition wasn't a success. Even without its usual celebrities and athletes populating the amateur ranks and without the swollen galleries that follow the glitterati, the 2021 tournament raised more than $12 million for charity and saw Daniel Berger outduel AT&T spokesman and past winner Jordan Spieth in a dramatic final round.
Berger and Spieth will be back to bolster a field that thus far features 13 of the top 50 in the Official World Golf Ranking, led by No. 3 Patrick Cantlay. Some old standbys, former winners Davis Love III and Peter Jacobsen, are entered, too, and actor/comedian Bill Murray anchors a celebrity contingent that features several new faces. Which, perhaps, will help make up for the absence of five-time winner Phil Mickelson and two-time champ and perennial contender Dustin Johnson, among other top players.
The global golf schedule wasn't kind to the iconic "Clambake" in Northern California. It competes this year with the Saudi International, the controversial Asian Tour event with its money-is-no-object appearance-fee offerings and that is being viewed as a potential precursor to a larger Saudi-backed golf circuit.
John rightly notes that there is nothing he can do about the copious financial largesse of the Middle East tournament luring regulars and other big names from the Monterey Peninsula.
"That is beyond my control," he said. "I look at it as we will embrace those that want to come play, and we're going to give them the best experience possible. I'm doing my best to continually raise the bar on that experience, so that they want to come back."
The $8.7 million tournament returns to a three-course rotation of Pebble Beach Golf Links, Spyglass Hill and the Shore Course at Monterey Peninsula Country Club after MPCC was dropped for streamlining purposes last year. Several pre-tournament special celebrity events also return as part of what John calls "Community Day" on the eve of the tournament. Two will take place on The Hay Short Course recently redesigned by Tiger Woods. The third, the Cisco Hole-In-One Challenge, will be held on Pebble's picturesque par-3 17th hole. All tickets for that day are complimentary.
There are several hospitality enhancements for fans and sponsors, including a second deck to the sponsor pavilion at the 17th hole and a 25,000-foot hospitality area featuring an open-air covered and heated central area for events and gatherings. The player staging area also has been upgraded and moved to the former driving range at Pebble Beach.
"I want to say we're back to a pre-COVID look and feel, but it's improved because we're hoping to provide a better product for the fans and for the sponsors and for the players. I think we've achieved a couple of those. And coming back after a year off, we have some time to think about other areas that we can certainly improve on."
One aspect difficult to surpass is the charitable initiatives. Last year's windfall, made possible by the sponsors and by the amateurs donating their entry fees, puts the tournament in range to surpass the $200 million threshold this year. "I doubt another tournament on the PGA Tour is at that level," John said proudly.
As much as the tournament will largely feel normal—except for the state's mask mandate in effect until Feb. 15—it will be different in regard to the absence of former Pebble Beach co-chairman and co-owner Richard Ferris, who died Jan. 16 after a battle with ALS. Ferris also was a longtime participant in the pro-am, and his contributions to golf included serving on the board of the PGA Tour and supporting The First Tee.
"Yes, we will recognize Dick in an appropriate way," John said. "He was a true titan of a man. We'll find something that makes sense and properly recognize what Dick meant to the tournament and to Pebble Beach—and to golf in general."