Players Championship
Players 2022: Jay Monahan won't say if Phil Mickelson is suspended but adds, 'Every player is accountable for their actions out here'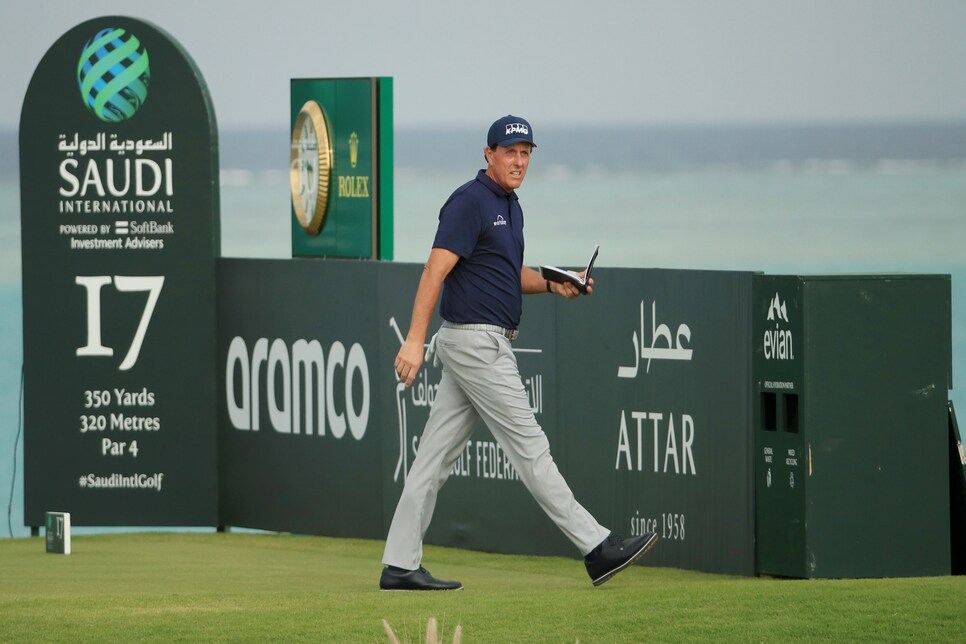 PONTE VEDRA BEACH — The Players Championship boasts the best field in golf, but the player who dominated commissioner Jay Monahan's press conference Tuesday is one who isn't here.
That player is Phil Mickelson, the six-time major champ and former TPC Sawgrass winner who should be a canonical figure in these parts. Instead, at least momentarily, he is persona non grata after a series of fiery comments—which included calling out the tour's "obnoxious greed" in a Golf Digest interview and a report from the Fire Pit Collective that Mickelson hired attorneys to draw up the operating agreement for a Saudi-backed breakaway circuit.
Following the fallout from the Fire Pit Collective story, Mickelson issued a statement that he would be taking a sabbatical from the game. However, given the nature of both his comments and his alleged conduct, there is speculation that Mickelson's leave of absence is not entirely his choosing.
Speaking to the press Tuesday, Monahan repeatedly stressed the tour's long-standing policy of not commenting on player suspensions, either those that have happened or those that might in the future. Conversely, Monahan was firm in saying that Mickelson will, eventually, have to answer for what he has said and done.
"​​He stepped away on his own accord, and he's asked for time," Monahan said. "He's been given that time. We don't comment on disciplinary matters, potential matters or actual matters. But every player is accountable for their actions out here."
Monahan said he has not talked to Mickelson since his comments—comments Mickelson claimed were supposed to be private—went public. He also believes that responsibility in initiating that conversation resides with Mickelson.
"The ball is in his court," Monahan said. "He has said that he's stepping away and he wants time for reflection. That's something that I and we are going to respect and honor.
"When he's ready to come back to the PGA Tour, we're going to have that conversation. That's a conversation I look forward to."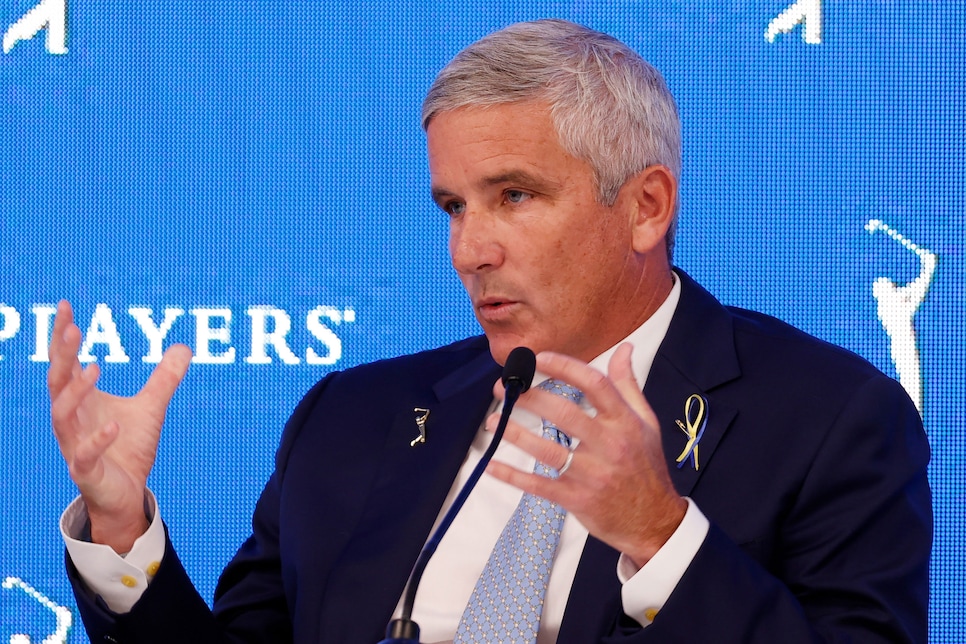 Monahan speaking to the media on Tuesday at the Players Championship.
Cliff Hawkins
Monahan was asked later whether or not if Mickelson felt he was ready to return, could he just show up at a tournament—alluding to the notion that Mickelson may be suspended and thus might not be able to merely pick an event to return to. Monahan answered: "Like I said, I think the ball is in his court. I would welcome a phone call from him. But it's hard for me to talk about the different scenarios that could play out.
"Listen, he's a player that's won 45 times on the PGA Tour. He's had a Hall of Fame career. He's won here at the Players Championship," Monahan continued. "He's inspired a lot of people and helped grow this tour, his tour. So as difficult as it is to read some of the things that were said, ultimately a conversation will be had when he's ready to have it, and I will be ready to have it, as well."
Earlier in the morning, when asked where he believed the tour could improve, Rory McIlroy said he wishes the organization would be more transparent on player punishment.
"I've always felt that a few of the bans or suspensions, I think that should all be announced," McIlroy said. "I think that should be more transparent. I've always said that."
Another recurring topic for Monahan during his press conference was the proposed Super Golf League. Monahan reiterated his belief that the tour considers the Saudi threat to be in the past and that the tour is moving forward.
"We have too much momentum and too much to accomplish to be consistently distracted by rumors of other golf leagues and their attempts to disrupt our players, our partners and, most importantly, our fans from enjoying the tour and the game we all love so much," Monahan said.
Monahan pointed to the litany of players professing their loyalty to the tour as proof the tour and its membership are united on this front. As for LIV Golf CEO Greg Norman asserting that Monahan was bullying players into staying with the tour, Monahan brushed the matter aside.
"I think people know me and they know how I play and how we operate and the values that we stand for, and I don't think there's any question that that's not how I operate. I haven't had a lot of people ask me about it because people know me. I'm right here.
"I just think as we continue to move forward and as we continue to grow this tour in partnership with our players, listening to our players and responding in the right way that accrues to their benefit, that is the ultimate litmus test," Monahan continued. "I feel as the leader of this organization, I feel really good about not only where we are but some of the opportunities we have moving forward, and being very real, getting that feedback, being transparent and allowing players to really feel that sense of ownership."