News & Tours
Has Phil Mickelson done enough to be suspended by the PGA Tour? Experts weigh in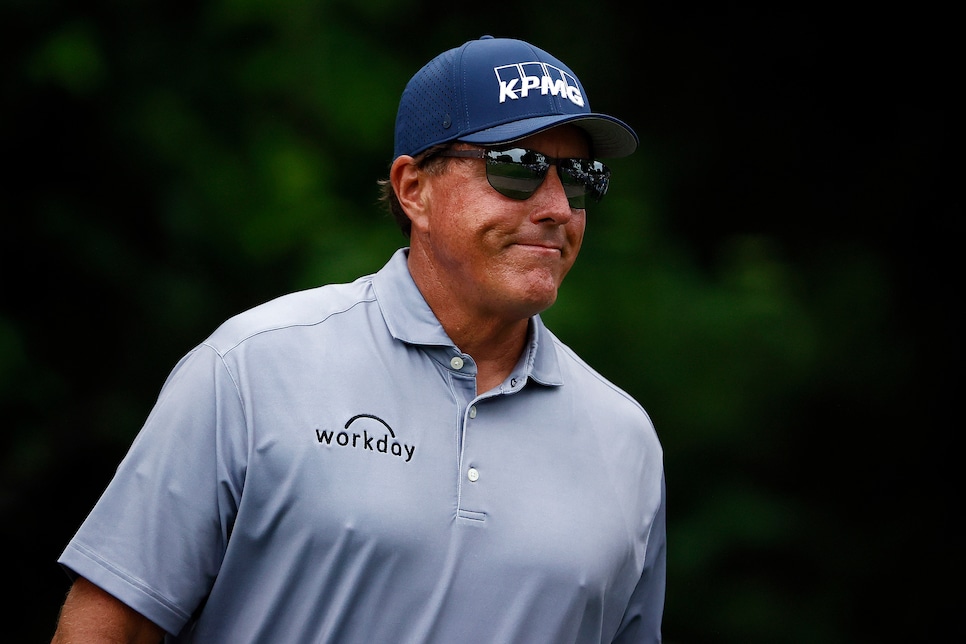 Phil Mickelson's association with a proposed Saudi-back golf league is many things. A financial windfall, a power play, a move spurred by misguided vengeance. But if Thursday's report from the Fire Pit Collective is true, he's not so much an associate of the Super Golf League as he is an architect. And that engineering could spell the end of his time with the PGA Tour.
There are enough juicy portions from Mickelson's November interview with Alan Shipnuck to make a Thanksgiving meal with leftovers for the week. But at the heart of those astonishing comments and fiery claims is this report from Shipnuck: That Mickelson allegedly recruited three other players to the league and that Mickelson and those players paid attorneys to draw up the operating agreement for the breakaway circuit. Essentially, Mickelson is not joining another tour; he built it.
PGA Tour commissioner Jay Monahan has been unequivocal on his stance to tour members, stating multiple times that any player who defects will be immediately suspended and could face a lifetime ban (the tour will hold a players meeting at next week's Honda Classic, where Monahan is expected to repeat this message and provide details on the tour's position regarding the Super Golf League). As discussed in a Golf Digest piece two weeks ago, legal experts believe the tour owns the legal authority to enforce such punishment. But if the above report is true, has Mickelson already done enough to warrant a suspension from the PGA Tour?
"They have some pretty strict rules, they are pretty clear this falls squarely in that," says Tom Allen, an attorney who practices in government services, litigation and labor and employment areas, regarding the PGA Tour. "They can decide whatever they deem appropriate. Assuming [the report] is true, setting up a competing tour, trying to undermine this tour, he's exposed to sanctions."
As a refresher, the PGA Tour, like any other employer or organization, has the discretion to enact rules of conduct of its members, employees and independent contractors. One of the provisions in the PGA Tour Player Handbook and Tournament Regulations is that each PGA Tour member acknowledges the commissioner, the tour's policy board and the appeals committee have the authority to permanently ban a member from playing in tour co-sponsored, approved or coordinated tournaments if the member violates its regulations. The handbook also provides that a player ceases to be a member of the PGA Tour if, in the judgment of the policy board, the member commits a serious breach of the Tournament Regulations, the PGA Tour's Code of Ethics or otherwise conducts himself in a manner unbecoming of a professional golfer.
Mickelson's comments, adversarial and unprofessional as they are, could potentially fall under this jurisdiction. However, athletes criticize their leagues frequently; we see call outs all the time in golf, particularly when it comes to rules or course set-ups. At most a monetary fine is issued, but nothing more. "You don't want to make a mountain of a molehill," Allen notes. One only needs to look at Charley Hoffman's comments at last week's WM Phoenix Open, where he ripped both the PGA Tour and USGA while asserting a lack of protection was spurring players to jump to the SGL. Outlandish as the comments were, nobody was advocating for Hoffman to be suspended. In short, Mickelson's words—detrimental as they may be—likely do not warrant punishment.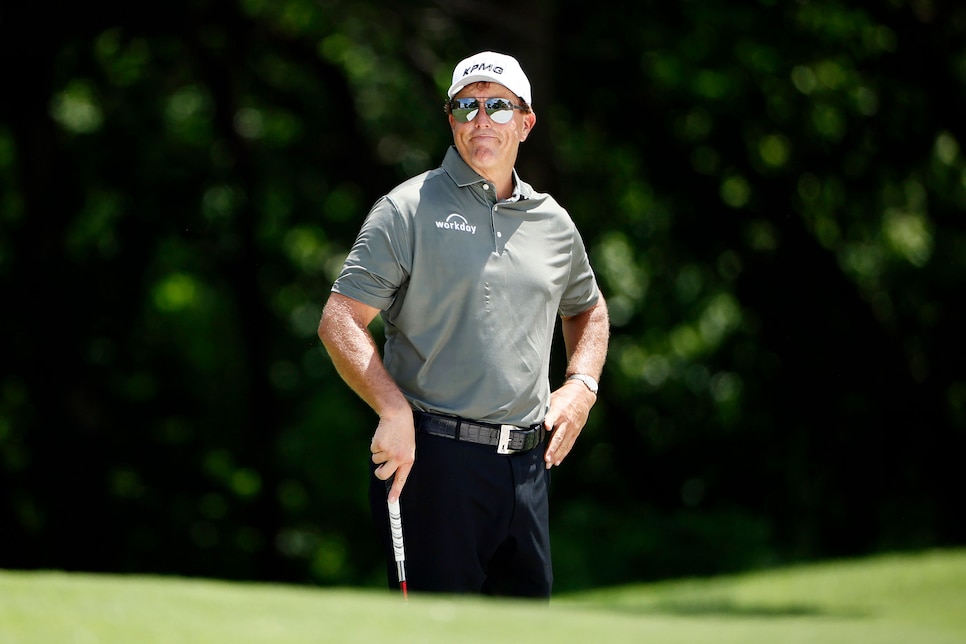 Conversely, lawyers previously outlined to Golf Digest—regarding the Handbook and Tournament Regulations—that the PGA Tour likely has the discretion to decide that joining a competing tour is a serious breach of its regulations. If Mickelson truly did have a hand in drawing up the SGL's operating agreement, not only do those actions merit penalty, they paint the aforementioned remarks in a different light.
"It's like a conspiracy, guys can talk about something, but once you start acting on it, it's something else. You now have actual concrete evidence and those comments are no longer just criticism," Allen said. "You would take away players, tour sponsors. Sponsors that make the purses what they are. That will really be enough. You've made comments before. You've taken steps that are actions unbecoming a PGA Tour member."
Frankly, Allen said, there's not much in the way of the tour from suspending Mickelson. The only potential issue would be knowing the other alleged players who paid attorneys to construct the SGL framework and not suspending them, for any potential Mickelson-specifc punishment could be seen as discriminatory and open a heck of a lot of trouble for the tour.
When asked if Mickelson's currently suspended from PGA Tour, a tour spokesperson told Golf Digest, "We don't plan to comment." Mickelson is not in this week's Genesis Invitational field; he last played on tour at the Farmers Insurance Open in January, with his last worldwide start at the Saudi International. As for what could be keeping the tour from suspending Mickelson, the Saudi-golf effort has already become a distraction at the Genesis Invitational, one of the tour's marquee events. While punishing Mickelson could be seen as regaining control of the narrative, it would also overshadow the weekend at Riviera. There's the chance the tour—again, if the report is true—is waiting to suspend Mickelson until early next week.
Mickelson could have already come to peace with this fate, particularly if he believes Monahan's threat to be true. Then again, Mickelson told Shipnuck he's doing what he's doing to ultimately better the PGA Tour. Unfortunately for Mickelson, that ship—for him—has likely sailed.