News & Tours
Rickie Fowler says he's considering playing in Saudi-backed LIV Golf series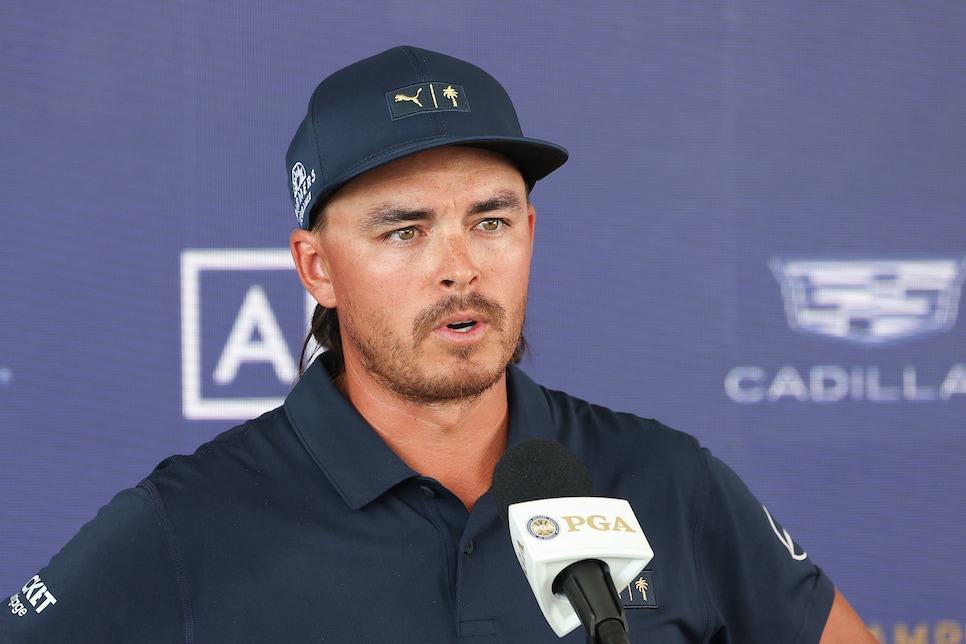 Maddie Meyer/PGA of America
TULSA — Despite his struggles over the past three seasons Rickie Fowler remains one of the more popular figures with those in the galleries. But a Fowler comment on Monday won't be popular down in Ponte Vedra Beach.
Though the golf world is gathered in Tulsa for the PGA Championship the sport's attention is divided, as the LIV Golf series finally launches in three weeks. Many of the game's marquee attractions have publicly distanced themselves from the Saudi-backed effort; conversely, given LIV Golf's proposition of hefty, guaranteed paydays—along with the PGA Tour's threat of punishment to those who defect—there remains intrigue on who will possibly jump to the new enterprise and what the possible ramifications will be. Ramifications that are already being felt at the PGA Championship, with Phil Mickelson declining to defend the Wanamaker Trophy and continuing his sabbatical in the wake of his controversial remarks about relationship with LIV Golf's backers.
Which is why Fowler, in speaking with the media Monday at Southern Hills, was asked if he's been approached by LIV and what his stance on the situation is. Somewhat surprisingly, and breaking ranks from the sport's other under-35 attractions, Fowler did not pledge allegiance to the PGA Tour.
"Yeah, I have," Fowler said, when asked if he's received an offer from LIV Golf. "To be straightforward with you guys, I haven't necessarily made a decision one way or the other. I've mentioned in the past, do I currently think that the PGA Tour is the best place to play? I do. Do I think it can be better? Yes.
"So I think it's an interesting position. Obviously there's the LIV and Premier [Golf League], as well. These tours or leagues or whatever—however you want to classify or call them—they wouldn't really be coming up if they didn't see that there was more opportunity out there. I've always looked at competition being a good thing. It's the driving force of our game. You know, being able to have games with guys at home, that's how I always grew up is competing. I think competition ultimately makes people better, whether it's business, sport.
"So it's interesting, that's for sure."
Considering the advanced ages of other players linked to LIV Golf, along with a collective lack of relative gravitational pull with American fans of said players (sans Mickelson), Fowler's theoretical participation would be a coup of sorts for LIV. In that same breath, Fowler enters the week ranked 146th in the Official World Golf Ranking and 125th in the FedEx Cup. He missed the playoffs last year, with his last win coming in February 2019.
Moreover, should PGA Tour commissioner Jay Monahan stand by his promise to suspend or ban anyone who joins the LIV Golf circuit, Fowler could be jeopardizing his tour career with the move.
When asked if he understood the possible consequences of teeing it up at the LIV London event, Fowler said he was unsure.
"I don't know, I'm like trying to learn as much as I can," Fowler said. "I have no commitment one way or another. Obviously the statement came out last week that they weren't granting any releases. I think a lot of people thought that the first one being out of the country may not be an issue. Obviously it would be more so once it came into the U.S. I'm sure there will be some sort of consequences but I really don't know at this time."
Fowler brought up the question of tour players as independent contractors—a drum LIV Golf has consistently banged, asserting the tour's actions qualify as anti-trust—and said there needs to be more clarity.
"I think guys would probably like to know," Fowler continued. "Because if you're trying to make a decision one way or the other, I know there's some guys that are probably in a position where the consequence may not matter. They may just be ready to go play and not look back type of thing and see how things come full circle. Like I said, it's an interesting time. I've always thought that competition is a good thing, and these leagues or tours wouldn't be coming up or popping up if they didn't see kind of those opportunities out there."
Fowler is making his 13th PGA Championship start this week. He earned his spot in this year's field by finishing in the top 10 in last year's championship.