PGA Championship
PGA Championship 2022: Phil Mickelson withdraws from Southern Hills as his sabbatical from golf continues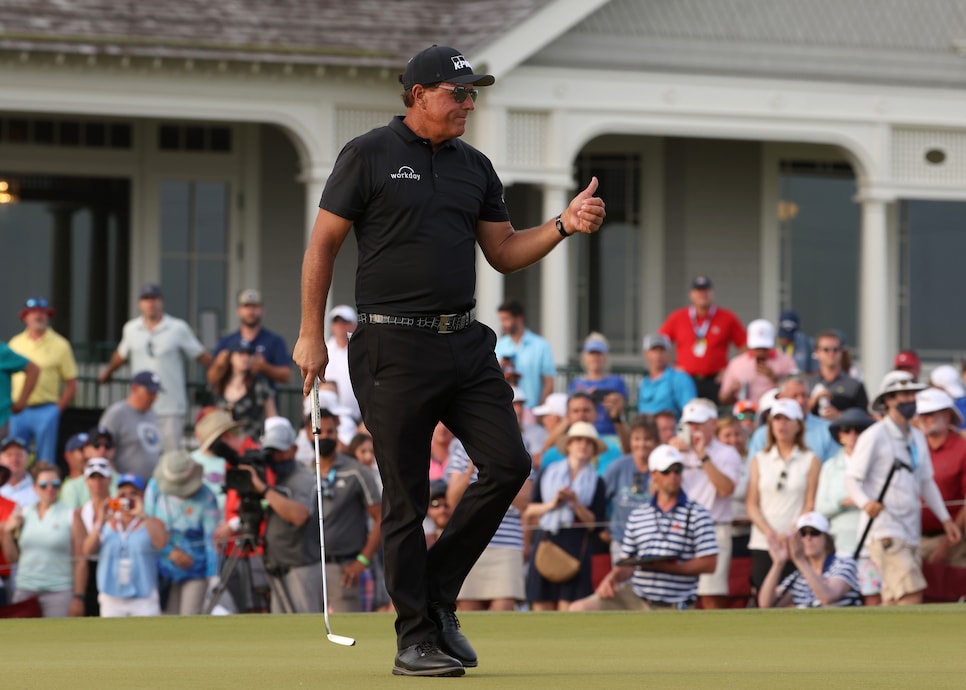 Phil Mickelson has dropped out of next week's PGA Championship at Southern Hills, continuing his sabbatical from golf.
The PGA of America announced the decision was Mickelson's, and in a statement said "we would have welcomed him to participate."
The announcement is somewhat of a surprise as Mickelson, 51, is the reigning PGA champ. However, following the Fire Pit Collective's February publication of an interview conducted last November—in which Mickelson stated he was using a Saudi-backed golf circuit as leverage against the PGA Tour and claimed he had paid lawyers to draw up the league's operating charter—Mickelson has remained out of the public's eye.
"The past 10 years I have felt the pressure and stress slowly affecting me at a deeper level," Mickelson said in a Feb. 22 statement, acknowledging his "reckless" comments. "I know I have not been my best and desperately need some time away to prioritize the ones I love most and work on being the man I want to be."
That furlough will now replace what should have been a ceremonial victory lap at Southern Hills.
In April, Mickelson missed his first Masters—a tournament he's won three times—since 1994. His last time competing in the United States was in January at his hometown event the Farmers Insurance Open at Torrey Pines, while his last global appearance was at the Saudi International in February.
Mickelson's agent has previously stated Mickelson registered for the PGA Championship but was unsure his client would compete. Mickelson's agent also acknowledged Mickelson had requested a release for the inaugural LIV Golf series event in London as well as the U.S. Open. Earlier this week the PGA Tour denied all conflicting-event releases to its members, meaning if Mickelson decides to play in the LIV Golf tournament he faces potential disciplinary action from the tour.
Mickelson's decision to skip Southern Hills is the first time a PGA champion has not defended his title since 2008. Injury prevented Tiger Woods, who had won the previous two PGA Championships in 2006 and 2007, from competing for the Wanamaker Trophy at Oakland Hills. The last player to have not defended any major was Rory McIroy missing the 2015 Open Championship due to an injury.