News
PGA Tour, European Tour announce formation of a strategic alliance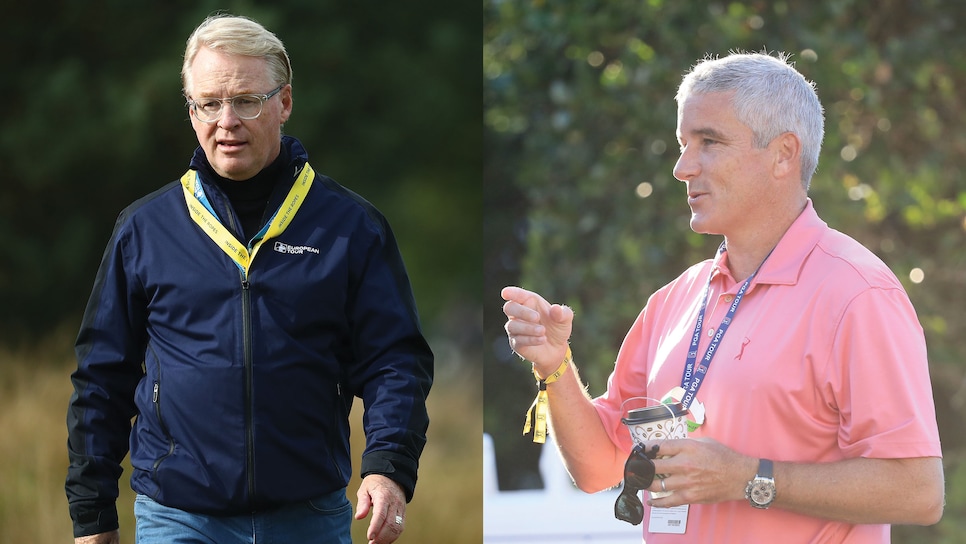 European Tour chief Keith Pelley and PGA Tour commissioner Jay Monahan announced a strategic alliance between the two tours on Friday.
Faced with the test early in 2020 on how to make professional golf work amid a global pandemic, the game's biggest stakeholders worked together on a plan that salvaged a good deal of the overall schedule. During that process, the potential for a long-term partnership emerged between the PGA Tour and European Tour, one that was formally revealed on Friday.
Officials at the two tours announced that after months of conversations, and an intense 72 hours of discussions this week, they are forming a "strategic alliance" that will involve, among other things, working together on commercial opportunities, including the sharing of global media rights. Specifics of the arrangement are still to come, according to both tours, but the partnership will include cooperation on global scheduling, prize funds and playing opportunities for each tour's respective memberships.
"We are thrilled to announce this further strengthening of our partnership with the European Tour," said PGA Tour commissioner Jay Monahan, "and we look forward to working together for the benefit of the men's professional game and for golf fans around the world."
"Today's announcement is the formalization of a closer working relationship between the tours in recent years," said Keith Pelley, European Tour chief executive. "It was one which was crystalized earlier this year when both Jay and I were part of the working group containing representatives of the four majors and the LPGA, a group which helped shape the remainder of the golfing calendar for 2020 during unprecedented times.
"We shared the challenges of working through a year neither of us could have ever imagined, and we found definite synergies in many areas of our respective tours. That gave us the impetus to move forward together and arrive at this momentous announcement we are making today."
Of importance to both tours, the agreement appears to eliminate the possiblity that the European Tour would align with those attempting to crate a separate pro golf entity in the Premier Golf League. There has been much speculation this year that the PGL could lure top-level players from the European and PGA tours.
In a virtual press conference on Friday, Pelley confirmed that he had talks with Raine Group, one of the partners in working to make PGL a reality.
"Raine Capital presented a very compelling offer to take the European Tour to another level, but in a different direction," Pelley said. "Ultimately, we felt partnering with the PGA Tour was the best option for our members and for global golf, a decision that was made unanimously by the board of directors."
Pelley also strongly disputed conjecture that the deal with the PGA Tour was struck because the European Tour was under serious financial stress.
"If this was a financial situation, we would have done far more than a strategic alliance with a minority investment," Pelley said. "I can tell you, we are categorically not in financial difficulties. That is simply wrong. We are in robust financial health with a very strong balance sheet, strongest ever, and a strong support of networks of partners. We have played 23 events since July in Q3 and Q4, creating 15 from scratch, showing incredible resilience and flexibility; and also at the same time funding a health strategy and COVID testing of another 3 million, and I don't think this that is a business or that it simply would have been possible for a business which did not have robust finances."
One part of the agreement revealed on Friday was that the PGA Tour would acquire a minority investment stake in European Tour Productions, which produces and distributes content internationally for the tour. Additionally, Pelley said that Monahan would be a member of the European Tour board of directors moving forward.
After halting play for several months at the start of the COVID-19 pandemic, both the PGA Tour and European Tour resumed their seasons in the summer, holding tournaments without spectators. Each tour created specific health and safety plans, creating "bubbles" to try and limit the exposure of players, volunteers and officials conducting the events. Both tours have had a limited number of players test positive for COVID since their restarts.