News
How the PGA Tour resumed its season, navigated a pandemic and played its way to the Tour Championship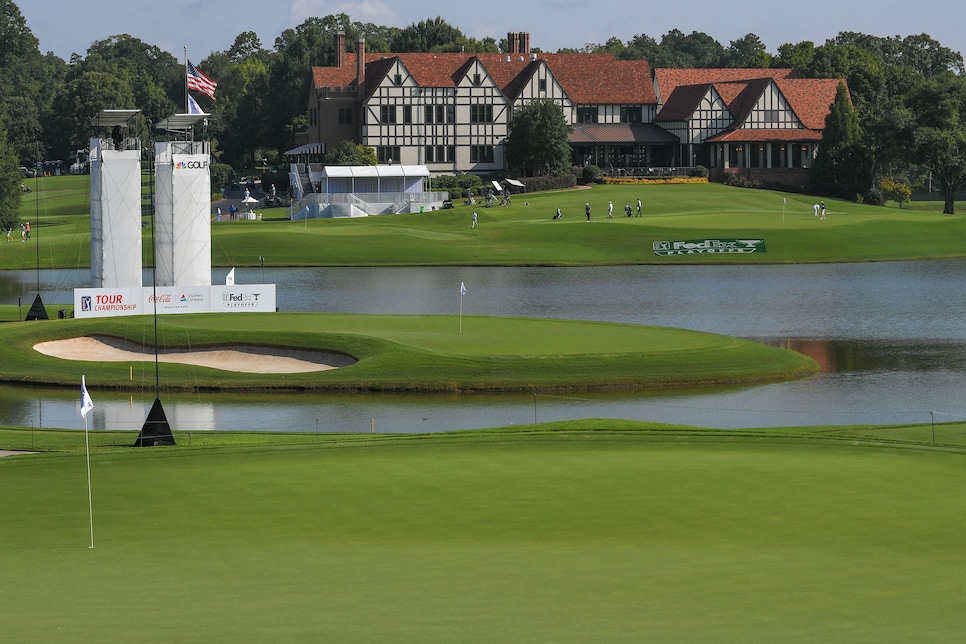 ATLANTA — It was the day before the opening round of the Travelers Championship—June 24, to be precise—and PGA Tour commissioner Jay Monahan was on a jet from Ponte Vedra Beach to Cromwell, Conn. The trip was already on his itinerary but suddenly took on heightened significance after one player (Cameron Champ) and two caddies (Ricky Elliott and Ken Comboy) had tested positive for COVID-19 the previous few days. The fallout was swift: Champ was required to withdraw, while Brooks Koepka, his brother Chase and Graeme McDowell did so out of an "abundance of caution," given their interaction with the caddies. So did Webb Simpson, after his daughter had also tested positive.
A few days earlier, Nick Watney had become the first player on tour to test positive for coronavirus, doing so on Hilton Head Island in the tour's second tournament back after a three-month hiatus because of the pandemic. Rumors and concern were rampant.
"I think when [Jay] flew up to Travelers, I thought that was a really big deal, because [we had] a few positives that week," Simpson said. "I think players were scared that he was flying up to shut it down, but he went the opposite way. He said, Listen, this is here to stay. We're going to have to deal with it. As long as we're being smart, we're going to keep going."
If the Travelers was the low point in golf's return, the weeks since can only be deemed a success. Since the Barracuda Championship in early August, there have been no positive tests on tour. For the entirety of the restart, the tour has administered 3,591 tests to players and caddies. Just 10 positive results have been returned.
Though relating the tour to Major League Baseball isn't quite an even comparison—baseball has more physical contact and close-quarters spaces, etc.—when golf's numbers are stacked against baseball's, the differences are stark. Consider: While starting its season six weeks later than the tour, MLB has postponed and rescheduled 41 games so far with 16 teams being impacted by coronavirus in one way or another. That includes the Miami Marlins, who saw an outbreak of 20 positive test results only a week after the season officially got underway. As for the PGA Tour, except for one tournament that was canceled—the John Deere Classic, which was replaced by a one-off event sponsored by Workday—the schedule was followed just as it was outlined when unveiled in May.
So how exactly did the tour get from there to here? The reasons are myriad, from successful testing, to suggested protocols that were fine-tuned along the way, to players and caddies buying in to the system and following the guidelines, to luck.
"When you commit to a plan, you commit to a plan because you believe in your heart and you believe based on all the quality people that we have around the table and input we're getting that it's a plan that can sustain us," Monahan said Wednesday at East Lake during his first in-person press conference since mid-March, when he canceled the Players Championship and put the season on pause. "I was confident that we had the right plan, but I was uncertain as to whether or not, like everybody else, you'd be able to get to this point."
Things started out positively enough.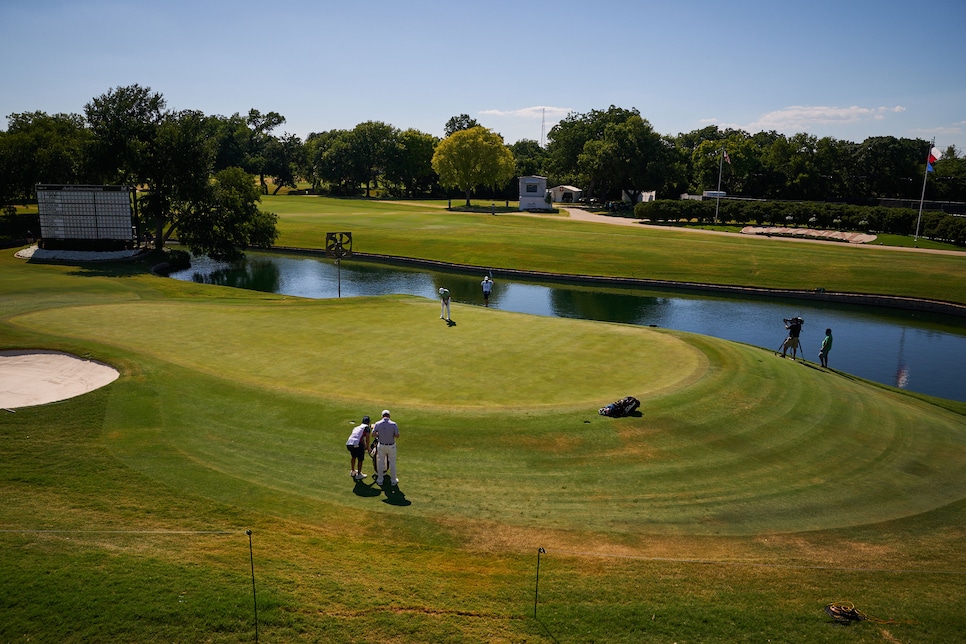 A surreal atmosphere surrounded the 18th green at Colonial Country Club during the Charles Schwab Challenge.
Darren Carroll for Golf Digest
A week later, however, the tour had its first positive test in Watney. It would be the only one at the RBC Heritage, but it caught everyone's attention because the quiet, polite 39-year-old is known among his peers as a rule follower. In the wake of the news, Justin Thomas, who was also playing that week, said that Hilton Head was a "zoo" and criticized the island for not taking the virus seriously.
On Wednesday of that week, Monahan emailed players alerting them to adjustments in the tour's protocols, among them that players and caddies, along with all others "inside the bubble," were not allowed on property until first being cleared with a negative in-market test during pre-tournament screening (previously, players and caddies could be on site to practice as they awaited their test results). He also said that the recent developments should serve as a "wake-up call." Later that week, two more players, Denny McCarthy and Dylan Frittelli, also tested positive, but the tour pressed on.
Not surprisingly, some were skeptical whether the tour could continue to do so. Some players—most notably Adam Scott and Lee Westwood—delayed their return, while other raised concerns privately. They had their reasons.
While players and caddies were encouraged to stay in one of the tour's host hotels each week, it was not a tour requirement and many did not, instead opting for houses or other accommodations. Likewise when it came to how players and caddies spent their time when not at the golf course, there were no mandates, just recommendations.
"I'm not going to lie," said Jon Rahm, a two-time winner after the restart, "when I saw pretty much 20 percent of the tests were positive country-wide, almost worldwide, and with how many other sports were having trouble, I wasn't certain, especially after Harbour Town. I was just keeping in mind … I'm like, nobody should be surprised if one week we show up and there's 30 positives. I'm shocked that we got seven one week [at Travelers] and since then you have very few cases."
Even Monahan wasn't without his doubts, especially early on.
"Our confidence was shaken in those first couple weeks with a few incidents and situations, but we expected that to happen. That's the nature of what we were dealing with," he said Wednesday. "We were reasonably determined to make sure that we were adjusting in the right way so that we could put ourselves in a position to conclude this FedEx Cup season."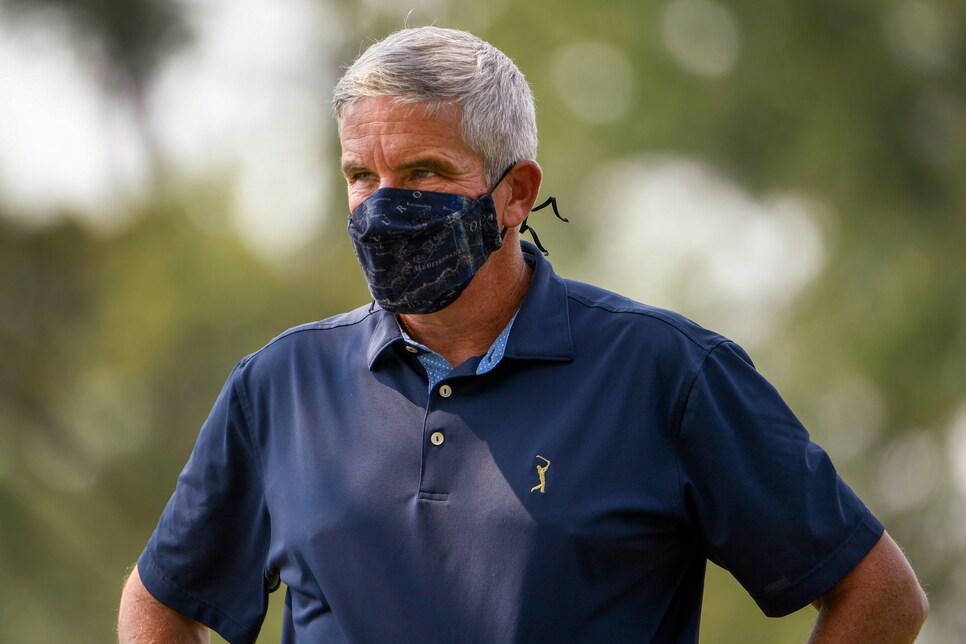 PGA Tour commissioner Jay Monahan did his part in trying to follow the tour's safety protocols while attending tournaments.
Tracy Wilcox
Having a plan helped. And while it wasn't without its holes, continued adjustments made a difference. One such change included an update during the Travelers that a player would not be eligible for the tour's $100,000 stipend if he tested positive after not following the outlined safety protocols. Monahan emphasized that the onus was on everyone involved and said, "We need you to do your part."
It was a wake-up call, indeed. And, for the most part, the players, caddies and all involved got the message.
While some unidentified players, according to multiple sources, have tested positive at home in recent weeks and as a result did not play again until returning a negative result, no one has tested positive on site at a tournament in nearly a month. The tour hasn't canceled any more tournaments, and earlier this week, Monahan unveiled a robust 50-tournament schedule for its 2020-'21 season that will begin next week in California.
The pandemic, however, isn't over. Coronavirus hasn't gone away. While other sports like the NFL and some colleges prepare for a more aggressive return in the fall, the tour remains cautious in its approach. When fans will be allowed to return remains unknown (you might recall, the initial hope was they would be back after just five events), and testing figures to continue through at least the end of the year if not beyond, as will many of the tour's safety protocols.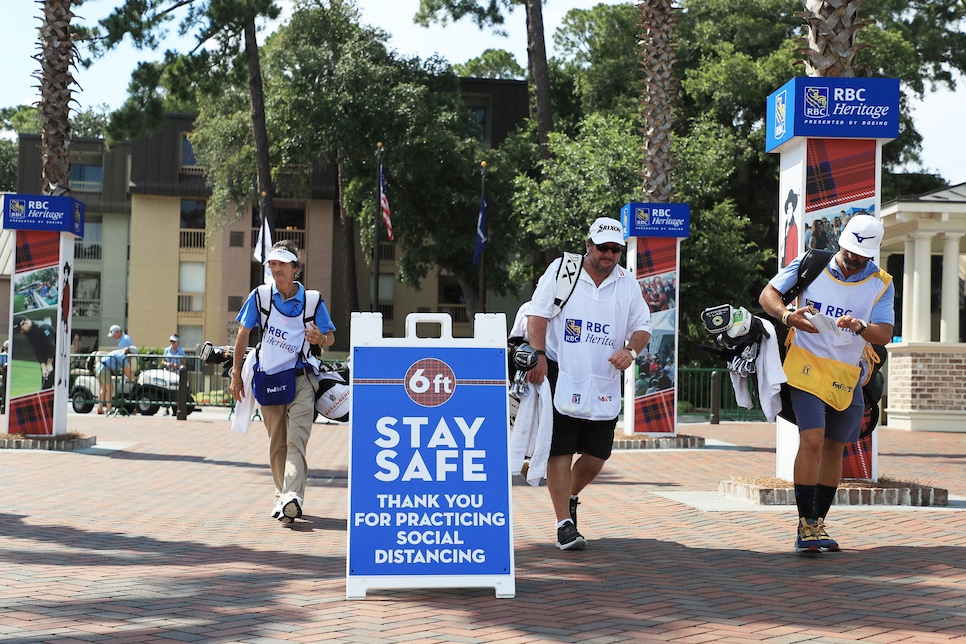 Caddies walk past signage promoting social distancing as a COVID-19 precaution during the second round of the RBC Heritage.
Streeter Lecka
These are facts that aren't lost on the players and all involved.
"Everyone needs to do their part, and that includes the tour officials, the staff, the workers on the grounds of the tournaments, the caddies, the players, the people in the bubble, the trainers, the physios," said Thomas, also a member of the tour's player advisory council. "Everybody needs to do what they are told and what they should be doing because it's a selfless decision. You can't do stuff that's going to benefit you that could jeopardize the entire tour, and everyone has done an unbelievable job of that, to make sure that we're here in Atlanta this week."
And the many weeks ahead, too.