News
PGA Tour player Nick Watney tests positive for COVID-19, WDs from RBC Heritage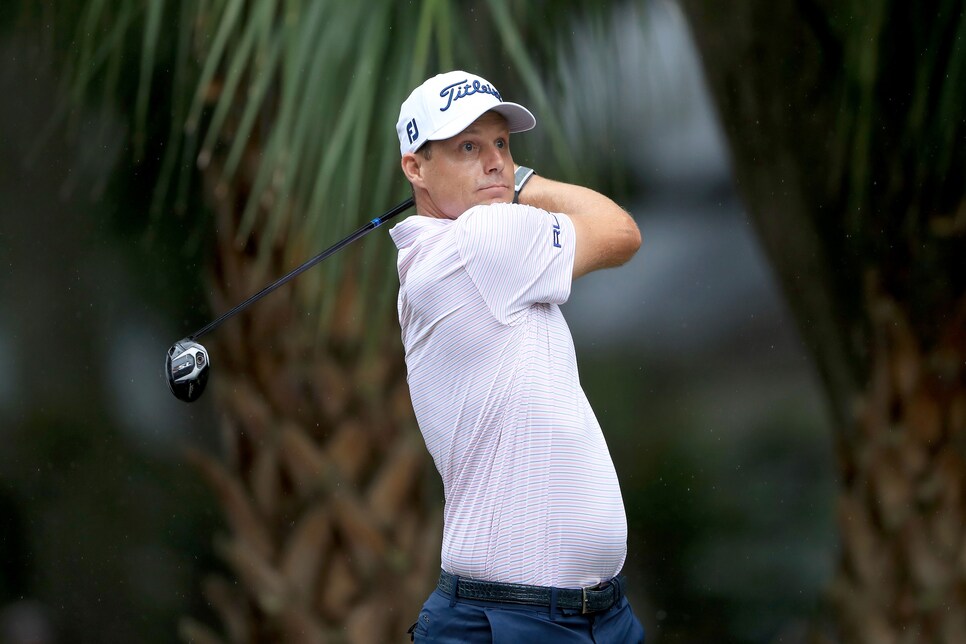 Nick Watney hits a tee shot during the first round of the 2020 RBC Heritage on Thursday. On Friday, he withdrew from the tournament after becoming the first PGA Tour pro to test posittive for COVID-19.
Sam Greenwood
Nick Watney is the first player on the PGA Tour to test positive for COVID-19. He has withdrawn from the RBC Heritage and begun self-isolation, the Tour said in a statement on Friday afternoon.
Watney, who shot an opening-round 74 at Harbour Town in Hilton Head, S.C., indicated on Friday morning that he had symptoms consistent with the illness and consulted with a physician, according to the Tour. He was tested and the result came back positive.
The Tour's health and safety protocols call for contact tracing of anyone who had been in contact with Watney, which includes his playing partners for the first round, Vaughn Taylor and Luke List, both of whom were told as they made the turn on Friday afternoon.
"I was a little shocked, to be honest," Taylor said. "Heart started racing, got a little nervous. Just hope Nick's doing well and we get through this.
"It was on our minds that second nine. We were all chitchatting about it. It's hard not to think about it."
Though both players said they felt fine, Taylor and List, along with their caddies, confirmed they would undergo testing on Friday.
"Yeah, it was hard to concentrate out there for me, just thinking about different stuff, and I wasn't playing my best anyway," said List, who won in the Korn Ferry Tour's return to action last week at TPC Sawgrass in Ponte Vedra Beach but shot two-over 73 on Friday to miss the cut. "It would be nice if they had an option you can kind of say if you want to know or not in a situation like that. I would definitely like to find out after the round next time."
Meanwhile, Brooks Koepka said that he was next to Watney in the parking lot on Friday morning, while Rory McIlroy added that he and Watney had a conversation on the putting green before McIlroy's round on Friday, though McIlroy said it was at a safe distance.
According to Tour guidelines, Watney must also self-isolate for at least 10 days. Though he is allowed to drive home, he lives in Austin, Texas, which would make that difficult. Watney will also receive a $100,000 stipend from the Tour.
Prior to arriving at the RBC Heritage, the 39-year-old five-time tour winner played in last week's Charles Schwab Challenge at Colonial Country Club in Fort Worth, where he missed the cut. The Tour said Watney was not on its chartered flight on Monday to South Carolina and instead traveled privately from Texas to South Carolina.
A total of 369 tests were administered by the Tour to between players, caddies and essential personnel—including Watney—prior to this week's tournament, and there were zero positive results, according to the Tour.
The Tour said it will have no additional comment at this time. Watney's agent has yet to respond to an email from Golf Digest.
Last week, in its first PGA Tour event in three months, the Tour issued 487 tests to players, caddies and essential personnel. All came back negative.
Players and caddies were asked to social distance and "show best practices for playing golf to our fans watching the telecast." However, it was mostly business as usual early on, with players and caddies exchanging clubs and many caddies not wiping off flagsticks or bunker rakes after using them before the Tour again reminded them of the suggested guidelines.
Meanwhile, on the Korn Ferry Tour, one player and three caddies tested positive prior to that circuit's resumption of play last week, while two more positive results came back prior to this week's event on that tour, both from non-players.