News
PGA Tour commissioner Jay Monahan addresses safety concerns at Travelers Championship after five players withdraw with coronavirus-related issues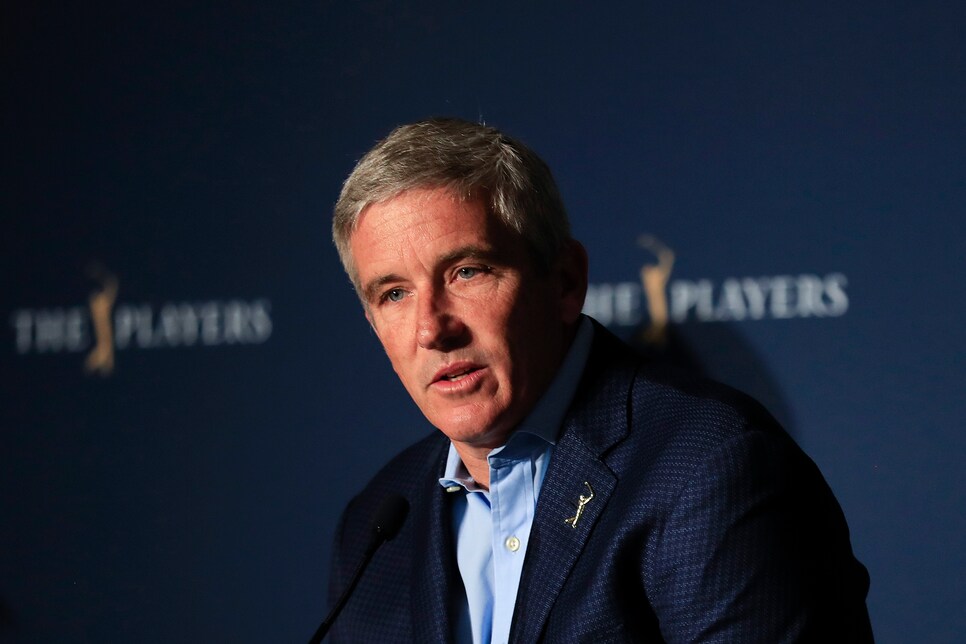 CROMWELL, Conn. — PGA Tour commissioner Jay Monahan addressed safety concerns at tour events during an impromptu press conference Wednesday following five players withdrawing from the Travelers Championship in the last two days due to coronavirus-related issues.
"While we've been thorough in building and implementing a program that mitigates as much risk as possible, we knew it would be impossible to eliminate all risk, as evidenced by the three positive tests this week," Monahan said at TPC River Highlands, a day before the first round of the Travelers. "We need to use these developments as a stark reminder for everyone involved as we continue to learn from an operational standpoint.
"We're making several adjustments to our health and safety plan as noted in the memo sent to players this morning, and we will continuously reinforce to all players, caddies, staff members and support personnel on property at PGA Tour events to adhere to social distancing and other safety professionals that further minimize risk.
Out of the five who pulled out of the Travelers, only one, Cameron Champ, tested positive for COVID-19. Champ, 25, said in an announcement Tuesday that he's feeling "great physically" and that he was surprised and disappointed in the result. "It's important now to take the necessary steps and measures to protect others, including my loved ones," Champ said.
Brooks Kopeka and Graeme McDowell both tested negative for coronavirus upon arriving at TPC River Highlands. However, they took themselves out of competition after their caddies received positive test results in recent days.
"As I've said all along, I'm taking this very seriously," Koepka said in a statement. "I don't want to do anything that might jeopardize the health of any player in the field or his ability to compete." Added McDowell: "When I look at the last four to five days, I have experienced some fatigue and muscle soreness myself."
McDowell elaborated that he believed this tiredness was due to resuming play after being off the past few months. Nevertheless, despite two negative tests on Monday and Wednesday, the former U.S. Open champ said he wasn't keen on risking the field.
Webb Simpson and Chase Koepka, out of an "abundance of concern for the coronavirus," according to Monahan, have also withdrawn, but neither player or their caddie have tested positive. In a statement, Simpson said one of his family members had tested positive for COVID-19.
"While my tests this week were negative, I feel like it is my responsibility to take care of my family and protect my peers in the field by withdrawing from the Travelers Championship," Simpson said. "I am going to return home to Charlotte and quarantine under CDC guidelines, and I look forward to returning to competition after that time period."
Chase, who earned his tournament spot via Monday qualifying, played a practice round with McDowell and his brother Brooks on Tuesday. "I feel as if this is the best decision to keep all other players, caddies and volunteers safe," Chase said.
These WDs come a week after Nick Watney became the first PGA Tour player to test COVID-19 positive at the RBC Heritage.
As Monahan noted there will be several adjustments made to the current infrastructure, starting this week. This includes additional testing upon arrival in next week's tournament market, moving instructors inside the tour's testing bubble and having players wear masks when they enter fitness trailers, which will now be onsite. Monahan said failure to adhere to these measures, along with the rest of the tour's safety and health protocols, will lead to significant consequences.
"All of us have an extraordinary responsibility to follow those protocols. For any individual that does not, there will be serious repercussions, and I'm not going to get into the specifics of it," Monahan said. "But everybody knows and needs to know that our future, our ability to sustain this business and to impact the communities where we play and to create so many jobs is contingent on our ability to follow those protocols."
Monahan would later add he trusts the players to continue to learn and do their best when it comes to following the guidelines. When asked if he felt let down by some players and caddies not practicing social distancing at times on the course, Monahan replied, "Not at all."
Despite the five dropouts, Monahan stated he remains confident in the infrastructure the tour has put in place to keep its constituents safe. The tour has administered 2,757 total tests at the PGA Tour and Korn Ferry Tour tournament sites in the last three weeks, registering seven positives in that span.
"You know, [we're all trying to] learn to live in an environment of COVID-19," Monahan said. "I'm concerned but I'm also confident in the program and protocols we've put in place, and our ability to be able to sustain the PGA Tour and give our players opportunities on both of these tours over the course of the year, so long as we continue to be as diligent as we intend to be."