LIV Golf
Dustin Johnson headlines field for LIV Golf opener in London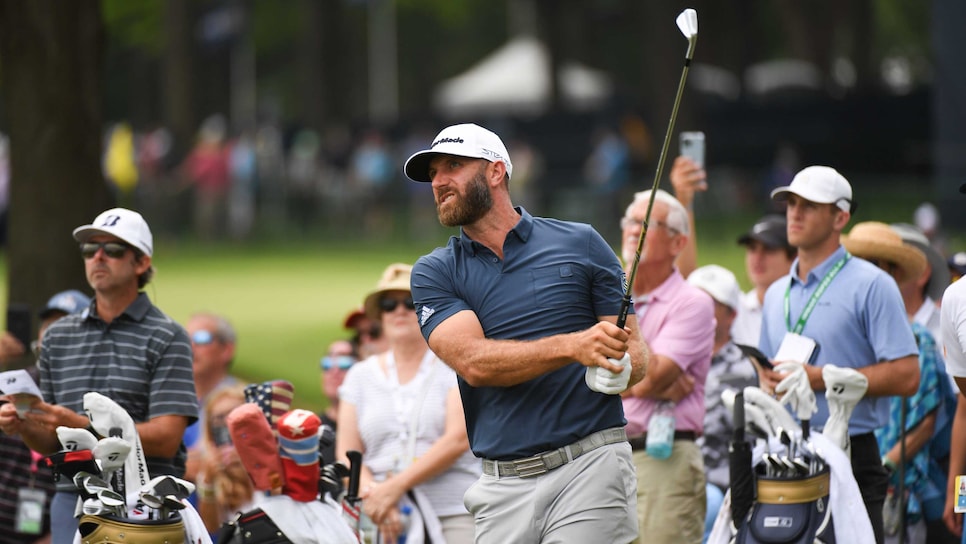 Montana Pritchard/PGA of America
In a surprising turn, Dustin Johnson headlines the field for LIV Golf's inaugural event outside of London.
The Saudi-backed league announced 42 players for the first tournament of the LIV Golf Invitational series, starting June 9 at the Centurion Club, with the two-time major winner highlighting the list of competitors. Though he was previously linked to the fledgling circuit, Johnson came out with a statement in February pledging loyalty to the PGA Tour.
But Johnson's agent, David Winkle, released a statement to various outlets Tuesday saying Johnson continued to weigh the offer. "Dustin's been contemplating this for the past two years and decided it was in his and his family's best interest to pursue it," Winkle said. "He's never had any issue with the PGA Tour and is grateful for all it's given him but in the end felt this was too compelling to pass up."
Other notable names in the field include Louis Oosthuizen, Sergio Garcia, Lee Westwood, Talor Gooch, Martin Kaymer, Kevin Na and Ian Poulter. All told, four players in the top 50 are among the participants—Johnson (13), Oosthuizen (20), Na (33) and Gooch (35)—and 16 of the top 100.
The remaining six spots in the 48-player field will be announced on June 6. The overall purse for the initial event is $25 million, $20 million of which will be given out in the individual portion of the event. The winner will earn $4 million. The rest of the LIV Golf London field is listed below.
Absent from the initial field is Phil Mickelson. The 51-year-old has been the most prominent name connected to LIV Golf and noted in a February interview with Golf Digest that the PGA Tour's "obnoxious greed" had him looking elsewhere to play professionally. But Mickelson has remained out of the public eye since late February when the Fire Pit Collective published an interview in which Mickelson claimed he was using the Saudi-backed golf circuit as leverage against the PGA Tour and claimed he had paid lawyers to draw up the league's operating charter. The story caused backlash, with Mickelson issuing an apology for his "reckless" comments and stating he would be taking time away from the sport.
However, it's possible Mickelson takes up one of the remaining spots next week, and Mickelson's agent Steve Loy acknowledged in April that Mickelson had requested a release from the PGA Tour to play in the LIV Golf series opener.
The London event kicks off the circuit's eight-tournament series. Each will be a three-round, 54-hole competition with no cuts. There will also be shotgun starts in order to fit the events in a shorter time window, along with a team component, with 48 players divided between 12 squads. Five of the events will be held in the United States. Those sites are Pumpkin Ridge Golf Club in Portland (July 1-3), Trump National Golf Club in Bedminster, N.J. (July 29-31), The International in Boston (Sept. 2-4), Rich Harvest Farms outside Chicago (Sept. 16-18) and Trump Doral in Miami (Oct. 29-31). Other hosts include Stonehill Golf Club in Bangkok and Royal Greens Golf Club in Jeddah.
PGA Tour Commissioner Jay Monahan has promised that any tour member who competes in an event on the rival league would face suspension from the PGA Tour and possibly a lifetime ban. The tour denied conflicting-event releases to all tour members who requested to compete in the London event. However, a PGA Tour spokesperson told Golf Digest's Dan Rapaport that disciplinary actions will not be handed out until the London event commences.
LIV Golf has been viewed as a controversial entity due to backing from the Public Investment Fund. The PIF is essentially the financial arm of the Saudi Arabia government, which has been accused of numerous human-rights violations. To improve its reputation, especially to the Western world, Saudi Arabia has heavily invested in various athletic organizations and events, a practice often referred to as "sportswashing." This exercise, particularly when used by state-run groups, is considered a form of propaganda to distract the public from its abuses.
LIV Golf Invitational London field: Oliver Bekker, Richard Bland, Laurie Canter, TK Chantananuwat, Hennie Du Plessis, Oliver Fisher, Sergio Garcia, Talor Gooch, Branden Grace, Justin Harding, Sam Horsfield, Dustin Johnson, Matt Jones, Sadom Kaewkanjana, Martin Kaymer, Phachara Khongwatmai, Sihwan Kim, Ryosuke Kinoshita, Chase Koepka, Jinichiro Kozuma, Pablo Larrazabal, Graeme McDowell, Jediah Morgan, Kevin Na, Shaun Norris, Andy Ogletree, Louis Oosthuizen, Wade Ormsby, Adrian Otaegui, Turk Pettit, James Piot, Ian Poulter, David Puig, JC Ritchie, Charles Schwartzel, Hudson Swafford, Hideto Tanihara, Peter Uihlein, Scott Vincent, Lee Westwood, Bernd Wiesberger, Blake Windred
With the reveal of the initial field list, our staffers offer some immediate Takeaways:
How big a shock is DJ being on the list?
Daniel Rapaport, Staff Writer: Jarring to see his name on the list, but not a huge shock if you've been paying attention. After releasing that carefully worded statement in February pledging his focus to the PGA Tour, DJ remained silent until singing a different tune at the PGA Championship. He said, basically, that he thought competition is good for the game, and he was intrigued by the options. That said, clearly, something changed. Don't know if that's money, mindset or whatever it might be, but something changed.
Joel Beall, Senior Writer: Over the weekend Johnson's name reemerged as a possible defector. Still, these rumors had existed in some form for the past year, so those rumors seemed just that. To see him make the jump—and judging by his agent's comments, it doesn't seem like he plans on jumping back—is an absolute shock, and anyone who says differently isn't telling the truth.
Ryan Herrington, Managing Editor: It's pretty big, if only because of the macro-level ramifications of it. The PGA Tour appeared to have done an impressive job of locking down all the top-ranked players still in their primes when DJ and Bryson DeChambeau made statements saying they were sticking to the PGA Tour in February. To lose DJ shows that there's an ability to pry away marquee names.
Dave Shedloski, Contributing Writer: DJ being on the list isn't just shocking, but perhaps the one name on the list that shifts the sand ever so slightly on the landscape. This is a B-List group for the most part except for Sergio when you think about legitimate drawing power. Sergio has charisma. DJ brings an air of legitimacy with his World Ranking and level of play. His name is in bold and underlined and you have to think that without him the list is rather unremarkable.
Shane Ryan, Contributing Writer: DJ's inclusion is the biggest shock of all to me because I genuinely thought anyone with anything left to give on the PGA Tour would be out. Grudgingly, maybe, but ultimately out.
How big a shock is Phil not being on the list?
Rapaport: I still think he plays. There will be 48 players in the first event. Forty two names were released tonight, with five spots to be filled from an upcoming Asian Tour event, and one more spot for a Commissioner's exemption. You have to think that's Phil, right? They're definitely saving the "best" for last, and Phil is still the headliner of this group.
Beall: Phil is the game's preeminent showman. To think he's not taking one of the final six spots in a heavy-handed ploy for drama is a special type of ignorance.
Herrington: I agree with you both. It's highly unlikely that Phil ever plays on the PGA Tour again given all the bridges he's blown up. With no other "tour" to play, LIV Golf seems like the lone option. If it's not this London event, you have to believe it will be another in the future.
Shedloski: Phil not being on the list doesn't mean he isn't going to be since we know there is one open spot still to be determined. He skipped the Players and two majors already, so LIV has an air-tight explanation if Phil doesn't commit, and that is his sabbatical from the game is continuing. Should his name be added at the last minute, then we'll know Phil was planning this all along and was avoiding the scrutiny by playing somewhere else first. At least that's how I read the tea leaves here.
Ryan: Phil being off the list is a shock considering how intimately involved he was with this enterprise for so long and how badly he seems to need the money. It's not a shock considering the comments he made about the founders being murderers and how his life in the past year has been one act of self-sabotage after another. In the end, I'm calling it a toss-up, but I don't think it should be a "stop the presses" moment that he seemingly screwed this up for himself.
Who is the biggest surprise on the list (other than DJ)?
Rapaport: Talor Gooch, for sure. Guy is in the prime of his career and just starting to establish himself in that top 50 in the world tier. And that's the good life—playing in all the majors, the Invitationals, bigger endorsements, better chance at that FedEx Cup cash … and he jumps? I guess he's turning a year of good play into millions of dollars for his family, but he's the only in-his-prime PGA Tour player that's making the leap. Even DJ, creeping toward 40, knows his best days are likely behind him. As far as biggest surprise not on the list, I'd go with Rickie Fowler. His ambiguousness throughout this process led me to believe he'd go. He still could. Just not now.
Beall: Gooch. No, he's not a star, but he's the only name on this list that's in his prime. Would throw Chase Koepka on there as well, as it begs the question if his slightly more famous brother will eventually follow.
Ryan: The most baffling names for me are those like Hudson Swafford, Gooch and Kevin Na, who seem like they could not just exist but potentially thrive for years to come on tour. Frankly, when it came time to choose, I thought the tour's leverage would win out. My low-key surprise is Peter Uihlein. From a playing perspective it makes total sense, but if you had asked me beforehand, I would have been fairly certain that given his father's former position at Titleist, it would have been an unlikely choice to buck the wishes of the PGA Tour. Apparently not.
Herrington: Ian Poulter. I know, I know, he's been linked to LIV since the outset and seems like a perfect candidate for the Series given his best days are behind him. But the decision to jump means he's now dead to the DP World Tour and in turn the European Ryder Cup team. Given his past with that event, for some reason I thought perhaps it might keep him from making the jump. No doubt, he was a lock to be a captain some day. One would think that would be a particularly lucrative gig for Poulter given his Ryder Cup history. Obviously, it's not lucrative enough to outweigh the LIV Golf paydays.
Shedloski: The big surprise to me is the absence of Adam Scott, who seems to fit the profile of a lot of the more familiar players who are committed—being in his 40s, owning a major but not likely to add another. If Phil stays away, maybe the Aussie is the name in the hat here.