U.S. Open
U.S. Open 2022: Why the 'worst course in America' was once considered for the U.S. Open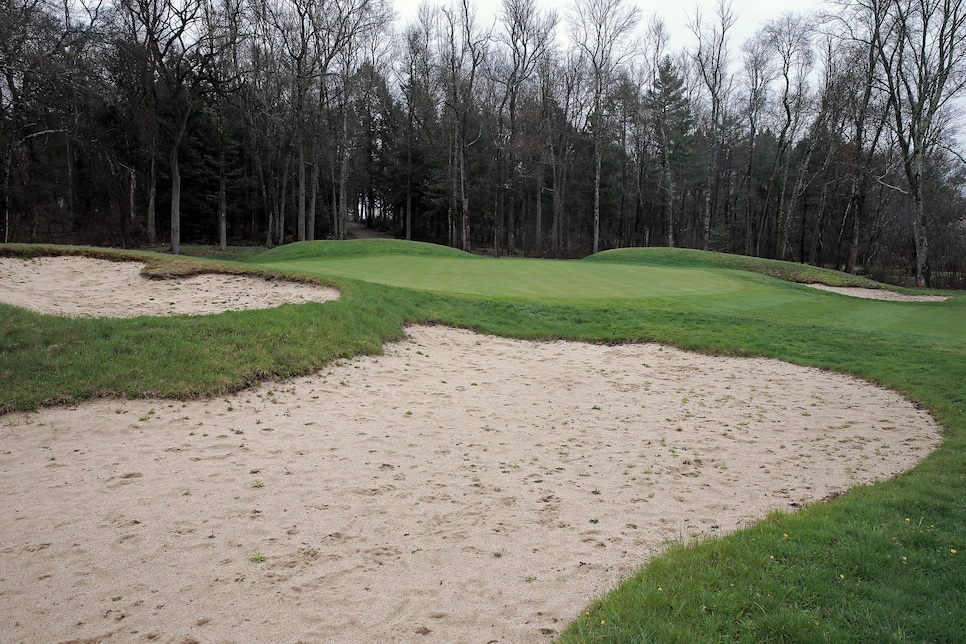 The third hole at Ponkapoag Golf Course, circa 2016.
MediaNews Group/Boston Herald via Getty Images
BROOKLINE, Mass. — The Country Club ends its 34-year U.S. Open drought this week, and if it were up to David Fay the USGA would have returned to the Boston area long ago.
"Let's face it: [it] has one of the best fan bases in the country," Fay says. "They are great golf fans. And I just think that between that, the New England air, the beautiful backdrop and the impact going there could have, it seemed like a fun option."
But Fay, the former executive director at the USGA, had no intentions of bringing his association's flagship event to the venerable course in Brookline. What Fay envisioned actually drove The Country Club's members bananas, because where Fay wanted to go was everything TCC is not.
Fay wanted to bring the national championship to a Boston muny.
Ponkapoag Golf Course, or "Ponky" as the locals call it, is a 36-hole facility just 10 miles down the road from The Country Club. Donald Ross designed 27 of its holes in the early 1930s, with Ross' protege William Mitchell credited with the other nine. The original layout boasted big, undulating greens and deep bunkering, and achieved that sought-after but rarely attained ambition of being playable yet challenging. It's not a particularly long track but what it lacks in distance it compensates for in beauty, as Ponky cuts through a landscape of woods and wetlands and fields that is nature incarnate, with a number of elevated tee boxes providing striking vistas of the property.
Which sounds lovely and it is, but … well, Ponky had a reputation. Diplomatically, it has been referred to as "Mona Lisa covered in mud." Not so diplomatically, Sports Illustrated once dubbed it the worst course in America.
Ponky may be the paradigm for the phrase "good bones" in the most negative connotation. The original design was lost to drainage problems and green shrinkage, and like many courses in this country Ponky became confined by tree obtrusion. Because it fell under the purview of municipal jurisdiction (it's operated by the commonwealth of Massachusetts), the course was often operated by those who didn't know what they were supposed to protect. Funding always seemed to be a problem, further aggravating the poor maintenance issues. The result was a Ponky with chewed-up tee boxes and beat-down fairways, with bunkers boasting more grass than the rough and greens that looked far from green.
So how was a course like that even in consideration for a championship like this?
"Well, you have to remember," Fay says, "after 2002 we had some juice."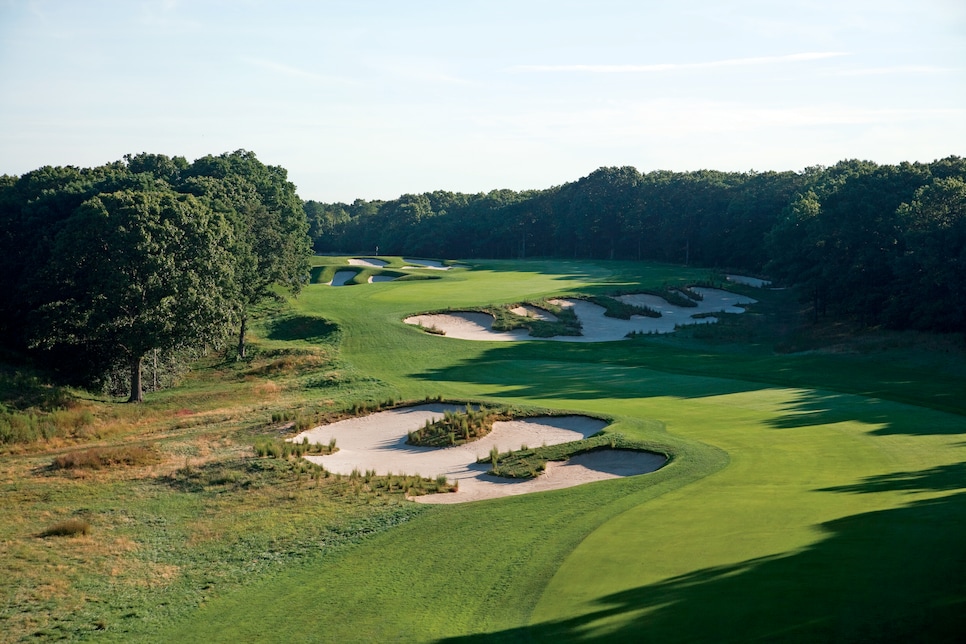 David Fay helped bring Bethpage Black back to life when he oversaw its upgrade in order to host the 2002 U.S. Open.
Stephen Szurlej
Fay just didn't have juice 20 years ago; the man had become a folk hero for the common golfer. His audacity and inventiveness in the mid-1990s spurred the USGA to explore another neglected Golden Age gem in a state park by the name of Bethpage Black to serve as the first true public facility to host the U.S. Open in 2002. Over a seven-year period, Fay shepherded that idea through New York politics, red tape and doubt to bring that vision to light, and the end result was such a resounding success—the people's championship at the people's course, with Tiger Woods the impressive winner—impelled a renewed interest in the preservation, restoration and advancement of public golf facilities.
Many considered Fay's work nothing short of miraculous. Fay, however, saw it as a template that could be replicated throughout the country. Now riding the wave from Bethpage, it was time to put that template to the test, and his eyes were gazed on Ponky, which he originally scouted in the late 1970s as a potential U.S. Amateur Public Links host.
Of course, two decades ago later, the U.S. Open never came to Ponkapoag. What went wrong?
The surface answer is Fay's staff didn't buy his Ponky sell. He charged two of his lieutenants, Mike Butz and his eventual successor, Mike Davis, for a recon mission to Ponky. Visting shortly after the 2002 Open at Bethpage, Butz and Davis reported back that what they found was not a U.S. Open course. They could see what Fay saw in Ponky, that with a little TLC this place could be something more.
In that same breath, the bar for a U.S. Open visit is high. In this case, Ponky simply didn't have enough to clear it.
"I believe they liked it, they saw the potential," Fay says. "The word was, 'You know, we can get 16 really good holes, but we can't get to 18 using the two courses.' I trust those guys, so I didn't push back on finding the other two. Not that I would have found anything magical that they didn't."
Granted, there was the option for the USGA to craft the final two holes from scratch. Yet an endeavor like that costs money, and initial estimates at the time already pegged a rough $10 million to get Ponkapoag into U.S. Open shape … about double what it cost to do the same at Bethpage.
Which leads to the deeper answer of why Ponky never slogged its way through as an Open site, and that is an understanding of how everything broke right for Bethpage when the slightest wrong turn would have submarined the effort.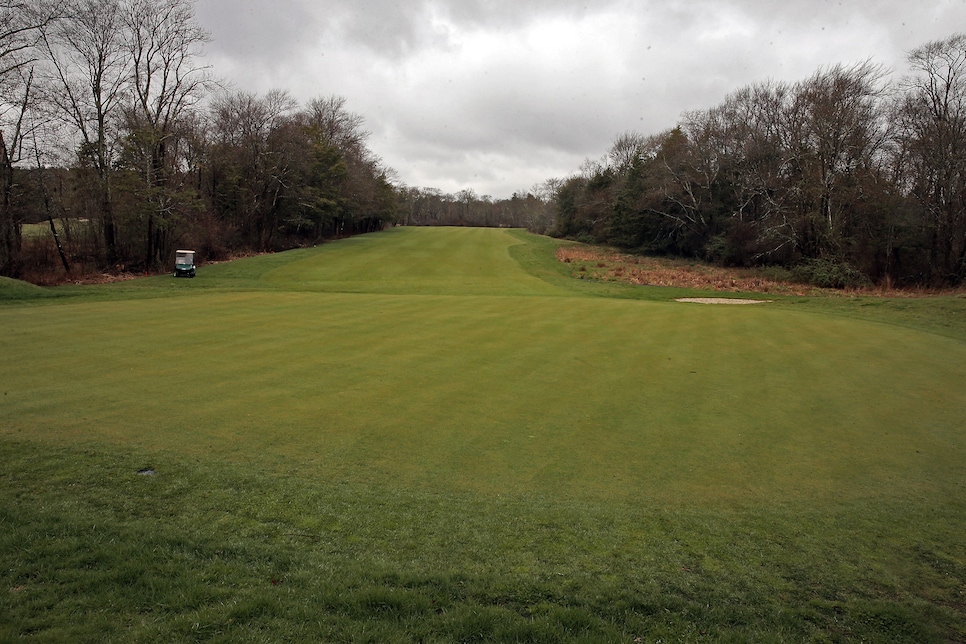 The third hole at Ponkapoag Golf Course after its facelift.
MediaNews Group/Boston Herald via Getty Images
The truth is it's exponentially more complicated to visit public courses over private clubs. Hosting a championship demands a years-long rapport between the USGA and tournament site. If the venue is a country club or resort, that means dealing with a few hundred members and a board or two. If the venue is public, that means local governments and they can be wildcards, Fay explains. You could be working with a set of officials who weren't in place where the original negotiations started. And because money is tight with public-operated entities, the USGA can be left footing the bill to make the necessary improvements to get a course up to U.S. Open standards. These reasons partially explain why the USGA has essentially abandoned public courses in its new anchor strategy for championship hosts.
Realizing it was not a battle that could be won, Fay let the matter drop and moved on. Albeit not without a little uproar from those at The Country Club.
"Oh, the members were aghast," Fay says when word spread about the USGA's Ponky interest. " 'Wait, what? Ponky? The U.S. Open at Ponky? You can't possibly be considering Ponky.' "
Those members were eventually awarded their fourth U.S. Open, and though there are fewer future open dates thanks to the aforementioned anchor strategy, the general belief is The Country Club won't have to wait another 34 years before its fifth national championship. As for Ponky, it did receive a partial facelift in 2014, some of that mud finally washed off. It's still not in pristine shape, definitely not U.S. Open shape, yet a shape that's allowed it to shed its "worst course in America" stigma.
Still, Fay can't help but wonder what it could have been.
"I wouldn't say I have any regrets," Fay says. "But I still think, with the right amount of momentum, you could have a Bethpage in Boston."