U.S. Open 2022
U.S. Open 2022: Phil Mickelson didn't sound anything like himself in first American press conference since blowup
Phil Mickelson speaks to the media during a press conference prior to the 2022 U.S. Open at The Country Club.
Warren Little
BROOKLINE, Mass. — He didn't sound like the man who was scheduled to speak. Had Phil Mickelson played one of his previous 30 U.S. Opens like he played this press conference—measured, reserved, conservative, straight—he might have this national championship to his name. It is truly jarring to see a golfer who has famously embraced the brazen be reduced to anything but.
Of course, "brazen" is what put Mickelson in his current predicament and generated so much interest in his appearance at this U.S. Open, though it has nothing to do with performance.
On Monday afternoon at The Country Club, Mickelson made his first American media appearance since his world turned upside down in February. The press conference came a week after he and 47 others played in the Saudi-backed LIV Golf league's first 54-hole event outside of London. (Mickelson shot 10 over par and tied for 33rd). Yet, with men's professional golf on the precipice of potential combustion, Mickelson did everything he could to not provide more kindling. And, perhaps, not to burn himself in the process.
"That's one of the mistakes I've been making," Mickelson said, in reference to making some of his private opinions public. He added that going forward he would be "a lot more thoughtful with my words and actions and try to keep a lot of those things behind closed doors."

Give Mickelson this: For 20 minutes, he put forth a masterclass of deflection that would do Dikembe Mutombo proud. His trademark conviction was replaced with deference, his cadence that usually dances like it was electrocuted was belabored. Mickelson's answers were long on words but short on substance. He paused for each question, looking at the ground, then looking up at the speaker as to ensure whatever was about to come from his mouth would not be followed by the insertion of his foot.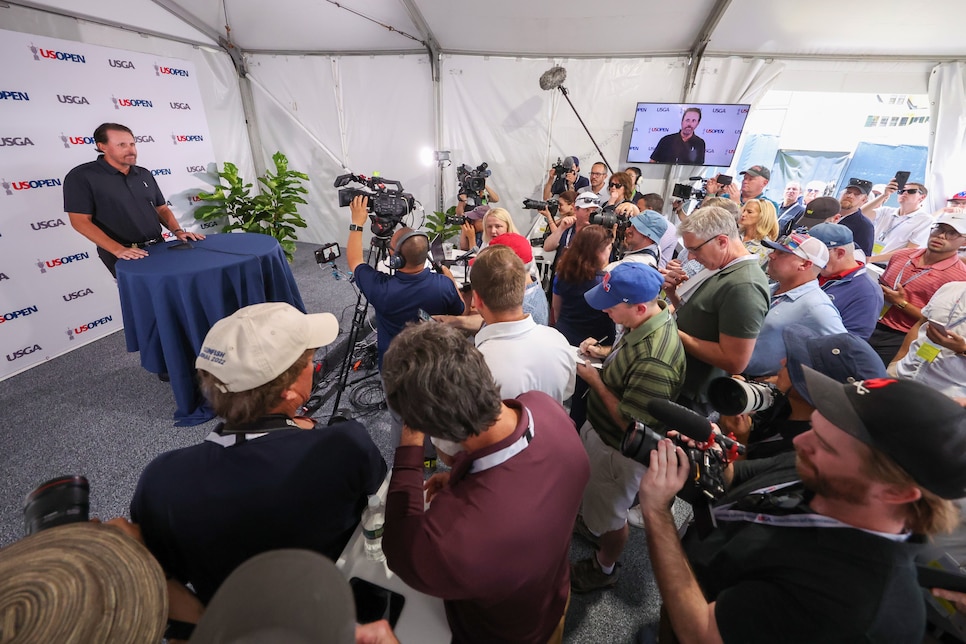 A large group of reporters was on hand for Phil Mickelson's pre-tournament press conference at The Country Club.
Warren Little
There is usually an easy-going, free-flowing rhythm to pre-tournament press conferences and, for better or worse, they are rarely combative. For three decades this was an environment in which Mickelson thrived. Monday? In an outdoor tent with 50 media members encased, Mickelson treated each question as if they were lobbed from a company accountant questioning dubious expense items. It was tense in some moments, contentious at others and uncomfortable throughout. He admonished reporters for asking more than one question at a time and was particularly curt about the subject of Saudi Arabia's involvement with the Sept. 11 terrorist attacks. On Friday, a coalition of families and survivors of 9/11 sent critical letters to representatives of the top American players who have gone to LIV.
"I think I speak for pretty much every American in that we feel the deepest of sympathy and the deepest of empathy for those that have lost loved ones, friends in 9/11," Mickelson said. "It affected all of us, and those that have been directly affected I think -- I can't emphasize enough how much empathy I have for them."
To note, Mickelson said something without providing much insight regarding:
—Leaving to LIV Golf: "I know that many of you have strong—well, many people have strong opinions, emotions about my choice to go forward with LIV Golf. I understand, and I respect that."
—On the criticism of Saudi Arabia's human rights issues: "That's not necessarily for me to say. I think the important thing is that everyone is entitled to their opinion. I understand that it brings out a lot of strong emotions for a lot of people, and I respect the way they may or may not feel about it."
—On upsetting fans: "In regards to if fans would leave or whatnot, I respect and I understand their opinions, and I understand that they have strong feelings and strong emotions regarding this choice, and I certainly respect them."
—On losing the regard of players in the locker room: "Well, like I said earlier, multiple times today and last week, I respect that everyone has their opinion, and this is bringing out a lot of strong emotions for and against with a lot of people, and I respect the opinions that everyone has."
In short, Mickelson stayed to his script, and apparently that script read, "Respect others' opinions."
Conversely, what was Mickelson supposed to say? To his critics, the reason he said nothing was that there are few justifiable answers.
There was one point where Mickelson did seem defiant, in regard to his status with the PGA Tour. In spite of PGA Tour Commissioner Jay Monahan's suspension last week of all LIV Golf defectors, Mickelson believes his lifetime membership was earned and thus one not to be surrendered.
"I've worked hard to give back to the PGA Tour and the game of golf throughout my 30-plus years of professional golf, and I've earned that lifetime membership, so I believe that it should be my choice," Mickelson said.
Mickelson was under no obligation to speak, though it's clear he wanted to shift the focus to this week's competition, though his chances to contend this week seem remote. Until last week, he hadn't played competitively in four months, and since his triumph in the PGA Championship at Kiawah, the man who turns 52 this week doesn't have a top-10 finish in 12 PGA Tour starts.
Not that anyone expects someone of that age to contend at the U.S. Open. But, in the moment, one of the beautiful upshots about his victory last May was earning a victory lap that seemingly had no end.
That PGA win is why Mickelson is in this week's field. But a lot has happened since then, and the future looks no less complicated. The only thing for certain is what was encapsulated Monday, and it didn't need to be said: The victory lap is over.