Mark Frost's passion with the 1913 U.S. Open at The Country Club led to the popular 2002 book "The Greatest Game Ever Played," and a new generation falling for Francis Ouimet's underdog triumph
In the summer of 1999, Mark Frost, co-creator of the groundbreaking TV series "Twin Peaks," was flying from Los Angeles to New York. He and his agent, Ed Victor, were on their way to play golf at a few historic courses on Long Island, including Shinnecock Hills and National Golf Links. During the long flight, Frost shared with Victor a golf story he had heard three decades earlier from his grandfather, the son of a Scottish immigrant.
It centered on the stunning triumph of Francis Ouimet, a 20-year-old American amateur, over British professionals Harry Vardon and Ted Ray in the 1913 U.S. Open at The Country Club outside of Boston, site of next week's 122nd edition of the national championship. The tale today is familiar to most golf fans: Ouimet lived across the street from the course and used a caddie, Eddie Lowery, who was only 10 years old, to take down two of the game's legends. Ouimet's underdog victory made national headlines and is credited for helping spark interest in golf among the masses in the U.S.
It also captivated Frost, who, given his line of work, surely imbued every plot twist with a certain level of drama as he told his agent about Ouimet. "It was about a young man setting his mind to do something and having the willpower to achieve it," he said.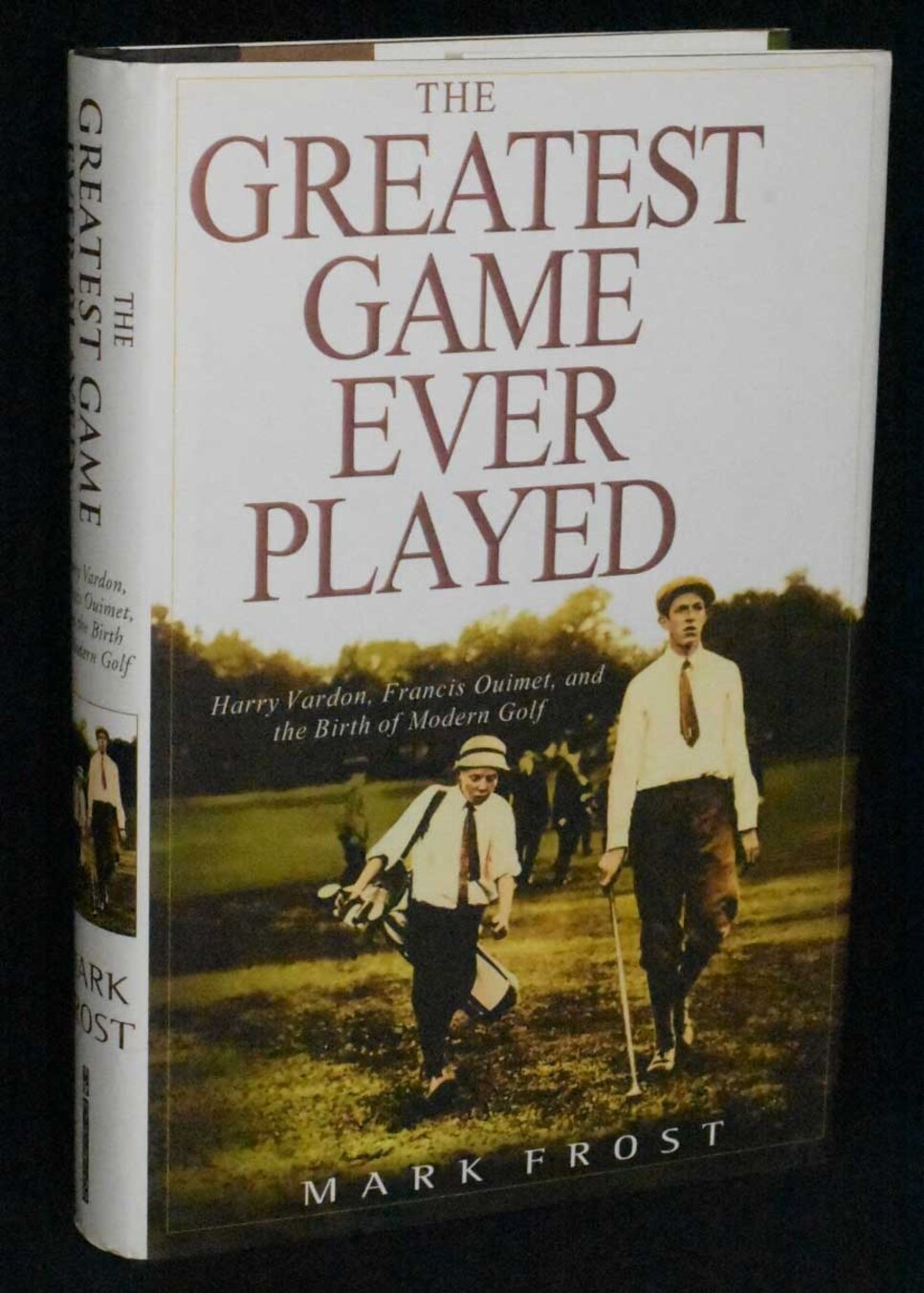 Just as Frost had been, Victor was entranced. "He got this peculiar look on his face," Frost said. "At the end of the story, he looked me square in the eyes and said, 'Mark, this is a book. You have to start on this immediately.' "
Once Frost arrived at his hotel, he did. He called the USGA, making plans to visit its headquarters in New Jersey. He reached out to the Francis Ouimet Foundation in Boston. In the ensuing months, he would go through every page of newspaper coverage related to the 1913 Open; the city had at least a dozen papers in those days.
Frost, who had never given any thought to writing a golf book, was all in. "I knew I had hooked a big one," he said.
Which also meant the pressure was on. "I knew I couldn't screw this up," he said. "It's one of the great stories in the history of the game."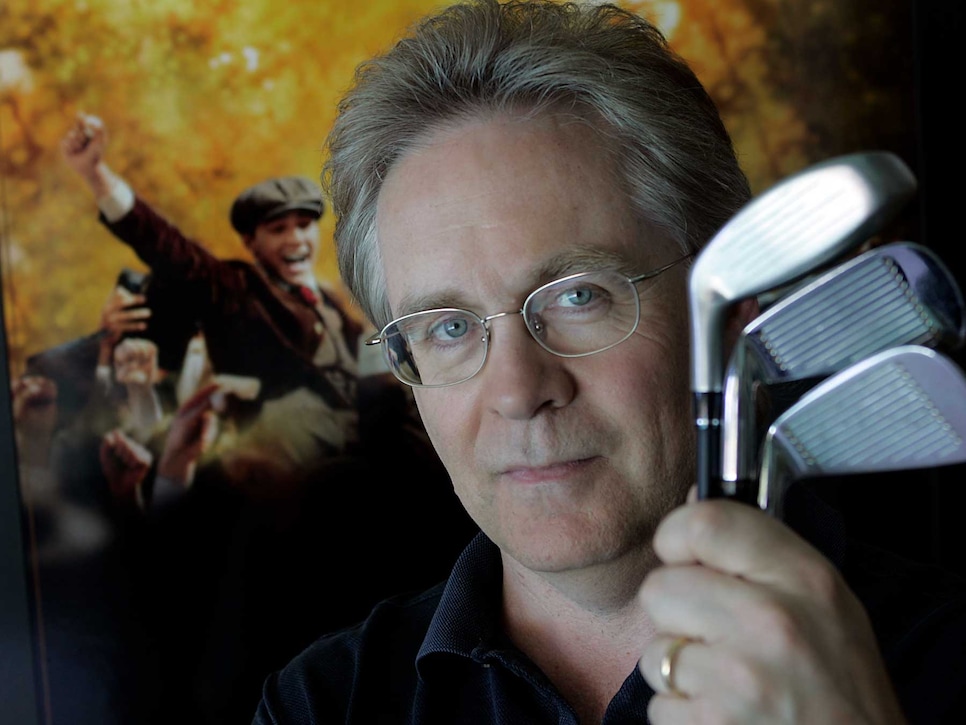 Frost in 2005 during a promo shoot for when his book "The Greatest Game Ever Played" was adapted into a movie.
Carlos Chavez
The Greatest Game Ever Played came out in the fall of 2002 to positive reviews. "Frost … tells this story at the perfect pace," wrote David Owen in The New York Times, "and provides just enough biographical context to enable a reader to make sense of the characters and their significance." (Owen wasn't as complimentary on another matter, which we'll get to later.)
The book's popularity among golf fans was quickly evident. It would win the USGA Herbert Warren Wind Book Award that year. "A no-brainer," according to Rand Jerris, the USGA's former historian. "He brought his Hollywood storyteller's touch to a really important moment in the game's history."
The impact of the book was felt throughout the golf community.
"Everybody was talking about it," recalled Colin McGuire, executive director of the Francis Ouimet Scholarship Fund. "People were using it as gifts. We used it as sponsor mementoes. We can't speak enough about how it brought the Ouimet Fund and Francis' story to life more than ever before."
Frost, 68, who lives in Ojai, Calif., recently recalled some of the details of working on the project. For starters, he went forward without a book contract, which was a risk. No matter how excited he and his agent might have been about the concept, there was no guarantee publishers would share that enthusiasm.
Even so, not having a deal did not deter him. "I'm a big believer in betting on myself," he said. "I was making a really good living. I didn't need the money at that point, and what was I going to get for a proposal like this? I didn't think very much."
Frost, who grew up in Los Angeles and Minneapolis, was a writer for such successful TV shows as "Six Million Dollar Man" and "Hill Street Blues." In the mid-1980s came the opportunity to work with director David Lynch on "Twin Peaks," which focused on a murder in a small town in the state of Washington. The series turned out to be a big hit.
As he got started with the golf book, Frost found himself in a project that "completely possessed me." As part of his research, he estimates he read about 80 books dating back to the late 19th century.
"What I realized is that I was writing a story about the struggles of the class system in both Great Britain and America," he said, "and golf was a wonderful vehicle for telling that story." Indeed, the book goes into great detail about the background not just of Ouimet but the other protagonists, Vardon and Ray, as well other prominent golfers of the day.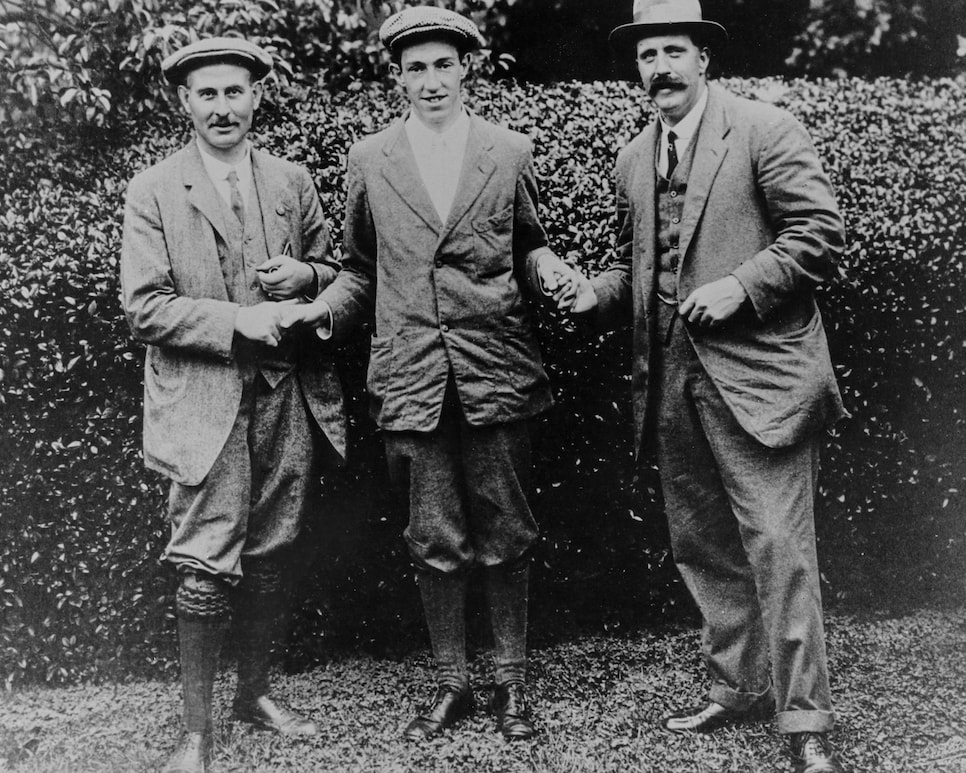 Harry Vardon, Francis Ouimet, Ted Ray pose for a photo at the 1913 U.S. Open.
PGA of America
In the process, Frost got to know Lowery's daughter, Cynthia. She shared her father's personal papers, which included a 20-page account of the 1913 Open.
"Eddie was really good with recollections," Frost said. "He was an amazing character."
Frost finished the manuscript in the summer of 2001. By then, his agent had identified about half a dozen publishing houses he thought might be interested. The plan was to set up an auction. Frost overnighted the manuscript to Victor's office in New York. The date was Sept. 10.
"We don't know what happened to it," Frost said, the mailing getting lost as the events of 9/11 unfolded.
Thankfully, he kept other copies, and when the world got back to business a few weeks later, the bidding got under way. Frost chose Hyperion.
Initially, Frost was discouraged when he found out the initial print amount would be about 15,000 books. Bob Miller, his publisher, assured him, however, that the book would build slowly but have a long run.
"Sure enough," Frost said, the sales, thanks to word of mouth, "built just the way he said it would, week by week." More than 30,000 hardcover copies have been sold along with nearly 95,000 paperback editions.
Readers were drawn to the cover, which featured the classic photo of Ouimet holding a club and the 10-year-old Lowery carrying the bag. In the background, you can spot well-dressed members of the gallery and a patchy golf course unlike today's well-manicured championship layouts.
"It really captures the moment and the relationship and the period," he said.
As for that relationship between Ouimet and Lowery, as well as interactions between other characters in the book, that was where Owen, The Times reviewer, had some issues.
"Frost," Owen wrote, "has chosen to recreate dialogue and even mental activity for which there is no historical record. That isn't necessarily a terrible idea; burying his research in this way enables him to keep the narrative flowing, and he had plenty of solid sources from which to extrapolate. … But because Frost doesn't explain where he's taken liberties and where he hasn't, a reader can never be sure how far to trust the cornball conversations he presents."
Frost is familiar with this criticism. He actually anticipated it. Toward the back of the book, he included a paragraph that he referred to as "A Note On The Writing." He explained his use of source material for direct attribution, but "in its occasional absence I attempted to infer intent from prose or reportage, remaining as true as possible to what I understood to be the spirit of the moment. In rare exceptions … I took the liberty of elaborating on those perceptions beyond what I could absolutely verify."
More recently, Frost explained his approach.
"I did not see I was writing this book as either strictly an historian or strictly as a journalist," he said. "I was neither of those things. I'm a dramatist, and so I felt fully entitled of using my own paint box to paint the picture. I don't feel any of the participants would object to the way they were characterized."
Besides, he pointed out, Lowery's papers included the conversations he had with Ouimet. "I felt I was on solid ground," Frost said. Frost was shocked no one had ever dived into the Ouimet story the way he did.
"People didn't know much about the history of golf in this country," he said. "Everybody sort of vaguely knew about Bobby Jones, and that was it. They didn't go much deeper than that."
The book's success spawned interest in turning the story into a film, which came out in 2005. Naturally, Frost wrote the script. He worked with producers he knew at Disney who brought on Bill Paxton to be the director. Shia LaBeouf played Ouimet.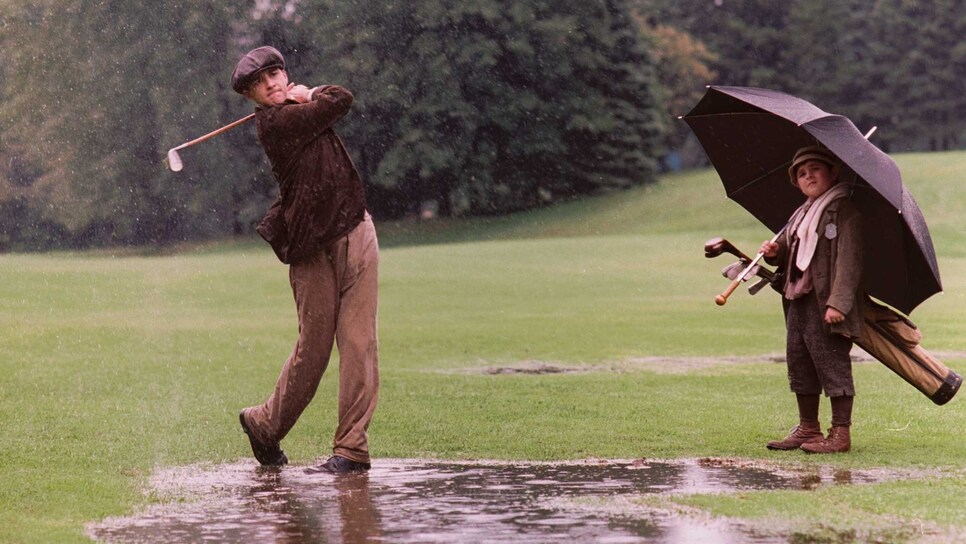 Shia LaBeouf played Francis Ouimet and Josh Flitter was Eddie Lowery for the 2005 movie version of the book
"It was wonderful," said Frost about the experience. "They left us completely alone. They trusted what we were doing."
The film, which sticks closely to the narrative in the book, has plenty of touching moments. One shows Ouimet's father, who had opposed his son's involvement in the game, holding up a dollar after the playoff was over. The money would be going to Lowery.
"I found that in two references, just a small paragraph in two of the daily newspapers," Frost said. "A reporter had seen it and written about it. That was the kind of perfect moment of reconciliation between them without ever having a word spoken."
The film, which cost about $25 million, didn't do great business at first but profited due to the DVD market.
"I'm still getting money from it," he said.
Frost, who carries a 4 handicap index, went on to write two more golf books. The first was The Grand Slam, published in 2005, which focused on Bobby Jones. Ouimet and Jones, Frost said, were the "one-two punch that made golf what it is today." The other book was The Match, out in 2009, which revolved around the famous duel at Cypress Point in 1956 between the professionals (Ben Hogan and Byron Nelson) and the amateurs (Ken Venturi and Harvie Ward).
He's often asked if he plans to write another golf book. The answer is no.
"I haven't found one that tells as complete a story as any of these three," said Frost, who has written roughly 1,200 pages on the subject. "That's a lot of writing about golf. I feel like I sort of said a lot of the things I want to say about it."
His current project is more personal. It has to do with his great uncle, Will Hassett, who worked for President Franklin D. Roosevelt as a speechwriter and secretary. Frost wrote a play about Hassett, who he met several times, and is working on a novel. Hassett kept a diary of FDR during World War II. The plan is to develop the play that he could hopefully take to Broadway. A stage reading is set for this fall at the Berkshire Theater Festival in Massachusetts.
Speaking of Massachusetts, Frost will appear in Brookline during next week's championship. He will speak about the 1913 U.S. Open and do some signings for audiences still being introduced to book some 20 years after its initial release.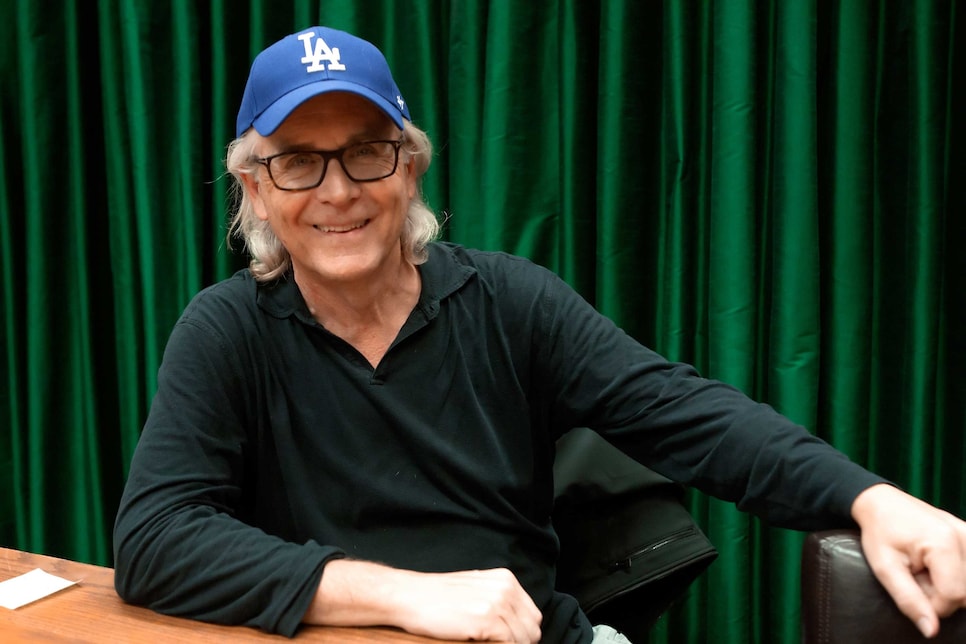 Frost in 2017 attending a "Twin Peaks" event in Pasadena, Calif.
Paul Butterfield
The U.S. Open's return to Brookline allows Frost to relive his work on the book and put into perspective what it meant for him to have a part in sharing the Ouimet story.
"It's a chance to go back and express some of the gratitude I feel for who he was, what he stood for, and what the organization he founded has done for the community of Boston," Frost said. "One of the great things golf honors more than almost any other sport is the passage of time. We see these golfers in the continuum of the thing we're all kind of stuck in, this notion of time passing and aging and coming to the end of life at a certain point. I'll be thinking about all those things as I see that place again. It holds a very special place in my heart."