Number Crunching
U.S. Open 2023: 63 things to know about Johnny Miller's historic 63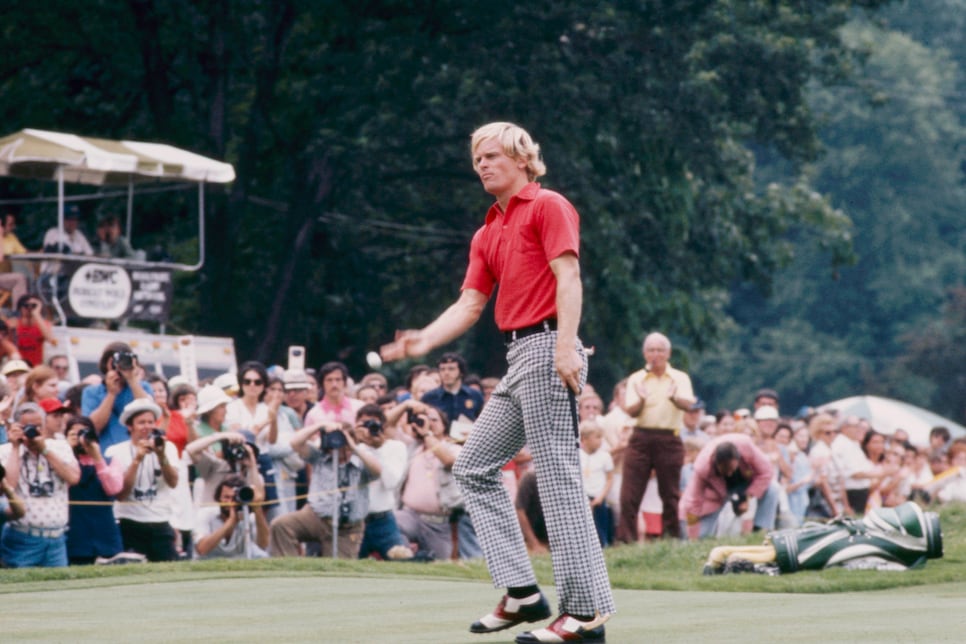 Photo By: Walt Disney Television Photo Archives
As young kid who caddied and played golf, I was a big Johnny Miller fan. So, when we decided to try and find 63 things about his memorable final-round 63 at Oakmont to win the U.S. Open in 1973, I started down every rabbit hole possible to find any nugget of note. Whether it was researching articles, Googling, reading transcripts, watching video or digging into the Golf Digest archives, anything connected to that round was of interest. As one might expect, the following list includes some well-worn facts and anecdotes, but also sheds some new light on many things, even for a Miller aficionado. Here's a journey through one of—if not the—most memorable round in golf history.
1. Although Johnny Miller was considered one of the very best players of the 1970s, he had just two PGA Tour wins before his victory at Oakmont—the 1971 Southern Open Invitational and the 1972 Sea Pines Heritage Classic.
2. Before 1973 only three players had played an Open at Oakmont under par—Ben Hogan in 1953 and Jack Nicklaus and Arnold Palmer in 1962, leading to a playoff.
3. During his 2007 presser prior to that year's U.S. Open at Oakmont, Miller recounted an encounter with a prescient female spectator. "She came up to me on Tuesday and said, 'You're going to win the U.S. Open on the 18th green.'" Miller recalled. "I go, 'Yeah, hi, how are you doing? Do you want an autograph?' No. She didn't want an autograph, just wanted to tell me I was going to win the Open."
4. In 1973 players were not allowed to use their own caddies, meaning Miller's bagman, Andy Martinez was on the bench. "I don't know who came up with that theory," Miller said in 2007. "Maybe they wanted everybody to have Ray Charles caddying, I'm not sure. I don't know what the thinking was of that. My caddie was a nice guy, "Sweet Lou" I called him, a local guy, and of course there were no lasered or measured yardages, just a guy's walk. … Totally different yardages every hole."
5. There was no distance debate in 1973. Oakmont C.C. played at under 7,000 yards—6,921, to be exact.
6. Miller said that forgetting his yardage book at the hotel on Saturday nearly cost him the tournament. He shot a 76 during the third round, unnerved by not having the exact yardages.
7. After Saturday's third-round 76, Miller went looking for the female spectator who predicted he would win. "You're wrong, I was going to tell her. I've blown myself out of this thing," he said. "Sunday, I get a letter in my locker, no return address. It just says, 'You are going to win the U.S. Open.' The note was from Iowa."
8. Even Miller didn't foresee such a historic comeback, telling his wife Linda to be ready to make a quick getaway after the final round to get to the next event at Firestone C.C. in Akron, Ohio.
9. Golf Digest's Guy Yocom shared this gem about Miller, including a key adjustment prior to the final round. "As everyone who listened to Johnny on TV came to know, he is deeply spiritual with a somewhat mystical bent. We heard many times his stories about how he won the 1987 AT&T after a voice from nowhere told him to putt while looking at the hole, as well as the tale of his final-round 63 at the 1973 U.S Open, which happened when he heard the same voice tell him before the round to open his stance."
10. In a nod to the history made by Miller during his 1973 U.S. Open victory. The clubs, scorecard and even his belt are on display at the World Golf Hall of Fame.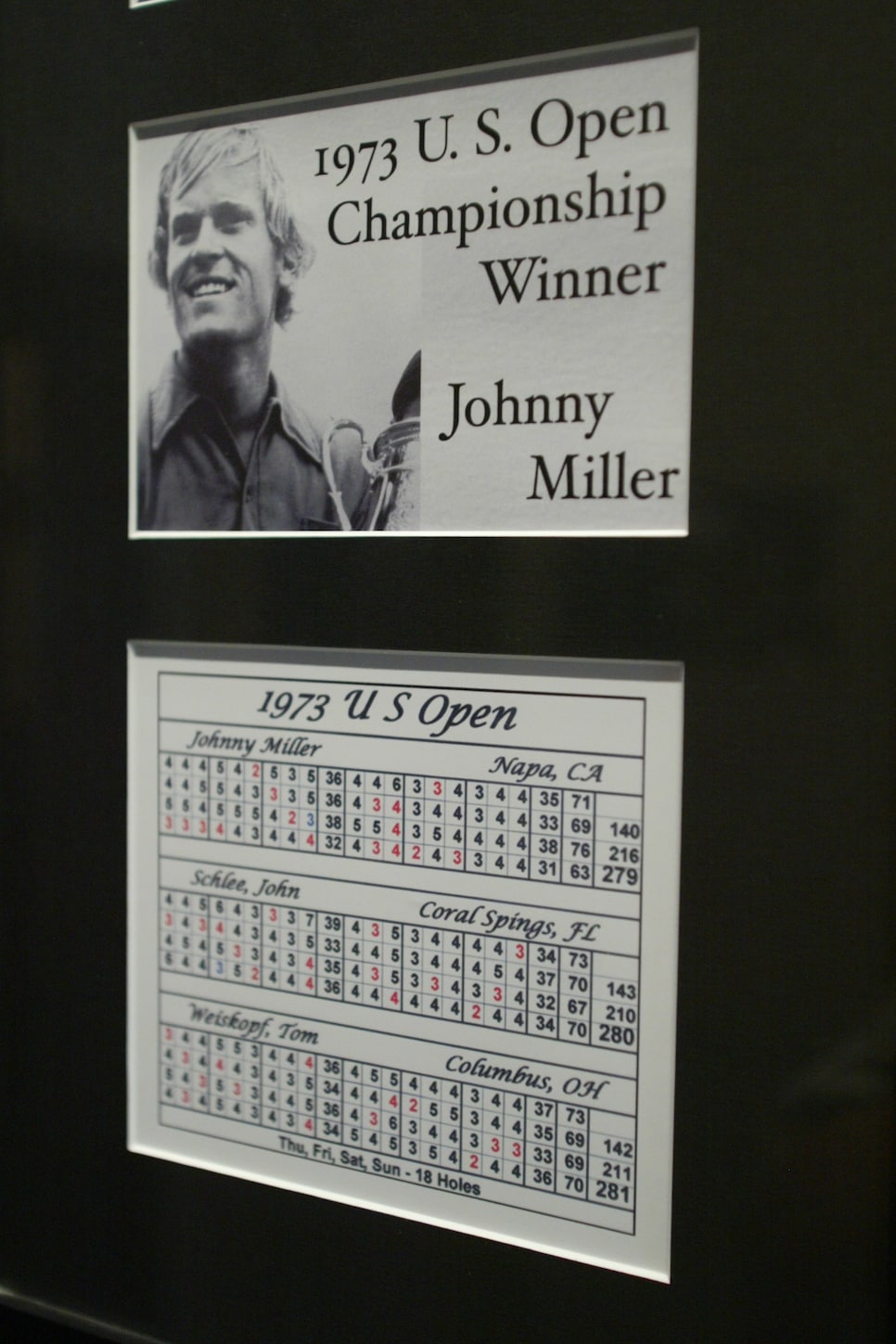 11. Miller went out nearly a full hour before the final group of Julius Boros and Jerry Heard. In fact, Miller played in the eighth-to-last group as tee times back then were in seven-minute intervals.
12. Miller began the final round tied for 12th, six shots behind the four co-leaders (Boros, Heard, Schlee and Palmer).
13. It might have rained the night before, but Oakmont's notoriously difficult and speedy greens still baffled the best. In fact, former Masters champ Bob Goalby hit the first green in two but made triple-bogey seven after putting off the green, chipping back on then taking three more putts to get the ball in the hole.
14. Those lucky enough to witness history didn't have to pay much for it: admission on the weekend was a mere $10.
15. The Darrell Survey has tracked the usage of equipment on tour since 1932 but was not as buttoned up in 1973 as it is today. Miller's listing for woods, irons and ball simply says, "MacGregor."
16. Golf Magazine, however, ran a photo of Miller's bag from 1973 in 2012, revealing Miller played two fairway woods from the 1940s and a driver from 1961. Said Miller of his driver, ""I had to have everything just right, so I refinished my clubs and re-faced them. In '73, they used persimmon that wasn't the hard wood. I wanted the heavier blocks that had a real tight grain. I wanted a little bit of movement, which means [wood] from the knotty area of the tree."
17. Chris Schenkel and Byron Nelson (U.S. Open champ in 1939) manned the booth for the television broadcast on ABC. As the broadcast began, Miller stood three shots in arrears of Palmer and Heard. It was still a few years away from 18-hole coverage as the broadcast only covered holes 6 through 18.
18. Miller got off to a fast start, shooting 32 on the front nine that included three tap-in birdies inside a foot at Nos. 2, 4 and 9.
19. Miller's round included a bogey when he three-putted the par-3 eighth hole.
20. Palmer missed a six-footer at 11 that would have tied Miller for the lead. Palmer finished T-4, the middle in a string of three frustrating top-5 finishes in the Open.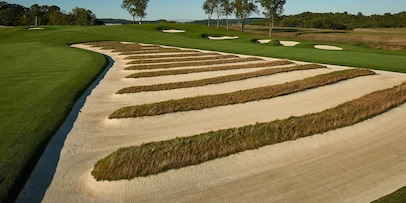 Once tens of thousands of trees (mostly planted in the 1960s) were removed between the early 90s and 2015, Oakmont's original penal design was re-established, with the game's nastiest, most notorious bunkers (founder-architect H.C. Fownes staked out bunkers whenever and where ever he saw a player hit an offline shot), deep drainage ditches and ankle-deep rough. Oakmont also has the game's swiftest putting surfaces, which were showcased during the U.S. Open in 2016, despite early rains that slowed them down a bit. Gil Hanse and Jim Wagner made bunker modifications and expanded the greens throughout the course in 2023 in preparation for the 2025 U.S. Open. The USGA has already awarded Oakmont three additional Opens between 2033 and 2049, reinforcing its title as it the Host of the Most U.S. Opens ever.
View Course
21. Playing the 12th hole, Palmer looked at the scoreboard and incredulously asked playing companion Schlee, "What the hell is Miller shooting?"
22. Miller's putter was nearly as ancient as his woods—a 1952 Acushnet Bulls Eye Standard with a 36-inch shaft. "No putter ever made feels better than a Bulls Eye, it's so soft," Miller said. "The ones before the late '60's had a heavier brass alloy, which kept them from getting dinged up all over."
23. Commentator Henry Longhurst posited "If he made five more birdies, he'd be around in 59." Schenkel laughed off such ludicrous talk. Four years later Al Geiberger shot a 13-under 59 in the second round of the Danny Thomas Memphis Classic.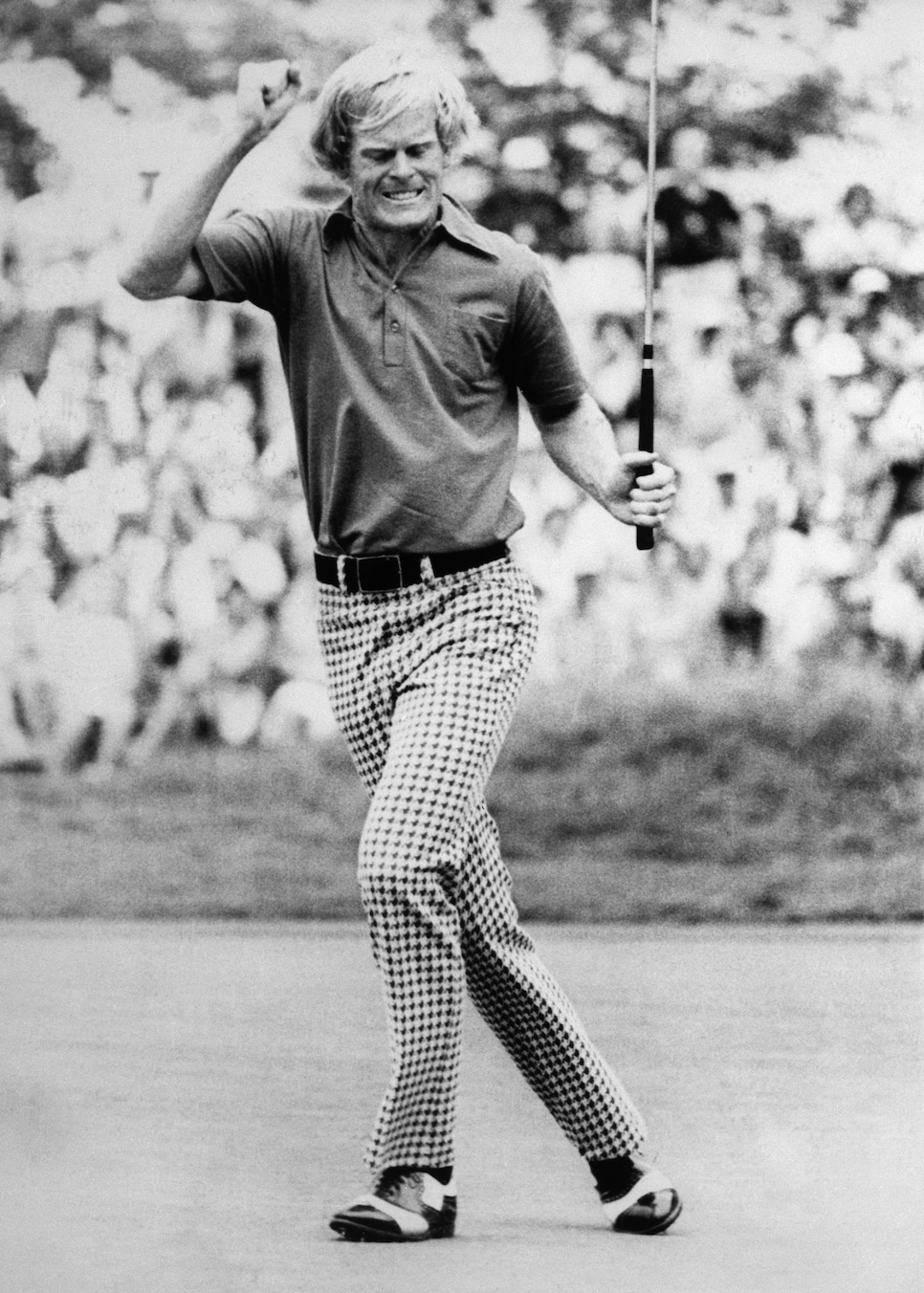 24. Not every putt dropped for Miller. He missed a nine-footer for birdie at the par-4 14th.
25. Moments after Longhurst's 59 comment he bungled some math. "He has seven birdies and seven pars through 14 holes." Um, no. It was eight birdies, five pars and one bogey to that point.
26. Miller finally took the lead at the par-4 15th when he hit a 4-iron to 10 feet and made the putt.
27. Often overlooked in the round was Miller's two-putt from 45 feet at the par-3 16th after he tugged his tee shot to the far left of the green.
28. What was going on with the announce team? As Miller teed off on No. 17 it is perfectly obvious he was laying up on the 322-yard par 4 with an iron, yet Schenkel referred to it as a 3-wood.
29. Miller's approach shot on 17 finished 10 feet from the hole. Miller missed, the putt sliding by on the right-hand side. It was his 10th approach shot of the day that finished 10 feet from the hole or closer. At the 2007 U.S. Open at Oakmont, Miller commented, "It was the greatest ball-striking round I've ever seen, and I've been around a little bit."
30. Miller's round could have been even lower as he could only manage par over the final three holes.
31. He gave it a heckuva try on 18, however. We all remember Tiger Woods' 62½ when his birdie putt on 18 spun out at Southern Hills in the 2008 PGA Championship, but few recall Miller's final putt on 18 also lipped out hard, settling for 63 instead of 62.
32. Many contend Miller's 63 was because the fire was taken out of Oakmont by significant rain the previous night. However, a look at the final-round scores shows that doesn't hold water—only four of the 65 players broke par in the final round.
33. They say you never beat the course record if it is held by the head pro. Miller didn't quite do that, but club pro Gene Borek, who shot the lowest competitive round ever at Oakmont with a second-round 65, saw his record last just two days.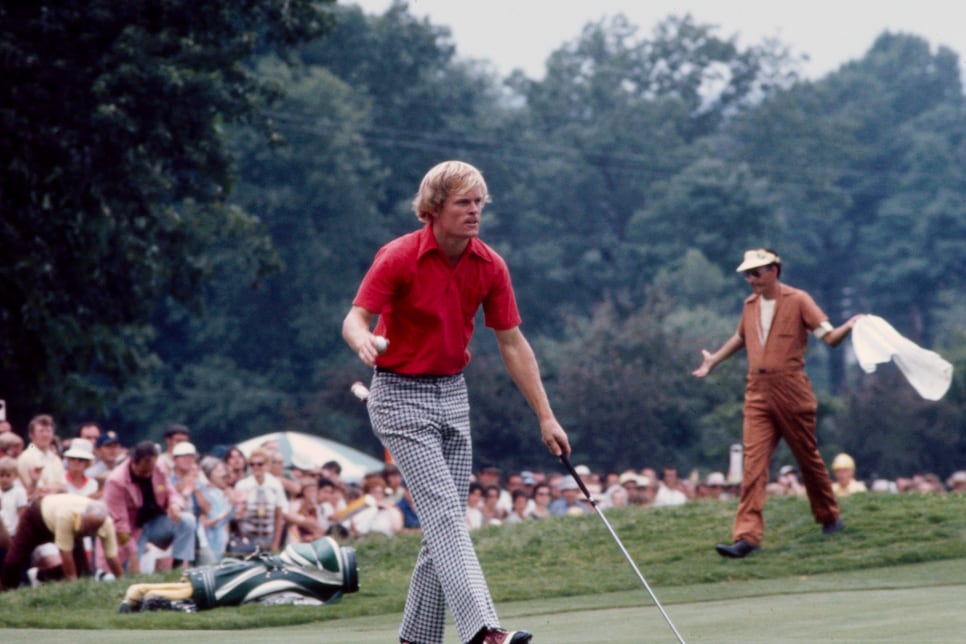 Walt Disney Television Photo Archives
34. Despite his record round, Schlee still had a chance to tie Miller with a 40-foot birdie putt at the last. Schlee, who said his good play was because "Mars is in conjunction with my natal moon," missed, however, giving Miller the title.
35. Miller didn't exactly leapfrog a bunch of stiffs. Ahead of him on the leader board were major winners Gary Player, Jack Nicklaus, Gene Littler, Lee Trevino, Tom Weiskopf, Bob Charles, Arnold Palmer (who Miller played the first two rounds with) and Julius Boros.
36. Miller's irons were MacGregor's Tommy Armour 915T for the 2- through 7-iron and MacGregor Tourney Custom 8-iron through pitching wedge, which was stamped as a 10-iron. The shafts were a half-inch longer in length to accommodate Miller's 6-foot-3 height.
37. Six players (George Bayer, Greg Powers, John Gentile, David Glenz, Art Wall and Tommy Aaron) shot 15 strokes or more behind Miller's 63.
38. Miller's 63 was more than 10 shots better than the field average of 73.8 for the final round.
39. Miller's scorecard had one 2, eight 3's, eight 4's and one 5.
40. Miller had nine birdies in the final round. In the previous three rounds combined he had seven birdies and one eagle.
41. The iron game of Miller was well regarded, and it was on full display at Oakmont as he hit all 18 greens in regulation.
42. Miller also missed just two fairways over those final 18 holes.
43. Miller was not the only player to go way low in the final round. Lanny Wadkins had a chance to match Miller with a birdie at the closing hole but made a bogey for 65.
44. Unlike today's tour pros that carry four wedges, Miller had just one other besides his pitching wedge, a 1959 Wilson DynaPower with 58 degrees of loft and a True Temper Dynamic steel shaft, stiff flex.
45. The winner's check for the 1973 U.S. Open was $35,000—or about $240,000 in today's dollars.
46. The win at Oakmont was Miller's third straight top-10 in the U.S. Open and fourth overall. He finished T-8 as an amateur in 1966 at Olympic, T-5 in 1971 at Merion and seventh in 1972 at Pebble Beach G.L.
47. Miller's victory was the second of three-consecutive top-10 finishes in majors in 1973, as he finished T-6 in the Masters and T-2 at the Open Championship as well.
48. The total purse for the 1973 U.S. Open was $225,000 or $1,504,038.85 in today's dollars.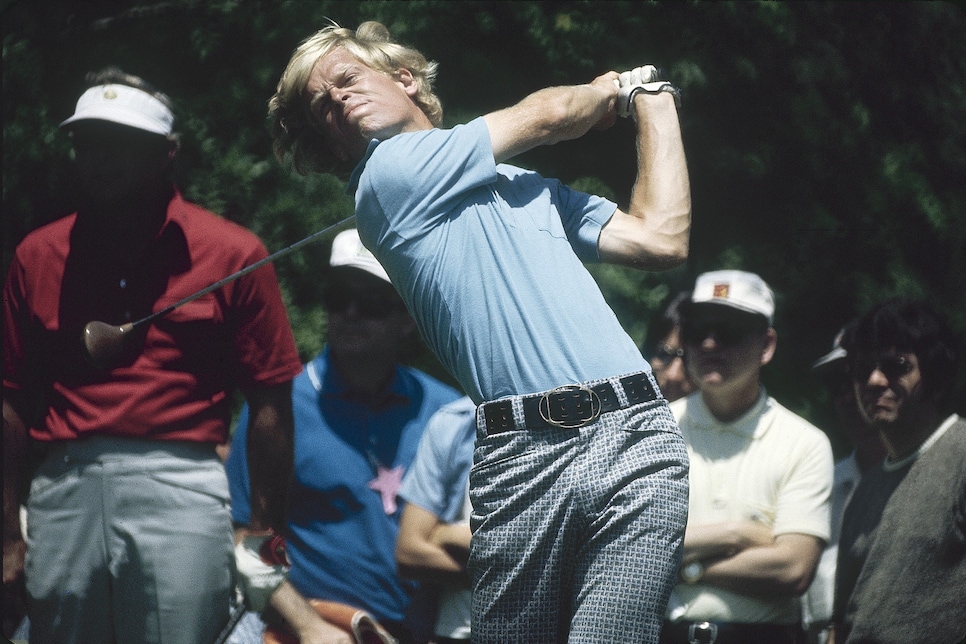 49. According to Sports Illustrated, the United States Golf Association even took the measure of trying to set the record straight on its website and separate fact from fiction. Among those disputed was that Oakmont was wet and soft during Miller's final round, saying it had rained on Saturday morning, but the course was dry come Sunday's final round.
50. According to Sal Johnson's U.S. Open Almanac, Oakmont founder Henry Fownes took pride in Oakmont's difficulty, and many felt Miller's 63 would have the deceased Fownes rolling over in his grave. Legend has it that Oakmont pro Lew Worsham walked the grounds that night muttering, "Lie still, Mr. Fownes. Lie still."
51. After his victory at Oakmont, Miller says he got a confidence boost by partnering with Jack Nicklaus in the World Cup. "I played every day with Jack for a week, and I started to believe that at the time, I was actually better than him," Miller said.
52. Although the U.S. Open was Miller's only win of the year, he went on a tear the next three seasons, winning eight times in 1974 and three times each in the ensuing two years, including his second and final major at the 1976 Open Championship. "After that Open, I won a lot of tournaments in the next couple of years. That was the catalyst, that was what opened the flood gates," Miller said at the 2007 U.S. Open at Oakmont.
53. Miller told Golf Magazine in 2012, "In '73, I switched to the tourney ball that Jack [Nicklaus] was using. It was a heck of a ball. It was so hard [101 compression] that it wouldn't spin and back up quite as much as the softer balata balls. When I switched, my scoring definitely improved."
54. Miller's 63 broke the previous record low of 64 by Lee Mackey in the 1950 U.S. Open. Since then it has been tied by Jack Nicklaus and Tom Weiskopf (both in the first round of the 1980 U.S. Open at Baltusrol G.C.), Vijay Singh (second round, 2003 U.S. Open at Olympia Fields), Justin Thomas (third round, 2017 U.S. Open at Erin Hills G.C.) and Tommy Fleetwood (final round, 2018 U.S. Open at Shinnecock Hills G.C.), the only time other than Miller it was done in the final round.
55. Miller's 63 is often blamed for the "Massacre at Winged Foot" at the 1974 U.S. Open where the course played incredibly difficult, leading to a winning score of seven over par. Miller told Golf Digest, "Everybody was telling me it was my fault. It was like a backhanded compliment. The USGA denied it, but years later it started leaking out that it was in response to what I did at Oakmont. Oakmont was supposed to be the hardest course in America."
56. The 63 was not the lowest round of Miller's career. The "King of the Desert" shot 61 in back-to-back weeks in 1975 in winning the Phoenix Open and Dean Martin Tucson Open.
57. Miller played in the 1994 U.S. Open at Oakmont and was paired with Larry Nelson and Jack Nicklaus, both former U.S. Open champions at Oakmont. "We have a nice pairing, so I am looking forward to that," Miller said. "I am looking forward to playing with Jack. I haven't played with Jack for a while, and I know he hasn't been playing as well as he would like. Maybe he can turn it around here. Maybe I can inspire him. I definitely won't intimidate him."
58. In 2000, Golf Magazine ranked Miller's 63 the best round in golf history. "There have been 59s shot, I shot several 61s in my career. But to shoot 63 at Oakmont on the last day to win by one is what makes the round what it is," Miller told ESPN.com
59. Miller was somewhat miffed that the legendary sportswriter Dan Jenkins said that round wasn't any better than Tom Weiskopf's or Jack Nicklaus's 63 at Baltusrol. "Theirs was in the first round at Baltusrol where all of the records in the Open have been set, and mine was in the last round to win by one and overtake five Hall of Fame players," Miller said. "So, I don't know what Dan was smoking that day."
60. Course management played a key role in Miller's round. "You just have to be a great ball striker," he said in 1994 at Oakmont. "You have to put the ball underneath the hole. In that 63, I only had two balls above the hole in 18 greens hit. That was the secret to that round.''
61. "Somebody will probably go lower,'' Miller said. "But it's just a matter of if they do it at the end to win. Somebody might shoot 62 on a setup where maybe they couldn't grow the rough that year or whatever. The number to me is important but not everything. It's where you do it and how the course played.'' Miller's words were prophetic as Branden Grace shot a 62 in the 2017 Open Championship but finished T-6.
62. Asked about his round in 1994, Miller lamented it could have been better. "If you can go through the round, you will probably realize that round had some good potential of being in the high 50s or around 60. I did not get a lot out of the round. It is not like I was making chip shots and 30-footers and I did miss several putts inside of eight feet. I am not complaining … 63 … I played it well. It was just a pretty good putting round; but it wasn't a great putting round by any means."
63. At the 2007 U.S. Open Miller was brought into the media room in recognition of his achievement. "I'm out there with Tiger and I'm out with different players and they go, how the heck did you shoot 63?" he said. "But what they don't realize is that I only had 29 putts that round. That's probably as historical as any part of the round. I mean, you just don't shoot 63 at Oakmont with 29 putts. I hit the ninth green in two and every other green in regulation."