U.S. Open
U.S. Open 2023: Matt Fitzpatrick criticizes LACC and USGA for 'very poor' atmosphere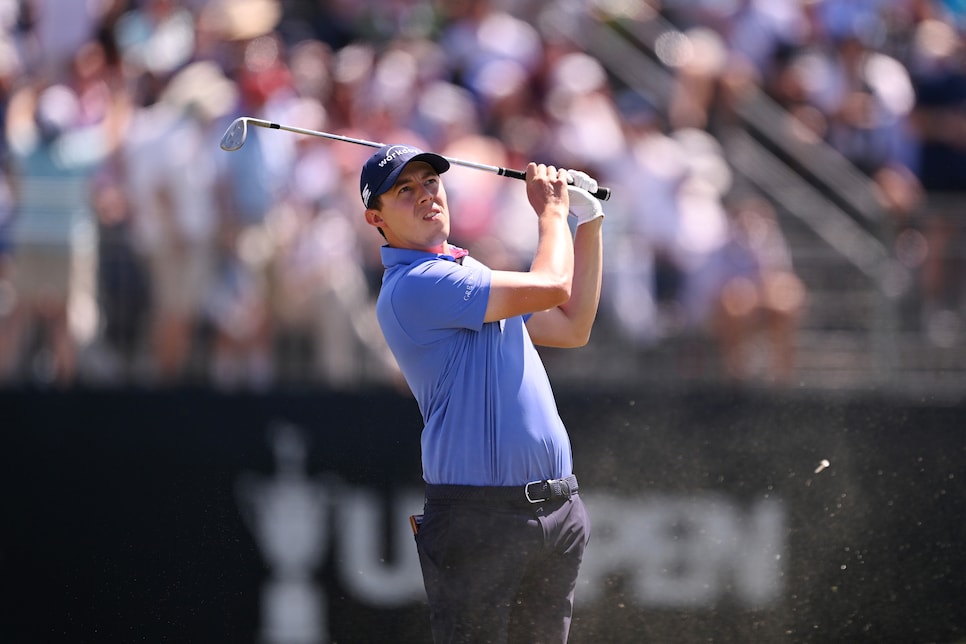 For a second consecutive day, a past U.S. Open champ took aim at Los Angeles Country Club's North Course. And this time, the fans there received some criticism as well. Or, rather, the lack of fans.
A day after Brooks Koepka admitted he's "not a huge fan" of the first-time U.S. Open venue, defending champ Matt Fitzpatrick offered similar thoughts about the course and saying it's "not my cup of tea." Here were Fitzpatrick's full comments:
"Yeah, I just think the golf course is interesting, to be polite, I think," Fitzpatrick said. "There's just too many holes for me where you've got blind tee shots and then you've got fairways that don't hold the ball. There's too much slope. I think the greens certainly play better when they're firmer. I definitely think that's the case. They're rolling really, really well. Some of the tee shots are just—I think they're a little bit unfair. You hit a good tee shot and end up in the rough by a foot and then you're hacking it out. Meanwhile someone has hit it miles offline the other way and they've got a shot. Yeah, not my cup of tea."
But Fitzpatrick also made some additional remarks to Barstool's Dan Rapaport and SI's Alex Miceli regarding the "very poor" atmosphere at LACC. And he blamed the USGA, which implemented "capacity limitations" this week, as well as club members for abusing the ticket policy so crowds would remain smaller than normal.
"Very poor . . . It's disappointing on the USGA side," Fitzpatrick said. "They want a great tournament—from what I've heard a lot of members bought tickets and that's why there's so many less people. Hopefully it's not the same for other U.S. Opens going forward."
What's funny is that Fitzpatrick, who won his first major at The Country Club in Brookline, received arguably the loudest ovation of the tournament when he made a hole-in-one on the 15th hole during the second round. And he nearly aced the short par 3 again on Saturday.
By the way, the Englishman is having a solid title defense. With rounds of 71, 70 and 68, Fitzpatrick will be inside the top 20 entering the final round.
"I'm hitting my irons well, wedging it well, and putting well," Fitzpatrick said. "Those are the positives. I feel like if I can just get my driver away tomorrow, I might be in for a good score. Just go and do a bit of work on it this afternoon and hopefully build some confidence with it."