Tough Critics
U.S. Open 2023: Brooks Koepka sounds off on Los Angeles Country Club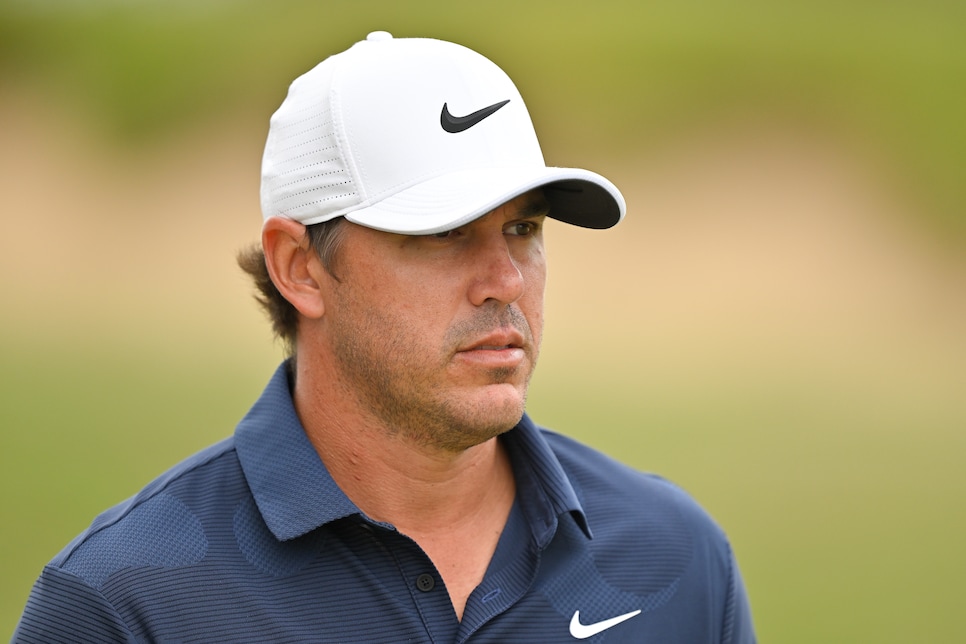 Most golfers griping at a U.S. Open are upset when the tournament is playing too hard. For Brooks Koepka, it's the opposite.
The best major championship player of his generation thrives on difficult conditions because he knows it weeds out players who are less talented—and more mentally weak. And at the U.S. Open he not only expects those conditions, he wants them.
But through two days at the U.S. Open it's clear that this isn't your typical U.S. Open. After a first-round that featured record scoring, Friday's second round wasn't much tougher. Wyndam Clark finished the morning wave as the leader in the clubhouse at nine under and then instantly got passed as Day 1 co-leader Rickie Fowler birdied his first three holes to move to 11 under. And Koepka, at even par after posting 69, sounded off on the setup and the host course, Los Angeles Country Club.
"I think it should be around par," Koepka told reporters after his round, explaining his thought on what a U.S. Open setup should yield. "Yeah, I mean I don't … I'm not a huge fan of this place. I just think that there's a … I'm not a huge fan of blind tee shots… and then I think there's just some spots that no matter what you hit, the ball just ends up in the same spot."
"I think it would be more fun to play on just like a regular round than it would be a U.S. Open," Koepka continued. "I mean, there's, what, two 8s yesterday. That doesn't happen."
It's true, that doesn't happen. Rickie Fowler shot the first-ever 62 in a U.S. Open on Thursday—then was matched by Xander Schauffele about 20 minutes later. Not surprisingly, those numbers contributed to the lowest Day 1 scoring average in tournament history.
Koepka, who watched as playing partner Rory McIlroy made six birdies on his back nine on Friday, was asked a couple follow-up questions about the USGA potentially making the course play more difficult:
Q. Would it be possible to trick this place up to get it to be harder?

BROOKS KOEPKA: Yeah, I mean, I think if you made the greens a little bit faster, but I don't know if you really can. Then it might be interesting, that's for sure.

Q. What were you expecting today based on the 8s and the 6s and everything that was posted yesterday? I mean, they have been known to overreact to things.
BROOKS KOEPKA: Yeah. Yeah, they can. They can. I thought every pin position was fine. I didn't think anything was really tricked up. I guess I just didn't play that great so not going to really shoot a good number.
So to be clear, Koepka, who has won and finished runner-up at the year's first two majors, admitted he didn't "play that great." Still, there are certainly going to be some USGA officials—and LACC members—who won't be too thrilled with his comments about the course and how it's playing.
This is the first time that LACC's North Course has hosted the U.S. Open. The George Thomas/William P. Bell design is No. 16 on Golf Digest's America's 100 Greatest list. But clearly, it wouldn't be that high in Koepka's personal ranking.