Well Played
U.S. Open 2023: Brooks Koepka slyly slips in joke about the Saudi-PGA Tour deal to end press conference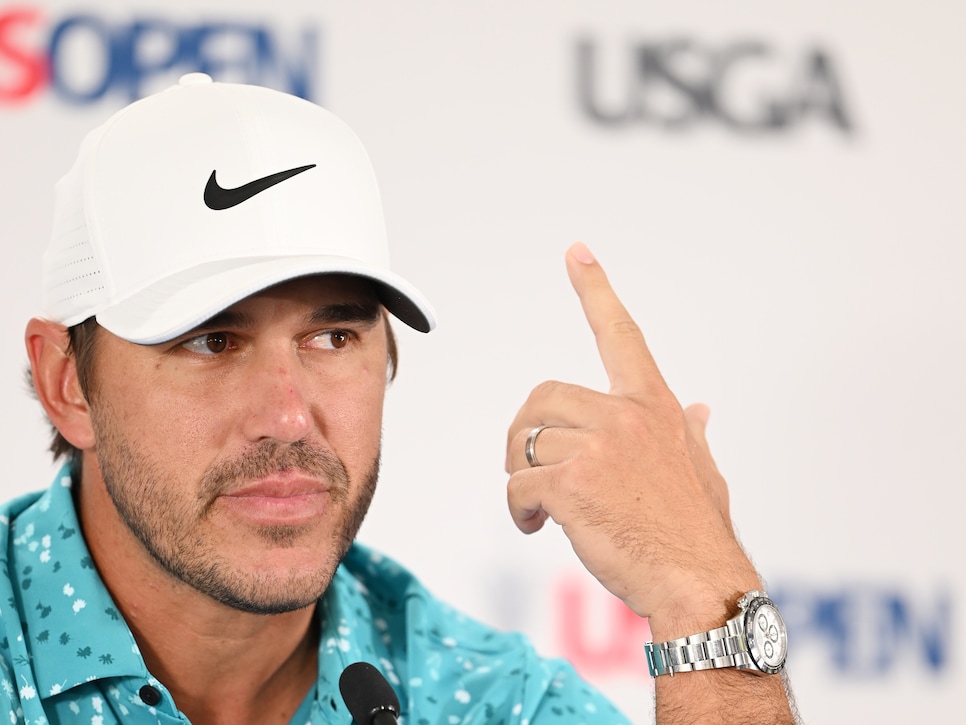 Ever since the shocking news that the PGA Tour plans to partner with Saudi Arabia, a hot topic has been the question of what will happen to the guys who went to LIV last year. Of the players who stayed, commissioner Jay Monahan has said "their loyalty will be rewarded," but that still doesn't mean there won't be some people unhappy with the LIV guys just waltzing back onto tour. Well, Brooks Koepka doesn't seem to care at all about this. In fact, he was cracking jokes about the situation on Tuesday.
Or, rather, he cracked one joke. And he did it rather slyly by slipping it in at the conclusion of his press conference at Los Angeles Country Club ahead of this week's U.S. Open. But first, he was asked about the potential merger right away in the first question he fielded—and he gave a very Brooks-like answer.
"I haven't paid too much attention to it, honestly," the five-time major champ said. "I've been trying to prep for this week. I'm just trying to make sure I come into a major championship -- there's four weeks a year I really care about and this is one of them, and I want to play well."
And play well he has. Koepka finished runner-up to Jon Rahm at the Masters in April before winning the PGA Championship in May. Of course, as a two-time U.S. Open champ, he's clearly one of the favorites to win this week as well. He certainly seems to be in good spirits with a crafty sign-off that came after wrapping up his final response to a question about why his most recent major win mean the most to him.
"Thanks," Koepka said as he slapped the table and flashed a grin. "See you at Travelers next week."
We see what you did there, Brooks. You sly dog you. Of course, Koepka is kidding. This big merger ain't happening that fast, but that's well played.
And again, it shows he's not too worried about his tour schedule—whatever that tour is—going forward. Just give this guy his four majors and he's happy. And if he wins another on Sunday, you can bet pretty heavy that he won't be playing golf anywhere next week.