Lights, cameras, golf!
Our 7 favorite golf movie scenes from non-golf movies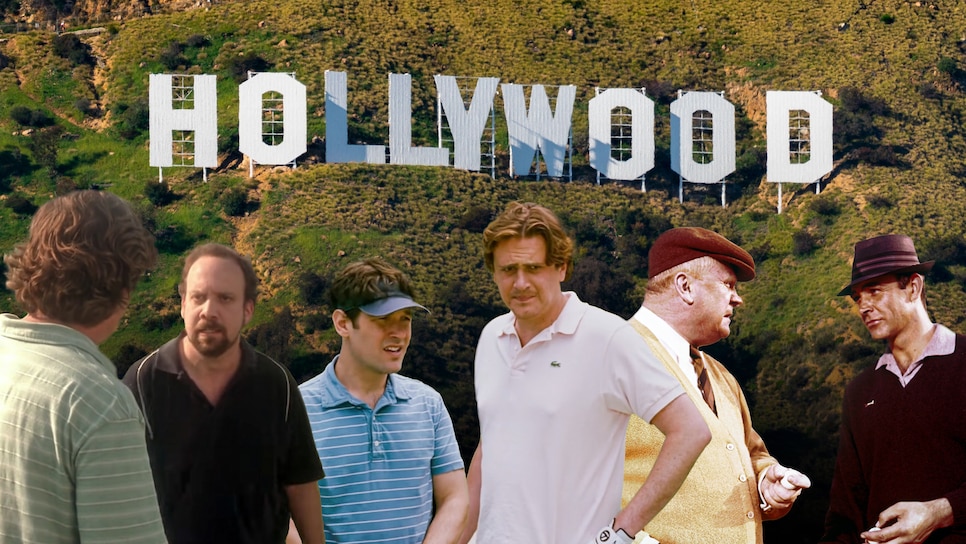 Golfers often lament the lack of great movies about the sport. After all, for every "Tin Cup," there's a "The Squeeze." And for every "Caddyshack," there's a, well, "Caddyshack II." But that doesn't mean there aren't a ton of great golf scenes from movies that otherwise aren't about golf. Hollywood has long used the golf course as a way to expand a plot, explore character development and, yes, just make people look silly.
In that spirit, we decided to put together a collection of our favorite golf scenes from non-golf movies. To be clear, these aren't necessarily the best golf scenes, and in many cases they certainly aren't the most realistic. But they're the ones we remember most, often tickling our funny bone. We hope you enjoy them as well. Heck, we're pretty sure you already do.
The OG of golf scenes from non-golf movies involves James Bond taking on Auric Goldfinger in a match of two total cheats. Yes, it's Goldfinger's caddie, Odd Job, who gets the ball, um, dropping in terms of breaking the rules, but Bond gets into the action as well, hiding Goldfinger's actual golf ball (a SLAZENGER 1 for all you equipment geeks) by stepping on it—and then swapping his ball in order to call a penalty on him to win the match on a technicality. Not very sporty of 007! In the end, James gets into Goldfinger's head and checkbook, walking away with $5,000, or about 50 grand converted to today's value. Martinis on him in the grill room!
In this wild scene, the characters played by Paul Giamatti and Thomas Hayden Church are being pressured by the group behind (to be fair, they are going way too slow because Giamatti's character is getting an on-course lesson) to the point where someone hits into them. In response, Giamatti tees up the other group's ball and hits it right back at them. He's a quick learner! When this movie first came out, this might have seemed really crazy, but judging by all the golf course fight videos that have gone viral of late, this kind of stuff happens more than you think. Be careful out there, folks.
Another on-course playing lesson gone bad, this time involving the dates of Paul Rudd and Jason Segel in this brilliant buddies comedy. Rudd's character seems to be enjoying his time with his fiancee, played by Rashida Jones, but not so much for Segel who takes one off the shin ("THIS IS MY NIGHTMARE!") from his date, played by Sarah Burns. When he tries to convince the ladies to speed up (Great cameo by Matt Walsh screaming "Ready to play! Ready to play! Ready to play!"), Burns storms off. Segel's feigned "No, don't go" gets us every time.
This beautifully shot scene is the only one on the list without any dialogue. Instead, it's just Bill Murray walking up to a tee at Kawaguchiko Country Club—with Mount Fuji framed in the background—taking a practice swing, smoking a drive down the middle and walking after it. A simple, but perfect depiction of how peaceful the game can be. You know, when people aren't hitting into you or you're not getting into lovers' quarrels out there. We wonder how many takes Bill needed for that. Seems like a brilliant way for him to work on his driver.
Jon Favreau and Ron Livingston take to the golf course to catch up in this classic. The two struggling actors hack it all around while Jon tries to avoid talking about his ex and Ron complains about getting cast in the role of "Goofy" instead of a sitcom pilot before adding up their scores. And what golfer hasn't done a good air count when figuring out their score at the end of a rough hole? Ron ends up giving Jon an "8" leading to an all-time deadpan line: "Dead heat after one hole. Turning into quite a rivalry."
Let's keep the Vegas theme going with this scene near the end of this epic Martin Scorsese film. Joe Pesce's character, Nicky Santoro, is playing golf when a small plane makes a surprise landing on the fairway. As we find out from Robert De Niro's narration as Ace Rothstein, "The Feds were watching Nicky for so long, they ran out of gas." Nicky's response? "Hundred dollars for whoever hits the plane!" Of course, he wound up getting hit pretty hard himself a few scenes later . . . sorry, but no SPOILER ALERTS for a movie that's nearly three decades old. If you haven't seen the entire thing (and we mean the ENTIRE three-hour epic), that's on you.
This one is kind of cheating because it's not from a scripted movie, but it has to be the funniest golf prank of all time. Johnny Knoxville and Co. hide in the trees with an air horn and set it off in the middle of unsuspecting golfers' swings. Hilarity ensues. Well, until one of the golfers starts firing balls back at the guys, "Sideways" style. It's a reminder that golfers take themselves way (way) too seriously.