Wait, What?
U.S. Open 2023: Jon Rahm perfectly handles question about motivation that made zero sense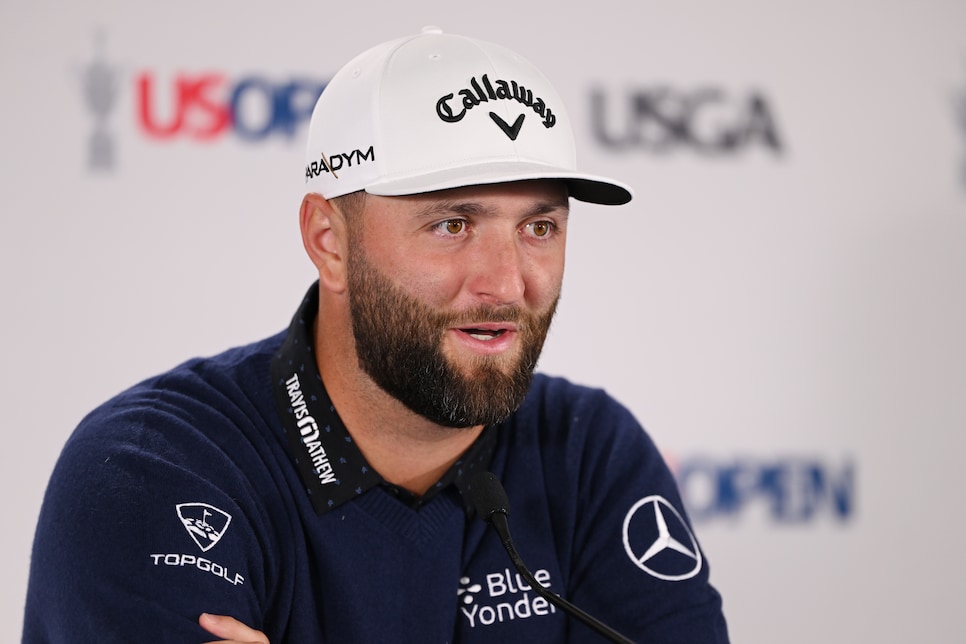 Usually we don't love clowning on a reporter's question, for myriad reasons. For starters, that could be one of us asking a question at some point, and we wouldn't want to be clowned on either. Second, things can get taken out of context, particularly in a transcript. And finally, there is no such thing as a stupid question, and even stupid questions can yield great answers.
Sometimes, though, a question makes such a little sense that we have no choice but to call it out. A question asked to World No. 2 Jon Rahm on Tuesday at the U.S. Open very much fit that bill.
When Rahm won the Masters in April, a stat relayed to him on Sunday evening not only caught him off guard, but it caught many of us in the know off guard, too. By winning the green jacket, Rahm became the first European-born player to win both the Masters and the U.S. Open. He accomplished an equally unbelievable feat two years prior in the U.S. Open at Torrey Pines, becoming the first Spaniard to win the event despite the likes of Sergio Garcia, Jose Maria Olazabal and Seve Ballesteros playing in a combined 52 U.S. Opens before Rahm played in his first (2016).
Being a student of the game, Rahm is obviously well aware he's the lone Spanish U.S. Open champ, which made this question related to his motivation this week so puzzling. Rahm was asked, in so many words, if he's fueled by the fact he could become the first Spanish-born player to win the U.S. Open twice this week at LACC. His answer? Well ,,,,
"Well given that I'm the only Spaniard to win this tournament..." Rahm said to a chorus of laughs from the media on hand, adding "I am the only one who can do it twice."
Facts only. The good news for the reporter in question is that they weren't actually there (the question came offsite via WebX), so they didn't have to sit their and shrink in their chair while everyone laughed. Even better news was that Rahm did expand on the answer like the standup guy he is.
"It's obviously -- yes, it is very motivational," he said. "If we go that route, to keep adding to the Spanish list of major champions, it's a true honor. It was an honor to give Spain [major] No. 10, it would be an honor to give them No. 11. If I can keep adding those 'no player had previously won' [titles], it's obviously an added motivation. But it's not like it's something I'm going to be thinking about mid-tournament, right? Still a job to do, and that's what I'm here to do."
Well, there ya go. Like we said, even questions that don't make any sense can yield great answers. Job well done by whoever this remote reporter was.